It's Time for Ontario to Liberate Local Beer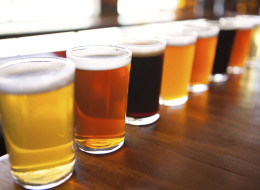 It's time for Ontario to liberate local beer. It makes no sense to persist in enabling big beer to have an unfair advantage over our homegrown craft breweries.
Imagine a law that restricted General Motors to selling cars at their production site and through Toyota dealerships. Oh, and they could sell a limited number of models at the government owned mega car dealership.
Sounds ridiculous. But that is the reality for Ontario's 150-plus microbreweries, brew pubs, and small contract brewers.
By law, Ontario's craft brewers can only sell over the counter at the brewery itself, through the Beer Store, which controls around 80 per cent of the retail market, or the LCBO, which controls the other 20 per cent.
Ed Clark, head of the Liberal's expert panel on public assets, missed the mark in his comments on alcohol sales last week. He's urging the government to "take on vested interests" by charging the Beer Store higher fees to maintain their near monopoly.
Although he recognizes the challenges facing Ontario's craft brewers, he is less clear on opening the market for local beer.
Why should "the big three" -- Molson-Coors, AB InBev and Sapporo -- receive privileged market access at the expense of our homegrown brewers? The Beer Store needs a shake up more than a shake down.
My advice to Mr. Clark and the Premier: allow Ontario's local brewers to open Craft Beer Stores. Think Wine Rack, which sell wine in standalone retail stores and through outlets in other retail locations.
It's a small step, a compromise that won't satisfy those who want privatization and corner store sales or those who want to protect big beer's privileged status. But it could pay big dividends for your local brewer and your local economy.
The demand for craft beer is exploding in North America. In British Columbia, where craft brewers face fewer restrictions, their market share is pushing past 20 per cent. In craft-crazy Portland, Oregon, it's nearing 50 per cent. Local beer has only three per cent market share in Ontario.
Not only do craft brewers have to sell through their big beer competitors, they also have to pay listing fees that can be cost prohibitive for many small businesses.
When Barrie-based Flying Monkeys recently launched their El Toro Bravo Dark Rye Ale in the Beer Store, the cost to do so was around $25,000: a one-time base listing fee of $2,880, plus a one-time fee of $230 per store on the first 233 stores selected and a 16 cents per 341ml bottle retail service fee. This is some serious coin for a small player. These fees make listing innovative seasonal beers cost prohibitive and pushes brewers to prioritize quantity over quality.
I'm not out to trash the Beer Store. They have a good environmental record with a bottle return system that should be replicated in other retail sectors. Big beer, however, should do themselves and all of us a favour by supporting legislative changes that will liberate local beer.
ALSO ON HUFFPOST:
Best Canadian Craft Beers
Beer: Red Racer Pale Ale Brewery: Central City Brewing City: Surrey, British Columbia The Type: Imperial pale ales are hoppier than regular pale beers, originally thanks to the extra hops added in the United Kingdom to keep the beer fresh on its journey to British soldiers stationed in India. The Brew: Central City won Brewery of the Year at the 2012 Canadian Brewing Awards. The brewery describes the taste as "ruby red grapefruit, with depth of malt backbone."

Beer: Glutenberg Belgian Double Brewery: Brasseurs Sans Gluten City: Montreal, Quebec The Type: Traditional beer is definitely not gluten-free friendly, because it's made with barley (and sometimes wheat). The gluten-free beer offerings are still slim, but growing. The Brew: All of Brasseurs' brews are gluten free, made with grains like millet. Love strong, comforting tastes? This warm and spicy beer has notes of molasses, clove, and nutmeg, and 6.5 per cent alcohol.

Beer: Weissbier Brewery: Denisons Brewing Company City: Toronto, Ontario The Type: These beers are light and low on aftertaste, thanks to the use of wheat in brewing. The Brew: "Weissbier" is what they call wheat beer in Bavaria, and this beer from Denisons is a traditional Bavarian-style brew made with a special Bavarian yeast. It's been number one in the German Hefeweizen category on ratebeer.com for more than a decade.

Beer: Nutcracker Porter Brewery: Black Oak Brewery City: Etobicoke, Ontario The Type: Porters are dark like stouts, but generally sweeter and less hoppy. The Brew: Save this suggestion for the holiday season, when this dark cinnamon-spiced brew will be perfect with some figgy pudding—which Black Oak says is one of the flavours in this beer.

Beer: St-Ambroise Oatmeal Stout Brewery: Brasserie McAuslan Brewery City: Montreal, Quebec The Type: These dark and rich beers often use unmalted roasted barley to give the beer a character kind of like coffee. The Brew: This beer is brewed from 40 per cent dark malts and roasted barley, but also has oatmeal to give it body and a mocha-coloured head.

Beer: Saison Station 16 Brewery: Hopfenstark City: L'Assomption, Quebec The Type: These highly carbonated beers were originally brewed in the cooler months in Belgium and then stored by farm workers to drink in the summer months. The Brew: This spring seasonal brew is Belgian style with citrus and clove aromas.

Beer: La Fin du Monde Brewery: Unibroue City: Clarington, Ontario The Type: Belgium has a centuries-old beer brewing tradition, and Belgian-style beers can be of several different varieties. The Brew: This beer with a floral bouquet has, so far, won more medals and awards than any other Canadian beer.

Beer: Meade Brewery: Applewood City: Stouffville, Ontario The Type: This ancient beverage is not exactly a beer: rather, it's a fermented honey and wine beverage that sometimes also contains grain mash and/or hops, which can give it a beer-like flavour. The Brew: If you're looking for a buzz, you'd get a good start reaching for this beverage, with a 20 per cent alcohol content.

Beer: Blueberry Cream Ale Brewery: Pumphouse Brewery City: Moncton, New Brunswick The Type: These tend to be ales, but have a different character because of the low bitterness and malt flavour required to let the fruit shine through. The Brew: East Coast blueberries are delicious, and this beer ads spicy notes to kick things up a notch.

Beer: Dooryard Organic Ale Brewery: Picaroons Traditional Ales City: Fredericton, New Brunswick The Type: When the weather is warm you want a seasonal brew that's clean and refreshing, like the ones in this category. The Brew: Picaroon's certified-organic summer ale, with three traditional wheat beer styles in the blend, won bronze at the Canadian Brewing Awards in 2009 and 2010.

Beer: Holy Smoke Scotch Ale Brewery: Church-Key Brewing Company City: Cambellford, Ontario The Type: These beers are given their smokey flavour through the use of malted barley dried over an open flame. The Brew: This peat-smoked Scotch ale is so dark that it's nearly black.

Beer: Oranje Weiss Brewery: Amsterdam Brewery City: Toronto, Ontario The Type: This Belgian-style beer is light and crisp that narrowly escaped extinction twice in the 20th century. The Brew: This seasonal brew is an unfiltered white, flavoured with orange peel, coriander, and anise.

Beer: Wee Heavy Scotch Ale Brewery: Amsterdam Brewery City: Toronto, Ontario The Type: These dark and strong beers are bittersweet and sometimes slightly metallic. The Brew: This ruby-red beer is available every winter, with a blend of five different malts to keep your belly warm.

Beer: Rye Pale Ale Brewery: Cameron's Brewing City: Oakville, Ontario The Type: Rye beers are made when a portion of the barley malt is replaced with rye, which is generally malted. The Brew: Part of Cameron's brewmaster series, this bittersweet beer has won several Canadian Brewing Awards, including a bronze in 2013.

Beer: Imperial I.P.A Brewery: Garrison Brewing Company City: Halifax, Nova Scotia The Type: Copper coloured and fruity, these beers are originally from England. The Brew: Garrison bills this as "the hoppiest beer in Atlantic Canada." Depending on your taste for hops, that either sounds great or awful. If you're a hophead, this is your brew.

Beer: Pilsner Brewery: King Brewery City: Nobleton, Ontario The Type: These beers have a more distinctive hop taste than other lagers, with a dry and somewhat bitter flavour. The Brew: King imports the Bohemian malts used to brew this Czech-style beer, which won a silver medal in 2013 at the Canadian Brewing Awards.

Beer: Fighting Irish Red Brewery: Yellow Belly City: St. John's, Newfoundland and Labrador The Type: Thick bodied and amber or red coloured, depending on the particular brew used. The Brew: Billed as the brewery's most complex beer, Yellow Belly's red brew has notes like burnt toast and strawberry jam.

Beer: Traditional Ale Brewery: Big Rock Brewery City: Calgary, Alberta http://www.bigrockbeer.com/sites/default/files/images/beer/main/beer-bottle-traditional.png The Type: Look for caramel and chocolate flavours, sometimes with a slight citrus accent. The Brew: This beer was first brewed in 1985 with the goal of creating an English-style beer that was markedly different from the typical Canadian bottle.

Beer: Black Cat Brewery: Paddock Wood Brewing Co. City: Saskatoon, Saskatchewan The Type: Lagers are aged longer, which gives them a smooth finish. These are the world's most popular beers. The Brew: This beer with "delicate coffee notes" comes from Saskatchewan's first microbrewery.

Beer: Lug Tread Brewery: Beau's All Natural Brewing Company City: Vankleek Hill, Ontario The Type: This German style of beer has a noticeable hoppiness without being extreme, and is not as bitter as regular German pale lager. The Brew: Beau's flagship brew is a tribute to the classic beer of Cologne, Germany. It's top fermented like an ale and then cold aged like a lager.
Follow Mike Schreiner on Twitter: www.twitter.com/MikeSchreiner