Saving Ontario Money One Recycling Bin at a Time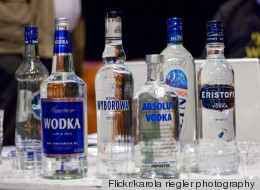 Whether it was your morning paper or a can of pop, it's likely you put something in your blue box today. Thank you -- together, as Ontarians, we have embraced the blue box and are now recycling 67 per cent of our packaging and printed materials.
But unfortunately, Ontario still produces too much garbage. The province's overall waste diversion rate of 23 per cent is unacceptably low and well below established targets. Canadians produce more garbage per person than any country in the developed world.
None of us want a dump in our backyard. Nor do we want to burn money by wasting resources. Sadly this is the direction Ontario is headed if we don't eliminate waste and use resources more efficiently.
Last week I spoke to the Recycling Council of Ontario. My message was that Ontario is missing an opportunity to improve our economy and environment by failing to reduce waste.
Eliminating waste is important to our economic prosperity. It's simply too expensive to waste resources when resource prices are rising. This is unlikely to change in a world with a rapidly growing population placing more demand on a finite amount of natural resources.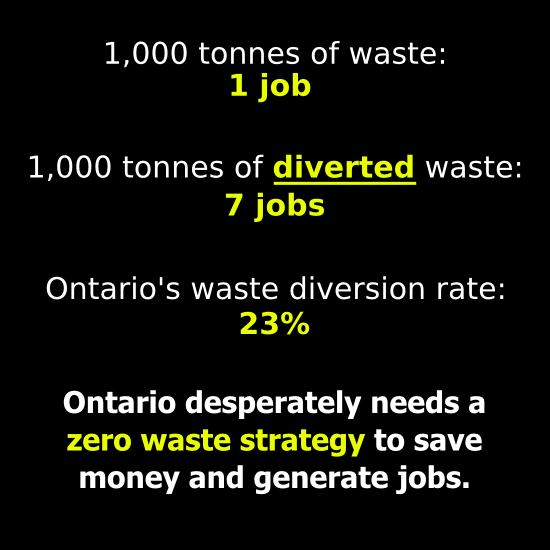 Plus waste diversion generates green jobs. For every 1,000 tonnes of waste we throw into a dump, we create one job. But if we take that same 1,000 tonnes of waste and divert it -- by reusing or recycling -- we create seven jobs.
Ontario desperately needs a zero waste strategy to save money and generate jobs. Right now, Ontario has a flawed cost structure that makes dumping garbage less expensive than reusing and recycling. We can fix this by creating incentives for businesses to eliminate waste in the first place.
Right now we, as taxpayers, pay for the disposal of packaging, disposable products and hazardous materials. By shifting the cost of waste from property taxpayers onto industry, we can create a clear profit incentive for businesses to eliminate waste. Our entrepreneurs will have a market incentive to produce less wasteful products and offer services to reuse, repair and recycle.
The Liberal government's inaction on waste is costing Ontario money and jobs. It is a threat to our environment and the health of our communities.
We can do better in Ontario. The success of the blue box program shows that people will embrace environmental programs that are easy to use and provide the right incentives to work.
10 Things To Recycle For Charity
Americans discarded more than 300 million pairs of shoes last year alone. Rather than let your unwanted kicks go to waste, donate them to a good cause to help those in need and conserve natural resources. Nashville-based Soles4Souls collects all types of shoes – sandals, sneakers and boots – in any age range, from children's to adult sizes. New and gently-worn shoes are refurbished and delivered to low-income school districts and domestic violence and homeless shelters in the U.S., as well as shipped overseas to countries like Honduras, Costa Rica, Tanzania and India. Since 2005, the nonprofit has distributed 17 million pairs of shoes to people in need in more than 127 countries. If your kicks are too trashed to wear, check out Nike's Reuse-A-Shoe program, where shoes are recycled into material for playgrounds, basketball courts and other athletic surfaces. Learn More About Recycling Your Old Shoes

You bring your own reusable shopping bags to the grocery store to cut back on waste. But what happens when you've stockpiled too many reusable bags or when your bags are worn-out and no longer usable? ChicoBag, a Northern California maker of reusable bags, offers a Repurposing Program that accepts all types of reusable shopping bags in any condition. The company donates usable bags to low-income families, so they can "start a reusable bag habit," according to its website. Worn and unusable bags are sent to The Grateful Thread to be woven and knit into pretty new products such as aprons, journals, rugs and new bags. In addition to conserving natural resources, The Grateful Thread provides job-training opportunities for victims of domestic violence in Schuylkill County, Pa., and all proceeds from the sale of its recycled products fund services to assist these individuals. Learn More About Recycling Your Bags for a Cause

Ever wondered what to do with all those hotel shampoo bottles and unused bars of soap? Gather up your surplus bathroom items, and send them to Globus Relief for use as life-saving resources around the world. Based in Salt Lake City, Globus Relief accepts in-kind donations of medical equipment, hygiene products and linens, including deodorants, toothpaste, bar soap, shampoo, washcloths, brushes, combs, bed linens and towels. The nonprofit works with other international charities to distribute donations to rural hospitals in developing nations. Recycle These Other Household Items to Stop Global Conflict

An ever-growing number of nonprofits are using unwanted electronics to benefit the environment and communities in need. Through a program started last year, Apple allows customers to donate their old iPads to the Teach for America Corps program, which places recent college graduates in teaching positions at low-income public schools. Unwanted computers can find their way into classrooms in the U.S. and abroad through Computers with Causes and World Computers Exchange. For cell phones and smartphones, check out Cell Phones for Soldiers, EcoCell, March of Dimes and Greenest Genius. Both Sprint and Verizon also offer charitable take-back programs for old phones. For a wider selection of nonprofits, head to Recycling for Charities - a Web-based take-back program that accepts and recycles all forms of electronics and gives a value donation to your charity of choice. Learn How to Recycle Your Smartphone, Tablet or Computer for a Cause

Whether that formal gown is from your wedding or your prom, it can be tough to find a reuse idea after the big day has come and gone. DonateMyWeddingDress.org allows you to choose from five nonprofits that accept wedding dress donations and use the profits to benefit those in need. Causes provide relief for earthquake victims in Haiti, give free dresses to military brides-to-be, make wishes come true for breast cancer patients and much more. Most of these charities also accept other formal gowns, including prom and bridesmaid dresses. For little black dresses, men's suits and other business attire, head to Career Gear and Dress for Success. Both groups provide your used business attire and toiletries to unemployed, low-income men and women for job interviews. Dress for Success accepts women's clothing, while Career Gear serves men. Learn More About Recycling Your Wedding Dress for Charity

Many greenies opt for e-cards to cut back on waste while marking special occasions. But if you receive a paper greeting card or two, you may be surprised to know that the curbside bin isn't your only option for recycling. St. Jude's Ranch for Children recycles your used greeting cards and creates new holiday and greeting cards for any occasion. Recycled cards are sold in packs of 10 for $10 to support their programs and services, which serve abused, abandoned and neglected children. In addition to benefiting from greeting card sales, kids at St. Jude's Ranch receive payment for their work assembling new cards, while learning about basic job skills and the importance of recycling. See 7 More Gifts That Benefit Charity

Most women have at least one bra in their closet that just doesn't fit right. Rather than let them lay forgotten at the bottom of a drawer, recycle your lightly-used, unwanted bras to make a difference for breast cancer survivors. Charities like Bras for a Cause and The Bra Recyclers collect gently-worn brassieres and distribute them at crisis centers and breast cancer support groups. The Bra Recyclers have drop-off locations in several U.S. states and Canadian provinces. If you can't find a drop-off bin near you, just mail your bras to either charity. Check out their websites for shipping information. More Things to Recycle for Breast Cancer Awareness

In the U.S., more than 13 laser and inkjet cartridges are disposed of every second, totaling an estimated 375 million each year. Through its Cartridges for Kids program, Waste Management accepts all brands of laser and inkjet cartridges, along with cell phones, laptops, tablets and MP3 players, and donates the proceeds to the school or charity of your choice. To donate your old cartridges or start a cartridge recycling drive in your area, visit the Cartridges for Kids website. See How E-Waste Gave Jobs to Americans with Disabilities

Old furniture can easily find new life at a secondhand store in your area. But if you'd like to take a different approach, loads of charitable programs will accept your old, unwanted furniture and distribute it to people in need. Operation Homefront allows you to choose military families to benefit from your donation, while Vietnam Veterans of America sells furniture and other housewares to fund its programs for veterans. The National Furniture Bank Association also accepts gently-used furniture for reuse. Your local Furniture Bank chapter will take your old furniture and donate it to families in need, particularly previously homeless people who are trying to get back on their feet financially. Find More Charitable Solutions for Furniture and Housewares

If your bookshelves are exploding with barely-read manuscripts, it may be time to find a recycling solution. You can easily donate used, readable books to a local school, public library, community center or prison in your community, but those aren't the only options for helping your old books give back. As its name implies, Minnesota-based Books for Africa works to build libraries in Africa and uses your donated books to stock them. Another way to put your book on a mission is to donate to Operation Paperback, which provides books to U.S. troops stationed overseas. Want More Tips?: Find Cause-Driven Recycling Solutions for Books, Housewares, Appliances and More

A quick guide to donating an old car to charity.
Follow Mike Schreiner on Twitter: www.twitter.com/MikeSchreiner