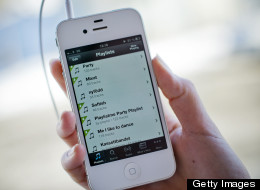 It's time to reclaim the iPhone and take the iPad back for yourself.
Here's our list of The Best Apps for Moms -- from brain teasers and fun games to finding downtime, there's an app just for you in there somewhere.
Finding a few minutes in your day (or at the end of it) to feel relaxed and centred should be doable, but if you need help, Simply Being offers 10, 15 and 20-minute voice-guided meditation sessions (with or without music and nature sounds) to get you in tune with your inner Zen—especially when things in your house are a little zany. $0.99, available at itunes.com

You've trained the kids on how to walk, talk, tidy up, skate and ski. Turns out, your brain could use a little training too. This stimulating app uses seemingly simple (though they get harder) creative questions, quizzes, patterns and more, in logic, math, memory and visuals to get you really thinking. You remember how to do that, right? $4.99, available at itunes.com

A portable app version of the extensive mind-Olympic site that is Lumosity, Brain Trainer is a fast-paced, somewhat addictive, challenging (and occasionally infuriating, when you are outwitted) app that gives new meaning to the idea of time well wasted. Free, available at itunes.com

It looks like a game, which might fool you into thinking its child's play, but Move the Box is actually a series of ongoing and complex tests of logic. Keep your brain busy as you try to line up three boxes in a row, without wasting all your turns. Not just for adults, expect the kids to get hooked too. Free, available at itunes.com

This app may remind you a bit too much of your morning routine. In order to get out of the room (and there are, as the name describes, 100 of them), you'll need to find the pieces of the puzzle hidden within, then solve the puzzle in order to unlock the door and move into the next room. Similar to your daily experience of running back into the house repeatedly looking for the library book, cell phone and rain boots, the good news is you can just shut this house down when you've had enough. Free, available at itunes.com

Part Boggle, part Tetris, wholly addictive, SpellTower has several modes that have you constantly searching for the right words. (Practising this may come in handy during your upcoming March Break visit with the in-laws.) $1.99, available at itunes.com

We're always in tune to our kids' moods and sensitivities, but our own? Exactly. Check yourself with Arianna Huffington's GPS for the Soul app that enables you to monitor your heart rate through the lens of your iPhone. If the reading occasionally indicates a stress-level higher than norm (it will—you're a mom), it offers advice, messages and breathing techniques to remind you to take a moment. Ahhhhh. Free, available at itunes.com

On each screen you'll see four pictures that have something in common. The word that describes the common element is scrambled below the images. Now, all that needs doing is to figure out what links the images then unscramble the letters. Sounds simple—and it is, to start—but the whole family might need to work together to solve higher levels. Great for road trips, plane rides and waiting in line. Free, available at itunes.com

Also available in a free version, this $2.99 addictive game is intended to be played with multiple friends or strangers (though you can play alone in practice mode). Much like its similarly addictive counterparts, Razzle and Words With Friends, it's hard to stop once you get started. $2.99, available at itunes.com

Art appreciation on an iPad? While touring the Museum of Modern Art (or the Louvre) and its original works of art in person can't ever be replaced by a cyber experience, this app allows for lots of appealing bits of information on thousands of artistic exhibits. It also has handy information about the museum itself for your next in-person visit. Free, available at itunes.com

Math can be cool. That's what we tell the kids, anyway. Prove it to yourself, and them, with a simple game involving Newton, the penguin who hops from square to square as you select the right number based on simple math problems (numbers that can be divided by threes, etc). Watch out for the Yetis that chase you and the time bombs that blow up the whole board. $0.99, available at itunes.com
This post originally appeared on SavvyMom.ca. Follow Minnow and SavvyMom on Facebook for more savvy tips and solutions.