9 Simple Ways to Improve Your Family's Diet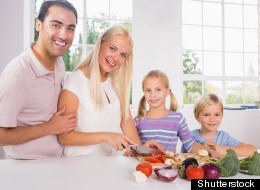 We're not saying you need to make big changes to your diet, but sometimes small changes can make a big difference. Here are 9 Simple Ways to Improve Your Family's Diet. Because we know you are always looking for ways to improve.
High-five yourself if your daily cereal follows 'the rule of fives': it should contain at least five grams of fibre per serving and no more than five grams of sugar. Even better is if there's at least three grams of protein (per serving) included. Find out more

Your taste for adventure these days may be limited to breastfeeding your babe in Starbucks, but at home, the culinary options are endless. Try infusing healthy ingredients into your diet like adding canned pumpkin to chili, spaghetti sauce or muffins. Add ground spinach to turkey meat tacos or puree avocado (a healthy fat) and add it to your muffin mix. Find a recipe

Some snacks aren't all they're cracked up to be, so when hunger strikes, have hard-boiled eggs in the fridge at the ready. Experts say eggs add to increased brain health, decreased inflammation and improved cardiovascular health. For cholesterol worries, toss the yolk and eat just the protein-rich egg whites. Find a recipe

Yogurt labels can be harder to decipher than your pediatrician's scribbling, but suffice it to say many yogurts—even the ones that claim all kinds of health benefits—can contain loads of sugar. If you can't stomach a whole serving of plain Greek yogurt, mix a couple spoonfuls in with your regular yogurt to cut the sugar. Find a recipe

Cook up some quinoa and cut the carbs. This 'superfood' is high in protein and is a good source of fibre, magnesium and iron. It can be an easy substitute for noodles in your favourite soups, creating a dish that adds even greater health benefits, texture and crunch. Find a recipe

Grab a bag of ground or milled flaxseeds and chia seeds (or grind full seeds yourself at home) next time you are at the grocer. By sprinkling them onto your cereal or blending them into a smoothie, you're taking in beneficial sources of fibre, magnesium and calcium—a completely effortless way to pump up your diet. Ground seeds can also be added to baked goods. Find a recipe

Sorry, we can't advocate a bag of chocolates a day, but we are talking about sweet potatoes, loaded with fibre and beta-carotene, as well as multiple vitamins. While many avoid spuds for the carb content (which is a debatable diet practice anyway), sweet potatoes are the smarter choice if you're so inclined. Find a recipe

No need to conceal that chocolate bar anymore—as long as you're enjoying it in moderation. Dark chocolate, ideally with 85% cocoa content or more (an acquired taste for some), has health benefits that put its milk chocolate counterpart to shame. So if you're going to eat sweets, definitely go for the dark side. Find a recipe

Coconut oil is full of some of the best kinds of saturated fat and metabolism-boosting medium chain triglycerides (MCTs). It can withstand the heat of cooking, so it's known as a versatile cooking oil, but is also an excellent addition to smoothies (add a tablespoon) or mix it with a small bit of butter on air-popped popcorn for a healthier movie night snack.
This post originally appeared on SavvyMom.ca. Follow Minnow and SavvyMom on Facebook for more savvy tips and solutions.