9 Savvy Photo Apps You Should Know About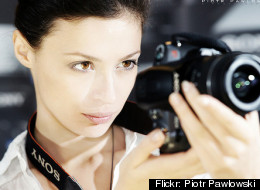 Did you just dump your holiday photos on Facebook and call it a day?
We've got nine simple and fab new tools that allow you to take those shots and share them, save them, enhance them and turn your family memories into keepsakes. You'll love this list of Nine New Photo Apps You Want to Know About.
9 Savvy Photo Apps You Should Know About
A picture says a thousand words, but attaching your own voice to a favourite photo can enhance the memory in a million ways. Developed by a Toronto-based mobile app builder, Spoke Technologies, SPOKEnPHOTO allows others to view your photos and record their thoughts of them. Move over Angry Birds, our kids loved playing with this app just as much. Free, available at spoketechnologies.com Free, available at itunes.com

Instead of always forwarding pics to your inner circle—or worse, sharing inappropriate shots with your boss you just connected with on Facebook—create select groups (or circles in this case) to share the right photos with via PhotoCircle. Photos can be instantly shared in real time with anyone in the select private circles you set up. Free, available at itunes.com

Waiting for someone to develop a digital photo book you can create in minutes, where you import your pictures from Facebook, your iPad, iPhone or iCloud with professional editing options? They heard you. Glossamatic will put those printed books you waited weeks for to shame with its ease of use and instant gratification. Free, available at itunes.com

Shutterfly fans have an even better reason to stick with the photo-publishing site. They recently acquired one of our other (and now former) favourite photo-sharing sites, ThisLife, known for its ease of organizing and coordinating all of your photos from various sources—as well as its brilliant photo search index. Free (Starter Plan), available at thislife.com

Thanks to its offerings—including a safe, secure and central place to collect all of your photos, uploaded from your various devices and social media sites—Photobucket has tons of fans. You can create albums using great photo-editing options and share them via email or link them through Facebook, Twitter and other social networking sites. Free, available at itunes.com

Unlike some social sites where you may normally store your photos (Facebook), Path allows no advertising and is extremely easy to use. Create albums and invite friends to join your Path via email—every time you upload a photo, they are notified and can view it via their Path login too. Free, available at itunes.com

Targeted at both amateur (read: the in-house family photographer) and professional photographers, SlickPic offers a way to easily customize your photo albums to share on social media sites or post to your photo blog or website. It has tons of other features too, including dynamic photo galleries and photo enhancing. Free, available at slickpic.com

DropShots offers many of the same benefits as most photo-sharing sites and apps, with an added perk of not having to upload images via your browser. Simply drag images or video files right onto the DropShots icon on your desktop (or iPhone/iPad) and your images are ready to categorize, create, edit and share. Free, available at dropshots.com

Just released for Apple devices, PicsArt has been hugely popular among Android users. While more of a photo-editing app than a photo-sharing program, we included it on our list as it's worth a download for all the fun and quirky photo effects, edits and creative collaborations that can be applied to your favourite photos and then shared among friends or social media sites. Free, available at picsart.com
This post originally appeared on SavvyMom.ca. Follow Minnow and SavvyMom on Facebook for more savvy tips and solutions.