11 Subscription Delivery Services for Moms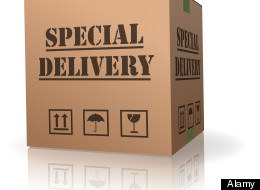 Doesn't every woman love to receive a box wrapped with a pretty ribbon from time to time? Imagine that box was delivered to your door, filled with something new to surprise and delight you once a month? Sounds swell, doesn't it?
It's not hard to achieve this level of excitement. Just sign up for a monthly subscription service that delivers boxes full of goodies to suit your needs -- beauty or stuff for the babes.
We took a look inside some of these new subscription delivery services that are based in or ship to Canada, and unpacked all the details you need to know.
11 Subscription Discovery Services for Moms
A quarterly Canadian subscription service, Glymm gives a little bit of everything—beauty, perfume, skin care, hair products, makeup brushes and more. Samples are usually trial-sized and number around four or five per shipment. Cost: $15/quarter with free shipping. Tell me more

Each month this Canadian-based subscription service delivers between five and seven products for moms and their babes that are earth and human friendly. Customize your box by gender and age so the items are appropriate for your family. Cost: $25/month with free shipping. Tell me more

Looking for a little affordable luxury in your mailbox each month? Loose Button Luxe Box has you covered with a quarterly shipment of seven to eight trial-sized, well-curated quality beauty products. They also offer gift subscriptions and specific gift boxes if you want to send a little something to someone special. Cost: $26/quarter with free shipping. Tell me more

Sam and Sofia are two super-lucky globetrotting kids travelling around the world and they want your little ones to join in on the adventures—from afar. Sign up for this monthly subscription service and receive explorer kits, letters, fun and unique souvenirs (Japanese sushi eraser, Egyptian pyramid dig kits), stickers, photos and access to online games. Each month it arrives from a new country. Cost: starts at $11.95 for a monthly plan. Tell me more

Beauty Box Five, a US-based service that also ships to Canada, is quickly becoming a favourite for its well-selected stock of quirky beauty brands that editors love. Expect four to five sample-sized items, shipped to you each month, mid-month. Cost: $12/month with free shipping. Tell me more

New and expecting moms will love this service that aims to make life a little bit easier and a lot less stressful. Receive a care package of products each month during your pregnancy and into your baby's first year. Expect to get four to five products each month with a note telling you more about each one. Cost: $25/month with free shipping. Tell me more

With brands like Burt's Bees, Aveeno and OPI, the finds in this glossy box start at a more affordable price point, so if you get hooked, you're not on the hook for a beauty addiction that will eventually bankrupt you. Cost: $21/month with free shipping. Tell me more

Kids ages 3 to 7 will love receiving their own box of goodies just as much as you. Each month an Adventure Pack full of items to spark creative play is shipped with a specific theme (pirates, animals) for one child and one parent to play with, and an option to purchase add-ons for siblings. It's a great birthday gift idea too. Cost: $29.99/month (with a 12-month commitment) with free shipping. Tell me more

Offering one of the more extensive lists of beauty brands (Cargo, Chloe, Benefit, Marc Jacobs, etc.), Topbox asks you to fill out a beauty profile so your box of goodies can be customized for you. Cost: $12/month with free shipping. Tell me more

SeasonsBox stands out in the subscription service business because they offer full-size samples that are—you guessed it—seasonally relevant, either in terms of fall/winter/spring/summer or appropriate holidays. Expect three to five samples of luxurious, environmentally conscious products—from body scrubs to decadent chocolates—from this Canadian-run service. Cost: $34.90/month plus $4.95 for shipping. Tell me more

US-based ipsy is getting buzz for the contents of its beauty bag (that's not a mistake—ipsy's items are bagged not boxed), and luckily they now ship to Canada, with chic yet affordable beauty brands you may not have heard of—yet. Cost: $10/month plus $4.95 for shipping to Canada. Tell me more
This post originally appeared on SavvyMom.ca. Follow Minnow and SavvyMom on Facebook for more savvy tips and solutions.