Why Email Needs a Facelift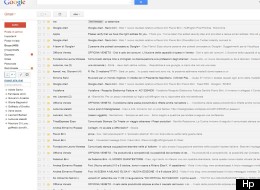 There has got to be something better than email.
Email has been around longer than you think (you check out the Wikipedia page for the full run-down), and while some of the email clients have advanced and helped us better sort the wheat from the chaff, the majority of us still feel that email is like one, big, never-ending game of Tetris. As each email comes in we move it, push it and poke it in hopes of getting it into the right place, but it doesn't end and, like Tetris, the pieces just continue to fall until the screen fills up and all we can do is claim email bankruptcy.
Game over.
For almost as long as email has existed, people have complained about getting too many emails. We celebrate inbox zero as if we just gave birth to a new child. While some lauded the arrival of the first BlackBerry, many saw it as a digital manifestation of the ball and chain that would shackle them (at nights and on the weekends) to their office. While many saw mobile email as a liberating force, many curse the day that getting email anywhere and everywhere was invented.
As strange as this may sound, there was a moment in time (and it wasn't so long ago), that once you left the office you did not hear from the office. If something were a real emergency, you might get a phone call to your home number, but those moments were truly few and far between (unless you were a doctor or someone whose job involved a true emergency -- as in someone's life is dependant on it). Email makes life easy. With it, comes a new reality: we create more emergencies (the kind that aren't truly life threatening at all).
For most, email is clutter.
If you work at Zappos, never do a reply-all to an email. Other Zappos team members will show up at your desk with a dunce cap for you. Literally. Other companies have equally compelling rules (both written and understood) that help individuals better understand email etiquette. On November 5, 2012, Marketing Charts ran a news item titled, Clutter: 4 in 10 say more than half of their new emails are from marketers. From the news item:
"...according to [pdf] a Blue Kangaroo online survey of more than 1,000 US adults aged 18-64, a whopping 43% said that more than half of the new emails in their inbox the week prior to the survey came from marketers (including daily deals, retail newsletters, and sales alerts). In fact, 8 in 10 respondents said that more than 20% of their new emails came from marketers."
Regardless of how accurate this report is, we can't deny how challenging email has become. The level of fatigue that the average consumer faces with each and every ping of their inbox is astounding.
Email needs a facelift.
There are several companies (some established and some startups) that are trying to solve the problem of email. Some will tell you that young people don't use email (unless they need to communicate with a parent or grandparent). That these young people are abandoning email and using platforms like texting, chat or even Twitter and Facebook to communicate with one another. Shorter, faster and near-real time. Some of that makes sense, but for the vast majority of corporations, that won't cut it. Email doesn't just need a facelift in terms of making it more relevant to the incoming workforce, it needs to make itself relevant in the social age as well.
Email as a mechanism for tribal knowledge.
When we rethink email, it has to push beyond how we file, store and manage this information. Because email was created before the advent of social media and other collaborative tools, we now need to figure out a way to unlock a lot of this communication. We need to make it as shareable and as findable as possible to those that need it. Think about your daily communications and how much of that information may be valuable to others (it could be a new employee who is not as well-versed on your corporate culture as they should be, and it could be a way to enable others to have access to the information without having it litter their own inboxes). At the same time, we need to ensure (now, more than ever) that private email communications remain that way. In short, email needs to reestablish itself as a channel that drives both value and efficiency, instead of one that simply pesters and annoys.
Wouldn't it be nice to once again enjoy the sentiment, "you've got mail"?
Mitch Joel is president of Twist Image -- an award-winning digital marketing agency. HIs first book, Six Pixels of Separation, named after his highly-successful blog and podcast of the same name is a business and marketing bestseller. His next book, CTRL ALT DEL, will be published in Spring 2013.
13 Ways To Clean Up Your Inbox
Before you attempt to conquer your inbox, there are two types of email personalities you should know about: The pilers and the filers. Pilers are people who keep every message they've ever received, while filers take every message out of their inbox and move it to folders. TIP: Before you start managing your inbox, it's important to figure out what you should prioritize first.

Unless your job demands replies within minutes, checking your email can harm your overall productivity. On average, it takes 64 seconds to fully recover from being interrupted by an email, according to Loughborough University. TIPS:Locate your "Settings" or "Tools" menu and turn off your "notifications" options and save. This list has all the steps, depending on the type of email program you use.

Think about this: It only takes a few seconds to delete one junk message, but deleting a newsletter every day for the next year will consume over 30 minutes. TIPS: Look through emails that are currently in your inbox. For any that you don't read regularly or don't find valuable, hit the unsubscribe link.

When you don't need a message, you can't avoid seeing it in your inbox. But when you do need it, it's gone. Sound familiar? Mastering the art of "search" can help you recover lost messages. KEY TERMS (to enter into search field): from: -- Searches messages from a specific sender name or email address. before: -- Searches for messages sent before a date. For more search words, visit Revive Your Inbox.

The different email systems require their own techniques for total email 'cleanliness.' Too numerous to outline here, Revive Your Inbox has deatiled the various steps from Gmail, Outlook and other email systems, including tools you didn't know existed.

Deferring emails lets you remove non-urgent notices from your inbox and receive a reminder later. You can defer a message using folders, a calendar, or a reminder service like Boomerang for Gmail.

On average, we delete 71 messages every day. Deleting a message takes an average of 3.2 seconds. Go through your inbox -- which emails are you usually deleting everyday? Spam or office threads? Figuring out which emails are easy to delete will help with faster searches and keep you under your mailbox size quota.

For most email responses, it only takes 73 seconds to write a reply. To maximize your time (and the recipient's time too), don't go over five sentences.

We get approximately 12 messages a day that ask for substantial effort, and these can add 90 minutes to a workday. If an email needs more than five minutes of effort, move it to a to-do list and prioritize those first.

Using email templates for standard and oft-used responses can save you 60 seconds per message. Outlook, Gmail, Yahoo, Apple Mail and Thunderbird all have their own messaging templates.

The best times to send emails are before work and during lunch hours. An email sent at 6 a.m. is three times more likely to get clicked on than one sent at 4 p.m.

Folders and labels are powerful tools that can be used to add searchable context to your inbox messages. However, apply with caution: having too many categories will clutter your inbox.

The rule of keyboard shortcuts is exactly the same as the rule of glue: A little does a lot, but a lot can make a mess. Some say using keyboard shortcuts is faster than using a mouse. TIP: The optimal number of keyboard shortcuts to memorize is seven -- for everything else, use a mouse. Check out this 'make your own' cheatsheet for Gmail.
Follow Mitch Joel on Twitter: www.twitter.com/mitchjoel