Canada Can Show The World What Strength In Diversity Really Means
As a scientist in training, I appreciate nothing more than an opportunity to share my research with the world. After countless hours in the lab, I was ecstatic to present my work at two conferences and a seminar. I was about to pack my bags when I heard that the new president of the United States had signed an executive order banning individuals from seven majority-Muslim countries. As an Iranian-born Canadian citizen, I was included in the first iteration of that ban. I was disappointed.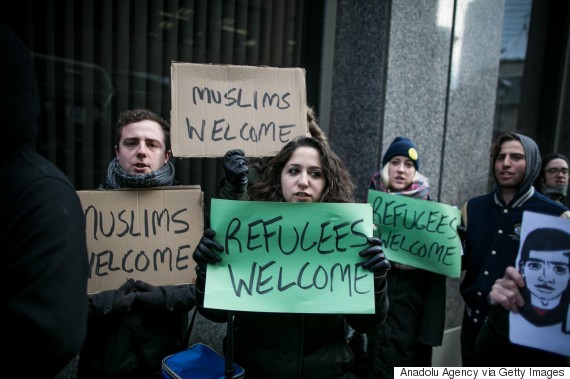 Demonstrators gather at the Consulate of the United States of America to protest United States President Donald Trump, in Montreal on Jan. 30, 2017. (Photo: Amru Salahuddien/Anadolu Agency/Getty Images)
Soon after I turned on the news, I came across images of helpless Syrian children and desperate women living in unimaginably horrific circumstances. I could almost hear their sobs from their still images. I felt their pain as if it was my own. They were heartbroken; they were just told that the land of opportunity had turned its back on them. But they were innocent, their only crime was the bloodshed they were escaping from.
I did not know what it means to live in war, but I knew someone who did. My great grandmother from my mother's side was a Jewish Russian teenager when her parents were killed during the Second World War. She had sought refuge in the northern parts of Iran. Her wish was granted; however, she was forced to convert to Islam.
Like most refugees, she became a contributor to her community. As a child, I remember she always had difficulties conforming to the Islamic norms that existed in Iran. For instance, on many occasions she would walk outside her house with little to no hijab. Of course, I did not know about her past at the time. It was years later when my family told me about what she had gone through. In a way, perhaps the main reason we moved to Canada was to be able to live in a world synonymous with freedom. I was appalled to witness innocent people sharing the same fate as my great grandmother decades ago. I wondered, have we learned nothing?
The Canadian spirit demands acceptance, and we will be stronger because of it.
A couple of days after the ban was announced, it was reported that Canadian citizens would be exempted from the executive order. While I was relieved to not go through the hassles of canceling flights and hotels, I was far from content. How could I be happy about presenting at a conference when an Iranian infant in need of life-saving surgery was banned? How could I be selfish enough to ignore the countless people being denied the same opportunities that I was given?
For the first time in my life, I began to understand the meaning of depression. But that depression was soon replaced with hope. Maybe it was because I saw people around the world peacefully protesting injustice. Maybe it was because I had received invaluable support from many when I too was banned. Or maybe it was because I am just an optimistic person. However, it is hard to not be inspired when the Canadian Prime Minister Justin Trudeau stated that "to those fleeing persecution, terror and war, Canadians will welcome you, regardless of your faith. Diversity is our strength."
To those fleeing persecution, terror & war, Canadians will welcome you, regardless of your faith. Diversity is our strength #WelcomeToCanada

— Justin Trudeau (@JustinTrudeau) January 28, 2017
Strength in diversity is indeed displayed in the current Canadian cabinet. In Canada, you are judged based only on your contributions and qualifications. That is how Harjit Sajjan, a Sikh-Canadian born in India, can become the minster of national defence; or Maryam Monsef, an Iranian-born Afghan, Canadian can become the minister of status of women. Sajjan, Monsef and many others are here because once upon a time Canada welcomed them.
There are many parts of the Middle East that are drowning in war and conflict while many western leaders seem to be in utter negligence. It is time for Canada to lead by example yet again. The Canadian spirit demands acceptance, and we will be stronger because of it.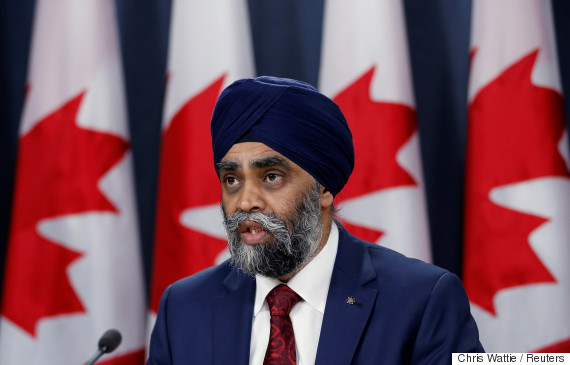 Canada's Defence Minister Harjit Sajjan, Nov. 22, 2016. (Photo: Chris Wattie/Reuters)
Iran will always have a special place in my heart, for it is my birth place. But Canada has raised me to be the man I am today. Canada has taught me that respect is discrimination's kryptonite, and that all people believe in the same fundamental values. We all want to be treated fairly and equally, regardless of the god we may choose to worship. After all, we are all human, first and foremost, and Canada recognizes that principle better than any other nation on earth.
Indeed, I am proud to call myself a Canadian.
Follow HuffPost Canada Blogs on Facebook
Also on HuffPost:
Great Things Canadians Have Done So Far For Syrian Refugees
Joe Woodsworth, a senior manager with Surrey, B.C.-based Options Community Services picks up dozens of backpacks, each filled with school supplies for Syrian children. Operation Backpack is the idea of former 24Hours columnist Laila Yuile.

Malak arrived with her family in July after living in a Jordanian refugee camp for two years. Her teeth were so decayed the 5-year-old girl was kept up at night because of the pain until a local dentist stepped forward to help the family for free.

"Hopefully, together, we can prove that Canada in general and the Maritimes in particular are as generous and welcoming as the rest of the world thinks we are," P.E.I. artist Amy Seymour told HuffPost Canada.

In November, the Edmonton Oilers captain gave $10,000 to Edmonton's Mennonite Centre for Newcomers to support their work in helping to resettle incoming Syrian refugees. The donation helped the group meet its two-month goal in a single day.

The Guelph businessman made headlines last month after stepping forward to say he intended to spend $1.5 million to privately sponsor 50 Syrian refugee families to come to Canada. Estill explained he was tired of seeing refugee applications get snarled in long, bureaucratic processes. "I'm a businessperson, I'm very impatient, and we should just do it now," he said.

"It's really good to know that we're so compassionate and that we want to help," said Darrell McLeod of St. Clare's refugee family sponsorship group. "Everybody's very excited about it. Everyone's been really excited to make things happen."

Westbank Developments founder Ian Gillespie is behind many of downtown Vancouver's glitziest skyscrapers.A descendant of Irish immigrants, he made a pledge in November to furnish a 12-unit West End apartment complex and open it to incoming refugees. He also said he's exploring ways to help Syrians get jobs after they arrive in the city.

A small group of from the Keewatin Otchitchak traditional women's drum group gathered by baggage carousels to greet 17 Syrians to Treaty 1 with a song of welcome.

"I need to point out that the people who are desperate refugees are fleeing from the exact same people who perpetrated the kind of violence we saw in Paris and Beirut last week," the Calgary mayor told reporters a week after deadly attacks in France and Lebanon. "They're running away from the bad guys and, as such, we need to be able to open our arms to make sure that we can provide safety to these folks."

Christine Youssef (pictured) greets newly arrived Syrian relatives on a bus near Pearson International Airport in Mississauga on Dec. 11. Youssef and her mother are sponsoring 43 of their Syrian relatives to come to Canada. Thirteen have arrived and are staying at the family's small Scarborough, Ont. bungalow. Soon, nine of the relatives will move out, making room for more relatives to come in.

When CBC News reporter Eman Bare interviewed Mohamed Al-Noury, 21, and Athar Farroukh, 23, she realized the Syrian refugee couple had no wedding pictures. So Bare put a callout on soical media to surprise the high sweethearts with a wedding. Her request spread and within 24 hours people came forward donating a venue, suit, dress, and cake. "Grateful for a community that makes beautiful things happen," wrote Bare on Instagram below a photo taken at the couple's Saskatoon ceremony.