Restore The Rights Of Canada's Music Creators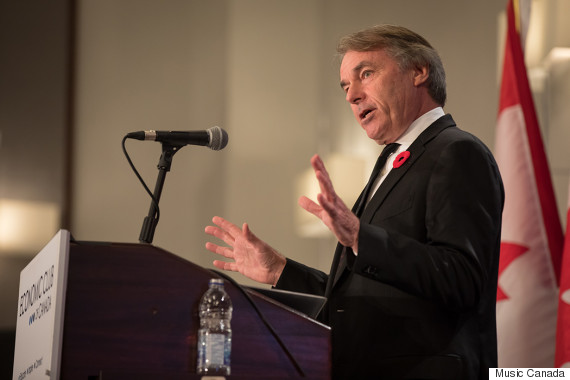 Graham Henderson is president and CEO of Music Canada.
By Graham Henderson
(Adapted from his Nov. 1, 2016 speech to The Economic Club of Canada)
In 2003, the idea that creators were entering a new Golden Age was widely embraced by artists, the media, policymakers and others worldwide.
Peer-to-peer file sharing had become the default way for people to access music for free, and the iPod had taken mobile digital music into the mainstream. The digital era, it was believed, would usher in a utopia for both musicians and the consumer. Artists would gain access to a larger audience than ever before, and make up for the collapse of their traditional marketplaces through concerts, merchandise sales and other means.
But in reality, artists -- the people who build our nation's cultural foundation and much of the intellectual property we export -- now struggle more than ever to earn a living. The creative middle class has virtually ceased to exist.
Just as youth today are told they must accept a world of precarious employment, the gutting of the creative class has been presented as inevitable. It is time that we question that supposition. After all, we live in a social democracy, in which the people, not corporations and not plutocrats, get to decide how to order their lives.
Let's consider how the creative community got to where it is today.
In music, lots of money is being generated, but a disproportionately small share of it is finding its way to creators.
The 1996 World Intellectual Property Organization "Internet Treaties" are the foundation for most of the rules governing our modern digital environment. When the treaties were adopted, less than one per cent of the world's population was online, and it would be 2.5 years before Napster appeared, eight years before YouTube and over a decade before Spotify.
For the new technological infrastructure to get off the ground, it was argued that creators would have to give up copyright payments that would previously have been required. To achieve this, intermediaries and technology companies were subsequently granted "safe harbours" from liability in copyright laws worldwide. With this arrangement, a social quid pro quo was articulated over and over again: creators would be better off -- this was the promise of a Golden Age.
Economist Olivier Bomsel characterized the new arrangement as a massive system of cross-subsidies paid by creators to digital businesses.
So what has become of the promised Golden Age for artists? One recent study found that, in 2011, the average artist in Canada earned just $7,200 from music-related activities. A 2015 Writers' Union of Canada survey found that more than 80 per cent of writers earn sub-poverty line income from their writing!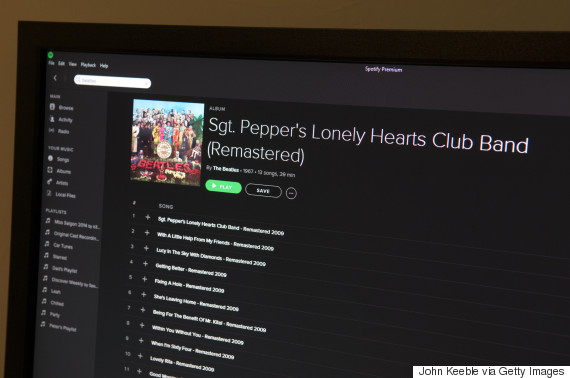 A computer showing the Spotify website on Dec. 24, 2015 in London, England. (Photo: John Keeble/Getty Images)
They are charter members of a new social class, dubbed the "Precariat" by British economist Guy Standing, arising from technologies that accelerate the growth and concentration of profits while driving wages down and making them ever-more uncertain.
In music, lots of money is being generated, but a disproportionately small share of it is finding its way to creators. This is due in part to the massive popularity of ad-supported online music streaming. Services such as YouTube and SoundCloud have driven huge increases in digital music consumption while delivering far less revenue than paid subscription services like Spotify. Ad-supported services, with over 13 times more users than paid services, delivered less than one-third of total streaming royalties.
Music Canada is among those now calling for reforms to address this "value gap," to restore the creative middle class and to level the playing field for all creators.
Any approach to the problem should be holistic and multijurisdictional. At the local level, many municipalities are looking to maximize the job creation, economic and other opportunities that music generates with Music City strategies. At the provincial level, Ontario and B.C. have created substantial music funds and implemented music-friendly policies.
Think of the essential role played throughout history by artists in the fight for democracy and civil rights.
The federal government, for its part, has made it clear that it wants a new toolkit to confront the challenges facing Canada's creators, that it seeks a new social contract. Here are some thoughts:
Through legislative reform, end the cross-subsidies paid by creators to digital businesses.
Promote Canada as the great music tourism destination it is.
Grow music program funding in line with inflation and changing marketplace realities and earmark some Trade Routes funds for music exports.
Alleviate the housing affordability situation facing artists, and provide them with skills and entrepreneurial training.
Modernize the Copyright Board of Canada as a true business development office for both creators and users of content.
Implement policies to attract foreign direct investment in the domestic music economy.
Rebuilding respect for the humanities is a nationally important issue. The Heritage Department should therefore convene an expert panel to consider this issue and to establish a permanent National Humanities Council. Also, in keeping with Heritage Minister Mélanie Joly's stated aspiration to go in new and bigger directions, the government should look at funding music education to help make up for growing shortfalls that have put music programs across the country in jeopardy.
Minister Joly has asked, "How can the government use content to promote a strong democracy?" In searching for a response, we must consider that, to the extent that we allow the voices of our creators to be compromised or marginalized, our democracy will suffer a great loss. Think of the essential role played throughout history by artists in the fight for democracy and civil rights.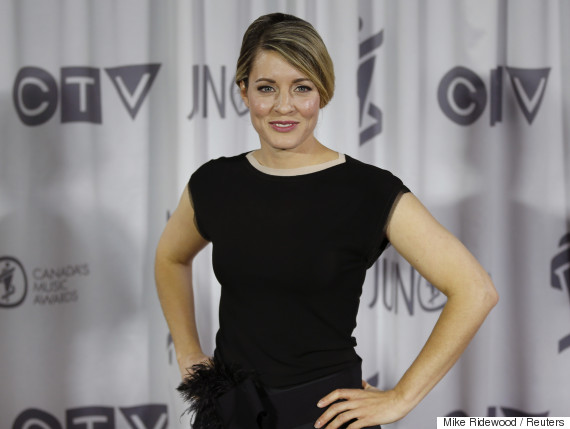 Heritage Minister Melanie Joly poses backstage after presenting an award on stage at the 2016 Juno Awards in Calgary, Alta, Canada, Apr. 3, 2016. (Photo: REUTERS/Mike Ridewood)
Young people today, creators and other members of the "Precariat" are objecting to their difficult circumstances, just as people fought against the brutalities of the first Industrial Revolution. In a social democracy, we can shape the world we live in.
So in answer to the minister's question: If you want a stronger democracy that is less vulnerable to special interests, encourage and enable our creators by restoring balance to the world in which they live. The promise made to creators of a Golden Age has been broken. Let's make it up to them.
Follow HuffPost Canada Blogs on Facebook
Also on HuffPost:
How To Pick The Right Streaming Music Service For You
Launched back in 2008, Spotify has quickly out-run its competitors to become to go-to streaming service for bright young things. It has a library of 20 million songs and deals with with Sony, EMI, Warner and Universal, so you can expect the latest albums to hit their service pretty darn quickly. The service offers paid-for and ad-supported models, so you can use it for free if you like. And it has good social media facilities, so you quickly get a sense of what your friends are listening to. You can also download apps from places such as Last fm, NME, Hype Machine and Lazify, which will widen your music experience. As well as being able to store albums offline (they're called playlists). It's basically a good all-round service, although music lovers have criticised it's music selection for not including more offbeat, eclectic artists.

This is definitely a service to watch. Sure, at this stage it only offers a paltry 18 millions songs, but critics say it's still a bit of a winner. Unlike other services, you can store up to 20,000 songs locally, which means that you're on your way to having a comprehensive personal music library and streaming service in one. It also does everything else its competitors do. Such as encouraging sharing of music and recommendations from others, while offering curated lists of songs. It's also got Google Plus built it. And is even available on iOS. If you're not sure, they're offering a one-month free trial. The only commonly cited drawback is that this system might be a little unreliable. But it's still in its early stages, having only rolled out its first phase a couple of years ago, so it might be worth sticking with it.

With more than 30 million music tracks available and a £9 per month subscription fee, Xbox Music is a solid bet. It comes in slightly cheaper than most other services, plus there's a one month free trial. The service works on Microsoft devices (like Xbox) but also on iOS and Android. Although some have criticised its mobile app on the Windows phone. Plus it streams quickly. So all-in-all, it's a pretty good deal.

From the people who gave you such life-saving apps as Skype, comes Rdio. Beautifully designed, you feel cool just for using it. But service-wise, it's not dissimilar to Spotify. You can subscribe to a similar free advert-supported service. And it links seamlessly with your social media life, posting your likes and loves to Facebook in an instant. It also costs £10 a month, and has 20 million songs in the library. On the down side, users have mentioned that some of its features aren't quite perfected. For example, their 'collection matching' music file option has bugs.

Begun in 2007, this service now has 35 million tracks in its library, more than 16 million users and is available in 182 countries. There are lots of deals for first-time users. So this might be a great service to try, before you make your final decision. You can subscribe to the service for just £5 per month for the first six months, and this includes unlimited access to its mobile app. There are also deals available for Orange/EE customers. Or if you buy a Sonos speaker system, you can use it for free. The one current drawback is probably it's mobile app. Users tend to agree that it's a bit dated and need some tweaking.

If you're genuinely in the mood for a service that does all the work for you, look no further than Nokia Mix Radio. This streaming service picks tracks for you to listen to at random. Wonderfully, there are no adverts, and you'll find that the service personalises over time, as it learns your music tastes. You can also download four playlist mixes to take with you when you're offline and on-the-go. So for £4 a month, with good quality audio, is there really a downside? Oh yes, it's available for Windows Phone 8 only.

Earlier this year, Last.fm closed its music subscription service to focus on personalised listening. Via the Last.fm Player, you can continue to take advantage of its 'Scrobbler' service. Basically, this device helps you discover new music based on your personal tastes and listening habits. It notes whatever you've been listening to on external programmes, and makes suggestions. Definitely a service for those who want an easy route into new music.

With near CD-quality sound and more than 22 million songs available, this service is very popular among music-lovers. The company doesn't offer an ad-based subscription model, as it wants to focus on keep the money flowing towards musicians, rather than corporations. It also prides itself on offering users carefully curated music playlists, put together by musicologists, rather than algorithms. Additionally, the service works well on devices with poor web connections, due to its back-end technology.

If you really want to join the music elite, then it might be time to download Shuffler.fm. This streaming service aims to curate the best music from the world's web-based tastemakers. Not only is there a library of 20 million songs, but music journalists, bloggers and DJ's will send users regular updates about what's hot right now.

This free music streaming service is cheap and cheerful. Owned by Tesco, the advertising-supported service has more than 12 million tracks available for use in the UK and Ireland.
Follow Music Canada on Twitter: www.twitter.com/music_canada