No, It's Not 'Just' Skin Cancer
Growing up, we never talked about the importance of sun protection. There was no such thing as a sunscreen aisle or slathering on SPF all summer long. We ran and played outside, without even thinking about applying sunscreen. We were so (unintentionally) ignorant to the dangers of sun exposure -- just as we were about not wearing seatbelts or helmets for high-impact sports. Had I known that ignorance would lead to a stage 3b metastatic melanoma diagnosis in my mid-30s, I would've done things a lot differently.
Even though we now know better, there are still many who aren't doing better. The majority of Canadians recognize that skin cancer is dangerous -- yet we continue to see apathy around sun safety, with personal stories online accompanied by #SkinCancerHereICome and #SkinCancerDontCare.
No bronzed glow is worth any of what I have been through.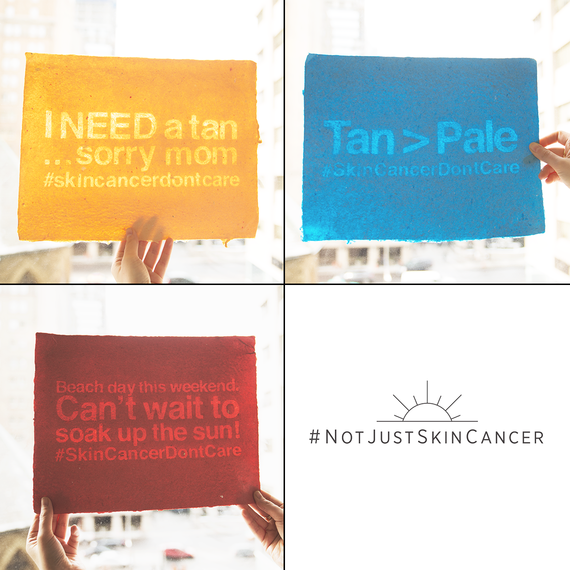 Ignorance isn't always bliss
I get the idea of thinking that something so awful could never happen to you. Before I was diagnosed, I noticed a mole changing but didn't get around to having it checked because of my hectic schedule. It wasn't until I was at a doctor's appointment for one of my twin girls, where my daughter insisted the doctor look at my worrisome mole. This led to my metastatic melanoma diagnosis. Not only did I have skin cancer, but it had also spread to my lymph nodes. I can assure you it is not just skin cancer. And it can happen to you; melanoma claimed the lives of 1,150 Canadians last year alone.
To date, I've had four surgeries; I've been injected with powerful immunotherapy drugs that have permanently damaged my gastrointestinal system; my right leg is injured from surgery and subsequent lymphedema (fluid retention and tissue swelling); and I undergo CT scans every three months to monitor the possible return of disease. All of this stemmed from one little mole. No bronzed glow is worth any of what I have been through.
Coming out on the other side of this nightmare, I needed to do anything I could to correct the misconception that skin cancer can always just be cut out of your skin and then you carry on with your life.
#NotJustSkinCancer
In addition to chronicling my journey on my blog, I recently joined the #NotJustSkinCancer initiative with Save Your Skin Foundation and Melanoma Network of Canada. Alongside other survivors, physicians and spokespeople across Canada, we're working to help shed light on melanoma and the complacency that exists around a skin cancer diagnosis in Canada. More than 6,800 Canadians are diagnosed with melanoma each year, making it one of the most commonly diagnosed cancers in the country. We want to change the online conversation to better educate people on the seriousness of skin cancer, and deter positive online conversations about excessive tanning.
Working on this initiative has been a cathartic piece of my overall recovery. Since 2014, I have been fighting a painful physical and emotional battle and have seen the toll it has taken on my children, family and friends who have been fighting with me. I want to help prevent others from spending time in the operating room and chemotherapy unit -- I can attest to the fact that there are much better ways to spend your days.
I highly recommend that anyone facing a cancer diagnosis reach out to a patient support network. I sought out the Save Your Skin Foundation, a national not-for-profit organization focused on skin cancer and skin disease. It's dedicated to patient advocacy across Canada and uses its vast experience with this disease to strive for equal and timely access to melanoma treatments, for all Canadians. I have been provided with unwavering support and educational resources, so that I can tackle this disease head on.
Giant strides are being made in the field of melanoma treatment and a melanoma patient's focus can and should be to research the various options available via state-of-the-art surgery techniques and advanced therapies based on their specific gene mutations. Meet with your oncologist frequently and seek the resources that can aid your journey -- you're not alone.
I'm very hopeful that through education and awareness about melanoma, we will see continued advancements in medicine, reduced diagnoses and bright futures for myself and anyone else facing this disease. But in the meantime, if you're going to take anything from this blog, let it be this: always wear (and re-apply) sunscreen and other sun protection, never use a tanning bed and be mindful of what your body is telling you. If you see anything suspicious, speak to your doctor right away because there's no such thing as just skin cancer.
Follow HuffPost Canada Blogs on Facebook
ALSO ON HUFFPOST:
Your Essential Sunscreen (and Skin Cancer Prevention) Guide
Sunscreens come in two forms: Physical sunscreens, such as zinc oxide and titanium dioxide, are minerals that sit on the skin's surface and reflect the sun's rays like tiny mirrors. Chemical sunscreens, such as avobenzone and oxybenzone, work like little sponges to absorb and neutralize solar energy. Physical blockers can deflect both types of rays: UVA and UVB. Chemical ingredients may defend against only one or the other. Look for broad spectrum on the label to make sure the product you use covers both. There are pros and cons with each form. While physical blockers very rarely cause an allergic reaction, a small percentage of the population is allergic to avobenzone or oxybenzone, according to Darrell Rigel, MD, clinical professor of dermatology at New York University Langone Medical Center. "The main problem with physical sunscreens is that they tend to be less water-resistant," Rigel says. "You put them on and go in the pool or sweat, and they can just run off." If you're the sporty type, select a chemical sunscreen, which is more likely formulated to resist water and perspiration. No matter what kind you end up choosing, "you need at least an SPF 30 every day," says Rigel. Making Sure Your Sunscreen Works If dermatologists could tell you one thing about the way you apply sunscreen, it's this: You're skimping. To shield your face and body adequately when you're outdoors, experts say you need a full ounce of sunscreen (equivalent to a shot glass). And you need to reapply that amount every two hours -- more often if you're getting wet. (Water-resistant sunscreens are rated for 40 or 80 minutes -- check the label. After that, it's time for another coat.) So even if you're spending only a long weekend in Bermuda, a couple of TSA-approved bottles won't cut it. When your day is spent mostly indoors, it's OK to say "one (coat) and done." "You still need an SPF 30, but you can put it on in the morning and not reapply unless you go out for errands," says Rigel.

If you've got skin, the following applies to you. There are two types of skin cancer. Nonmelanoma -- basal cell or squamous cell carcinoma -- usually looks like a little pimple or sore, may also bleed and doesn't go away after a few weeks. "Anything that's bleeding, scabbing, crusting and not healing needs to be checked by a dermatologist," says Lisa Chipps, MD, assistant clinical professor of dermatology at Harbor-UCLA Medical Center. Melanoma is a potentially deadly form that often shows up as an irregular mole. Follow the ABCDE guide. If your spot fits any of the descriptions below, get yourself to a dermatologist, stat. Asymmetry: one side is different from the other Borders: scalloped or irregular edges Color: multiple shades instead of a uniform brown hue Diameter: larger than a pencil eraser Evolving: anything that changes in size, shape or color over time Special Alert Attention, darker-skinned women: You are more susceptible to a specific form of melanoma that tends to develop on palms and soles, says Carlos Charles, MD, clinical instructor of dermatology at Weill Cornell Medical College. It may also appear as a linear pigmented band on the nail bed, so check those areas regularly.

Don't leave the house this summer without one of these ten hardworking bodyguards. 1. Clarins UV Plus Anti-Pollution Broad Spectrum SPF 50, $42; Clarins.com 2. SkinMedica Total Defense + Repair SPF 50, $75; SkinMedica.com 3. Shiseido Ultimate Sun Protection Cream SPF 50+, $36; Shiseido.com 4. Paula's Choice Resist Anti-Aging Lip Gloss SPF 40, $18; PaulasChoice.com 5. SkinCeuticals Physical Matte UV Defense SPF 50, $34; Skinceuticals.com 6. L'Oréal Paris Advanced Suncare Invisible Protect Clear Finish Spray SPF 50, $11; drugstores 7. La Roche-Posay Anthelios 60 Cooling Water-Lotion Sunscreen SPF 60, $36; drugstores 8. Coppertone Ultra Guard AccuSpray Sunscreen SPF 30, $10; drugstores 9. Avène Ultra-Light Hydrating Sunscreen Lotion SPF 50+, $24; drugstores 10. Neutrogena CoolDry Sport Sunscreen Lotion SPF 30, $10.50; drugstores

What's the best sunscreen? "The one you'll wear every day -- as long as it's broad spectrum and at least SPF 30," says Chipps. "You have to like the texture, or you aren't going to use it. It's a personal preference, and finding yours may take some trial and error." Won't sunscreen make my oily skin break out? It's not the sunscreen agents causing your pimples; it's the formula, says Rigel. If blocked pores are a problem, look for OIL-FREE or NONCOMEDOGENIC on the label. Is the SPF in my makeup enough? That would be a resounding no, say dermatologists. "If you wear a thick coat of foundation all over your face, then maybe," says Chipps. "But most people don't -- they apply a thin layer and put on only a little extra if they're covering a blemish." If you want to thwart the rays, first smooth on a lightweight sunscreen, then put on your makeup.
Follow Natalie Richardson on Twitter: www.twitter.com/nataliemelanoma