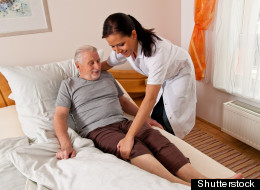 Have you had "the talk" (or series of talks) with your parents about them getting older, and where they want to live? We know overwhelmingly that Canadians want to live at home for as long as possible -- and yet many of us don't plan early and learn about options for our families until a crisis occurs.

Natalie Strouth is a nurse with Saint Elizabeth and the information specialist behind Ask Elizabeth, a free caregiver support service. Saint Elizabeth, a home health care company, has been a trusted name in Canadian health care for more than a century and is a national, not-for-profit, charitable organization.

In her weekly column, Natalie answers your questions about caring for a family member or friend who needs extra support -- and caring for yourself as a caregiver.

Do you have a question about caring for someone who is aging, ill, or injured? Send it to askelizabeth@saintelizabeth.com
Ryan asks: At Easter this year I looked around my parent's house and realized that they are not going to be able to live here forever. My dad recently had a knee replacement and my mom's been diagnosed with high blood pressure. When do you start talking to your parents about the future and where they going to live as they age?
It's a big mental leap to watch our parents age and realize that the changes they are experiencing will impact their ability to care for themselves and their home. For some, the ability to cope without help at home is a slow decline. For others it comes as a sudden change that requires immediate decisions about where and how we want to live. Here are some strategies that may help open the discussions:
Start now talking with parents about their wishes. Where, and how, do they want to live as they age? What's important to them? Help your parents consider their older years as a chance to have new experiences, downsize their homes and enjoy the things that really matter to them more.
A close family member of mine went through a very difficult experience with her parents because she had never had these conversations. Their difficult decisions had to be made in the midst of a crisis. Her advice is to "talk openly and honestly about future living options early, and research these carefully... take into consideration geography, financial requirements or constraints, and in-home support. Leaving this decision until an emergency occurs (a major fall, broken hip, etc.) puts too much stress on the elderly person and the family, and may force multiple moves into less desirable locations."
These conversations will make transitions easier to navigate when the time comes.
Take a look around their house together. Discuss possible renovations or changes to adapt the home to changing needs. Talk about who could help with home and yard maintenance, such as family members, friends and neighbours.
Don't be surprised if this is very overwhelming for your parents, especially if they have lived in the same home for decades and raised your family there. You may want to break down tasks into manageable pieces like de-cluttering, staging a home for selling, modifying or renovating in stages -- and reinforce who can help them with these things.
Have candid discussions about financial resources. This will help to forecast how their assets will cover the accommodation and level of care your parents want (e.g., home care, assisted living, long term care).
If your parents are moving into alternative housing, I suggest you explore housing options early on. Your parents should be involved in learning about what is available, such as visiting an open house or event at a local adult community, joining a local seniors centre, or exploring volunteer opportunities at a long term care facility.
I can't stress enough how much preparation can help prevent a crisis and ensure your parents are safe and comfortable as they age.
Here are some additional resources:
For Ontario residents, the Ministry of Health and Long Term Care website has information about housing options and how to access them.
The Care Guide is a comprehensive guide to seniors' housing and care services across Canada.
Senioropolis.com is a comprehensive directory of retirement homes, retirement communities and long-term care homes throughout Canada.
Send your caregiving question to askelizabeth@saintelizabeth.com. Answers may appear in an upcoming weekly column. Ask Elizabeth does not offer legal guidance, nor does it answer questions about personal health issues.
When an ill person brings up subjects that make you feel uncomfortable, it's natural to want to squelch the discussion or rapidly change the subject. However, it's very important to listen unselfishly and avoid responding with, for example: "Let's not get into that right now. Can't we discuss something more pleasant?" or "Do you really think it's helpful to dwell on this topic?"

Whether the patient asks a spiritual or theological question that catches you off guard or she wants to know about the side effects of a medication, it helps to learn how to be noncommittal without seeming evasive. You don't want her to think that you don't care or that you're hiding something, and you definitely don't want to offer misinformation that might do more harm than good.

Even for people who weren't very spiritual or religious throughout most of their lives, it's natural to experience spiritual anxiety during a serious illness. And it's also natural for this anxiety to lead to questions that caregivers might find difficult or even overwhelming. If your loved one asks, for instance, 'What's next? Will prayer help? Why did God let this happen to me?' it's best to call in a qualified cleric.

Just as most of us are not comfortable with chronic illness, we are also not comfortable with crying. When tears appear, we tend to whip out a tissue and murmur something along the lines of, "It's okay. Don't cry." From now on, continue to pass the tissue when your ill loved one starts to tear up, but don't pressure him to stop sobbing. Tears are a natural emotional release for emotions ranging from anger to sadness to fear, and can be very therapeutic.

When your loved one is uncomfortable, upset, or worried, you might be tempted to utter platitudes like, "Everything will be okay," "I know how you feel," "God has given you a long life," or "It's God's will." While we hope that these phrases will be a quick fix to problems we'd rather not deal with, the truth is that they're trite and meaningless. What's more, sugarcoating reality doesn't fool most people, and it certainly doesn't spark positive change.

Anger is a natural human emotion, and it's important to recognize that chronically ill people have a lot to potentially feel upset about. Understandably, many patients are angry that they are so sick. Plus, their pain and energy levels might make them less patient or less able to handle stressful situations. Therefore, it's not unusual for caregivers to be on the receiving end when their loved one's fuse blows for any reason.

Understanding how and why an illness is getting worse and more painful is intellectual. But experiencing it is a very visceral and emotional thing. The patient needs for you to connect with him on a heart-to-heart, gut-to-gut level, not just a mental one.
Follow Natalie Strouth on Twitter: www.twitter.com/elizztweets