Getting Teens To Understand The Dangers Of Texting While Driving
This week is Parachute National Teen Driver Safety Week. Distracted driving is a factor in up to 19 per cent of all fatal crashes involving teen drivers.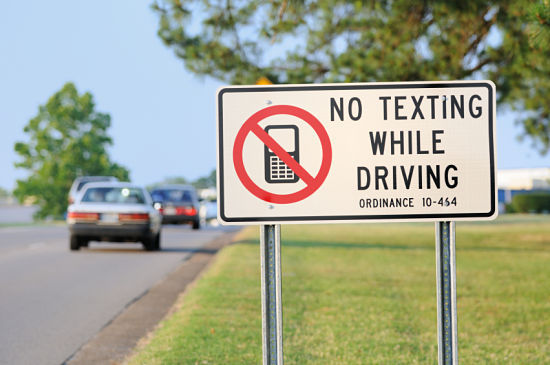 The new data from Parachute underlines the seriousness of this issue and indicates what to consider if we want to stamp out the scourge of distracted driving.
Public awareness campaigns are an important first step. Online counter-marketing succeeds only if teens tell other teens how ridiculously uncool and unsafe it is to text or speak into a phone while driving. Yet the dominant form of teenage communication is texting. This poses a public policy conundrum: how best do we change teen behaviour?
Two of the most distracting actions while driving a car are using a cell phone and personal grooming. Using a cell phone while driving registered as "very distracting" for 29 per cent of 16-24 year-old Canadian drivers, yet it was surprising to find that this was allegedly not distracting at all for 23 per cent of young drivers.
It was also surprising to find that roughly one third of young drivers were not at all distracted by music, and that about one quarter of the drivers were not distracted by talking with passengers or by eating and drinking.
About 35 per cent of the young drivers keep their cell phone in the car's cup holder compartment, yet 28 per cent keep the phone on their lap or in their pocket. These pocket- or lap-distracted drivers are vulnerable to fumbling the phone while negotiating traffic.
There is considerable debate over whether technology -- notably, the autonomous car -- will help or hurt. Apps may forewarn you of whether your texting is leading to a dangerous driving scenario. But reliance on technology may only induce risk compensation -- where we encourage more dangerous activity inside a car. Being in a fast-moving vehicle is inherently dangerous -- no matter how smart the machine is.
The Parachute data -- powered by RIWI monitoring technology, which tracks opinions of people who do not typically answer surveys -- tells us that most young drivers yield to a wide array of distractions. Distraction is the soul of teenage life today. Unlike alcohol in a different era -- Beverly Hills, 90210 episodes emphasized the distinct risks of drinking and driving -- today's teens do not see using a phone while driving as categorically different than other types of driver distraction.
To root out texting or using a phone while driving, we need to increase social awareness campaigns, but we also need to understand teenagers as they are -- bombarded by a fusillade of ubiquitous distractions. Any texting-while-driving public health solution, therefore, needs to be holistic: to ask teenagers to slow everything down, to gently advise them that life is too important to juggle too many tasks at once, especially inside a car.
Follow HuffPost Canada Blogs on Facebook
Also on HuffPost:
9 Reasons Driving Is De-Stressing
"Regardless of how you approach driving, you still have to get to where you need to be, " says Neil Shah, director of The Stress Management Society and author of The 10-Step Stress Solution. He recommends using your time behind the wheel to practice some breathing techniques (deep breathing is noted for its calming effect on us). "Sit comfortably, listen to some quiet, calming music and focus on your breathing. Take a deep breath into your belly for five counts; hold it in for five and then release. Repeat to reach a state of relaxation."

"Although driving can be a stressor itself at times, if approached the right way, the car can be a great place to relax," explains Shah. "It provides time to unwind and relax without you having to take time out of your busy schedule." If your daily drive takes you through some green space, enjoy it (studies have found that the more green space that surrounds a person, the less stressed they're likely to be).

The car can also be a great place to enjoy a book, advises Shah. "Not an actual book, but listening to an e-book or podcast can take your mind off your stressors and allow you to focus on something different and interesting. This can help re-energise the mind, bringing a positive vibe to what could have been a stressful journey."

Racing car driver, former Stig and author of How To Drive: The Ultimate Guide, from the Man Who Was the Stig, Ben Collins, loves the feeling behind the wheel as an escape from technology and distractions. "That doesn't mean driving at a million miles per hour or screeching through corners on two wheels. It just means having the mental space to enjoy being focused on what you're doing and switching off the worldly distractions that generally burn your eyes and ears throughout the day."

Driving is a great opportunity to clear your mind, whether you're going on an epic road trip or negotiating the daily car pool. "When stressed, in order to decide whether you need to fight or flight the stressor, the medulla oblongata, also known as the primitive brain, is used," explains Shah. "This part of the brain doesn't play a part in problem solving, lateral thinking or creative thought processes; these processes are called higher brain functions." These higher brain functions shut down during times of stress; driving a route you know won't use those higher brain functions and can help clear your mind.

Music is known for its relaxing properties - whether people are listening to music or making it - and has been linked to better moods while driving. Just don't listen to Marconi Union's Weightless, which can apparently slow your heart rate, reduce blood pressure and decrease cortisol levels, (and has been found by scientists to be the most relaxing tune), at the wheel.

From our morning commutes to the time we get home in the evening, most of us are always surrounded by people and craving a bit of solitude, which is essential for mindfulness, relaxation and introspection. "To really enjoy driving there's a part of you that just wants to be left alone to enjoy the majesty of the rolling carpet. If you turn the phone off so that your boss can't ruin a fine view and pick a cool song, then driving transports you to another universe," says Collins.

While driving is a great opportunity for much-needed solitude, it can also be a chance to bond with friends or your partner on your own, which can have it's own de-stressing benefits. Not only can chatting to your friends help you relieve anxiety by having a good rant (and getting another perspective on issues you've been rehashing in your own head over and over), grabbing a friend and going on a drive - whether it's to a new city or your favourite local park - is an opportunity to do things you love, with someone you love.

Sometimes, the best part about driving is feeling the power and connection between you and the vehicle you're controlling. Whether you're in a convertible letting the wind tear through your hair or appreciate the ease of an automatic car, there's nothing to take your mind off life's stresses and help you enjoy the moment like a jaunt in the car. Ben Collins recalls filming Skyfall and falling in love with the feel of the Aston Martin DB5 he drove. "The DB5's leather sofa-cum-driving seat ironed out bumps in the road but steering the beast required both hands and a healthy concern for your trajectory. Changing course required military-grade forward planning to compensate for the body roll and lazy cornering, which challenged and enchanted with equal measure.The radio was broken, nevertheless a soundtrack filled my head as I swirled across the stunning Scottish countryside: 'We have all the time in the world.'"
Follow Neil Seeman on Twitter: www.twitter.com/RIWIdata