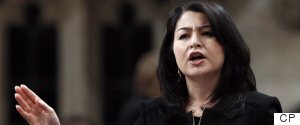 Maryam Monsef showed no desire to hold a referendum, blaming the committee for not achieving consensus on the issue. She is moving ahead with the next phase of her outreach, she said, announcing the launch of a new consultation process -- in the middle of the holiday season.
Others, and likely myself also, will debate Jim Flaherty's legacy and policies in the days to come, but for now we can recognize the man who tried to be more than only a politician and was able to keep some sense of dignity in a long and distinguished career in public life.
The Stephen Harper government is stalling on requests for better earthquake preparation on B.C.'s Haida Gwaii, according to NDP MP for Skeena-Bulkley Valley, Nathan Cullen.
Bravo to Nathan Cullen, the NDP House Leader, for at least attempting to clean up the poor decorum in the House. However, I doubt his suggestions will go anywhere as the Conservatives will have to cooperate and that is unlikely.
The jet lag has passed and the Christmas decorations (for some of us at least) are put away in storage. With 2013 stretching out before us, let's reflect on the year that was 2012 in Canadian politics. The best and worst political stories, the best and worst politicians and the biggest sellout.
Protecting Canada's lakes, streams and rivers and the habitat for fish and wildlife is the one out of the many issues raised by Idle No More that has the greatest potential to expand across much of non-urban Canada, uniting aboriginal and non-aboriginal Canadians, and crossing the political spectrum from the green left to the small c conservative right.
Say what you will, but Mulcair has bonafides in the environmental field and as Canada abandons international climate accords like Kyoto, any opposition leader -- let alone Prime Minister -- needs to understand the environment file deeply, and the role our environment plays in our economic future.