Every influencer owns clothing that defines their personal style where PPQ pairs classic pieces, that transition across seasons by mixing items that work well together or individually as a separate key look. The collection offers ease for our busy days ahead when we need a staple piece that can take us from day into night.
By Chelsey Hamilton Have you heard of vitiligo? I hadn't either, before I was diagnosed with it at age 17. I was on a beach trip when I first notice...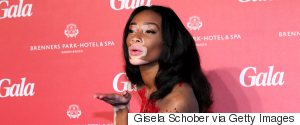 Having been bullied as a kid for her unique looks, Winnie became a contestant on the program America's Next Top Model, and now finds herself as one of the most in-demand models in the world. She sat down to talk about her whirlwind of a career -- and to ask her Canadian fans one question in particular.
It seems strange that the fashion world has for so long held up an ideal, a homogenous vision of beauty and body image that doesn't necessarily allow for difference. While design has time and time again thrown the rule-book out the window, the runway hasn't.