Let's Go Beyond Individual Effort To Fix Our Food System
The first thing you notice in the ad campaign is the model's index finger stuck suggestively in her mouth, fingernails painted in alternating shades of orange and taupe. The slogan: "Finger Lickin' Good."
It's an advertisement, I quickly learned, for KFC's brand new edible nail polish, which comes in two chickeny flavours: original, and hot and spicy. I'm not afraid to admit that this toxic junk food ad nearly had me -- an inveterate optimist -- coming close to despair for the state of our food system.
I guess I shouldn't be surprised. The way we currently move food from field to table often seems hell-bent on making us sick, damaging the planet and dividing us as citizens. Fast-food companies worldwide spend billions of dollars a year to hook us on fat, sugar and salt (marketers behind the edible nail polish told the New York Times the product is an attempt to "remind the younger generation" of "the great taste and good times the brand stands for.")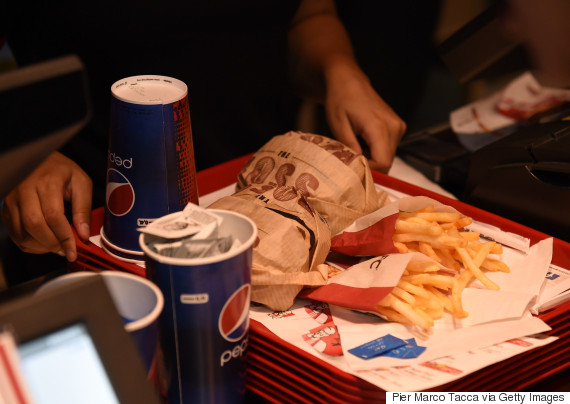 Corporate agricultural giants grow larger and more predatory, pushing low-impact, regional, non-chemical approaches to the sidelines. And as we see every day at Community Food Centres Canada, 4 million Canadians struggle simply to put food on their table.
Yet, despite all of this -- despite, even, the end-is-nigh portent of chicken-flavoured nail polish -- I continue to believe that the future of food doesn't have to be so dim. A different world is possible so long as we can mobilize enough people to push for it.
Of course, a paradigm shift has been brewing for some time. Farmers, chefs, home cooks, foodies, beekeepers, health-care reformers and advocates for low-income people are the canaries in the coal mine, sounding the warning about the unsustainability of this bloated, inequitable and unhealthy food system. We've seen an explosion of farmer's markets, CSAs, and 100-mile restaurants. More and more people are gardening, eating local and working to regain lost cooking skills.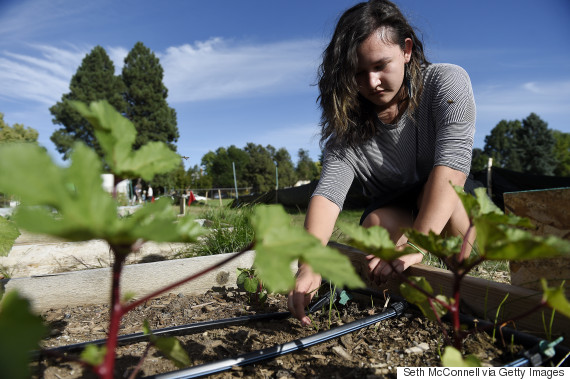 But if we really want to see lasting systemic change to the food system, we can't leave it to individual choices alone. The key to delivering a better food future for everyone is moving beyond individual change into the public realm. We must act collectively, pressuring governments to use their regulatory and legislative powers to emphasize health, sustainability and fairness.
There are some hopeful signs that the canaries are beginning to be heard on this larger stage. The city of Philadelphia recently decided to levy a municipal tax on sugar-sweetened beverages -- a "soda tax" -- with some of the revenue going toward creating better parks, community centres and schools. There's a growing chorus in Canada pushing for government to consider a basic income, which would help ensure marginalized people have access to good food.
And at Community Food Centres Canada, we've seen a passionate response to our call to join a movement of concerned citizens -- bringing together low-income communities with others interested in an alternative future.
The stakes are too high - the health and well-being of people and the planet - to be sidelined by edible nail polish or the shortsightedness of some politicians and shareholders.
In four years, we've established seven new Community Food Centres (and counting) across the country and joined with more than 90 Good Food Organizations to forge a vision of a healthy, sustainable, dignified and inclusive food system. Together with other progressive players, we're building an approach that combines the power of smaller-scale individual change -- healthier eating, growing our own food -- with an eye on the prize of true systemic transformation of our food system.
Of course, I know none of this is going to happen overnight. Change takes time. But the stakes are too high -- the health and well-being of people and the planet -- to be sidelined by edible nail polish or the shortsightedness of some politicians and shareholders.
Former U.S. President Franklin Delano Roosevelt once famously said, "I agree with you. I want to do it. Now make me do it." We need to remind ourselves that people power matters; in fact, it's the only way societal change happens. So let's push for the future we want to see. When it comes to food, we are all responsible for how we set the table.
This blog was originally published as part of the J.W. McConnell Family Foundation's Future of Food Series.
Follow HuffPost Canada Blogs on Facebook
Also on HuffPost:
When discarded food is thrown into the land fill, food decomposes and releases methane gas which contributes to global warming. To avoid piling on the damage with your wasted food, take a look how you can recur food waste, save money and help protect the planet.

Plan your meals for the week and check the ingredients to ensure you have all you need. Avoid going food shopping on an empty stomach as it will tempt you to buy too much than you need, especially fresh produce that often gets wasted. Buy loose fruit and vegetables instead of multipacks, as that way, you only buy what you need. Try and steer clear of the 'buy one, get one free' offers unless you know the food will get eaten.

When you buy new food, bring older food items in your cupboard and fridge to the front so you don't forget they are there. Put the new food nearer the back as they'll have a longer expiry date. Prioritise what is already in in your cupboards.

If you have a lot of food left over from the night before, simply store it in a plastic freezable container and pop it in the freezer. This is perfect for batch freezing and great for digging out on occasions where you are tight for time.

Instead of throwing away leftovers that didn't make it, use them in tomorrow's dinner. For example, if you made a dish of mashed potato with lots left over, mould them into patty shapes and make your own hash browns the next morning. Or better still, use your discarded vegetables to make a healthy 'bubble and squeak'. This applies to all vegetables, salads and things like leftover meat (who you can eat cold the next day for lunch). If your apples have gone soft and your vegetables are starting to wilt, instead of throwing them in the bin, make fruit smoothies and delicious home made soups. Re-use the trimmed ends of vegetables like carrots, celery and peppers by boiling them and making your own vegetable broth. Dry a batch of tomatoes before they go off by placing them in the oven and then store them in olive oil for your own tasty dried tomatoes. Just because fruit and vegetables have lost their original shape and vibrancy, doesn't mean they're destined for the dustbin.

Although some food wastage is unavoidable, why not create a compost bin for your fruit and vegetable peelings? These can be obtained through your local council and are cheap to buy. In a few months, you'll end up with a rich compost for plants to grow in.
Follow Nick Saul on Twitter: www.twitter.com/aplaceforfood