What We Talk About When We Talk About War: An Excerpt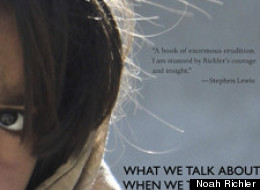 The Huffington Post Canada is delighted to once again be partnering with the Writers' Trust of Canada Shaughnessy Cohen Prize for Political Writing. In the weeks leading up to the March 6 announcement of this year's prize winner, we are publishing excerpts from each of the five finalists. The authors have personally chosen the portions they'd like to share, and each excerpt begins with a brief explanation of why that particular passage was chosen.
A note from author Noah Richler:
Back in 2006 I was listening to Shelagh Rogers interview a soldier, Master-Corporal Paul Franklin, who had lost both his legs after the car he was driving in Kandahar was blown up in the explosion that killed the diplomat Glyn Berry, the beginning of a very tough year for the Canadian Forces. The inference of Franklin's conversation with Shelagh was that if, subsequently, Canada pulled out of Afghanistan then he would have lost his legs for nothing. It occurred to me then, as it would have done to many, that while that may have been true it was not a sound argument for staying on. This is but one of the many paradoxes of war but it was the one that invited me in, so to speak, to writing a book that allowed me to discover just how upset I was with the proponents of Canada, the so-called "warrior nation." My book, however, is neither a judgment of the Canadian Forces nor even a judgment about the validity of the war. It is a judgment concerning the language, stories and many self-deceptions that Canadians have either supported or not objected to, ones that have been used to enable our new, apparently jingoistic self and to do away with the better, more generous Canada that I grew up in, a Canada that I believe still exists -- and for good reason, some of it explored in the passage from the book, here.
There is, in the Canadian, always the slight but contravening shock that he has managed to make a home of the land at all. Understanding that others have done so "first," or may manage to do so better, is the realization that is the launch pad of the imaginative leap that Canadians make, a leap that reinforces an abiding respect for the capacities of others, and of the country's multicultural community as a whole. It is a realization that has made it impossible for the rational Canadian not to feel himself part of a diverse and variegated team, a revelation that renders it foolish not to want to pursue and to realize the potential and advantages that such heterogeneity offers. Understanding the singularity of this opportunity is the powerful and empathetic assertion at the heart of Canadian democratic activity -- one that not just the conflagration of the first of two World Wars brought to the fore.
In Jean-Jules Richard's 1948 novel, Neuf jours de haine, the bloody battles of the Second World War lead to a realization of the new country every bit as important as the effects of Vimy. The experience of the First World War, wrapped in its confused lexicon of valour, actually did little to break Canada's bonds of fealty to Britain, ties that had no patriotic resonance in Quebec and fell far short of vindicating the belief, in the words of Capt. Alex Kettersen, that the "glorious death" of Canada's "brave crusaders" would forge "an indissoluble bond between the various parts of the Empire in years to come." It would take a later generation of soldiers and diplomats, one that included Lester B. Pearson, to graduate from another war fought by Canadians outside of the country, to begin politicking for a better world, and a freer country at home. These men shared with the soldiers of Richard's C Company an understanding of le mal d'Europe, "the sickness of Europe," and wanted their homeland to avoid it. They had a new kind of pride and tenacity, a new kind of vision.
In one of the later scenes in Richard's Neuf jours de haine, the soldiers rest during a lull in the fighting. One of the battalion's band of coast-to-coast Canadians is reading the army newsletter, The Maple Leaf. It includes a guide to the coming elections at home and, prompting the sort of debate that might have taken place around the DND's 2011 decision to reinstate "Royal" Navy and Air Force titles and insignias, a series of letters suggesting new emblems for the national ensign.
"Some want to keep the Union Jack on the flag," says the soldier, reading. "If Parliament votes to keep it, that means the country will be stuck in its bastard state for another generation. The country will not mature, it will be neither North American nor Canadian if it needs the inspiration of a European symbol to distinguish itself. It will not be able to fly on its own wings. It will be infirm, deformed, embryonic, pathetic and incapable. It will continue to be governed by Whitehall."
It falls upon Robert Nanger, a Quebecker who knows the Canadian arbour  (as one who might have said, "Mon pays, ce n'est pas un pays, c'est la forêt")  to make a toast on Christmas Day, six bloody months after C Company has landed upon the Normandy shore.
"To my country, Canada," says Nanger as he raises his glass. He continues,
"It's a fortunate thing to live in such a spacious land. We hope truly to be a part of the world one day. Today, we're just a far-flung corner of the British Empire. But soon we shall become more than a people. We'll not just be 'Canadians,' or British subjects, we'll be human beings -- simply human, if that is the proper way to describe inhabitants of the world. Today we have the maple leaf for a symbol, but the maple leaf of official drawings is actually from the tree of the plains, a species of which the syrup is not even sweet. One day we hope to have a map of the world for a symbol.
This innately Canadian instinct, democratic and humanist in nature, is older than the history of its standing army. Its legacy is felt in the character of the military work the country has undertaken, no matter how contrived the presentation of the Forces' purpose may be at any particular moment. So, in one of the more enlightened passages of The Unexpected War, Janice Gross Stein and Eugene Lang write that
"when Canada commits to rescue failed and failing states, its political leaders are asking for an extraordinary act of imagination, one that asks Canadians to accept that they share a common fate, a destiny, with people who live halfway around the globe. Those in Britain who led the anti-slavery movement in the nineteenth century made this heroic leap, and saw their own humanity bound up with the humanity of slaves. When Canadian soldiers go to Kandahar -- or to Darfur or to Haiti -- Canadians must be able to make this same leap. It has been a struggle of centuries to stimulate this kind of imagination, and we have failed more often than we have succeeded."
The "heroic leap" is equivalent to the "imaginative leap" that the novelist and then the reader make, an equivalence that explains the advancement of human rights occurring in tandem with the novel's rise and flourishing. Novel thinking is inextricably bound up with the politics of human rights -- and vice versa.
Excerpted from n What We Talk About When We Talk About War © 2012 by Noah Richler. Reproduced by permission of Goose Lane Editions.
Noah Richler is currently shortlisted for the Shaughnessy Cohen Prize for Political Writing. The winner will be announced in Ottawa at the Politics and the Pen Gala on March 6.
2012 Shaughnessy Cohen Prize for Political Writing Finalists
What the jury said: "Jeffrey Simpson tackles a perennial subject – medicare – with a fresh and unstinting eye. He thoroughly reviews our health system's past and present, before examining possible solutions, including efficiencies, user fees, privatization, prevention, and pharmacare, with reference to the experiences of Sweden, Australia, and Britain. A serious and timely contribution to the debate over the future of Canadian health-care."

What the jury said: "A brilliant history of Montreal's experience with amalgamation, told by a major participant. It is an erudite, meticulous yet lively narrative about what can happen to any great city when a superior level of government arbitrarily imposes its will. Written with wit and no small degree of self-criticism, this splendid book is a warning to politicians of all persuasions to heed the hopes and desires of their citizens before, not after, they legislate."

What the jury said: "Will cities continue to be dominated by the automobile? In this superb book, well-documented and engaging, Taras Grescoe offers persuasive alternatives, based on his travels by public transit of all kinds in more than a dozen cities throughout the world. Straphanger provides inspiring examples of what can be done and what's to be avoided. It should be read by all who want the good life in good cities."

What the jury said: "When Ronald Reagan exhorted Mikhail Gorbachev to tear down the Berlin Wall, it was not only a political act. As Marcello di Cinto discovers, walls divide far more than nations. In this beautifully written reportage, the author brings readers the personal stories – gripping, haunting, humorous, and inspiring – of people living against walls around the world, from the "peaceline" of Belfast to the l'Acadie fence of Montreal."

What the jury said: "In this meticulously researched yet passionate book, Noah Richler aptly chronicles a shift in public discourse on war in Canada. In a country that has long perceived itself (rightly or wrongly) as by nature a peace-keeping force, war has gone from being a non-topic seldom discussed outside academia, to a well-oiled identity shaping mechanism. This book will make Canadians ponder Brecht's aphorism: 'Woe to the nation that hungers for heroes.'"