John Horgan's Casual Sexism Has No Place In B.C. Politics
"I'll watch you for a while. I know you like that." Pop quiz -- who said that? Was it the guy on the other end of the phone in a campy, urban legend horror flick? Donald Trump backstage at a Miss America pageant? Sting and the Police, circa 1983?
Alas, no. That was John Horgan, a career politician running to be premier, in the first Leaders' Debate of the campaign speaking to one of his opponents, his only woman opponent -- our current premier, Christy Clark.
I recoiled slightly as those words were spoken, as I imagine many women did who were tuning in that morning. I wasn't the one being patronized, but I still felt it. Women everywhere have at one point or another endured condescending, dismissive, creepy remarks designed to "put us in our place."
I hoped during the course of the debate Mr. Horgan would remember basic human decency and return to a battle of ideas rather than baseless insults, but my hope was sadly misplaced. I lost count of the times he interrupted or spoke over the premier, to the point the moderator had to interject several times to remind him of the principles of decorum and ask him to wait his turn.
We've seen this behaviour from other world leaders. It shouldn't happen here.
The current pop culture term for this behaviour is appropriately titled "mansplaining." Definition -- when a man explains something (usually to a woman) in a manner regarded as patronizing or condescending. It's painful to watch, even worse to endure, and it has no place in 2017, especially from a man hoping to occupy the highest political office in the province.
Watching the premier -- the longest serving female in this role in Canadian history -- be told to "take a few minutes and read something" (yes, that also happened) definitely made my blood boil in real time, but I realized over the course of the day, disappointment had overtaken anger.
Disappointment because I know Mr. Horgan wouldn't even dream of saying that to the other candidate running for premier in this election, Andrew Weaver. Disappointment that he didn't think twice about repeatedly cutting the premier down, calling his behaviour "passionate" rather than the word it deserved, which is "sexist." Disappointment that a leadership candidate had to resort to insulting his opponents because his plan for our province isn't good enough to stand on its own.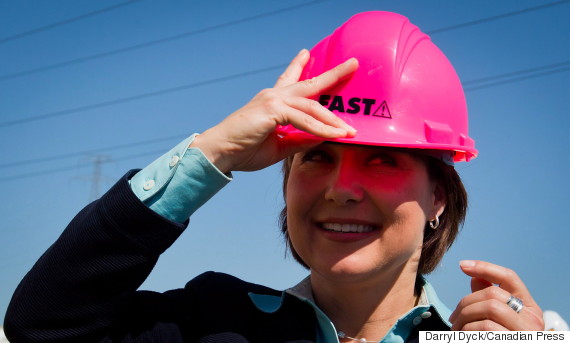 Current B.C. Premier Christy Clark. (Photo: Darryl Dyck/Canadian Press)
Leadership commands respect, but it also demands it from those who wish to occupy public office. A big part of that is giving respect back to others, despite how you may personally feel about them.
Mr. Horgan has not demonstrated that, in this election or in the legislature as the Leader of the Opposition. In the last two years alone, he has called the premier of British Columbia a cheerleader, all gloss and no go, jolly but incoherent, and all style but no substance. He has suggested she looks "spectacular" in her outfits when touring mills, accused her of being secretly in love with Justin Trudeau and stated she is someone he needs to "bring up to speed on what's actually going on."
We've seen this behaviour from other world leaders. It shouldn't happen here.
Follow HuffPost Canada Blogs on Facebook
Also on HuffPost:
Christy Clark: 5 Things To Know
B.C.'s premier is a devout Anglican who studied religion at the University of Edinburgh in Scotland.

While a student at Simon Fraser University, she ran for and won as president of the Simon Fraser Student Society, only to be disqualified later after failing to pay fines for breaking campaign rules.

She became the second woman in Canadian history to give birth while sitting as a cabinet minister. The first was Pauline Marois in Quebec in 1985.

She spent time in Paris, studying at l'Universite Paris-Sorbonne.

She created "Pink Shirt Day," an initiative to counter bullying, while she worked as a CKNW radio host. She spoke out frequently on the issue while as premier.

NEXT: 6 Things To Know About NDP Leader John Horgan

Born and raised on Vancouver Island, Horgan has driven delivery trucks, pulled lumber in a planer mill, lived in Ocean Falls making pulp and paper, and was a plasterer's helper. He hated it at the time, but now likes mixing cement and making rock walls. He also enjoys refinishing old furniture.

The B.C. NDP leader's first elected term in office was in Grade 1, when he was voted King of Hearts on Valentine's Day. He was also student council president of Reynolds High School in Victoria.

Horgan met his wife, Ellie, on the first day at university and they have been together ever since. They have two sons. One is a jock and the other a musician. John's tied skates as a hockey dad and humped amplifiers as a roadie dad.

Horgan loves science fiction, especially Star Trek. His father died when he was a toddler. So having been raised by his mom and older sister, he thinks Capt. Kathryn Janeway is the best of the Star Trek captains.

Horgan completed his Master's degree in Sydney, Australia. A failed surfer, he played cricket for fun and varsity basketball for competition.

Horgan's older brother was a professional firefighter in Victoria, as is his nephew in Vancouver and cousin in Port Moody. The politician would have followed in the family vocation if a flaming marshmallow didn't fly off a roasting stick and land on his forehead as a child.

NEXT: Things You Didn't Know About 2014 Vancouver Mayoral Candidates

The veteran newsman is used to monitoring politics behind the scenes as a senior editor at The Vancouver Sun, CTV, Canadian Press, and National Post. He was also CBC ombudsman from 2010 to 2012 and is currently a journalism professor at UBC. LaPointe, 56, was born in Toronto and raised by a single mother. Here are five things you may not know about him.

"I am a goaltender for three hockey teams. They are rooting for me to win the mayoralty, I suspect, so they can find someone to replace me. I suppose I will take the support wherever it is."

"I am an avid music fan. It started by seeing The Beatles at age six. I have seen hundreds of concerts and, because I was a music writer in earlier journalism days, interviewed hundreds of musicians. I try to stay current." (Lapointe is seen here with radio personalities from The Kid Carson Show on SONiC.)

"I coach girls softball, a team called Blue Thunder, having coached them from Mites level into Midget over seven great seasons. It's the best time of year. The vibe is fantastic."

"I have run nine marathons and more than 100 10K races, none of them in the first one-third of the finishers. I have run for 32 years and have missed a birthday run only once in that time. I used to be upset when I was called a jogger; now I'd consider that an upgrade."

"I know one good magic trick. I teach it every year to journalism students because it involves choosing a word from the newspaper, writing it on a slip of paper, handing that paper to someone, then having another person choose the same word. Only two people have figured the trick out when they've seen it."

Born in North Vancouver, Gregor Robertson previously served as a B.C. MLA. He's been running the city since 2008, and is gunning for a third term in the November municipal election. Here are some surprising facts you may not have heard before.

He sailed a 40-foot wooden sailboat across the Pacific Ocean to New Zealand on a boat he helped restore and build himself.

He's played soccer all his life.

Here he is practising with the Vancouver Whitecaps.

He used to be an organic farmer on an acreage near Fort Langley.

His favourite meal in general is spicy Chinese or Mexican food.

He co-founded Happy Planet, a successful multi-million dollar B.C. juice and natural foods company. The soups are his favourite Happy Planet product.

He's a distant relative of Norman Bethune (the mayor's full name is Gregor Angus Bethune Robertson). His grandmother was a first cousin to the Canadian doctor who brought modern medicine to rural China.

He plays the drums...

... and the tuba.

The community organizer, who currently works with Vancouver Coastal Health, was born in China and spent part of her childhood in Hong Kong. She moved to Canada as an international student when she was 19. If elected, Wong would be Vancouver's first female mayor, as well as the first Chinese person in that role. Here are some fun facts she shared with HuffPost B.C.

She started EcoMinds, a group that promotes better mental health through gardening.

She's a member of the Gung Haggis Fat Choy dragon boat team.

She lists kayaking and hiking in Haida Gwaii as one of her favourite vacation pastimes.

She's huge fan of Batman because he "fights injustice in Gotham City."

"Live simply. Love generously. Care deeply. Speak kindly."
Follow Pamela Martin on Twitter: www.twitter.com/pamelamartin_bc