Does Social Media Influence Your Buying Habits?
One night while perusing my Twitter timeline, I came across a travel bag posted by @amazon, the amazon.com Twitter account. I clicked on the link, reviewed the product description and price, I was ready to buy and place my order. Realizing I couldn't buy it from amazon.ca (the Canadian site) because the shipping costs alone would make this deal exorbitant. With regret, I hit the cancel button. This is a clear-cut example of how social media influenced my buying habits.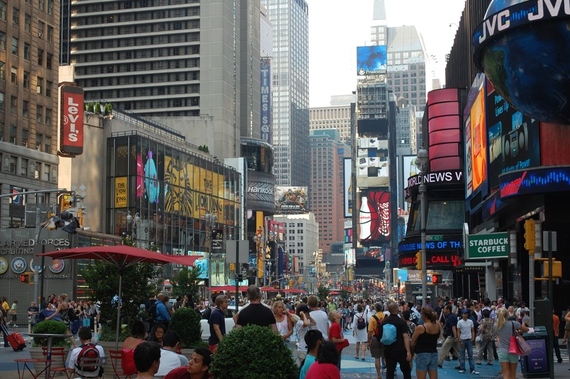 Have you heard of Black Friday & Cyber Monday?
Unless you have been living in the wilderness with no access to TV, internet or newspapers, it's highly probable you've heard a thing or two about the American phenomenon of Black Friday (originally intended to get retail stores out of the "red" and into the "black") and its online offshoot, Cyber Monday. Black Friday is the American equivalent to Canada's Boxing Day, but thanks to the influence of marketing, the day for deals is gaining popularity north of the border. Marketing at its most clever uses any media vehicle it can to influence the consumer to shop, and the day after American Thanksgiving has become a juggernaut of spending. Perhaps you have seen a tv segment or two of people fighting, and sometimes literally dying, over the highly coveted "sale items." Imagine the influence this article has from Sheknows.com about "Black Friday fashion deals" on potential buyers.
With online shopping becoming more and more common, online retailers, such as Amazon and even brick and mortar stores with a digital shopping cart are getting in on the action. Although you might not be trampled by a crowd of people, it's important to be mindful of what the real deals are and where the hidden charges, like shipping, might be.
Branding yourself an Influencer
Now lets take a look at this marketing genius, Jason SurfrApp (his current campaign name for 2014). Jason used social media to launch his services to help brands sell to people like you and me by wearing branded T-shirts -- company name IWearYourShirt.com. Add the social media element to the mix and he was off launching his new business. Once the foundation was laid, well the rest is history. Jason now is a consultant to corporations, guest speaker and book author.
In 2008, I saw the growing influence of social media and decided I could utilize those platforms in a new and unique way by getting paid to wear sponsored t-shirts for a living. Each day, I represented a different company online using social media sites like Facebook, Twitter, YouTube, Ustream, and Flickr. -Jason SurfrApp
Remember the recent news concerning comet lander scientist Dr Matt Taylor's shirt with images of scantily clad women? It caused a firestorm on social media, and began trending world-wide with the hashtag #shirtgate. Opinions from all sexes poured in and the backlash made international headlines. On the other side of the sartorial pendulum is Catherine, Duchess of Cambridge, who sparks a buying frenzy with anything she wears.
Online shirt companies, like DonkeyTees, are experiencing a growing number of customers, as more consumers are looking to make ironic and often tongue-in-cheek statements through their apparel. Often appealing to the nostalgia or politics of a generation, the iconography used to reach their target audience is ultimately something that a larger audience is able to immediately identify.
The DemandGen Report survey highlights some telling behaviours:
• 37 per cent of buyers said they spent more time using social media to research solutions than in previous years.
• 57 per cent of buyers said that they browsed existing social-media discussions to learn more about a topic.
• 53 per cent of buyers said they relied more on peer recommendations -- nearly three times the number from the year before.
Source: Digital Current
Some companies are masters at influencing buying habits. Starbucks, for instance, has been at the helm of controlling the customer experience for a long time. From the in-store environment to the presence on social media, the company has been able to balance its image as a responsible coffee source and still nearly quadruple share prices in the last 5 years.
With more sources than ever to be reached directly by companies, social media is beginning to find a solid footing in the world of marketing. With the tools that social media provides marketers to target specific demographics, one can at least hope that the information that finds its way to our screens is of some relevance, lest it become part of the digital noise that we will inevitably tune out.
Has social media influenced you to buy recently?
ALSO ON HUFFPOST:
Online Shopping: Pros And Cons
It's so much easier to comparison shop online, not just comparing different brands of items, but comparing different online sites for prices. You might not have the pleasure of holding the items in your hands, but you have the ease.

Online, you really can only use a credit card, so if you were planning on paying with cash or check, you're out of luck.

Sometimes trying to fin an ingredient in the super supermarket can be frustrating, and when you can't find a salesperson to help you it's even more so. Online all you do is type in the ingredient into the search box.

Unfortunately you don't get to pick your own food when shopping online. The person who compiles your order does all that for you. So you're bound to get a bad apple or two, a fattier cut of meat or a a container of milk set to expire soon.

If you've ever left the supermarket and realized on the way home you forgot milk, this will appeal to you. Up until the day of delivery, you can add items to your grocery order online. So if you forgot to add milk, eggs or whatever, you still have a chance to add it to your order.

Couponing can be done online and you can even use lots of online coupon sites or online deals, but you initially are charged for the full price of your order -- coupon savings are only subtracted much later after the delivery person has put them through processing.

What could be more easy than shopping in the comfort of your own home? You don't have to lift a finger except to type and use your mouse. All the work is done for you including the bagging and delivery of your food.

Online shopping is not for those who like interpersonal communication -- talking to salespeople, bumping into neighbors and friends, and generally enjoying shopping with other people.

You're never restricted to store hours when you shop online. You can do it whenever it's convenient for you and you never have to worry about getting in before the crowds, like on the weekends. Photo from ilovememphis, Flickr.

Obviously when you buy online you can't get your order immediately -- usually it takes up to 1 day to get your order and of course you have to pay for delivery costs. Luckily many online grocers have deals for first-time customers, but after that the delivery cost can range in price depending on time of delivery.

Shopping online never has lines. Period. Who wants to wait in one especially when your time is precious, like on the weekends? Photo from anokarina, Flickr.

Monica Knight and Cathy Yoder talk about trimming your grocery bills by using coupons.
Follow Parmjit Parmar on Twitter: www.twitter.com/ParmieP