How to Take Better Travel Photos
Travel photography can offer some of the most inspirational, exciting, and candid shots from the places you visit and the people you meet. If you are like me, one of the largest challenges when travelling is what to take with you. How much can you carry around? How do you protect your gear from theft?
I have always been concerned about drawing too much attention to what I carry around, especially when travelling off the beaten path and know that cameras and equipment are worth much more in foreign countries.
Recently at the Travel Bloggers Conference in Toronto (TBEX) I met award winning photographer/writer and guest speaker Lola Akinmade Åkerström, from Stockholm, Sweden. Lola has been published around the world in National Geographic Traveler, BBC, CNN, Travel + Leisure, Lonely Planet, and Fodor's -- among many others.
As Lola was my Toronto photo walk instructor during TBEX, I decided to ask her for her tips on travel photography. Here's some of her top tips:
Light packer = smart photographer, Right?
Absolutely. For one, travelling is so dynamic and travel photography so much so. In reality, you may not have enough time to set up a tripod and portable studio to take a photo. Unless you're on a specific photo shoot or assignment, one DSLR camera body with one telephoto lens (18-200mm for serious amateurs) and one fixed lens (50mm) should be more than enough for everyday shooting.
How about snapping in those tourist spots?
I usually see them as a challenge which I frequently take. Trying to find a new and fresh angle on an instantly recognizable icon or tourist spot can only help a travel photographer get better at their craft by honing their observational skills.
Is there a best time of day to take photos?
Most photographers would instantly say "the golden hour" -- those sweet moments before the sun rises or sets when the landscape is covered with its golden glow. While I love that time of day, I welcome harsh afternoon light as well because it helps me work on playing with shadows and shade to create interesting composition.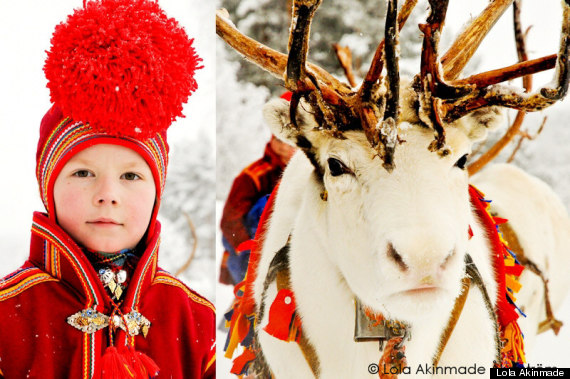 What tips would you recommend for taking stunning photographs?
My main tip would be to interact. Observe how light is interacting with your environment. Observe how people are interacting with each other. And interact with the people yourself.
Here are just a few tips to get you started.
What about Composition?
My biggest composition issue I constantly see is poor framing of the subject. The concept of "Rule of Thirds" can be a bit tricky to grasp so I've included an illustration below.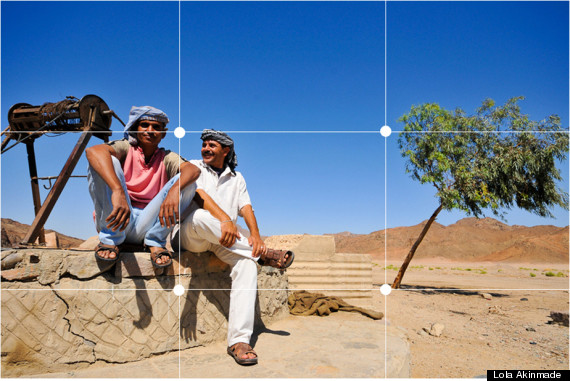 In a nutshell, if you mentally divide your photo into a three-column, three-row grid, your subject or whatever you want to photograph should intersect one of those points. This makes your photo visually balanced.
Many DSLR cameras allow you to visualize the grid in their viewfinders while you take a picture.
Any Final Words?
I'd like to leave you with this snippet I wrote for TBEX's blog about sneaking photos:
Good travel photography isn't about technical perfection. It's about evoking a feeling and sense of place. It's about showing human connection through snapshots of their everyday lives. It's about photos that consciously tell a story while being sensitive and respectful of the stories they share.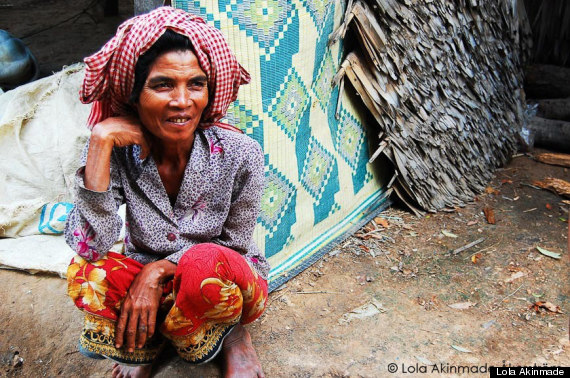 Wrapping it all up
To learn more, take a course in photography or join a photography club in your town. Online resources are abundant in photography, and most recently a number of excellent e-books are available. I came across a company out of California -- Inkling, which publishes about a variety of topics from parenting to adventure to travelling. They have a wonderful photography series called "Snapshots to Great Shots."
I browsed through the Landscape Photography book and was impressed with the visuals and instructions on how to take better shots. The photography books are reasonably priced at $9.99 to download onto your iPad or iPhone. If you don't need the entire book then you may download a relevant chapter for $1.99. While on the road these would make great references on the iPad or iPhone.
Just recently, the first ever Instagram Travel E-book, Instagram as your Guide to the World, was published by Skimbaco founder Katja Presnal. Skimbaco is an online magazine that offers lifestyle inspiration ideas form Presnal and her team. Topics range from food, family to travel with a focus on living a lifestyle where less is more.
Even if you have all the reference materials in the world, always practice before you leave for that trip. You don't want to see the a lion on safari and then try to figure out which settings to use -- the moment will be over before you know it! Not to mention, you'll be prepared to take better photos when you arrive.
Resources:
#1 Travel Photography Blogger Trey Ratcliffe http://www.stuckincustoms.com/
Fodor's Travel Photography: http://www.fodors.com/travel-photography/
Digital Camera World http://www.digitalcameraworld.com/
Best Travel Photos Of The Week: 2013 Edition
While you can't go wrong with camping in Ontario's Algonquin Park in mid-to-late June, heading their early has its benefits, not to mention stunning views.

The sun sets over the city of Brussels, Belgium. Photo Credit: Fareed Khan

Beautiful sunsets are just one of the sights travellers can expect in Molokai, but as the couple behind Traveling Canucks notes, there's a few things that sets this Hawaiian island apart from its neighbours.

A monument to Imre Nagy, a leader in Hungary's failed communist revolution of 1956, stands on top of a bridge in the sunny city of Budapest.

Adrenalin junkies looking to get their next fix may want to take a page out of Seattle Dredge's book. Here, she tears up the snowy hills of Akureyri, Iceland on the back of snowmobile.

Traffic in Vietnam has something of a notorious reputation among travellers. After all, how many places in the world would require someone need to take a road test just so your driver will give you a fair price?

From the umbrellas to the shallow harbours, there's no shortage of blue hues in Greece, according to Dalene and Peter Heck, the couple behind Hecktic Travels.

What's the best way to explore the Flinders Ranges Mountains of South Australia? If you ask Deb and Dave from The Planet D, the answer is simple: from the sky.

Two locals in Jordan wait for travellers to ride their camels around in the Wadi Rum, according to Cailin O'Neil who learned first hand about the hospitality of Jordanians.

Train spotting in Riomaggiore, Italy. Credit: Rafid Mahmood

A blooming garden of Wisteria at the Tochigi Ashikaga Flower Park in Japan. It's reminiscent of a fairy tale.

Travelling to Hawaii usually brings up thoughts of beaches, surf, and donkeys, in the case of the duo behind Traveling Canucks. The two joined group which descended down nearly 1,700 feet on the back of mules to reach the reach the Kalaupapa Peninsula during their adventure to Molokai Island.

Even Belgium's greenery proved resilient to the winter cold during Krista Rowland's visit to Parc de Bruxelles in Brussels.

Giant tree stumps are one of the sites hikers can expect when tackling East Sooke Park's coastal trail near Victoria, B.C., writes Leigh McAdam.

The team behind Hecktic Travels took this week to explore the Topkapi Palace is Istanbul, Turkey which included tours of the courtyard and inside the Harem and its 400 rooms.

A rooster sits perched in Yogyakarta, Indonesia. Roosters can be found in the city's bird markets where they are forced to battle in illegal cockfights.

There's a lot to admire about nature's creatures when travelling, writes Leigh McAdam. Here, a dragonfly rests during a McAdam's visit to Lake Superior.

There's a lot to like about the Copper Coast, a route between the towns of Tramore and Dungarvan in Ireland. One of the highlights includes the Kilfarrasy Beach, writes Candice Walsh.

Tour buses kinda get a bad wrap for being cheesy. But now and then, like when you hurt your ankle and walking around Mexico City just isn't in the cards, tour buses can be surprisingly enjoyable according to Pamela MacNaughtan.

Shopping in Chichicastenango, Guatemala is far more colourful than most markets in Canada. Credit: @vivienlougheed

While some Canadians were contending with Old Man Winter's return, others, like Justin, were enjoying the scenic sunsets and temperature in the high twenties. Photo Credit: @crustinjocker

If you're visiting the National Museum of Scotland, expect to discover many unique artifacts like this mask that Miranda and Dylan came across during their trip to the city of Edinburgh

The Fountains of Bellagio aren't just a pretty sight in Las Vegas, Nevada; they're also part of choreographed light display. In Lisa Goodmurphy's case, the fountains were performing in sync with this famous Canadian icon while Goodmurphy and her daughters passed by.

As Dave and Deb from The Planet D write, the Medina serves as an old fortified encampment for one of Morocco's largest cities. Within the encampment lies a maze of streets that are lined with vendors and is considered a rite of passage for anyone visiting the city.

Travellers looking for an iconic panorama of Paris can't go wrong with a shot from the observation decks of the Eiffel Tower. But for those looking for something different can try their hand at photography from the Arc de Triomphe like Cam & Nicole Wears did during their trip to the City of Light.

Despite spending six weeks in Bolivia, Vivien Loughheed says her trip to South America was still too short. Photo Credit: @vivienloughheed

Looks like some grumpy residents in the United Kingdom are a lot more open about their feelings towards solicitors — at least in the neighbourhood of Notting Hill.

It's hard to believe that this isn't even the most impressive photo Leigh McAdam took during her trip to the Maligne Canyon at Japser National Park in Alberta, Canada. There, she and seven other adventurers donned some ice cleats and took to climbing the park's ice bridges.

Yes, it's a well but this old stone structure caught our eyes and that meant it just had to go into this week's round-up. The well is said to still be a site of worship according to Candice Walsh and to even have magical healing properties, though she seems less convinced on that matter.

The fall of the Berlin Wall may have come decades ago, but as Dalene and Peter Heck found out during their trip to Berlin, there are still unseen barriers separating some Berliners.

Between the graffiti-lined walls of Tonalá lies Guadalajara's massive street markets. But don't let this scenic photo fool you: the crowds can get big and the markets aisle are small, which can make travel tough.

Millions of people around the world may be celebrating St. Patrick's Day today but here, Ian Ord takes part in a different kind of celebration while in Thailand: the Songkran Festival. Here's a shot of a modified tuk tuk that he saw a few times during the day.

There's no doubt that many Canadians will be celebrating St. Paddy's Day at their local bar or pub, but Candice Walsh is going for the real deal as she travel's to Dublin, Ireland to learn more about her ancestry.

London, England has been through a multitude of change over the years. However, if you're looking for signs of Victorian London, the Peter Pan statue in Kensington Gardens is a good place to start.

Blue skies and beautiful greenery are just some of the things travellers will find once they visit Prince Edward Island in the summer. As for what to do, Leigh McAdam's has a few suggestions...

Does taking a photo of the Statue of Liberty when in New York make you a tourist and not a traveller? Maybe, but as Samantha Phelan writes, it just "had to be done." Photo Credit: Samantha Phelan

As Shirley Lum tweets,"I love #Toronto! Fab city to explore/re-discover!" Photo Credit: Shirley Lum

This week, Lisa Evans snapped a shot of clear, blue skies while on Sapelo Island in Georgia, USA. Photo Credit: @WriteLisaEvans

It took three hours on a bus ride that felt like hell, but Leigh McAdam captured a stunning sunset over the mountains of Guican in Colombia

Here, Allie Barclay and company share some bonding time while the Taj Mahal sits in the background. Photo Credit: @AKBarclay

Look! Up in the sky! It's a bird! It's a plane! It's... Deb and Dave from The Planet D in a microlight. This week, the couple took to the skies in Zambia to find out what flying over the country was like.

It may be hard to spot, but that's definitely a beach in the background that Mario Stojanac snapped from his hotel room in Panama City. Photo Credit: Mario Stojanac

It just wouldn't be Valentine's Day without a romantic shot of the beach in Lorne, Australia. Photo Credit: Jessica Lee

Sometimes the only way to cope with vacation withdrawal is to think warm thoughts and look back at your photos of the Gran Bahia Principe Akumal in the Mayan Riviera, Mexico according to the couple behind Traveling Canucks.

For those tired of lounging on the beach, the town of Mui Ne, Vietnam and its beaches make a convincing case for some kite surfing, writes Jodi Ettenberg.

Sometimes it's best to let the photo do all the talking. Photo Credit: Caroline Chu

For the duo behind Hecktic Travels, it wasn't the restaurants or laid-back vibe of Panajachel, Guatemala that resonated most with them — it was Lake Atitlan. Here, the lake is pictured with three dormant volcanoes in the background.

Cage diving with great white sharks isn't for everyone. But it was for Deb and Dave, the writers behind The Planet D, the opportunity was a chance for the two of them to come face-to-face with the misunderstood predator during their trip to Gansbaai, South Africa.

It's amazing the difference two hours can make when you're visiting Marché Jean-Talon, writes Pamela MacNaughtan while detailing her trip to one of Montréal's famed markets.

There's plenty of white sand at Whitehaven Beach in Whitsundays, Australia but visitors will be sure to see lots of turquoise water as well, says Melissa Medeiros. The beach is one of Medeiros' top picks for coastline spots in Australia.

Rome wasn't built in a day and neither was conquering Mt. Kilimanjaro according to Samantha Phelan. Rather it took seven days, filled with rain, hardship and lots of climbing to conquer one of Tanzania's famous mountains. Photo Credit: @moderndaymarco

Rebecca Ananda captures a shot of the Netherlands' famed FEBO fast food restaurant and their automated burger-buying machines. Photo courtesy of: Rebecca Ananda

Adding egg to your morning cup of Joe may seem a bit strange but as Jodi Ettenberg writes, it's kinda like "a Cadbury Creme Egg with a hint of mocha," — and a popular beverage in the city of Hanoi in Vietnam.

During their trip to Antigua, the duo behind Hecktic Travels learned that despite not looking like much, cacao beans were highly prized by Mayans.

What started as a meal at a Korean-Japanese fusion bar for Pamela MacNaughtan turned into a 5-hour of chatting, writing, editing and sampling food behind locked doors at Yakatori Bar in Toronto.

A bike leaning against a wall in central Amsterdam catches the attention of Rebecca Ananda's camera. Photo courtesy of: Rebecca Ananda

Graffiti and the city of Ottawa, Ont. don't usually go hand-in-hand but as Ayngelina writes, parts of Canada's capital are home to sanctioned graffiti walls— some which feature stunning art and others which have art that may leave you scratching your head.

Okay, so a photo of the Brooklyn Bridge is a pretty touristy thing to do, but for Tracy Zhang, it was an opportunity to practice some black and white photography on a day when the weather was rather gloomy.

What's a January travel photo round-up without a photo of a Canadian city in the middle of winter? Here, Leigh McAdam snaps a shot of the intersection between Portage Avenue and Main Street, one of Winnipeg's famous crossings.

In a photo submitted to Huffington Post Canada Travel, John Moon captures a group of young monks heading home on an ox cart in Bagan, Myanmar.

She may not be keen on riding theme park rides, but that didn't stop Candice Walsh from capturing their soft glow during her trip to Prater in Vienna, Austria.

Catching the sun rise can be tough. But as the duo behind The Planet D point out in their post this week, things get even tougher when you're late for an early balloon ride at The Maasai Mara National Reserve in Kenya.

Open blue skies and white snow made for an excellent hike at the West Bragg Creek in Alberta for Leigh McAdam this week.

It's known as Ayers Rock but Australia's indigenous people call it "Uluru", writes Melissa on this week's post about travelling to Uluru-Kata Tjuta National Park.

This shot may be from Barbara Konecny's December's trip to Turkey, but it had to be added to this week's round-up since it captures the blue hues of the sky and water near Kadıköy, Turkey.

While some of us were nursing hangovers, Heather Phelps spent the New Year's day at Mont-Tremblant in Quebec snapping photos of the snowy landscape. Photo Credit: Heather Phelps

For the bloggers at Traveling Cannucks, a white Christmas was in order after over three metres of snow fell over four days at Cypress Mountain, British Columbia. What did they do with all that snow? Hit the slopes of course.

Not everyone's winter has been filled with snow. For Tracy Zhang, her travels took her to Manhattan, New York where the only white stuff on the ground was the paint for pedestrian crossings.

The start of the new year had Leigh McAdam at Hike Bike Travel skiing across the snowy paths of the Fairview and Tramline trails at Lake Louise in Banff, Alberta.

As Dalene from Hecktic Travels writes, winter in Northern Alberta can be unpleasant thanks for the chilling prairie wind. Still, it's hard to argue how serene everything looks from behind the lens of a camera.
Follow Parmjit Parmar on Twitter: www.twitter.com/ParmieP