Putting An EpiPen In Every Restaurant Would Be A Life-Saver
This blog originally appeared on HypeFoodie.
This week I had the honour of providing a public deputation for Toronto City Council alongside Food Allergy Canada in support of Councillor James Pasternak's motion to investigate mandatory stock epinephrine at Toronto restaurants. The summary of the motion states:
Given that the City of Toronto is home to over 8,000 restaurants and hundreds other public facilities, it is worthwhile to investigate if the mandatory provision for epinephrine auto-injectors in restaurants and public facilities would enhance the safety of residents and visitors to our City.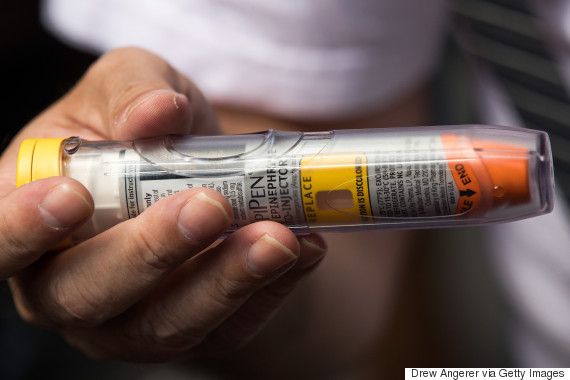 (Photo: Drew Angerer/Getty Images)
Going into it, I knew we were facing an uphill battle with the idea of mandatory epinephrine, but the motion was to investigate the issue. My optimism (and naivete) led me to believe that the investigation could lead to discussions with various stakeholders across the city, and whether or not the mandatory stock epinephrine motion would be eventually tabled, food allergies would be discussed as a growing public health concern.
I am utterly disappointed that the Licensing and Standards Committee voted to "defer indefinitely" the motion to investigate mandatory epinephrine in Toronto eateries and other public facilities. The conversation ended before it even begun.
The councillors seemed to be making advance judgement based on personal bias on the appetite for mandatory stock epinephrine in Toronto restaurants, and not interested in undergoing at true investigation. Unfortunately, the supporting document for the motion was a simple one-pager that did not contain many supporting facts to help push this forward. Despite the huge outpouring of public support letters in favour of the motion, there were two very strongly opposed positions coming from the hospitality industry, which councillors seemed to give more weight to. It's obvious that if a motion like this has any chance to move forward in the future, there needs to be a champion from the industry backing it and explaining why it makes sense operationally.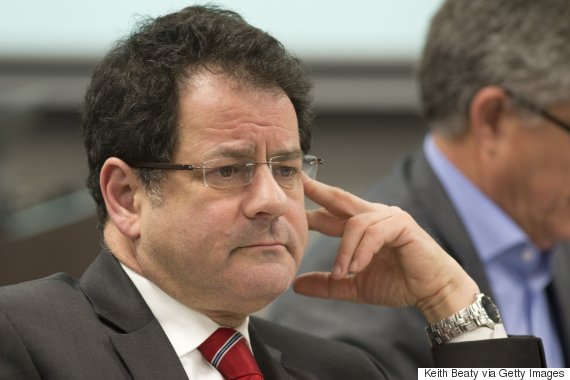 Councillor James Pasternak. (Photo: Keith Beaty/Toronto Star via Getty Images)
The most important takeaway from this experience is that, as a community, we haven't even scratched the surface when it comes to educating the public about food allergies and epinephrine. The city councillor comments and the information they used to come to their final decision were based on assumptions, miseducated testimony and untruths. I am compelled to set the record straight.
Untruth #1: Epinephrine is not the only appropriate drug to use in an allergic reaction
Councilor Jim Karygiannis stated, "I have severe allergies. I choose not to use an EpiPen and I choose to use Atarax. Atarax might not have the same effect immediately, but it's a slower process, because I choose not to go to the hospital if I shoot myself with an EpiPen in 20 minutes, because I might not be able to get there."
Antihistamines like Benadryl or Atarax are commonly used for treating hives or other skin symptoms, but they do not treat the life‑threatening symptoms of anaphylaxis. "Epinephrine is the only drug that can reverse symptoms of anaphylaxis. Canadian allergists advise that an epinephrine auto-injector is the first line of treatment for anaphylaxis and should be used first, before asthma puffers or any other medications," according to Food Allergy Canada.
An EpiPen is actually much easier to use than some may realize.
Epinephrine acts on a number of receptors in the body to exert its effects. It causes constriction, or tightening, of the blood vessels, which decreases swelling and also helps to increase blood pressure. It also increases the heart's contraction and heart rate, which can help to prevent or reverse cardiovascular collapse. Epinephrine relaxes the muscles around the airways in the lungs, helping the airways to open up. Finally, it prevents the release of additional allergic chemicals, which aids in stopping further progression of the reaction. No other medicine acts on so many body systems, which is why epinephrine is the drug of choice for anaphylaxis.
Untruth #2: EpiPens could cause fatal harm
Councillor Jim Karygiannis asked, "So, this could have a reverse effect that somebody thinks they're having an allergic reaction, hits somebody, and that might cause them fatal harm?" Commander Bikram Chawla with Toronto Paramedic Services responded, "Theoretically, there is that potential."
Common side-effects of epinephrine include fast, irregular or "pounding" heartbeat, sweating, nausea or vomiting, breathing problems, paleness, dizziness, weakness, shakiness, headache, feelings of over excitement, nervousness or anxiety. These side-effects usually go away quickly if you lie down and rest.
The minimum lethal human dose by subcutaneous injection is estimated at 4mg. EpiPens come in two standard doses of 0.15mg and 0.3mg of epinephrine, which is significantly lower than a dangerous dose. To put things into perspective, you would need 26 simultaneous shots from an EpiPen Jr. to receive a dangerous dose.

EpiPen Instructions in three simple steps (Photo: Pauline Osena)
Untruth #3: Food allergy and auto-injector training is too difficult
Councilor Frances Nunziata shared, "I do have an EpiPen. I have allergies. I've had to use mine many times. But I would not feel comfortable being in a restaurant or any establishment and having someone stab me with an EpiPen not knowing how long they've had that EpiPen... So to have establishments and restaurants like Tim Horton's and McDonald's be trained, I think we're in really muddy waters."
An EpiPen is actually much easier to use than some may realize. The instructions are illustrated on the device in three simple steps. Practice EpiPens also help make training easier and more effective.
It has huge benefits for the safety of the general public and increases public awareness of food allergies.
Assumptions that every single staff member in the restaurant would need to be educated like a paramedic so they could recognize symptoms of allergic reactions and administer EpiPens made this motion difficult for council to support. They did not recognize that like AEDs that are available at public places, EpiPens would be available as life-saving devices to the people who need them and know how to use them.
A stock epinephrine and mandatory food allergy education program for the hospitality industry in the City of Toronto is the right thing to do. It has huge benefits for the safety of the general public and increases public awareness of food allergies. Restaurant staff are currently trained at different capacities on how to keep customers safe by minimizing risks of bacterial food poisoning, and it is equally as important that they are trained on food allergies and how to minimize cross-contamination risks.
There is still a lot of work to be done. As a food allergy advocate and someone invested in the City of Toronto, I'm grateful to Councillor Pasternak for bringing the motion forward and to the Licensing and Standards Committee for discussing the possibility. As a community we will move onwards and upwards from this and continue to educate others and correct untruths.
Follow HuffPost Canada Blogs on Facebook
Also on HuffPost:
Allergy-Friendly Restaurants In Toronto
FEAST - Fabulous Eats for the Allergic & Sensitive Types Where: 881 Queen St. W.; Phone: (647) 350-1881; Twitter: @thisisafeast While FEAST is technically not a restaurant, this allergy-friendly fine food store has an in-house kitchen that serves hot pocket pies, mini vegan pizzas, salads, donuts and other sweet and savoury goodies for take-out. Every ingredient has been verified with the manufacturer to be free from gluten and all of the top eight allergens: wheat, nuts, peanuts, fish, shellfish, dairy, egg and soy. The kitchen is also free from mustard, sesame and sulphites. The take-out counter items are pre-prepared so customization is not possible, but full ingredient lists are posted so you know exactly what you will be consuming.

Loving Hut Toronto Where: 140 Spadina Ave., Suite A101; Phone: (647) 351-7618; Twitter: @lovinghutto The Loving Hut serves healthy, delicious foods with a variety of tastes, such as Vietnamese and Chinese dishes that are organic, vegan, non-GMO, peanut/nut free and contain no MSG. Their menu is also filled with many gluten-free options. Dishes are made to order and the staff is happy to make customizations to suit your tastes or dietary restrictions.

Sneaky Dee's Restaurant and Concert Venue Where: 431 College St.; Phone: 416-603-3090; Twitter: @thesneakydees The infamous Sneaky-Dee's concert venue is also well known for its Tex-Mex and pub-style favourites. The kitchen is open late with a reasonably priced menu and offers a festive atmosphere for all to sit and chat or dance the night away. The entire menu is peanut and tree nut-free, aside from the desserts, which are not made in their kitchen. There are many gluten-free options on the menu and they have a dedicated vegan fryer. All food is made to order and they are happy to make modifications to suit your dietary restrictions.

Poutini's House of Poutine Where: 1112 Queen St. W.; Phone: (647) 342-3732; Twitter: @poutini Poutini's House of Poutine is a popular place to grab a late night poutine in Queen West. Although it's not a full-service restaurant, there are counters in the restaurant where you can enjoy your meal. The kitchen is free of peanuts and tree nuts. Their potatoes are hand cut, in-house that day and cooked in a dedicated fryer in vegetable oil. They have practices in place to reduce the risk of cross-contact for their vegan and gluten-free gravy and cheese. The vegan gravy is made in completely separate pots from the other gravies, and are washed and stored in separate areas. They also serve Daiya vegan, gluten-free cheese which is stored on a separate shelf away from any dairy. All dishes are made to order, and can make modifications to their dishes to accommodate food allergies and intolerances.

Pizza Rustica Where: 270 Wellington St. W.; Phone: (416) 260-0200; Twitter: @PizzaRustica Pizza Rustica is a casual contemporary restaurant that serves gourmet pizza, pasta, paninis, salads and more. They're more than willing to customize dishes to suit dietary restrictions, with many vegan and gluten-free main course and dessert options available, including gluten-free pizza crusts that don't contain egg, and vegan Daiya cheese. Their basil pesto sauce is made in-house and does not contain any tree nuts. Peanuts are used as garnish on some salads, but they have practices in place to contain them and prevent cross-contact in the kitchen.

Famoso Pizza, The Annex Where: 386 Bloor St. W.; Phone: (647) 748-2333; Twitter: @FamosoPizzeria Allergy info here This fast-casual pizzeria serves authentic Neapolitan pizza in a warm and lively atmosphere. The Toronto Annex location came highly recommended by a family that lives with multiple food allergies which include soy, peanuts, tree nuts, eggs, seeds and most legumes. Restaurant staff is highly knowledgeable on practices that minimize cross-contact risks, and they are able to customize dishes to suit many dietary restrictions. Famoso has a comprehensive allergy menu posted online.

Swiss Chalet Where: Multiple locations across the GTA and Canada; Twitter: @SwissChaletCa; Allergy info here Most Canadians are very familiar with Swiss Chalet's rotisserie chicken and comfort foods. They have an interactive allergy guide available online that can help people with allergies to the top 10 common food allergens make informed decisions quickly and easily. Full ingredient lists are not accessible online, but would be available in the restaurant.

The Keg Where: Multiple locations across the GTA and Canada; Twitter: @TheKeg; Allergy info here The Keg's juicy steaks and traditional Canadian cuisine are a great option for a fancy (but not too fancy) dinner out. They have a comprehensive allergy guide posted online and offer a wide variety of gluten-free menu options. All food is made to order, and the kitchen staff is more than willing to customize meals to suit food allergies and intolerances. There are many Keg locations with varying atmospheres across Toronto. The Keg Mansion on Jarvis Street is a prominent downtown heritage building and is a particularly interesting location to visit, especially if you enjoy ghost stories.

Pizzaiolo Where: Multiple locations across the GTA and Ontario; Twitter: @_pizzaiolo_ This specialty pizza chain makes gluten-free pizza dough fresh daily, and has been called the Best Gluten-Free Pizza in Canada. They have a number of gluten-free toppings, and the option to use vegan, soy-free Daiya cheese so that every pizza they make maintains the mouthwatering flavour of traditional Italian pizza. All Pizzaiolo locations are 100 per cent nut free.

McDonald's Where: Multiple locations across the GTA and Canada; Twitter: @McD_Canada; Allergy info here. Yes, McDonald's. It's the "go-to" quick service restaurant for many families that live with food allergies. They have a standardized menu and provide a complete ingredient and nutrition breakdown, which is available in every McDonald's restaurant across Canada. The only peanuts in the restaurant are distributed in pre-packaged bags by the cashier to avoid the risk of cross-contamination. 

The French fries are cooked in a dedicated fryer and all dishes are made to order with the ability to customize meals to your dietary preferences. And you can't beat the convenience.
Follow Pauline Osena on Twitter: www.twitter.com/HypeFoodie