I'm Not Lovin' McDonald's Canada's Backwards New Allergy Policy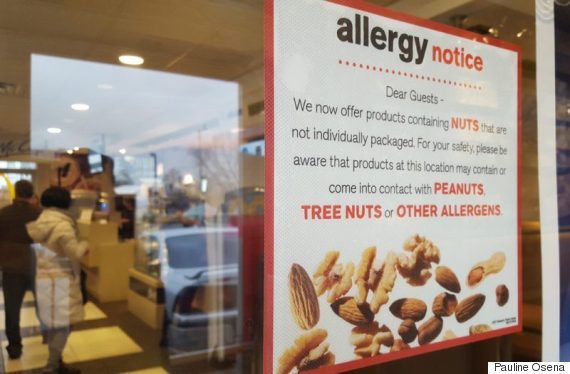 This blog originally appeared on Hype Foodie.
Dear McDonald's Canada,
You had me...
I've been loyal to the McDonald's brand ever since I can remember. As a child, many of my birthday parties were at McDonald's. I grew up knowing Grimace, Birdie, the Hamburglar, the Fry Guys and Ronald McDonald. I recited commercials, sang about the ingredients in a Big Mac, and still talk about how much I loved the pizza. I even ate McDonald's after my prom.
Once school was done and after a short stint in Montreal, I moved back to Toronto and found my dream job at the head office of McDonald's Canada. I was young, energetic and excited to help build a brand that I believed in. The company was generous, and I worked with passionate and intelligent people. We were motivated and aspired to bring innovative menu items and marketing programs to our customers.
I had the honour of interacting with and learning from George Cohon, the kind and outgoing visionary that founded McDonald's Canada. It was only for professional reasons that I felt the need to move on, but the "ketchup continued to run through my veins."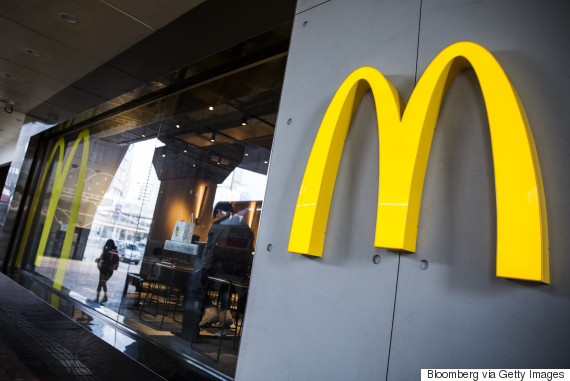 A McDonald's restaurant. (Photo: Bloomberg via Getty Images)
Years later, I had children and got thrown into the scary and unpredictable world of allergy management, but I still chose to raise my kids under the McDonald's umbrella. On weekends and while travelling we make frequent visits to McDonald's restaurants.
My eldest son is allergic to peanuts, tree nuts, dairy, eggs and wheat, and my youngest is allergic to eggs and fish. Although French fries, apple slices and juice are the only three items they can safely consume, that is three more items than most places can offer them. My kids with food allergies are satisfied with their fries, apples and Happy Meal toys, while the rest of the family, including my daughter that does not have food allergies, enjoys nut-free meals. Most meals ended with a quick run through the Play Place.
These are simple indulgences that the entire family treasures. You had me, McDonald's... but now you don't. I have defended and promoted the McDonald's brand countless times, but now I feel that I can't.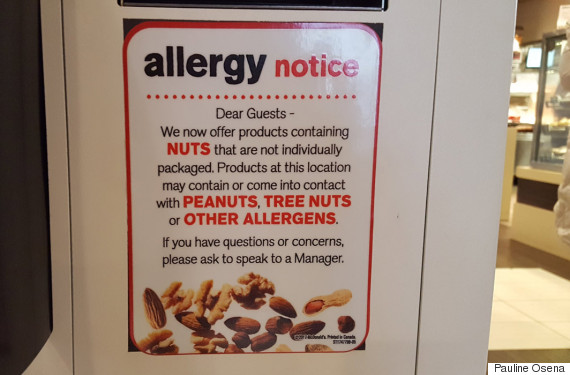 The McDonald's Allergy Notice states:
"Dear Guests -- We now offer products containing NUTS that are not individually packaged. Products at this location may contain or come into contact with PEANUTS, TREE NUTS or OTHER ALLERGENS. If you have questions or concerns, please ask to speak to a Manager."
This new allergy notice posted in all Canadian restaurants tells me that anyone with food allergies is not welcome at McDonald's. It tells me that McDonald's Canada does not want the responsibility of being "nut-free" or "allergy-friendly" because of the legal risks. This allergy notice tells me that the brand I have cared about and worked to build for many years does not value my sons, my nephew, my friends and the millions of Canadians living with food allergies as consumers... and yes, we are millions.
We might not all have food allergies, but the parents, the siblings, the close friends and relatives of people with severe food allergies all "live" with food allergies, too.
You have posted an UNWELCOME sign in all of your restaurants for the food allergy community.
McDonald's is one of the largest and most powerful brands that caters to kids and families. I had always hoped that McDonald's would be the trailblazer in providing allergy-friendly quick service meals, and the Create Your Own Burger felt like a step in the right direction. I was thrilled that wheat-free options like the lettuce wrap were finally available. It felt like McDonald's actually prioritized increased options and customization over speed of service.
With the new ordering technology and dedicated CYB concierge, I envisioned a McDonald's where allergy-friendly quick serve might be a reality in the future. I know it's not an easy task, but I hoped that McDonald's Canada would be bold enough to take on that challenge. Unfortunately, it looks like I'll need to put those hopes aside for now, as the new SKOR McFlurry has sprinkled peanuts all over those dreams.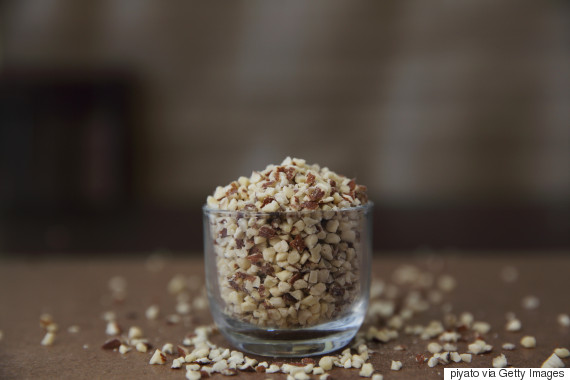 (Photo: Piyato via Getty Images)
The new allergy notice has sparked a lot of emotions in me, but the most prevalent is disappointment. I'm disappointed that I can no longer support McDonald's Canada, because you have posted an UNWELCOME sign in all of your restaurants for the food allergy community. I am disappointed that the McDonald's brand is abandoning a large proportion of the future generation. I am sad that it feels like the world is moving backwards instead of forwards.
I am asking, as a long-time patron of McDonald's Canada, for you to reassess the decision to add open nuts to your kitchens. The food allergy community is a valuable community, not only in terms of profit, but in terms of our customer loyalty and appreciation to allergy-friendly brands. It's not too late for McDonald's Canada to show the world that you truly care about your customers.
Sincerely,
Pauline Osena
Follow HuffPost Canada Blogs on Facebook
Also on HuffPost:
What Dietitians Would Eat At McDonald's
Calories: 280 Total Fat: 12 grams Sodium: 770 milligrams Sugar: 3 grams Protein: 27 grams Expert: Lalitha Taylor, registered dietitian and owner of Taylor Nutrition Consulting in Edmonton, AL. "This particular salad has the least amount of sodium and fat in comparison to all other McDonald's salads. Furthermore, this salad is a rich source of lean protein (27 grams), vitamin A (35%), C (70%) and iron (20%)."

Calories: 240 Total Fat: 8 grams Sodium: 510 milligrams Sugar: 7 grams Protein: 11 grams Expert: Andrea D'Ambrosio, registered dietitian and owner of Dietetic Directions in Waterloo, ON. "This plain and simple option has less than half the calories of a Big Mac (240 kcal), less than a third of the fat (8g) of a Big Mac as well as half the sodium (510mg)."

*Calories: 290 Total Fat: 11 grams Sodium: 720 milligrams Sugar: 7 grams Protein: 14 grams Expert: Melissa Baker, registered dietitian in Vancouver, BC. "I can't go to McDonald's without getting a burger and fries. But I chose mini fries, and a simple cheeseburger which is only 290 calories compared to the Double Big Mac sandwich at 680 calories! Adding an apple and garden salad pump up the nutrient density of this meal." *Nutrition information for cheeseburger only

*Calories: 530 Total Fat: 24 grams Sodium: 1250 milligrams Sugar: 13 grams Protein: 23 grams Expert: Shauna Lindzon, a registered dietitian in Toronto. "The Sweet Chili Signature McWrap with Grilled Chicken had what I was looking for. It is made with a whole wheat wrap, and has double the protein of the Mediterranean McWrap and half of the fat. This would therefore be my choice if I were ever to visit McDonald's."

*Calories: 290 Total Fat: 13 grams Sodium: 640 milligrams Sugar: 2 grams Protein: 14 grams Expert: Vanessa Yurchesyn, registered dietitian in Saint John, NB. "There are many items on this menu that are high in fat and sodium (including the Signature wraps and salads). I've chosen these three items that will provide a balanced meal." *Nutrition for snack wrap only

*Calories: 40 Total Fat: 2 grams Sodium: 70 milligrams Sugar: 1 gram Protein: 3 grams Expert: Christy Brissette, registered dietitian at 80 Twenty Nutrition in Toronto, ON. "They've finally moved beyond iceberg lettuce and added a little bit of baby kale. Finally, something green other than pickles!" *Nutrition for side salad only

*Calories: 200 Total Fat: 2 grams Sodium: 100 milligrams Sugar: 28 grams Protein: 6 grams Expert: Nicole Osinga, registered dietitian at Clarington Physiotherapy Health and Wellness Centre in Courtice, ON. "Ditch the sugary granola and add some almonds to the parfait. [Then] ask for a side of peanut butter to dip the apples in. These modifications decrease to sugar content and increase the protein and healthy fat content of your meal!" *Nutrition for McDonald's parfait only.
Follow Pauline Osena on Twitter: www.twitter.com/HypeFoodie