Trudeau's Cabinet Isn't As Diverse As You Think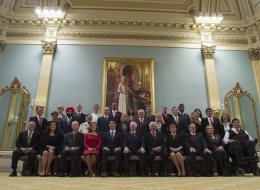 Stephen Harper's reign ended this week as PM Justin Trudeau took his oath. As Trudeau 2.0 picked the persons who will join him at the head table of political power, many in the media trumpet the "most diverse parliament ever."
The previous Harper cabinet included women, Aboriginals, South Asians, East Asians, Quebecers and a person with a disability. If that's not diversity, I don't know what is.
However, there is room for improvement. No Afro-Canadians were ever part of Harper's caucus. Some demographics don't get a seat at the decision table. Others, which have long-secured their permanent presence, seek their proportional piece of the pie: as a percentage of cabinet, women and visible minorities have been chronically underrepresented.
Different goals, different measuring sticks
There's some whitesplaining confusion as to what diversity is, and what the measuring sticks looks like. To be clear, diversity is about encompassing a wide array of minorities, not overrepresenting one particular group to the exclusion of others. If Trudeau wanted to improve on diversity in his inaugural cabinet, it's quite a stretch to roll out the "mission accomplished" banner.
PM Trudeau set the tone when he declared his cabinet was "a cabinet that looks like Canada."
Um. What?
Have we reached Martin Luther King's mountain top? Why didn't anyone tell me?
Since Trudeau talked about appearances, gender and race are evident characteristics to consider. In fact, they are the characteristics mandated by the Government of Canada's Employment Equity Act:
The EE Act defines the designated groups as:

• women;

• Aboriginal peoples - people who are Indian, Inuit or Métis;

• persons with disabilities; and

• members of visible minorities - people, other than Aboriginal peoples, who are non-Caucasian in race or non-white in colour.
Women
White women have been in Parliament since 1921 and in cabinet since 1958. They have had a seat at the table ever since, and even (briefly) in the Prime Minister's Office! The Trudeau cabinet's gender parity is a high water mark for women, but it does not advance diversity.
Aboriginal peoples
Aboriginals are breaking records each successive election, going from five to seven MPs in 2011. The tally now stands at 10.
In spite of what you might think of the Harper government, he set the bar for Aboriginal cabinet participation.
~ Aboriginal Peoples Television Network
Aboriginals account for approximately 4 per cent of the Canadian population, and 6 per cent of cabinet.
Persons with disabilities
Steven Fletcher, a quadriplegic, was appointed to PM Harper's cabinet in 2008. Minister Fletcher was the first person in history with a permanent disability to be named to the Canadian cabinet. Trudeau increased the number to two.
Visible minorities
According to Statistics Canada, one out of every five Canadians was a visible minority in 2011. This demographic is heading up -- way up -- to 30 per cent by 2031. The top groups are of citizens of Asian, South Asian and Afro-Caribbean descent.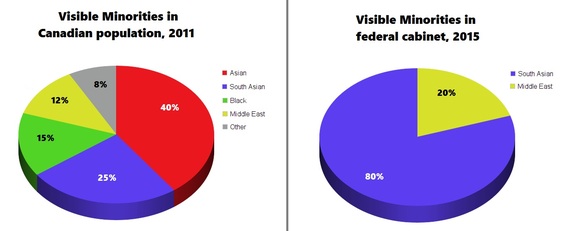 For visible minorities, PM Trudeau's inaugural cabinet is decidedly less diverse than PM Harper's. The absence of East Asians (Chinese, Filipino, Vietnamese, Japanese, Korean, etc.) is jarring.
The presence of black Canadians, the third largest racial demographic, is also deficient. Despite a record four Afro-Canadian MPs elected from a voter base blindly loyal to the Liberals, PM Trudeau shut them out of cabinet.
Harper did not name any African-Canadians to cabinet. He had no black MPs to choose from. Despite a record four Afro-Canadian MPs elected, Trudeau shut them out of cabinet.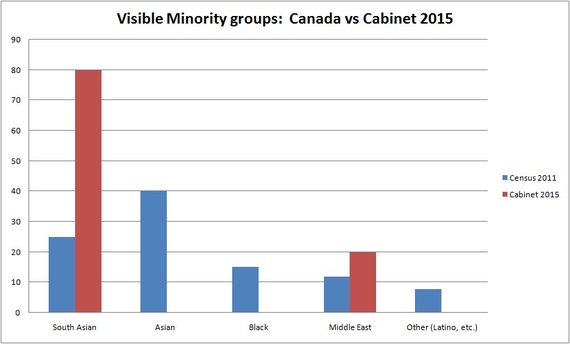 As women, Aboriginals and others break out the bubbly to celebrate their historic advances in political clout, lest we forget that the struggle for equality, and fair representation is far from over.
MORE ON HUFFPOST:
Prime Minister Justin Trudeau has kept his promise of a smaller, gender-balanced cabinet. At 31 ministers (including him), Trudeau's first cabinet features many new faces and some veterans.

Minister of Finance Morneau is the former executive chair of Morneau Shepell, one of Canada's largest human resources firms.

Minister of Foreign Affairs An MP since 1996, Dion served as Canada's intergovernmental affairs minister under Jean Chrétien and environment minister under Paul Martin. He served as Liberal leader and leader of the Official Opposition from 2006 to 2008.

Minister of Justice and Attorney General of Canada Wilson-Raybould is a former Crown prosecutor and regional chief of the B.C. Assembly of First Nations.

Minister of International Trade An MP since 2013, Freeland was courted by Trudeau's team when she was a senior editor at Thomson Reuters in New York City.A Rhodes scholar, she is a well-known author and journalist. She was part of Trudeau's team of economic advisers.

Minister of Health Philpott is a family physician, associate professor at the University of Toronto, and former chief of the department of family medicine at Markham Stouffville Hospital.

Minister of National Defence Sajjan is a retired lieutenant colonel who served in Afghanistan and was the first Sikh to command a Canadian Army regiment. He also served as a Vancouver police officer for 11 years.

Minister of the Environment and Climate Change McKenna was a former legal adviser for the United Nations peacekeeping mission in East Timor and founded Canadian Lawyers Abroad (now known as Level), a charity focused on global justice issues.

Minister of Employment, Workforce Development, and Labour Mihychuk was an NDP MLA in Manitoba from 1995 to 2004, serving as minister of industry, trade, and mines, and later minister of intergovernmental affairs.

Minister of Infrastructure and Communities An Edmonton city councillor since 2007, Sohi immigrated to Canada from India 35 years ago. He spent time as a political prisoner in India in the late 1980s.

Minister of Canadian Heritage Joly, 36, made a name for herself by finishing second to ex-Liberal cabinet minister Denis Coderre in the Montreal mayoral race in 2013. She's a lawyer and communications expert.

Minister of Democratic Institutions Monsef, a community organizer, was born in Afghanistan. She fled the Taliban and came to Canada as a refugee with her widowed mother and sisters in 1996.

Minister of Veterans Affairs and Associate Minister of National Defence Hehr was an Alberta MLA from 2008 to 2015, was one of just two Liberals elected in Calgary. In 1991, he was the victim of a drive-by shooting that left him confined to a wheelchair.

Minister of Status of Women Hajdu was executive director of Shelter House, Thunder Bay's largest homeless shelter.

Minister of Sport and Persons with Disabilities Qualtrough is a lawyer and former Paralympian. Legally blind, she won three Paralympic and four World Championship medals for Canada in swimming and was president of the Canadian Paralympic Committee.

Minister of Families, Children, and Social Development Duclos is a renowned economist who taught at at Laval University.

Minister of Natural Resources Carr, a former Manitoba MLA and deputy leader of the Manitoba Liberal Party, served as president of the Business Council of Manitoba from 1998 to 2014.

Minister of Public Services and Procurement An MP since 2008 and the party whip, Foote previously held several cabinet portfolios in Brian Tobin's provincial government.

Minister of Transport The former astronaut, navy engineer, president of the Canadian Space Agency and Liberal leadership contender was first elected in 2008. He has served as an industry and foreign affairs critic.

Minister of Public Safety and Emergency Preparedness The finance minister under Paul Martin's government, Goodale was the only Liberal elected in Saskatchewan.

Minister of Innovation, Science, and Economic Development An MP from 2004 to 2011, Bains regained his seat this year. In addition to being a certified management accountant, holding an MBA, and teaching at Ryerson University, Bains was an important Trudeau organizer and also served on the Liberals' national election readiness committee.

President of the Treasury Board An MP since 1997, Brison was the public works minister and receiver general of Canada in Paul Martin's government. He had been the Liberal spokesman on economic issues and the vice-chair of the Commons' committee on finance.

Minister of Indigenous and Northern Affairs A family physician who has been an MP since 1997, Bennett was Canada's first minister of state for public health and oversaw the 2003 response to the SARS epidemic. In recent years, Bennett has served as the party's vocal critic on aboriginal affairs.

Minister of Agriculture and Agri-Food An MP since 1988, MacAulay has served as solicitor general of Canada, minister of labour, secretary of state for veterans and secretary of state for the Atlantic Canada Opportunities Agency. In the last Parliament, MacAulay was the critic for fisheries and oceans.

Minister of Fisheries, Oceans, and the Canadian Coast Guard LeBlanc served as the Government House leader until August 2016, when he was replaced by Bardish Chagger. LeBlanc was sworn in as a privy councillor in 2004 when, under Paul Martin, he served as parliamentary secretary to the leader of the government in the House and deputy government whip. He is a childhood friend of Trudeau's.

Minister of Immigration, Refugees, and Citizenship First elected in 2000, McCallum, a former chief economist at the Royal Bank of Canada, served as minister of national defence and minister of veterans affairs under Jean Chrétien. He was named minister of national revenue under Paul Martin and was also tasked with leading an expenditure review of government spending.

Leader of the Government in the House of Commons and Minister of Small Business and Tourism Chagger, 35, worked for the Kitchener-Waterloo Multicultural Centre. She also worked on Trudeau's leadership campaign.

Minister of National Revenue A small business owner who has been an elected warden for the Regional County Municipality of Rocher Percé since 2010, Lebouthillier won a seat in Gaspé that the Liberals haven't held in more than a decade.

Minister of International Development and La Francophonie Bibeau worked for the Canadian International Development Agency (CIDA) in Ottawa, Montréal, Morocco and Benin, Africa, before settling and launching her own business in her riding.

Minister of Science Elected in 2008, Duncan taught meteorology, climatology, climate change, and medical geography at the university level.
Follow Rachel Décoste on Twitter: www.twitter.com/RachelDecoste