Why Whoopi Was Wrong: The Myth of a Post-Racial Canada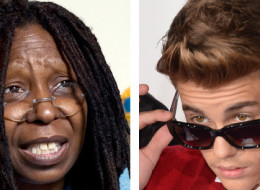 The View co-host Whoopi Goldberg annotated Justin Bieber's videotaped use of the N-word. Ms. Goldberg attributed the then-pubescent Biebs' gaffe to his "youthful ignorance" and Canadian upbringing.
"You know -- Canadian words...N---r doesn't mean anything in Canada."
Goldberg bases her assessment of Canadian history and societal racism on the weeks she spent last year filming a movie in Toronto. Apparently, the N-word came up in the script. When Goldberg questioned it, the director pulled the wool over her eyes. Ms. Goldberg reached the absurd conclusion that the racial slur is "not a word that [Canadians] have associated with people of colour."
I'm on my way to Canada
That cold and distant land
The dire effects of slavery
I can no longer stand.
Farewell, old master,
Don't come after me.
I'm on my way to Canada
Where coloured men are free
~ Negro spiritual
Ms. Goldberg is just the latest African-American duped into believing the analogical "promised land" tale. In the eternal navel-gazing exercise of re-counting American history, Canada is relegated to a utopia where fairness and freedom reigned for black slaves -- a deceptive narrative the Canadian establishment is all too happy to assume.
Even as blatant racial segregation and discrimination in housing, employment and legal justice permeated the quotidian in Canada's largest cities, Martin Luther King marched into Toronto in 1967 with a familiar falsehood:
"Canada is not merely a neighbor to Negroes. Deep in our history of struggle for freedom Canada was the North Star. The Negro slave knew that far to the north a land existed where a fugitive slave could find freedom. The legendary Underground Railroad started in the south and ended in Canada. [...] Heaven was the word for Canada and the Negro sang of the hope that his escape on the Underground Railroad would carry him there."
Even the greatest of Americans did not bother to scrutinize the fictitious Garden of Eden. Had they done so, they would have uncovered state-sanctioned racism bearing a strange resemblance to that which plagued their own nation.
After all, the foetation of both the United States and Canada is inextricably linked to the enslavement of non-whites in some form or another.
McGill University Prof. Charmaine Nelson writes:
Slavery was practiced in Canada for over two centuries. Although ignorant about Canadian slavery, [we all] have been schooled in the Underground Railroad, which positioned white Canadians as liberators of African-American slaves. By the way, the Underground Railroad lasted from 1834 until 1865. How is it that we know about a three-decade window when enslaved Africans fled north from the U.S.A., but we know nothing about a two hundred plus year expanse of time when Canadians were slaving?
Most Americans don't know that enslaved blacks fled Canada southwards -- to the USA:
Beyond the 1833 abolition of slavery which Britain imposed on the Canadian colony, "free blacks" graduated from slaves to indentured servants. Lawrence Hill's opus, "The Book of Negroes", gives a grim description of life as a black person in 18th-century Canada. It is no coincidence that so many blacks deserted Canada as soon as U.S. President Lincoln declared emancipation.
It's been 20 years since the Canadian government certified Black History Month, yet the myth of white-gloved, post-racial Canadians persists. Black Canadians' struggle is sidelined by consistent distortions (or outright expunctions) on both sides of the border.
Even recent books, such as the Jackie Robinson: Race, Sports, and the American Dream biography perpetuate falsehoods:
"In an initial conversation with Montreal manager Clay Hopper, who came from Mississippi, Rickey told Hopper he thought Robinson was 'superhuman.' Hopper replied, 'Do you really think a n---r's a human being?'
Once the season started, Robinson found himself free of America's racism while playing at home in Montreal, a city that had little prejudice because it was located in Canada, a land that had never known slavery, the Confederacy, or separate white and black drinking fountains. Montreal, moreover, was spiritually connected to France, the chosen home of such black expatriates as Josephine Baker."
The recent Oscar-winning film "12 Years a Slave" further inflated Canada's ego and deepened its selective historical amnesia. The "white saviour" role, played by Hollywood megastar Brad Pitt, fortified Canadians' false sense of moral superiority on race.
Just as African-Americans risked their lives and livelihoods to claim their civil rights, so did black Canadians. A decade before Rosa Parks, Viola Desmond sat in an whites-only section of a Nova Scotia movie theatre in 1946. Before the Greensboro Four, Jamaican-Canadian Bromley Armstrong and Chinese-Canadian Ruth Lor sat at lunch counters to joist judicial operatives into prosecuting the white-only businesses in 1954. The rainbow coalition which inaugurated civil rights in Canada remain unknown and unsung, their feats are just as noteworthy as their much-feted American counterparts.
The U.S. benefits from a general willingness to acknowledge and face the ugliest chapters of its past to gauge progress. As long as Canada hides behind the cloak of compassionate caricature, Canadians will remain, as Whoopi Goldberg puts it, "youthfully ignorant."
MORE ON HUFFPOST:
Justin Bieber: Child Star To Bad Boy
Justin Bieber performs on the street August 20, 2007 in Stratford, Canada. (Photo by Irving Shuter/Getty Images)

Justin Bieber visits the Nintendo World Store on September 1, 2009 in New York City.

NEW YORK - NOVEMBER 15: Musician Justin Bieber performs on ABC's 'Good Morning America' at ABC News' Good Morning America Times Square Studio on November 15, 2009 in New York City. (Photo by Neilson Barnard/Getty Images)

NEW YORK - DECEMBER 11: Singer Justin Bieber attends Z100's Jingle Ball 2009 at Madison Square Garden on December 11, 2009 in New York City. (Photo by Jason Kempin/Getty Images)

LOS ANGELES, CA - MAY 15: Justin Bieber arrives at KIIS FM's Wango Tango 2010 at the Staples Center on May 15, 2010 in Los Angeles, California. (Photo by Angela Weiss/Getty Images)

LOS ANGELES, CA - FEBRUARY 13: Singer Justin Bieber poses after his free performance presented by KIIS-FM at Nokia Plaza L.A. Live on February 13, 2010 in Los Angeles, California. (Photo by Angela Weiss/Getty Images)

NEW YORK - NOVEMBER 26: Justin Bieber promotes his new book 'First Step 2 Forever' at Barnes & Noble, 5th Avenue on November 26, 2010 in New York City. (Photo by Andy Kropa/Getty Images)

BEVERLY HILLS, CA - JANUARY 16: Singer Justin Bieber arrives at the 68th Annual Golden Globe Awards held at The Beverly Hilton hotel on January 16, 2011 in Beverly Hills, California. (Photo by Frazer Harrison/Getty Images)

LONDON, ENGLAND - FEBRUARY 16: Justin Bieber attends the 'Justin Bieber: Never Say Never' premiere at the O2 Cineworld on February 16, 2011 in London, England. (Photo by Jon Furniss/WireImage)

LAS VEGAS, NV - MAY 22: Singer Justin Bieber poses in the press room with the Digital Artist of the Year award during the 2011 Billboard Music Awards at the MGM Grand Garden Arena May 22, 2011 in Las Vegas, Nevada. (Photo by Isaac Brekken/Getty Images)

NASHVILLE, TN - JUNE 08: Singer Justin Bieber attends the 2011 CMT Music Awards at the Bridgestone Arena on June 8, 2011 in Nashville, Tennessee. (Photo by Kevin Mazur/WireImage)

LOS ANGELES, CA - JUNE 26: Musician Justin Bieber arrives at the BET Awards '11 held at the Shrine Auditorium on June 26, 2011 in Los Angeles, California. (Photo by Jason Merritt/Getty Images)

UNIVERSAL CITY, CA - AUGUST 07: Singer Justin Bieber arrives at the 2011 Teen Choice Awards held at Gibson Amphitheatre on August 7, 2011 in Universal City, California. (Photo by Jon Kopaloff/FilmMagic)

LOS ANGELES, CA - AUGUST 28: Justin Bieber arrives at the 2011 MTV Video Music Awards at the Nokia Theatre L.A. Live on August 28, 2011 in Los Angeles, CA. (Photo by Gregg DeGuire/FilmMagic)

LOS ANGELES, CA - FEBRUARY 13: Singer Justin Bieber arrives at The 53rd Annual GRAMMY Awards held at Staples Center on February 13, 2011 in Los Angeles, California. (Photo by Jason Merritt/Getty Images)

NEW YORK, NY - NOVEMBER 18: Justin Bieber poses on the observation deck at The Empire State Building on November 18, 2011 in New York City. (Photo by Cindy Ord/Getty Images)

NEW YORK, NY - FEBRUARY 02: Justin Bieber attends the New York premiere of 'Justin Bieber: Never Say Never' at Regal E-Walk 13 on February 2, 2011 in New York City. (Photo by Michael Loccisano/Getty Images)

NEW YORK, NY - SEPTEMBER 08: Justin Bieber attends the Dolce & Gabbana Boutique on September 8, 2011 in New York City. (Photo by Eugene Gologursky/Getty Images for Dolce & Gabbana)

LOS ANGELES, CA - NOVEMBER 18: Singer Justin Bieber attends the 40th American Music Awards held at Nokia Theatre L.A. Live on November 18, 2012 in Los Angeles, California. (Photo by Jason Merritt/Getty Images)

UNIVERSAL CITY, CA - JULY 22: Justin Bieber arrives at the 2012 Teen Choice Awards at Gibson Amphitheatre on July 22, 2012 in Universal City, California. (Photo by Steve Granitz/WireImage)

UNIVERSAL CITY, CA - JULY 22: Singer Justin Bieber accepts the Male Summer Music Star award onstage during the 2012 Teen Choice Awards at Gibson Amphitheatre on July 22, 2012 in Universal City, California. (Photo by Kevin Winter/Getty Images)

TORONTO, ON - JUNE 17: Justin Bieber perfoms at the 2012 MuchMusic Video Awards at MuchMusic HQ on June 17, 2012 in Toronto, Canada. (Photo by George Pimentel/WireImage)

UNIVERSAL CITY, CA - JULY 22: Singer Justin Bieber arrives at the 2012 Teen Choice Awards at Gibson Amphitheatre on July 22, 2012 in Universal City, California. (Photo by Kevin Mazur/WireImage)

LAS VEGAS, NV - MAY 20: Justin Bieber arrives at the 2012 Billboard Music Awards at MGM Grand on May 20, 2012 in Las Vegas, Nevada. (Photo by Gregg DeGuire/WireImage)

TORONTO, ON - JUNE 17: Justin Bieber and guest arrives at the 2012 MuchMusic Video Awards at MuchMusic HQ on June 17, 2012 in Toronto, Canada. (Photo by George Pimentel/WireImage)

LOS ANGELES, CA - MARCH 31: Singer Justin Bieber onstage at the 2012 Nickelodeon's Kids' Choice Awards at Galen Center on March 31, 2012 in Los Angeles, California. (Photo by Jeff Kravitz/FilmMagic)

CANNES, FRANCE - JANUARY 28: Justin Bieber poses as he arrives at NRJ Music Awards 2012 at Palais des Festivals on January 28, 2012 in Cannes, France. (Photo by Pascal Le Segretain/Getty Images)

DUBLIN, IRELAND - FEBRUARY 17: Justin Bieber performs at the O2 on February 17, 2013 in Dublin, Ireland. (Photo by Phillip Massey/WireImage)

LONDON, UNITED KINGDOM - FEBRUARY 19: Justin Bieber sighting at Beat Club on February 19, 2013 in London, England. (Photo by Alan Chapman/FilmMagic)

Justin had his first, very public, run in with the paps when he stuck his middle finger up to their cameras (and thus the world).

Justin felt the effect of his first paternity suit. He was accused of being the father of a 4-month-old baby boy with Mariah Yeater, but complied with a paternity test and proved his 'innocence'.

It may not sound like a big deal, but in May 2012 a definitely-not-21-year-old Justin confessed to "having a beer" for the first time. Two years later, and he's pretty much a regular in nightclubs (and stripclubs) around the world. In the same month, he also got into an altercation with a tabloid snapper, who reportedly blocked his car in when he left a cinema with Selena.

Justin's love of fast cars took a turn for the worse as he was accused of 'reckless driving'. He called 991 to complain about paparazzi chasing him but it turned out he wasn't so innocent himself. "Bieber was driving like a maniac. He was weaving in and out of traffic. There was hardly any space between cars as he weaved from lane to lane," an eyewitness, who just happens to be L.A. City Councilman Dennis Zine, said.

This image provided by the California Department of Motor Vehicles shows Christopher Guerra, the 29-year-old photographer who was struck and killed while trying to take photos of Justin Bieber's white Ferrari on Tuesday 1 January. Christopher's death spurred renewed debate over the dangers paparazzi can bring on themselves and the celebrities they chase. Justin wasn't driving his car at the time but it was no doubt a disturbing shock. In the same month, Justin was caught smoking a suspicious looking roll-up cigarette in a pic on a camera phone.

The O2 was forced to apologise to young fans after Justin was nearly two hours late on stage for his opening night at the venue. He failed to start his performance until nearly 10.30pm, which resulted in hundreds of fans and parents taking to Twitter to vent their anger. It was a school night, for heavens sake!

It all began getting a little 'Michael Jackson' when Justin donned a gas mask (natch) to go out for dinner at Mr Chow in London. The next day he was rushed to hospital after suffering breathing difficulties on stage at London's O2 Arena. Surely the two can't have been related?

Justin shocked monkeys, fans and animal rights activists when he abandoned his adorable monkey, Mally. The Capuchin monkey was seized by Munich customs when Bieber arrived in Germany as part of his world tour last month, as he did not have the correct paperwork. Justin then apparently decided he didn't want him back.

We really started to worry about Justin's ego when he speculated that teen Holocaust victim Anne Frank could have been a "Belieber" if she had survived the Nazis. A post on the official Anne Frank Facebook page described his visit to her former house: "Justin Bieber visited the Anne Frank House, together with his friends and guards. "Fans were waiting outside to see a glimpse of him. He stayed more than an hour in the museum. "In our guestbook he wrote: "Truly inspiring to be able to come here. Anne was a great girl. Hopefully she would have been a belieber.""

Swedish police confirmed that they had found drugs on board Justin's tour bus. Police raided the vehicle after an off-duty officer smelled marijuana coming from the vehicle while it was parked outside the Grand Hotel in Stockholm. This was just the first of many tour bus raids.

An Ohio DJ claimed Justin spat in his face while at a nightclub. According to the story reported by TMZ, the pop singer thought the man was taking photos of him. The DJ who accused Justin of spitting in his face, Addison Ulhaq, filed a police report against the singer, according to TMZ. He claims he got tested for Hepatitis because the incident left him with saliva in his eye, nose and mouth.

Justin was filmed climbing over a car during a nightclub brawl in The Hamptons, New York. The 'Baby' singer came under investigation by the NYPD following the fight at the South Pointe venue in the early hours. 22-year-old Wayne Rennalls was hospitalised after the altercation and suffered a black eye, bruised ribs and a cut lip. He later filed an assault claim. Footage showed Justin at the scene, however his rep told the New York Daily News: "Justin was not involved in any altercation." The bust up is said to have started in the roped-off VIP area - where the 19-year-old was seated with his entourage - but ended up in the club's car park.

Justin was reportedly smuggled out of a brothel in Brazil during some time off from his tour in the country. According to New York Post's Page Six, the 19-year-old singer and a friend spent three hours in the Centauros brothel in Rio de Janeiro.

Justin's potty mouth landed him in a whole load of trouble when his entourage was detained at Brisbane International Airport in Australia on suspicion of smuggling drugs. Beebs was given a verbal warning for using "inappropriate language" following a conversation with a female customs officer, The Sydney Daily Telegraph reported. He had allegedly refused to remove his hat and sunglasses during an inspection and also used insulting language toward the officer. Police had to threaten to arrest him, the newspaper said.

Move over spurned violinist on Britain's Got Talent, Justin had his own egg-gate when he allegedly egged his neighbour's house, causing $20,000 worth of damage. Justin was detained in his garage while police with a "felony search warrant" looked for evidence in his home They then arrested his friend Lil Za for cocaine possession during the raid. Bieber has not been connected to the cocaine, but he has been neither charged nor exonerated in the egg incident that promoted the search warrant.

All of Justin's troublesome behaviour culminated when he was arrested in Miami Beach for driving under the influence and drag racing. The Miami Beach Police released what is possibly the happiest-looking mugshot in Hollywood's Hall of Shame.

Justin didn't forget his admiring teenage fans as he left jail following his arrest for DUI and drag racing. The 19-year-old, wearing a black hoody and dark shades, climbed on top of a waiting black SUV outside the Turner Guilford Knight Correctional Center in Miami to greet his fans before being driven away. And in the process angered a whole load more people.

Justin landed himself in even MORE trouble after being charged with assaulting a limo driver. The singer handed himself in at a Toronto police station, where he was mobbed by fans and TV crews. According to the Toronto Police service, he will now appear in court on 11 March in connection with the incident, which saw him hit the driver in the back of the head several times last December.

Pilots hired by Justin Bieber to fly him to the Super Bowl have revealed they had to wear oxygen masks to overcome marijuana fumes on the flight. An official report into the incident also revealed how the troubled teen and his father were "extremely abusive" to a flight attendant.

After his arrest footage then emerged of Justin appearing to sway and stumble as he attempted to walk in a straight line for a sobriety test. The film was shot at a south Florida police station following his DUI arrest in January and reveals the 19-year-old singer also dropping to the ground to do pushups.

In an example of saying something you never should, Bieber tweeted that The Black Keys' Patrick Carney should be "slapped around haha." (Following Carney's statement that Bieber shouldn't be angry over a lack of Grammy because he's rich.) Great. So that's when Carney got equally irrational: changing his Twitter handle to "Justin Bieber" for a weekend in an attempt to rile the fanbase and prove his own comedic talents. The bad news? Justin's fans have a penchant for using "gay" as an insult. The good? Justin never wrote back.

After underage members of his entourage were turned away from Bieber's birthday, the now-19-year-old pop star tweeted the lowly, "Worst birthday ever." Not to turn this into a competition or anything, but until the guy he likes eggs his house on his birthday morning, Justin Bieber has got nothing on some of us.

Few of us can imagine being followed around by men fighting to take our picture all day every day, so ultimately, we'll never know how stressful, invasive, or terrible it can feel – especially at an age where rationality isn't exactly at a premium. So maybe we would've done this a lot sooner: jumped out a van to tell a pap we'd "fucking kill them" after they slagged us off. However, we are lowly mortals. Biebs has been in the industry since before puberty – so maybe it's time to tap into the Zen.

During a European stop this spring, Justin visited the Anne Frank House; the place in which the Frank family hid from the Nazis during the Holocaust (in case you hate history and have refused to learn about it until this point). So as one does, Bieber signed the guest book: "Anne was a great girl. Hopefully she would've been a belieber." Yikes. However, the wee pop star found an unlikely ally in Anne Frank's stepsister, who came to his defense following the fallout. "It's so childish," said 83-year-old Auschwitz survivor Eva Schloss. "He's a young man, and she's a young girl, and she liked film stars and music." And who are we to argue with that?

A stun gun and pot were found on Justin Bieber's bus in Sweden, according to Swedish police, which J-Biebs adamantly denied via Twitter -- sort of: "Some of the rumours about me…where do people even get this stuff. Whatever…back to the music." (Where do people get this stuff, Justin? Like, if I wanted a stun gun. Where do I get one, since it seems like you know?)

After backing out of a payment deal with an indoor skydiving facility in Las Vegas, Justin Bieber was effectively banned for life, likely making it the first time someone has ever screwed up that badly in Las Vegas. (Which arguably actually makes this an achievement.)

Listen, we've all not wanted to hold it, but none of us – none of us (not even the guy from high school who still drinks in the 7-11 parking lot) – would pee in a restaurant mop bucket, no matter how badly we needed to go. Why? Because we've all worked jobs that have involved using a mop bucket. Also: because we are not morphing into the entitled anti-Christ. However, most puzzling was Justin Bieber's outburst at the end of his "rest room" visit, declaring "Fuck Bill Clinton!" (And listen, buddy, we don't blame you if want to be married to Hillary, but peeing in mop buckets isn't how you win her heart.)

Or maybe not. Despite reports – and images – that Justin Bieber was spitting onto a group of fans from a Toronto balcony, he and his camp claimed that wasn't the case, and that he bought them hot chocolate and played new music for them instead. Either way, points lost for spitting over the balcony at all. You're an adult, son. Swallow your spit like the rest of us.

It was bad enough Justin Bieber seemingly jumped on the Blackhawks' Stanley Cup-winning bandwagon, but then he stood on the head of their logo, and touched the Stanley Cup with his bare hands. Fortunately for Bieber, the Blackhawks still come out looking worse: their name and logo still culturally misappropriates Native Americans, after all.

After being rushed by a man in a Toronto nightclub, Justin Bieber and his men sprang into action (read: his bodyguards took the man down, and Justin Bieber kicked at him), and a disaster was averted. However, more disastrous was the loss of Bieber's $40,000 gold chain. (So don't say he has everything, you guys.)

At some point during the year, Justin forgot he once recorded a Christmas album, and sanctioned himself badass enough to dabble in graffiti. However, the real problem was his penchant for racist imagery: his most recent "work" (an image of a monkey decked out in cold) arguably drew far too many parallels to racist imagery of the past. So while he was reportedly charged with vandalism, may the real lesson be "read books before doing anything else again, Justin Bieber."

For the record, there's absolutely nothing wrong with brothels. The sex industry is older than any of us, and in the case of Justin Bieber, he was simply participating in an age-old activity with a consenting woman who was doing her job. However, it was the messy and impromptu exit from the Brazilian brothel that made the whole thing an ordeal: rushed out under a bed sheet (from the brothel, so for the love of all that is good, please let it have been clean), Justin slinked out. But seriously bro, if you're old enough to go to a brothel, you're old enough to leave it like a grown up adult.

After Justin's pet monkey was left in Germany in March, it found solace in a German zoo – one now waiting for $11 000 from Bieber. Says the zoo's lawyer, "If Mr. Bieber will not settle his costs, the payment might have to be enforced when he will enter Germany again." That's all well and good, but I just can't believe that with his power and influence, Justin didn't get his monkey on Sprockets.

Justin Bieber confronts awaiting photographers outside his hotel this afternoon. Pictures by Fame Flynet

Justin Bieber confronts awaiting photographers outside his hotel this afternoon. Pictures by Fame Flynet

Justin Bieber confronts awaiting photographers outside his hotel this afternoon. Pictures by Fame Flynet

Justin Bieber confronts awaiting photographers outside his hotel this afternoon. Pictures by Fame Flynet

Justin Bieber confronts awaiting photographers outside his hotel this afternoon. Pictures by Fame Flynet

Justin Bieber confronts awaiting photographers outside his hotel this afternoon. Pictures by Fame Flynet

Justin Bieber confronts awaiting photographers outside his hotel this afternoon. Pictures by Fame Flynet

Justin Bieber confronts awaiting photographers outside his hotel this afternoon. Pictures by Fame Flynet

The Biebs has dipped his toe into the acting world before, famously biting it on an episode of CSI, but as 2012 drew to a close, the singer inked a couple of deals that will make him a much bigger name on both sides of the camera. On the silver screen, Bieber will co-star with actor and Funky Bunch leader Mark Wahlberg in a basketball movie. On the small one, he'll be the executive producer of a sitcom based on his pre-fame life.

After falling for the irresistible earworm charms of a little tune known as "Call Me Maybe" on a trip back to Canada, Bieber and manager Scooter Braun flew Carly Rae Jepsen to L.A. and promptly signed her to Braun's label, Schoolboy Records. The singer also released a video of himself lipsynching and dancing to his new favourite song along with gal pal Selena Gomez and their famous friends, which instantly went viral and helped to turn "Call Me Maybe" into one of the biggest singles of the year.

In June of this year, researchers announced that Bieber Fever was more infectious than measles. In the book Understanding the Dynamics of Emerging and Re-emerging Infectious Diseases Using Mathematical Models, masters student Valerie Tweedle and her professor, Robert J. Smith, took a serious look at the Bieb phenomenon and discovered that it really does behave like a contagious disease, and a dangerous one at that. "Through constant exposure, Bieber fever has incubated and spread. Millions are infected, with more at risk every day. Action is urgently needed," they wrote.

On the eve of the release of Believe, and his big appearance at the 2012 MuchMusic Video Awards, Bieber went back to his hometown of Stratford, Ontario, sat on the very same Avon Theatre steps where he honed his busking skills as a tween and played "Baby." The international star's performance immediately attracted a mob of excited local Beliebers, their cell phone cameras, and their excited squeals.

When Bieber appeared on Ellen, the talk show host and dance fiend gave him a fancy Fisker Karma sports car for his birthday. The singer promptly took the hybrid ride, which is a shameless rip-off of Hammerhead I Eagle Thrust by Top Gear's James May, and pimped it with a chrome plating job and illegal LED lights. The vehicularly fickle teen soon tired of his new toy, though, and gave it to "Beautiful Girls" singer Sean Kingston so that he could go back to getting tickets and evading spontaneous combustion in his Ferrari.

On June 15, the freshly legal Bieber released his third studio album, Believe. Showcasing a new, more mature sound with tracks like "Boyfriend" and "As Long As You Love Me," the record received largely positive reviews from critics and debuted at number one on The Billboard 200. Believe failed to garner any Grammy nominations, though, which infuriated manager Scooter Braun and bummed Bieber. But semi-protege Carly Rae Jepsen insists that the singer will bounce back from the snub.

Venerable music and culture magazine Rolling Stone decided to celebrate the fact that Bieber's adult fans could finally lust after the pop star without feeling creepy by putting the 18 year old on the cover and emblazoning the words "Hot, Ready, Legal" across his increasingly muscular chest. In the accompanying story, the singer discussed his newfound maturity and also lobbed a few golf balls at the paparazzi.

Bieber certainly kicked off his tour with a bang. Unfortunately, the explosive elements in this case were the contents of his stomach. Part way through "Out Of Town Girl" on the Believe tour's opening night in Glendale, Arizona, the star turned his back to the audience, hunched over, and spewed Exorcist-levels of bile all over the place and ran off. Biebs soon returned to apologize to his fans and finish the concert, asking "Will you love me even though I'm throwing up on stage?" He later admitted that milk was a bad pre-show choice on Twitter.

In a move that made Rolling Stone's celebration of the singer's legal status look tasteful and measured, American sex toy company Pipedream rung in Bieber's adulthood by releasing a sex doll named Just-in Bever. Biebs was reportedly unimpressed with the "love doll" and threatened legal action. Just-in is currently "out of stock," but no one's quite sure whether that's because the doll sold out or because it was pulled to avoid a lawsuit.

Bieber performed showstopping renditions of "Beauty And A Beat" and "As Long As You Love Me" at the 2012 American Music Awards, but it was his acceptance speech that made the biggest waves of the night. After winning Favorite Pop/Rock Male Artist, the pop idol took some time to thank his detractors. "I want to say this is for all the haters who said that I was just here for one or two years," he declared. "I feel like I'm going to be here for a very long time." He also gave his family, his manager and his fans some love in the speech.

Bieber, named one of the most charitable celeb of 2011, continued his tireless work for the less fortunate this year. Among other things, the star contributed his time and resources to the American Cancer Society's Relay for Life and visited an impressive but heartbreaking number of ill fans through the Make a Wish Foundation. He also donated the proceeds of his Mother's Day single, "Turn To You," to The Bethedsda Centre, the Ontario women's shelter that helped his mom when she was pregnant with him.

Unfortunate run-ins with the paparazzi have clearly become a rite of passage for the modern day superstar and the Biebs suffered his fair share of growing pains this year. In May, the singer got into fisticuffs with a photographer for getting a little too close during a date with Selena Gomez. Police had to be called to the scene. In July, the star became involved in a high speed chase with photographer Paul Raef. Raef was charged under a brand new paparazzi law in California, but a judge threw the case out of court in November. Prosecutors are currently appealing the ruling. In November, the singer stopped traffic to chew out a photographer. He's currently squirting the paparazzi with water bottles.

Bieber brought fellow Canadian superstar and hometown hero Drake on stage with him when he performed at Toronto's Roger's Centre (formerly and better known as the SkyDome) earlier this month. The pair performed Bieber's "Right Here" and Drizzy's "The Motto" together. Drake also took some time to give his fellow countryman props and thank him for the opportunity to perform at the venue. "I'll tell you, there's very few people I've met in the world that are as talented and incredible as this young man right here," the hip-hop artist told an ecstatic crowd. "I want to thank you for letting me live a childhood dream, which is my first opportunity to perform at the SkyDome. So thank you, my man." The pair then hugged, and a beloved gif was born.

Perpetuating the stereotyped that all Canadians know each other, genealogists at Ancestry.com announced that Justin Bieber might be distantly related to fellow musical Canuck export Celine Dion. According to the site, the teen heartthrob is the chest-pounding balladress's tenth cousin, three times removed. They also speculated that he might be related to Ryan Gosling and Avril Lavigne.

Enlisted to help the Canadian Football League recruit a younger audience on the hundredth birthday of its championship, Bieber took the stage as part of this year's halftime show. Biebs and the CFL fell short of being a perfect match, and his short set was peppered with the boos of indignant football fans. His appearance did attract a lot of young eyes and ears to the spectacle, though, and he now gets to say that septuagenarian folk hero Gordon Lightfoot opened for him, so it was probably worth the beating his ego took in the heat of the moment.

In November, police reportedly foiled a bizarre and elaborately detailed murder plot involving Bieber, his bodyguard and two other victims. Mark Staake and his nephew Tanner Ruane allegedly schemed to murder and castrate the "Baby" singer and the others while in prison with a Belieber-gone-wrong-inmate named Dana Martin who sports a tattoo of the singer on his leg. Fortunately, Staake and Ruane were prevented from carrying out their plans, which involved strangling their victims with paisley ties, when police arrested the pair on outstanding warrants in Vermont.

Korean viral superstar Psy was the one who had the '90s-style puffy-panted moment at the American Music Awards this year, but it was Justin Bieber who laid the groundwork for the much-maligned style's triumphant return. Between the modernized pair of red harem pants he rocked at the very same AMAs and his moments of black-haremed heartbreak in front of Selena Gomez's house, Bieber has emerged as the new face of the style. Kids these days only know these pants as Justin Bieber pants, unwittingly hammering the final nail in the coffin of the youth of the Hammer Pants generation. Vanity Fair even did a piece on Biebs and his trousers.

Living the dream of many a teenage boy, Justin Bieber got to perform at the Victoria's Secret fashion show and hang out and leer at Angels like Miranda Kerr and Adriana Lima both on and off stage. It was a bittersweet highlight for Bieber, though, as his backstage shenanigans with 19 year old model Barbara Palvin allegedly landed him in hot water with longtime girlfriend Selena Gomez. The pair have been on and off again ever since, and rumours surrounding Palvin just won't go away.

Until November of this year, it seemed that nothing could tear this pair of teen idols apart. But their two-year relationship hit an extremely rock patch when Bieber got a little too close to model Barbara Palvin at the Victoria's Secret fashion show in early November. Their once pure and innocent love has been mired in scandal and social media much-raking ever since, with Gomez's friends and coworkers taking passive aggressive shots at the Biebs on Twitter and gossip rags speculating on all sorts of famous involvement in the situation. Gomez might have gone back to her ex, Nick Jonas! Taylor Swift totally told her old pal to dump that no good Biebs! The two have made a number of attempts at reconciliation, including the dinner that ended in Bieber skulking around outside of his love's house with his spirits sagging lower than his infamous pants. The pair were seen kissing over the holiday, but who knows?

While he was back in his home and native land for the Grey Cup celebrations, Justin Bieber was surprised by Canadian Prime Minister and Emperor Palpatine impersonator Stephen Harper, who awarded him with a Diamond Jubliee Medal. Bieber dressed in Scott's Thompson's Idiot Boy costume from The Kids In The Hall to accept the medal, which is awarded to people who have "made a significant contribution to a particular provice, territory, region or community within Canada, or an achievement abroad that brings credit to Canada," but not everyone was impressed with his sartorial tribute. In the face of a public outcry, both Bieber and Harper have been forced to come to the defense of the much-maligned overalls.
Follow Rachel Décoste on Twitter: www.twitter.com/RachelDecoste