Bloggers And PR: How To Plan The Perfect Date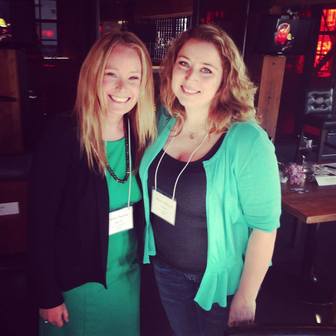 As a public relations professional at Dunn PR, I reach out to B.C.'s media and blogging community on a daily basis. My interest in bloggers started years ago when I was amazed by the influence and following these writers and photographers were building online.
Vancouver's Miss 604 was one of the first bloggers I worked with and I still think that is very cool!
Today, blogger relations is a part of many PR campaigns; even though the concept and relationships are not new, the love affair can turn sour in a hurry.
Recently, blogger Marc Smith organized a Blogger+PR speed dating event, so both groups could talk openly about how to communicate effectively with each other.
At the event, both bloggers and PR pros identified key relationship tips to ensure a happy marriage. Here are some highlights:

From the bloggers:
• Read the blog and find creative ways to pitch ideas based on the blogger's interests, and what their readers enjoy. We were thrilled to learn about YoyoMama.ca 's focus on not only the kids but also the mom.
• There is no guarantee the blogger will write about a client or product just because you send free stuff. Make sure your deliveries and materials are suitable and personalized.
• Think creatively. If a blogger writes almost exclusively about technology, look for a unique way for him/her to experience your particular product. For example, how can a tech blogger like John Biehler experience the tech component of your client's lifestyle projects?
From the PR pros:
• Since PR professionals are hired to develop media coverage for clients, we often don't have access to a budget, nor do we feel comfortable asking a client for budget for advertorial posts. Sometimes we will recommend these posts to clients, but we tread carefully in this space.
• Personalize! Make sure the blogger is front and center as you reach out to him/her with an idea or invite. A handwritten note or tailored pitch goes a long way.
Recognizing something you know they enjoy is key! We recently worked with BosaFresh and Spud.ca on personalized food deliveries to show off Bosa Properties' temperature controlled rooms, resulting in great profile for the new initiative.
• Make it easy for bloggers to tweet, post, and buzz about your product, brand, or pitch. Include hashtags, easy-to-use photos, links and all the tools needed to quickly upload to their platforms..
Like any relationship, open communication and considering each other's needs is key. If you follow these guidelines, chances are you'll enjoy a long friendship.
ALSO ON HUFFPOST:
... at least, not the physical one. No one cares that you got up at 4am to drive to Gatwick to catch your flight and you went through security and waited in the lounge and got on the plane. Unless there's a particularly hilarious/crazy/interesting anecdote, or you want to tell your readers about the in-flight meals and movies on a particular airline (and some bloggers do this very successfully), start with the part when you're actually there.

Remember learning about 'imagery' at school? The most successful travel writers and bloggers use imagery to bring places to life for the reader, and transport them – the fundamental principle of good travel writing. So, instead of simply reporting what you saw and did, use the five senses, and describe the way a place makes you feel. A scene-setting attention-grabbing anecdotal intro paragraph will ensure they keep on reading. And think about the vocabulary you're using, too (try and ban the word 'nice' from your posts, and avoid clichés.) Which brings us to...

Fabulous photographs are crucial for travel blog posts, whether you instagram or use no filter whatsoever. Try using a slideshow plug-in to show yours off to their best advantage. Vlogs (video blog posts) are particularly popular with travel bloggers: as well as videos of destinations, hotel room vlogs usually get lots of hits on Youtube and can bring a new audience to your blog. You don't need any fancy equipment to make a vlog, just your phone and a steady hand - or better still, a friend with a steady hand, and some basic editing skills. Some travel bloggers achieve amazing results with podcasts, too.

It's important to be fair. Constructive criticism is always welcomed by social media-savvy travel companies - they learn from it, and build on it to make a better customer experience. (The ones that don't will inevitably see their profits fall.) But using a blog post to publicly criticise a company because you didn't get an upgrade or you missed your flight because you were late = not cool.

On Twitter, Pinterest, Google+, your Facebook page. Watch out for #TravelTuesday and #TTOT on Twitter, and also #FriFotos (travel photos posted on a Friday with a chosen theme) - great ways to discover the travel blogging community and reach a bigger audience.

It sounds obvious, when you think about it, but if you think you might want to blog about that great little tapas bar in Barcelona or that perfect beach in Antigua, write down the name of it, so you can remember it and put it in the blog post you're planning to write.

If you want to take photos of famous landmarks and put them on your blog, that's fine... but the chances are, unless you're a truly gifted photographer, you're probably not offering anything very different to hundreds of other travel blogs out there. Go off the beaten track a little, discover something unique and unexpected to photograph and blog about.

Not even full-time travel writers can be away all the time. But if you're going to be a travel blogger, although you can write posts about places you'd love to visit, it helps if you actually go somewhere, too. Even just a trip to a local museum or day out at a National Trust property can make an interesting travel blog post.

Before you hit the 'publish' button, preview the post and make sure you're really happy. Remember, it's going online, and can be seen by (potentially) thousands. No pressure, then.

Write from the heart, and write naturally – the best travel writing is unpretentious. Readers of travel blogs, in particular, appreciate authenticity. Perfect grammar is not as important as passion and a genuine desire to share incredible travel experiences with your readers (although place names should ALWAYS be spelled correctly). Try to find your own voice and USP, and stay true to yourself. Now it's your turn, enter the First Choice Blogging Competition. Good luck!
Follow Rachel Thexton on Twitter: www.twitter.com/@rthexton