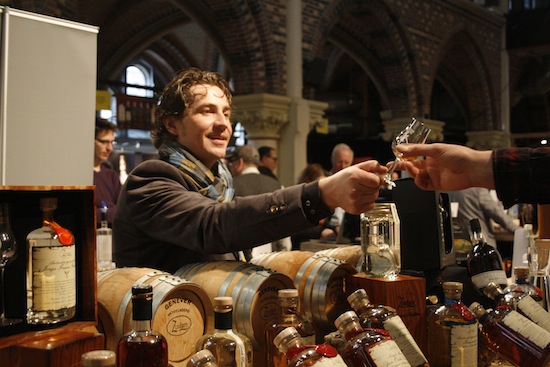 I love Amsterdam. From it's tall, good-looking people to the elegant canals, from the cones of mayo-drenched french fries to the swarms of cyclists circling Vondelpark on a sunny day; I loved it at first sight.
BUT! Amsterdam is not perfect. Spend a weekend in the city and you'll encounter posses of young drunks, casualties of the coffee shops and the Heineken brewery tour, who stumble (and yell!) in the streets like stupefied lager-zombies.
And little do they know they're wasting their taste buds (if they have them) on mediocre beer that they could easily get at home when there's something a million times better available.

The Dutch have a secret, and that secret's name is jenever.
What the hell is jenever? Despite my eight years as an overworked and under-appreciated restaurant server I'd never even heard of the stuff before I came to the Netherlands. As the craft cocktail trend threatens to overwhelm the North American drinking public with saffron-açai-dragon fruit vodka infusions and bacon-foam martinis, the Netherlands has been quietly holding an ace.
Jenever is a precursor to modern gin and has been drunk as "medicine" in the Netherlands since the Middle Ages. Though its origins remain somewhat obscure the town of Scheidam is the centre of Dutch jenever production with the first distilleries being established in the 17th century. Jenever is different from gin because it has a unique ingredient, moutwijn, a grain distillate as a base ingredient. And any Dutch person will proudly tell you that jenever is the original.
And what better way to pay homage to this historic liquor than to celebrate it with a festival, in a deconsecrated church, on a Saturday afternoon in Amsterdam. As unlikely as it may seem that's exactly where I found myself. Joep Stassen, the Director of SpiritsNL, is one of the organizers of the 4th annual Jenever Festival which he hopes will invigorate the industry despite the slight decline in jenever consumption over the last 20 years.
"There are two things you drink, when you're a baby you drink milk and after a while you start drinking jenever," he says of the fundamental role that jenever plays in Dutch culture.
With my dainty, tulip-shaped tasting glass in hand it's high time for me to taste what all the fuss is about. My colleague and I approach the first booth we see, set up in the nave of the former church under its vaulted gothic ceiling. It's the Zuidam distillery. Not knowing what to ask for I simply say; "The old stuff please." The finger of light copper liquid in my glass exudes an inviting aroma, and the taste delivers on that promise. The old jenever is warming, without any bite from the alcohol, it's all smooth liquid caramel as it slides (too easily) down my throat. It reminds me of aged rye whiskey, and it's delicious.
It should be stated that this story is only partially about a lovely and under-appreciated Dutch spirit, it's also a cautionary tale, one that could be titled "How to Maintain Professional Integrity while Consuming Vast Amounts of Pure Liquor on an Empty Stomach." A situation that all writers encounter during their career.
From there my colleague and I wander from booth to booth tasting jenever of many stripes. We sip young clear jenevers that are fruity and clean, tasting like vodka's more sophisticated cousin. Also old jenevers that have mellowed and deepened, layers of flavor stacking up with each year spent in oak or port barrels. The real standout of the day though was from the Wenneker distillery, who were releasing their newest jenever creation at this year's festival. The distillery sent a batch of jenever to an undisclosed Scotch distillery in Islay to be aged in the same way as that heavenly highland nectar. The result is an elegant tipple, where the characteristic Islay peatiness adds a wonderful scent to the liquor and a robust undercurrent of flavour without being overpowering.
Several hours into tasting (read: drinking) with only a paltry breakfast to mitigate the sea of alcohol slowly filling up my stomach, it's fair to say I'm starting to feel a little lightheaded. My colleague and I shamelessly steal samples of cheese from one of the food booths but the little cubes of Gouda do little to sop up the booze.
As my colleague and I teeter on the brink between elegant dissolution and a less dignified state of being, another of the festival organizers suggests we attend a cocktail making workshop being held in the church's basement. Only an ungrateful miscreant would have said no.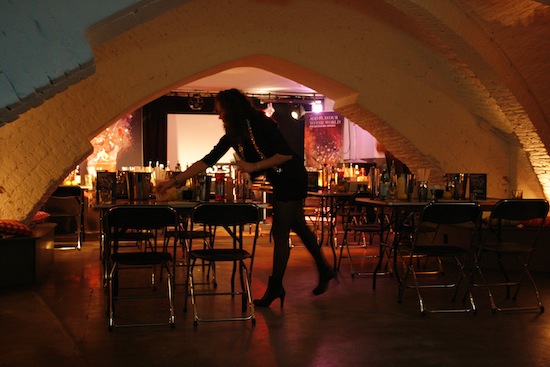 So we find ourselves sat at a long table covered in all the accoutrement required to make a wicked cocktail. A blond beefcake of a bartender from the well-known cocktail bar the House of Bols is running the workshop, showing us how to cut lemons, how to measure spirits etc. Though I have a fair bit of bartending experience I'm struggling slightly thanks to the fistfuls of jenever I've been quaffing. My colleague and I keep forgetting ingredients even though there's a printed recipe on our bench for us to refer to. But somehow we never forget to pour liberal amounts of jenever into our shakers. In 45 minutes we each make three cocktails and, abhorring waste of any kind, we do our best to enjoy them...fully! The cocktail workshop ends (mercifully) as the festival is closing for the dinner break before the night session.
My colleague and I are disgorged into the streets of Amsterdam, our minds warped by the headiness of the afternoon. At every booth where we stopped to drink and to chat we met talented and passionate professionals for whom making jenever meant everything. Many of them were part of proud family legacies while others were new to the business, but all of them wanted to impart one thing, their love for this artisan drink that is a fundamental part of their Dutch-ness.
Prostitutes and weed are boring, you can find them anywhere, but jenever, that's Dutch.
Blog continues after slideshow:
Drinking Statistics Around The World
According to a recent CAMH study on unhealthy drinking statistics worldwide, the world's heaviest drinkers live in Europe and parts of Sub-Saharan Africa.

When it comes to unhealthy alcohol consumption, people in Eastern Europe and Southern Sub-Saharan Africa topped the list. People who live in these regions frequently consume large quantities of booze, drink to get intoxicated, engage in binge drinking, and consume alcohol without meals, according to CAMH.

According to the World Health Organization's (WHO) 2011 report on alcohol consumption around the world, alcohol abuse causes 2.5 million deaths each year.

Approximately 320,000 young people between the ages of 15 and 29 die from alcohol-related causes each year, according to the WHO.

Alcohol is now the third leading cause of the global burden of diseases and injuries, and in 2010, drinking booze had been linked to 200 different diseases and injuries, according to CAMH.

People in North Africa, the Middle East and South Asia consumed the least amount of alcohol, according to CAMH.

Canadians consume more alcohol than the global average. People across North America are more likely to have detrimental drinking patterns and binge drink, according to CAMH.

Excessive alcohol consumption often weakens the immune system, according to the WHO. Harmful alcohol abuse has also been linked to several diseases like HIV/AIDS, STIs and tuberculosis.

Turns out Canadians in general prefer a pint of beer. About 53 per cent of alcohol consumption in Canada is beer, 27 per cent is spirits and 20 per cent is wine, according to the WHO.

In Canada, the highest causes of death linked with alcohol include liver cirrhosis (poor liver function) and road traffic accidents, according to the WHO.
Follow Rebecca Ananda on Twitter: www.twitter.com/RebeccaAnanda