Should Toronto Have A Casino? No Way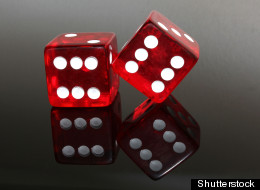 FACT: A mega-casino will be built in downtown Toronto if we don't stop it. City council will be voting on this in the next six weeks. This is really happening and it's happening now.
We can't let this happen.
You don't have to be opposed to legalized gambling or casinos in general to not want one in our city. I'm not opposed to strip clubs or lap dancing, for example, but that doesn't mean I want to build a giant sex emporium to serve as the city's main tourist attraction either.
Here's why it's a bad idea:
1. Toronto is a thriving, cosmopolitan city. It's the economic and cultural hub of our country. It's home to the Leafs, Blue Jays, Raptors, Argos, Toronto FC and The Rock among other sports teams. People come to Toronto to visit the Royal Ontario Museum, the Art Gallery of Ontario, the Canadian Opera Company, the National Ballet, the Toronto Symphony, the Ontario Science Centre, the CN Tower, the Toronto International Film Festival, the Jazz Festival, Gay Pride and Caribana. They come here to experience a thriving music and live theatre scene, to visit Toronto's network of multicultural neighbourhoods, to eat at hundreds of top restaurants, to see its parks and beaches and the Toronto Islands and to do so much more. How does a casino -- a giant, insular, blinking, money-sucking time warp -- jive with our vision of the city? It doesn't.
BLOG CONTINUES AFTER SLIDESHOW
In this Aug. 10, 2012 photo, electronic slots machines line a room behind a bar in San Juan, Puerto Rico. Growing numbers of people appear to prefer their odds in gambling parlors set up everywhere from bars to bakeries on this U.S. territory and that's become not only a problem for the hotels running the bulk of legal casinos but for the government, which is already struggling with gaping budget shortfalls. As is, Puerto Rico will see two casinos close by the end of the year, with five other smaller casinos on the verge. (AP Photo/Ricardo Arduengo)

FILE - In this Dec. 13, 2003 file photo, Terry Skierczynski drops a quarter into a slot machine at the Seneca Niagara Casino in Niagara Falls, N.Y. The Seneca and Mohawk tribes have for years withheld casino payments to the state because they say New York violated contracts with them by allowing gambling in exclusive Indian territories. Consequently, the state stopped sending money _ more than $100 million so far _ to municipalities where Indian casinos operate. Without their share of casino money, these communities are straining to provide services. (AP Photo/David Duprey, File)

Slot machines are seen in the casino aboard the Queen Elizabeth 2 as Istithmar World, the Dubai state investment company that owns the ship, outlined plans Monday to turn the retired cruise liner into a 300-room hotel, ending years of speculation about its fate, in Port Rashid, Dubai, United Arab Emirates, Monday, July 2, 2012. Britain's Queen Elizabeth II launched the QE2 in 1967. (AP Photo/Kamran Jebreili)

An attendant in Chinese god of Fortune costume plays a slot machine during Gaming Expo Asia in Macau Tuesday, May 22, 2012. The event features trade show and conference for Asian gaming market, starting May 22 through May 24. (AP Photo/Kin Cheung)

FILE - In this Oct. 28, 2011 file photo, Brunilda Garcia of the Bronx, N.Y. plays the slot machines at the Resorts World Casino on its first day of operation at Aqueduct Racetrack in the Queens Borough of New York,, N.Y. Seeking to increase state revenue an bolster sagging budgets and at the same time create jobs, New York Gov. Andrew Cuomo proposes to swap land for a global casino developer to build the nation

Lorraine Capers, of Brooklyn, N.Y., claps after winning seven free spins on a slot machine at the new $2.4 billion Revel casino resort moments after it opened in Atlantic City, N.J., on Monday, April 2, 2012. (AP Photo/Wayne Parry)

Gamblers play the slot machine machines at the Resorts World Casino, Wednesday, Jan. 4, 2012 in the Queens borough of New York city. New York Gov. Andrew Cuomo wants to build the world's largest convention center hotel at a New York City racetrack as part of his push to expand gambling in a bid for more state tax revenue and jobs. (AP Photo/Mary Altaffer)

In this Nov. 9, 2011 photo, a patron plays a slot machine at the Magic City Casino in Miami. Miami has been hit hard by the recession and the collapse of Florida's real estate market. There are nearly 300,000 people out of work in the area. That's led many to envision a plan for boosting jobs: Casinos. Big Ones. (AP Photo/Wilfredo Lee)
2. But don't we need the money it will generate? No, we don't. A mega-casino complex is built to be self-sustaining and cut off from the rest of the city. Its raison d'être is to keep people from leaving. Far from bringing customers to local restaurants and hotels, it will likely take them away. We also have yet to see what the taxpayers' burden will become in the construction of the casino if the private sector fails to raise enough money.
This casino also means the end of the OLG Slots at Woodbine which has successfully partnered with the horse racing industry. That could very well bring about the end of the racetrack altogether, the loss of 4,000 gaming jobs, 4,800 racetrack jobs and greatly impact over 50,000 other jobs in the racehorse industry as a whole. That's far more jobs than will be created by the new casino.
What's more, the Ontario Lottery and Gaming Corporation (OLG) itself has recommended that a few discreet, high-stakes card tables throughout the city would bring in just as much revenue as a casino.
3. Also consider that a destination casino is different from one you pass on your way home from work. You can plan for a trip to Vegas or a night in Niagara Falls, budget accordingly, indulge or even overindulge, then leave it all behind and come back home.
Compare that to the omnipresent allure of a casino a short streetcar jaunt from the office. You might just stop in for a drink after work and play the slots for 20 minutes to unwind, you think. Six hours and your entire savings account later, you have to go home and face your family. Casinos are designed to lure people in, take their money and keep taking it.
I am not making any moral judgement about it necessarily, but I do think it is clear that a mega-casino in our own city will take a devastating toll on the families who live here.
4. And, yes, there will be horrible traffic congestion and the requisite parking spot per slot machine and two spots per employee will dictate a giant moat of a parking lot to keep the rest of the city at a remove. Imagine a giant, dark hole in the heart of the city and think of what else you might like to see there instead.
Please, let's say NO to a mega-casino in Toronto.
We don't need one and we don't want one.
SIGN THIS PETITION. DO IT NOW.
Share widely and spread the word. Thank you.
For more information, see the No Casino Toronto website. Like them on Facebook. Follow them on Twitter.
Republished from Playground Confidential.
Follow Rebecca Cuneo Keenan on Twitter: www.twitter.com/rebeccakeenan