Celebrating The Local Food Movement And Canada's Place In It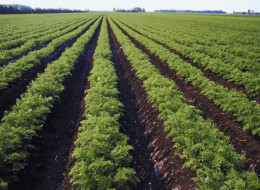 Kale, quinoa and pulses -- they've all had their fifteen minutes of food fame. Food trends come and go, but when a trend evolves and starts to have a lasting impact on business and the economy, it becomes a movement. That's what's happening with local food in Canada.
In my role as "Ms. Food Tourism" at the Culinary Tourism Alliance (CTA), I've seen the local food "trend" become a national food movement, and the impact of this cannot be underestimated.
Our food-obsessed culture is more interested than ever in sourcing their food locally, and local food experiences have become one of the primary travel motivators. Through a comprehensive study, we discovered the rise of food tourism is driven by the values of the modern consumer, specifically millennials, who look for immersive travel experiences.
This is one of the reasons that food tourism continues to gain momentum across the globe. It's why global administrations, such as the UN World Tourism Organization, are bringing people together from all over the world to work in food tourism. Canada is one of the countries at the forefront of food tourism, as our research shows that Ontario has emerged as one of the top three local food tourism leaders worldwide.
I've seen dozens of regions invest in food tourism strategies across Ontario and beyond. The results have led to more engaged communities and some seriously delicious experiences. Places you wouldn't think to visit are now hosting travellers all year long, and others that were known for theatre or sports or nature now have ways to make you come back. It's the local food -- and drink!
But don't just take my word for it -- consider data from the TAMS survey, which revealed that compared to a generic tourist, the food tourist spends three times more on dining, seven times more on wineries and 40 per cent more on hotel accommodations.
So, why has food tourism blown-up in recent years? There are a few trends contributing to the boom, one of which is that people simply want to enjoy the yummy fruits of the region they're exploring by tasting, sipping and savouring the local spirits, produce and specialty dishes. Culinary trails are another emerging trend contributing to the rise of food tourism, with tourists eating their way through these food and beverage theme trails, which has seen significant growth in Canada.
From the Niagara wine route to the Dumpling Trail in Richmond, B.C., these mostly self-guided tours continue to crop up across the country. It's why provinces like New Brunswick, who have previously not had a food tourism strategy, are now working with restaurateurs and taste experiences to build their local food identity.
Other food and beverage movements, like the proliferation of craft beer and breweries, also entice food tourists and are having a huge impact on tourism. Last year alone, Ontario generated more than $69 million in craft beer sales and these hoppy libations continue to be one of the fastest growing categories in the beverage sector.
As Canada's food tourism sector continues to grow, we want to inspire Canadians to be proud of our culinary offerings and food heritage.
These trends are helping to grow Canada's local food movement, which is a really good thing for us. Research shows that in Ontario eating local has a three to one impact on the local economy, while every bottle of VQA Ontario wine consumed generates $12.29 of value to the provincial economy.
Sourcing local isn't always easy. Two of the biggest barriers to sourcing locally include a disconnect between producers and restaurants and education for those in the industry, making it difficult for consumers to know what's available and producers to know what's in demand. It's why programs like our Feast On program, which couple local farmers and artisans with restaurant owners, are important to the local food movement. Restaurant owners supported by this program alone helped funnel $14 million back into the local economies, a pretty impactful number, if you ask me.
We have strong agricultural sectors in Canada, and we need to educate our locavore foodies and the general public about Canada's unique tastes. The Ontario Food Tourism Summit, which CTA organizes in partnership with the Tourism Industry Association of Ontario, is a great place for those in the food industry to learn about food trends, the food tourism sector and the future of the local food movement. Teaching industry tastemakers will better inform food tourism strategies, help restaurant owners source locally and ultimately, benefit the local economies.
As Canada's food tourism sector continues to grow, we want to inspire Canadians to be proud of our culinary offerings and food heritage. Having our own unique food identity has been something that I think we as a nation haven't really celebrated -- our food culture is a mosaic! It's exciting that we're now carving out a niche for ourselves as one of the world leaders in the local food movement. We see this happening as local products/restaurants, such as Langdon Hall Country House Hotel & Spa, are receiving recognition with acknowledgements like the University of Guelph's Good Food Innovation Award.
I love Canadian grown food and I want our country to be at the forefront of the food tourism industry. Whether it's learning more about the local food movement or vowing to eat more delicious meals at restaurants who only source locally -- what will you do to become part of the movement?
Follow HuffPost Canada Blogs on Facebook
Also on HuffPost:
13 Fun Pumpkin Patches Across Canada
Patch: Downey's Farm Market Location: Caledon, Ontario Activities: Just 45 minutes north of Brampton, Downey's Farm Market has been attracting city-dwellers from the GTA since the late 1980s. The farm is a family operation with an award-winning winery, and hosts corn mazes and pumpkin fests every year, complete with unlimited wagon rides, a "boo" barn, a straw jump and more. Dates: Pumpkinfest from September 24 to October 31.

Patch: Thiessen Orchards Location: Essex, Ontario Activities: With a bounty of sweet treats, such as apple cider, caramel apples, sausage, pies and more, Thiessen Orchards, located near London, Ontario, also offers pick-your-own apples and pumpkins alongside their "fun acre" and haunted barn. It's the perfect way to celebrate all the bounty of the fall season. Dates: Early September to end of October.

Patch: Chilliwack Corn Maze Location: Chilliwack, B.C. Activities: Admission to this giant farm near Vancouver includes a huge corn maze, hay bale maze, animal displays, pedal carts, a corn sandbox, giant jumping pillow, spider's web and picnic area. Each year there is also a new maze design! Dates: August 16 to October 31.

Patch: Meandher Creek Farm Location: Oak Lake, Manitoba Activities: At the Meandher Creek Farm, it's not all about pumpkins. Families travel to the southwest Manitoba farm, located near Brandon, to experience a plethora of fun-filled activities. Ride their zipline, duck into their hay bale pyramid, participate in duck races, ride the pumpkin train or shoot an air cannon! Dates: September 10 to October 23 on weekend afternoons.

Patch: The Dill Farm Location: Windsor, Nova Scotia Activities: The Dill Farm is located on the east coast of Canada and is well-known for their giant pumpkins. The farm does not offer pick-your-own, but has pumpkins displayed around the farm for purchase, which does allow for great photo opportunities. There are also fun events, such as the pumpkin weigh out and the parade of pumpkin paddlers. Dates: The farm is open year-round, and many people often come to take wedding and engagement photos here.

Patch: Le Verger Labonté Orchard Location: Notre Dame de l'Île Perrot, Quebec Activities: Just a 25-minute drive from Montreal, Verger Labonté offers three different corn mazes, apple and pumpkin picking, homemade treats and more! The corn mazes are the star attraction and come in three different difficulty levels for children and adventurous adults alike! Dates: August 29 to October 30.

Patch: Whittamore's Farm Location: Markham, Ontario Activities: Choose from thousands of pumpkins and enjoy this farm's annual Pumpkinland. Just 40 minutes north of downtown Toronto, Whittamore's Farm is an escape from city life. Explore the corn maze or ride the wagon through their "Spooky Forest." The farm also hosts plenty of fall entertainment, such as the pumpkin catapults and cannon shows on weekends. Dates: Open daily from September 17 to October 31.

Patch: Penner Pumpkins Location: Steinbach, Manitoba Activities: Located near Winnipeg, Penner Pumpkins is a family-run business that specializes in family farm fun. Outside of the traditional pumpkin picking and corn mazes, there are more than 30 farm activities available, from gem mining to ziplining, pony rides, tire structures, multiple play areas and more. Dates: Saturdays and Sundays from September 3 to October 30.

Patch: Green Valley Farm Location: Northern Arm, Newfoundland Activities: Green Valley Farms hosts zombie paintball events during the Halloween season, from daytime target shooting to a nighttime zombie paintball hayride. There is also a family farm land with potato cannons, corn mazes and more for families with younger kids. Dates: Saturdays and Sundays, September 17 to October 29

Patch: Cobb's Corn Maze Location: Calgary, Alberta Activities: With an Angry Birds-themed corn maze, a giant hill slide, antique box car ride, rope maze, archery tag, glow in the dark mini golf, pumpkin picking, a giant climbing wall and more, Cobb's Corn Maze is a Calgary favourite for birthdays, group gatherings and more year-round. It's your one-stop-shop for everything fall fun! Dates: Fridays, Saturdays and Sundays from September 9 to October 30.

Patch: Cannamore Orchard Location: Ottawa, Ontario Activities: Cannamore Orchard is home to the Spooky Wagon Ride complete with more than 50 live actors. The annual spookfest features a guided wagon tour narrated by a witch or warlock, as well as admission to their Spooky Village, which has eight houses with the chance to interact with vampires, witches, coffin makers and more. Dates: Select dates from September 30 to October 30.

Patch: Aldor Acres Family Farm Location: Langley, B.C. Activities: Come out to this family farm near Vancouver for some fun family time! With pig races, a petting zoo, tractor-pulled hayrides and more than 15 different pumpkin varieties to choose from, there's something for everyone! There's also a "Farmacy" next door for farm fresh veggies, eggs, pork and homemade preserves. Dates: September 17 to October 31.

Patch: The Green Pig Country Market Location: Salisbury, New Brunswick Activities: Aside from pumpkin picking, this market has three mazes for kids and adults to enjoy and hosts its famous Zombie Wars, a zombie-themed paintball night that runs every weekend in October. There are also daytime packages, including a haunted corn maze for those afraid of the dark or looking for an alternative to paintball. Dates: Zombie Wars is every Friday and Saturday in October. The market is open every day from 9 a.m. to 6 p.m.
Follow Rebecca LeHeup on Twitter: www.twitter.com/CanadaCulinary