Reading Bingo Challenge 2014
When facing a new year filled with so many possibilities for resolutions, sometimes it's hard to know where to start. Do you want to challenge yourself to read more in the coming year? What about to read more widely? And where's the motivation to stay on track?
Bingo--that's where! Welcome to Retreat's Reading Bingo Challenge 2014. We've created a printable bingo card with 24 reading challenges! Join us and challenge yourself to read more, to read more widely and to have fun doing it all!
You can approach the Reading Bingo card however you like: beginners, start by getting one line; if you're more advanced, try the whole outside box on the card; experts, fill in the whole card!
We would recommend using one book per space, but if you read a book over 500 pages written by someone under 30, who are we to stop you from cover two squares with one read?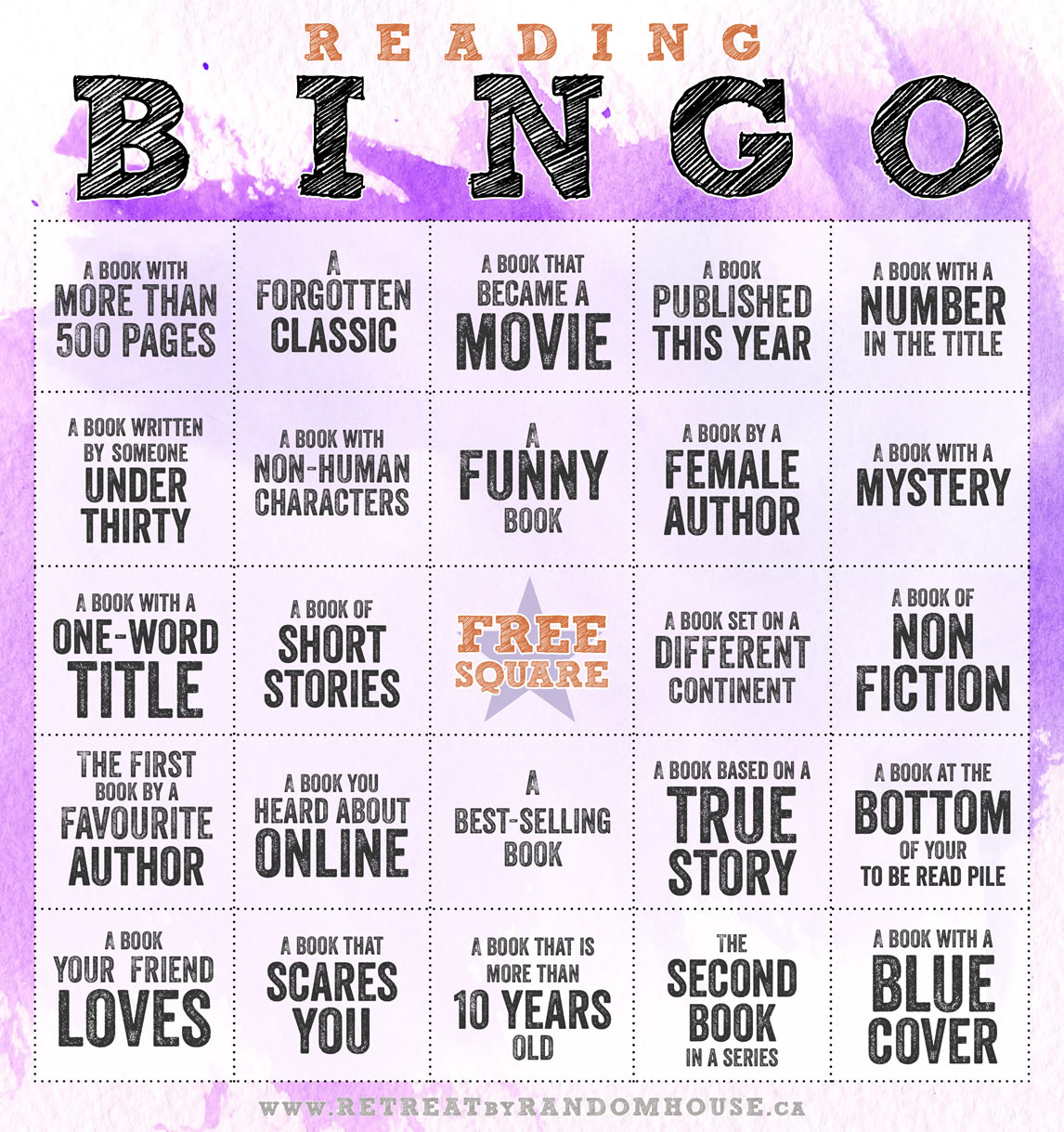 This year, for a little extra challenge, we've also created the Reading Bingo Card: YA Edition! We've come up with 24 challenges related specifically to books geared to teens. But you don't have to be a teenager to participate!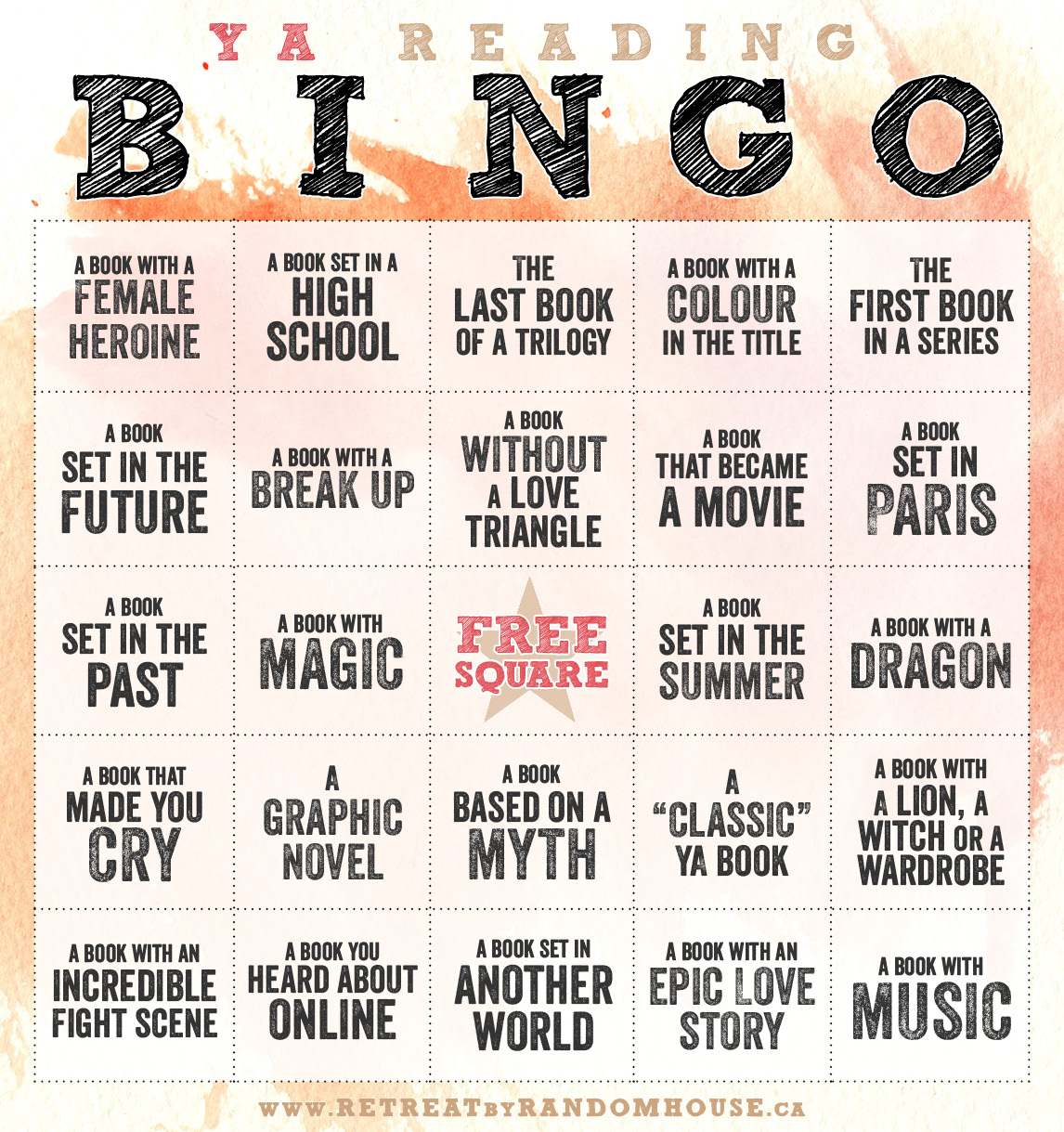 Which card are you going to try your hand at? The original Reading Bingo 2014 card? The YA card? Both? Let us know in the comments below.
Come back here often--we'll be giving suggestions for reads that fit the various criteria in case you get stuck--or join the conversation on social media using #ReadingBingo to show us pictures, crowdsource your next read or just brag about how many squares you've covered! We also have a discussion board on Goodreads! We love to hear which books you're reading and how many squares you're covering so keep us updated as you go! We'll keep you updated with our progress, too!
Ready? Grab your Reading Bingo card and lets get reading!
This post originally appeared on retreatbyrandomhouse.ca.
ALSO ON HUFFPOST:
Book: 20th Century Ghosts Author: Joe Hill Reader: Mike Sholars, associate editor Why I loved it: Joe Hill was too good. That's evident in this, his debut novel, and his so-good-you'll-take-comics-seriously horror graphic novel, Locke and Key. For a young writer, he hit the ground running with this collection of short horror stories. Some of them made me deeply uneasy, one in particular was disarmingly sweet. Little did I know that Joe Hill was the pen name of Joseph Hilstrom King; as in, son of Stephen and Tabitha King. I guess it runs in the family.

Book: A House In The Sky Author: Amanda Lindhout & Sara Corbett Reader: Andree Lau, B.C. News Editor Why I loved it: "A House In The Sky" brings beauty and understanding to the horrific kidnapping ordeal survived by Alberta freelance reporter Amanda Lindhout. She lays out her naive adventures before arriving in volatile Somalia with an ex-boyfriend/photographer and wide-eyed aspirations. Details of brutal captivity are interwoven with stunning imagery and writing, with the help of co-author Sara Corbett.

Book: And The Mountains Echoed Author: Khaled Hosseini Reader: Sunny Freeman, national business reporter Why I loved it: This third installment in Hosseini's collection of easy to read, yet hard to confront, portraits of Afghan life, has the tale sprawl across characters' continents and decades without losing sight of his main message.

Book: Billy Lynn's Long Halftime Walk Author: Ben Fountain Reader: Rebecca Zamon, Living Editor Why I loved it: If you think you don't like books about war, but still want to read about Iraq, this is the book for you. A tale of a returning troop of soldiers at a championship football game becomes a brilliant metaphor for the stark class and societal differences veterans experience when coming home. Giving a very human side to those who fight, the metaphors of this book aren't hard to discern, but ones you can return to again and again.

Book: Blood Meridian Author: Cormac McCarthy Reader: Jesse Ferreras, B.C.'s Associate Editor Why I loved it: It is graphic, disturbing, and near-inaccessible for anyone who doesn't have the patience for 19th-century colloquialisms. It relates the story of a group of Indian scalp-hunters who've been contracted by the U.S. government to civilize the country along the Texas-Mexico border. Among them is a supernatural figure named Judge Holden, who serves as a catalyst for random acts of violence. The prose is beautiful, challenging and transcendent, and it's unlikely McCarthy will write anything better.

Book: Claire Dewitt And The Bohemian Highway Author: Sara Gran Reader: Marni Soupcoff, Managing Editor for Blogs Why I loved it: This is a fun AND grim (yes, both) mystery in which a tough, drug-addled female private detective investigates the murder of her ex-boyfriend. It's the second in a series, but I didn't read the first and had no problems. An easy and quick read, but not fluffy or shallow.

Book: Doctor Sleep Author: Stephen King Reader: Daniel Tencer, Business Editor Why I loved it: Stephen King marks a return to the tight, high-impact writing of his early years in "Doctor Sleep," the sequel to "The Shining." Little Danny Torrance is all grown up now, but is still haunted by the demons that come with his supernatural gift -- and by the demon of alcoholism, which he inherited from his infamous dad. Oh, and this time, there are vampires.

Book: Escape From Camp 14 Author: Blaine Harden Reader: Andree Lau, B.C. News Editor Why I loved it: This is a fascinating and chilling insider's account of a North Korean labour camp. Shin Dong-Hyuk was born in the political prison and is one of the few to escape from one. He was starved and taught to see his family as rivals for food. Shin shines a light on the unbearable cruelty in a little-known prison system that's existed 12 times longer than Nazi concentration camps.

Book: Everybody Has Everything Author: Katrina Onstad Reader: Rebecca Zamon, Living Editor Why I loved it: At a time when mothers are describing the miracle of their infants' potty training on Facebook, this book about a couple brought into parenthood under heartbreaking circumstances shows the very real conflicts that arise in adults when kids come into the picture. The writing is gorgeous, and Onstad manages to perfectly describe emotional states many authors would have difficulty nailing down.

Book: Frozen In Time Author: Mitchell Zuckoff Reader: Marni Soupcoff, Managing Editor for Blogs Why I loved it: Its vivid descriptions of brutal cold and deprivation put urban annoyances like traffic in perspective, while its present-day narrative of explorers seeking the remains of three of the lost men will spur city dwellers to action, even if just for a little hike through the park. Beyond the amazing fact that only one of the stranded men came close to losing his mind, the story is inspiring for the selflessness it describes — humans braving frostbite and hunger without turning on each other and risking their lives to see their fellows to safety.

Book: Gone Girl Author: Gillian Flynn Reader: Sunny Freeman, national business reporter Why I loved it: This one might incite intense debate between the "love it" or "hate it" crowd, as well as between those on "Team Amy" or "Team Nick" — which is why this book will certainly keep discussion flowing in book club. It's a page-turning, keep-you-guessing murder mystery with a twist and a perfect vacation read.

Book: How To Get Filthy Rich In Rising Asia Author: Mohsin Hamid Reader: Rebecca Zamon, Living Editor Why I loved it: Don't get this one confused with the wildly popular Rich Crazy Asians from this year — Hamid's incredibly original storytelling abilities are worthy of their own hype. Structured as a self-help book that is anything but, this novel helps Westerners feel like they have the slightest grasp on how things work in Asia, but reveals that you can't ever really know unless you live it.

Book: In The Country Of Men Author: Hisham Matar Reader: Sunny Freeman, national business reporter Why I loved it: The haunting tale of a dissident father's disappearance in Gaddafi's Libya, told through the eyes of a nine-year-old boy, Matar's writing is powerful in its brevity and evocative in its use of sensory language. It's particularly compelling when you find out Matar's own dissident father disappeared and is yet to be found in Libya.

Book: Lean In Author: Sheryl Sandberg Reader: Rebecca Zamon, Living Editor Why I loved it: You probably think you've heard all you want to hear about the COO of Facebook's women-powered business book, but have you read it yet? If not, think about delving into its chapter. Admittedly, it's not for everyone, but especially if you're a woman interested in a career-based job, Sandberg has practical, knowledgeable and yes, down-to-earth things to say that could help you. But if you want to cheat, just watch her TED talk.

Book: Let's Pretend This Never Happened Author: Jenny Lawson Reader: Rebecca Zamon, Living Editor Why I loved it: I'll admit, I wasn't familiar with Jenny Lawson before I picked up this book, but I happily became a devotee to her well-known blog, The Bloggess, about two chapters in. Lawson's crass mouth and way of making you laugh out loud when writing about the most ordinary moments we've all encountered is a dose of uber-reality, and very enjoyable.

Book: Life After Life Author: Kate Atkinson Reader: Chloe Tejada, Style Editor Why I loved it: This was by far the best book of 2013. About a girl who continues to die and come back to life, she gets to change the course of history and come to terms with the consequences of how it affects her and the people around her.

Book: MaddAddam Author: Margaret Atwood Reader: Rebecca Zamon, Living Editor Why I loved it: Despite not having read either of the previous books in this trilogy, I absolutely adored Atwood's tale of a post-apocalyptic world. Given its subject matter, the book was surprisingly accessible and amazingly (and terrifyingly) creative, along the lines of Neal Stephenson's best works. Ominously (and true to her reputation as a science fiction nerd), Atwood notes everything described in the novel either already exists, or is in the process of being created somewhere.

Book: Mo' Meta Blues Author: ?uestlove Reader: Mike Sholars, associate editor Why I loved it: You don't have to love The Roots to love this book, although it helps to be a fan of the best band in the world before jumping into the mind of its enigmatic genius, ?uestlove. You don't have to love hip-hop, soul, or funk music to love this book either, but it's really fun to hear every song play in your head as Questo effortlessly flexes his musical trivia muscles. You do have to love music, and have an appreciation for how it can transform lives.

Book: Moby Dick Author: Herman Melville Reader: Ron Nurwisah, Community Manager Why I loved it: This American classic was, pardon the metaphor, my white whale. The book I picked up and put down at least three times in the last five years. I finally finished it this summer and was glad I did. Melville's 19th-century universe is a hard-knock, sometimes brutal and bloody place but also filled with moments of beauty and emotional connection. Moby Dick is an iconic piece of literature and now I know why.

Book: My Horizontal Life Author: Chelsea Handler Reader: Iman Sheikh, Blog Editor Why I loved it: This was oddly one of the only English-language books I could find at Rome airport, and I'm glad it was. Handler's really very entertaining. It's basically a comedic collection of worst-date stories that make you feel much less awkward about your own life and bizarre romantic entanglements.

Book: A Song Of Ice And Fire series Author: George R.R. Martin Reader: Michael Bolen, News Editor Why I loved it: At what seems like 1,000,000 pages in length, this fantasy landmark turned HBO-mega-hit has occupied my entire reading year. At times it has been tough going, especially when author George R.R. Martin (what is it with fantasy writers and initials?) splits up the characters for book four. But on the whole, the series has struck me as the perfect modernization of the style popularized in The Lord of the Rings. Martin takes a world every bit as fantastical as Tolkien's and renders it with a brutal realism that makes it impossible to turn away (even after the 500th death).

Book: Serve To Win Author: Novak Djokovic Reader: Lisa Yeung, Managing Editor of Lifestyle Why I loved it: Full disclosure: 1) I don't play tennis, and I'm not even really a fan 2) I haven't gone gluten-free since reading this book and actually read it while eating ice cream sandwiches (which Djokovic probably definitely doesn't eat) But: 3) It's a very readable book full of useful information on how to incorporate a gluten-free diet. Djokovic follows a gluten-free and very strict lifestyle, and he gets into the reasons why it's worked for him and helped him succeed as a world-class tennis player 4) His voice is very personable and he mixes behind-the-scenes anecdotes in with actionable advice 5) There are lots of interesting tips that are easy to remember - like drinking a glass of warm water first thing when you get up 6) The recipes at the end don't make gluten-free living sound like death

Book: My Lucky Star Author: Joe Keenan Reader: Iman Sheikh, Blog Editor Why I loved it: I found out after I finished this that Keenan has won five Emmys for his writing on Frasier and the Thurber Prize for American Humour for this novel. As it stands, this is a hilariously campy tale of three screenwriters who get caught up with a dysfunctional Hollywood family, closeted movie stars and a newly opened spa/gay brothel. So many great one-liners in here.

Book: Night Film Author: Marisha Pessl Reader: Chloe Tejada, Style Editor Why I loved it: This was one of the most suspenseful mysteries I have ever read. It's sexy, it's captivating, it's beautifully written and it completely pulls you in the sprawling story.

Book: The Princess Bride Author: William Goldman Reader: Mike Sholars, associate editor Why I loved it: Like many, I grew up with the movie adaptation of this story, and figured I knew everything from the film. What I didn't know is that the book itself is a gleeful mindscrew of a novel, playing with fact and fiction and introducing meta-narrative decades before it became the main tool of an entire storytelling generation. The author himself becomes a fictional character as he writes "an abridged version" of the original Princess Bride by S. Morgenstern. It's been a year, and I'm still not sure how much was real or fake. And I don't really want to know.

Book: Reconstructing Amelia Author: Kimberly McCreight Reader: Marni Soupcoff, Managing Editor for Blogs Why I loved it: In this compulsively readable novel about a single mother struggling to understand what led to her teenage daughter's sudden death, you may find inspiration to turn off the wifi: After all, the bane of young Amelia's existence seems to have been a form of cyberbullying. On the other hand, you could also blame the secret club she'd recently joined at school or her mother's long hours at the law firm — or maybe it was the drive to know the real identity of her father. Regardless, you'll almost certainly want to know: Did Amelia jump, or was she pushed?

Book: Robopocalypse Author: Daniel H. Wilson Reader: Joshua Ostroff, Senior Editor Why I loved it: If Stephen King calls your first proper novel "terrific page-turning fun," you just might be on to something. Wilson had previously published the satirical advice book How to Survive a Robot Uprising, and that's the basic plot of Robopocalypse as well. Reading like a high-tech take on World War Z, an artificial intelligence robot becomes self-aware and proceeds to try and eliminate the technology-dependent human race. Oh, and if you were wondering why it seems so potentially possible, that's because Wilson has a PhD in robotics from Carnegie Mellon University and took inspiration from real-world research.

Book: Running & Being Author: Dr. George Sheehan Reader: Kenny Yum, Managing Editor Why I loved it: Dr. George Sheehan was the runners' philosopher, well before the age of Under Armour and barefoot running. His 1978 classic is a runner's dream and helps the modern runner reconnect to why we run. The book was released in 2013 and eagerly snapped up by a new generation of fitness nuts.

Book: The Sense Of An Ending Author: Julian Barnes Reader: Lisa Yeung, Managing Editor of Lifestyle Why I loved it: It's so short you'll finish it in a breath, but it's like a sharp breath on a winter day. The narrator Tony is a plain man with sad, sometimes beautiful thoughts on a life half-wasted, and his pursuit of the truth behind a series of almost-forgotten events drives the story to a — spoiler alert — unexpected ending. It's bleak but so well-written, and a deserved winner of the Man Booker Prize.

Book: Swimming Studies Author: Leanne Shapton Reader: Devon Murphy, Blog Editor Why I loved it: This book was a nice trip down memory lane for me, as an ex-swimmer. Shapton measures out her life in strokes and bathing suits, giving the reader a peek into the mind of a serious athlete who's not quite Olympics-good. It's also full of her original artwork, which is a treat.

Book: She Left Me The Gun Author: Emma Brockes Reader: Marni Soupcoff, Managing Editor for Blogs Why I loved it: In this fascinating memoir about a daughter's efforts to uncover her dead mother's early life of abuse, it can be easy to feel tenderness for people who have done and said unfathomable things, and to laugh unexpectedly amid ugly meanness. But it's impossible to avoid sharing the pain Emma Brockes experiences as she discovers how childhoods -- those of her mother, aunts, and uncles -- were obliterated by a grandfather she never knew. And you can sense the desperation and toughness of South Africa, past and present, as not only a backdrop to the story, but as a reason Brockes' family endured, and survived, as they did.

Book: A Short History Of Tractors In Ukrainian Author: Marina Lewycka Reader: Kristy Woudstra, Parentdish Editor Why I loved it: I finally read this novel this year, and I'm so glad I did. Witty, hilarious and thought-provoking, I absolutely loved it. Like the protagonist, I grew up in an immigrant family and could relate to a lot of her experiences. The fact that two siblings can have such different perspectives on their own family is so fascinating – and accurate!

Book: Sisterland Author: Curtis Sittenfeld Reader: Rebecca Zamon, Living Editor Why I loved it: Sittenfeld is a writer, the kind that begs you to finish her books almost as soon as you pick them up. This book, about identical twins with special powers who take very different paths in life, brings the reader along unexpected twists and surprisingly mundane lives made visceral. Well worth your time.

Book: Tenth Of December Author: George Saunders Reader: Rebecca Zamon, Living Editor Why I loved it: This book made me feel like I'd been wasting my time reading any other short story collection that came before. Saunders truly manages to tell a lifetime in eight pages, over and over again in this deservedly hailed book. At equal points funny, horrifying and breathtaking (in the literal sense), you'll finish it in a flash and want to come back to it again and again.

Book: The Burgess Boys Author: Elizabeth Strout Reader: Marni Soupcoff, Managing Editor for Blogs Why I loved it: There's a plodding feeling to The Burgess Boys that may grate on some readers, but there's no question the novel hits on authentic family stresses that will be inescapably familiar to anyone who has loved and loathed a sibling or spouse: It captures the dependence and resentment that are the flip sides of devotion and admiration. The plotline involving the difficult life of Somali immigrants in a coastal Maine town isn't as strong as the story of the adult Burgess brothers living out parallel existences of different scopes in New York. That said, many of The Burgess Boys's most memorable scenes take place at their sister Susan's home in Maine: The woman's nervous packing for a trip to see her brothers is among them.

Book: The Dinner Author: Herman Koch Reader: Rebecca Zamon, Living Editor Why I loved it: One of the most talked-about books of the year, the stark writing, sharp wit and seriously dark turns taken by this novel are a perfect fit for readers who enjoy plots being revealed slowly and shockingly.

Book: The Dogs Are Eating Them Now Author: Graeme Smith Reader: Kenny Yum, Managing Editor Why I loved it: Former Globe and Mail correspondent Smith relives his various tours of duty of Afghanistan and brings us an imperfect, heartbreaking, violent and poignant retelling of the landscape in Afghanistan. It's not just a story about the soldiers, but what happened in the latter years of Canada's war. A must read if you want to understand our contribution to the war on terror and its aftermath.

Book: The Interestings Author: Meg Wolitzer Reader: Marni Soupcoff, Managing Editor for Blogs Why I loved it: A warning: This book is mightily about summer camp, so if you can't relate to clumsy experiments with love on humid nights and how entire lives are figured and formed through summer friendships, you may not be so into it. The book earns points for its exploration of the vagaries of creative success; many of us dream of being successful writers, actors, or directors, but even of the talented wishful thinkers, very few actually make it. The Interestings prods at why.

Book: The Kiss Author: Kathryn Harrison Reader: Sara Harowitz, B.C. Associate Editor Why I loved it: The book (a memoir about a very complicated love triangle) is heartbreaking and horrifying, but also so beautifully written, I often found myself reading a sentence two or three times just to soak in Harrison's writing style. She presents her story with such honesty and bravery that despite the pain, all you're left with is inspiration.

Book: The Longer I'm Prime Minister Author: Paul Wells Reader: Jesse Ferreras, B.C.'s Associate Editor Why I loved it: In 2007, Maclean's columnist Paul Wells wrote "Right Side Up: The Fall of Paul Martin and the Rise of Stephen Harper's New Conservatism." It told the story of how Harper came to power, and his ambitions to turn Canada into a more conservative place. "The Longer I'm Prime Minister" effectively completes that story, telling of Harper's ideological influences and the myriad pratfalls he encountered en route to a majority government. The book contains insights about our prime minister that few will have seen previously, and it's an excellent tome for anyone willing to challenge their assumptions about a misunderstood politician.

Book: The Lowland Author: Jhumpa Lahiri Reader: Marni Soupcoff, Managing Editor for Blogs Why I loved it: The Lowland by Jhumpa Lahiri is extraordinary for the way it quietly captures the the authentic details of so many things at once -- academica, family expectations, lust, love, and what it's like to make a new home by choice rather than default. It's melancholy but not a depressing assault the way other books in this genre can be.

Book: The Ocean At The End Of The Lane Author: Neil Gaiman Reader: Daniel Tencer, Business Editor Why I loved it: Few writers have as loyal a following as Neil Gaiman, and his latest novella shows us why. Simple, beautifully crafted and infused with an almost preternatural imagination, this story of a middle-aged man returning to his childhood home, only to discover an entire magical world under his feet, is one of Gaiman's best works ever. And the ending will leave you questioning your own memories.

Book: The Orphan Master's Son Author: Adam Johnson Reader: Rebecca Zamon, Living Editor Why I loved it: This story ostensibly about North Korea manages to be universal while staying within the confines of a very interesting/scary country. It plays with the truth for readers in the same way one might imagine a dictatorship doing with its citizens, and rewards them with a truly epic tale.

Book: The Paris Wife Author: Paula McLain Reader: Sunny Freeman, national business reporter Why I loved it: Historical fiction centering on Ernest Hemingway's first wife Hadley Richardson, this tale is of their romance and heartbreak, loyalty and betrayal. Set against the backdrop of their impressive adventures and intense relationships in Jazz Age Paris, it's a light, entertaining read in the vein of "Midnight in Paris."

Book: The Swerve Author: Stephen Greenblatt Reader:Ron Nurwisah, Community Manager Why I loved it: You would think that a book about a long lost Greek poem would be incredibly boring. But Greenblatt's book about the rediscovery of Lucretius' On the Nature of Things in the Renaissance reads at times like a treasure hunt. Our hero, Poggio Bracciolini, travels across Europe and roots through ancient monasteries to find and save a poem that would reshape the western intellectual tradition. A surprisingly enjoyable book.

Book: The Telling Room Author: Michael Paterniti Reader: Marni Soupcoff, Managing Editor for Blogs Why I loved it: This book will make you want to eat cheese. Lots and lots of cheese. So prepare for that first. Also some wine. But beyond the food, this non-fiction account of life in a small Spanish town -- as seen through the eyes of both Paterniti himself and the old-fashioned, larger than life cheesemaker he meets there -- is well-written and honest. There are more than a few worthy insights about how we cast our own pasts as stories and why we try to build the humans we know into heroes.

Book: The Twelve Author: Justin Cronin Reader: Kenny Yum, Managing Editor Why I loved it: For those looking to combine vampires with with a post-modern post-apocalyptic and post teen world, then the The Twelve, second in The Passage series, is a great way to dive into trashy sci-fi world.

Book: The Unchangeable Spots Of Leopards Author: Kristopher Jansma Reader: Rebecca Zamon, Living Editor Why I loved it: I'll say it right off the bat — if you don't like books that are a bit weird, don't try this one out. But if you, like me, adore a bit of a twisted narrative, Jansma's book is a fantastic read that takes the truth for three characters and "slants" it, with the end result working equally well as one mixed up story or three individual tales.

Book: The Walking Dead: Compendium One Author: Robert Kirkman Reader: Brian Vinh Tien Trinh, Travel Editor Why I loved it: Between the TV shows and video games, I was curious to see what the big hype was about the Walking Dead franchise. I started with the source material and got the graphic novels. Unless you're a collector, I suggest the digital download of Compendium One. If you need a change from the Marvel/DC Universe of graphic novels, the Walking Dead is a step into a dark, grim narrative where bad things keep happening to good people. It's chock full of compelling writing and art that keeps you reading until the end.

Book: The Woman Upstairs Author: Claire Messud Reader: Rebecca Zamon, Living Editor Why I loved it: One way I like to tell whether or not a book was worth my time is how long it stays with me, and The Woman Upstairs was in my thoughts for at least a week after I finished it. A rather specific take on what a woman's life can become when she's unmarried and open to experiences — not to mention how various narratives can be interpreted differently by each of their players — the book leaves you with a certain sense of dissatisfaction, and the desire to discuss it with anyone else who's read it.

Book: This Is Where I Leave You Author: Jonathan Tropper Reader: Devon Murphy, Blog Editor Why I loved it: This the only fiction I read this year, and I'm glad it was. It was funny and dark, about a family all back under their childhood roof to sit shiva for their father — awkward hilarity that can only happen between family members ensues.

Book: War Author: Sebastian Junger Reader: Devon Murphy, Blog Editor Why I loved it: This combat narrative about Afghanistan is a companion to Junger and Tim Hetherington's documentary "Restrepo." It really gets under your skin and puts you right in the action — frequent stress-related breaks may be required.

Book: We Wish To Inform You That Tomorrow We Will Be Killed With Our Families Author: Philip Gourevitch Reader: Devon Murphy, Blog Editor Why I loved it: A beautifully written investigation into the Rwandan genocide by an award-winning journalist.

Book: What The Family Needed Author: Steven Amsterdam Reader: Marni Soupcoff, Managing Editor for Blogs Why I loved it: What The Family Needed somehow manages to mix mundane family dynamics with incredible superpowers and still not read like it's trying too hard. Any practical questions raised about how particular superpowers work are fairly quickly forgotten: the book wisely spends only enough time on each family member and each subtly expressed power to explore what the character fears, rather than the details of his unexpected abilities.

Book: Where'd You Go Bernadette Author: Maria Semple Reader: Rebecca Zamon, Living Editor Why I loved it: This immensely readable book is perfect for a vacation or a weekend read alike. Told partially through emails (which are far more entertaining than the missives piling up in your inbox) and mostly through satire, this story tells of a family in Seattle. The various challenges the kid/wife/husband go through in order to get by in daily life (while coming to terms with speckled pasts) are a joy to behold, thanks to the clever writing and fun — because why can't books be fun? — plot.

Book: Zeitoun Author: Dave Eggers Reader: Devon Murphy, Blog Editor Why I loved it: This book was a harrowing trip back to New Orleans during Katrina seen through the eyes of a Muslim man who stayed behind to help and ended up persecuted for it. I wish I'dI read it years ago.
Follow Retreat by Random House on Twitter: www.twitter.com/RandomHouseCA