Overcome Your Shyness To Work The Room Like A Seasoned Schmoozer
Are you shy?
According to the Shyness Research Institute, about 50 per cent of Americans are shy (which is up by 10 per cent in the last three decades). The number of people who say they are situationally shy is even higher. Are you shy in social situations? Do you get nervous about the thought of attending a professional social situation where you don't know anyone? Do you prefer to attend those events with a friend?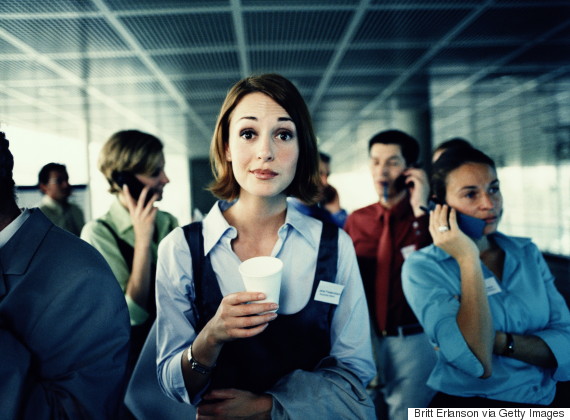 (Photo: Britt Erlanson via Getty Images)
We know that employers are placing more emphasis on social skills when hiring employees as well. They must have the ability to network and "schmooze." Even if you are uncomfortable, even if you don't know a single soul in the room, you have to move away from the comfort of the wall and begin to speak with others.
Recently I was speaking at an event, where I attended the entire four-day conference, speaking on the final day. I didn't know a lot of people, and since I hadn't spoken yet, they didn't know me either.
I found myself in an unusual position, feeling quite shy about networking. As I looked around the room, it appeared as if everyone knew everyone else, and no one knew me. The strange sensation called "social anxiety" overtook me. Since I am rarely shy, have no hesitation in speaking with strangers (pretty much anywhere); this was something I hadn't experienced in a long time. I didn't like it, either.
It is OK to be uncomfortable; the other person likely is as well.
Of course, I knew what to do, but it occurred to me that there were probably many people at this convention of 1,200 people who were shy and that many of them probably didn't know what to do.
So, do what I did the next time that shy person inside you takes over:
Act as if this is your party or gathering. Walk up to others and say hello. Don't wait for them to say hello to you (they might be shy), and be the first to say hello.
Make and hold eye contact with the person you are about to say hello to.
Smile (seriously, some people forget the basics when they are nervous).
Approach groups of three or more. Stay away from groups of two, unless you know one of them.
If it is appropriate, put your hand out to shake hands. Recognize that shaking hands is not universal, and do not be offended if they choose not to shake your hand. Don't wait for the other person to offer their hand either (that is an outdated male/female custom).
Stop moving if you wish to engage in conversation. If you say "hello" while on the move, your body language is telling the other person you don't want to chat.
Watch your personal space! Although the music may be loud, be sure you aren't "in" the space of the person you are trying to meet. If you are trying to speak over loud music, stand beside the person, instead of face-to-face.
Don't keep looking over the shoulder of the person you are speaking to, or at the door to see who else is coming into the room. Keep focus on the person you are speaking to (unless you want to be considered rude.)
Once you've said hello, the real networking, or schmoozing starts. This is the small talk that makes many very uncomfortable. It is OK to be uncomfortable; the other person likely is as well.
Be sure that it is appropriate to start a conversation, though. If you said hello to a person in a group, and there was a conversation already going on, you have to be sure you aren't interrupting it. If the other person says hello, but breaks eye contact to move back to their group and resume their conversation, move onto another group -- this one is busy right now.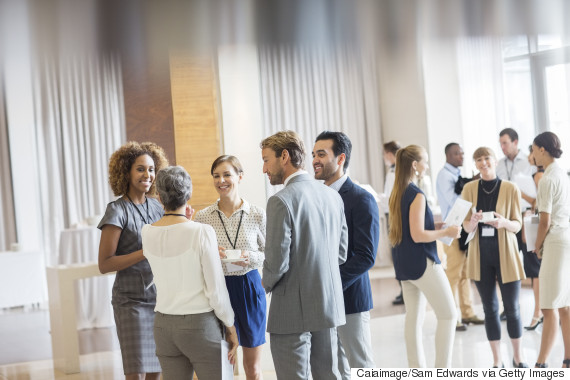 (Photo: Caiaimage via Getty Images)
Take a moment and introduce yourself, and hopefully everyone else will follow suit. Say your first name clearly (slow down), put a smile on your face, and make it look like you are a friendly person!
"Hi, my name is Rhonda. Your name is?"
"Hi, my name is Rhonda, and this is my first convention. Have you been here before?"
"Hi, my name is Rhonda and I went to university with the bride. Are you here for the bride or groom?"
Simple, but it takes confidence (real or pretend) to get the ball rolling. From the introductions you can talk about where they work, the relationship that brought them there, the weather, whatever seems appropriate at the time. If this makes you nervous, think about these things before you leave home.
Keep the conversation going by asking short, open-ended questions. Don't interrupt and don't be afraid of pauses, either. This is uncomfortable, and it is even OK to joke about that.
A bore is one who talks about themselves, but a brilliant conversationalist is one who talks to you about yourself!
After a couple of minutes, it is OK to meet with other people, drift in other directions or even introduce your new friend to someone else (even if that someone else is someone you met 10 minutes ago!).
Tips to remember:
Don't monopolize the conversation. You may have a great story to share about the guest of honour, but if it takes more than two minutes to tell the story, it is too long. (Be sure to ask yourself if your new acquaintance even cares about your story that is 20 years old).
Move on and meet new people. Everyone is afraid of meeting the "leech" at networking events. If you've been chatting for more than 10 minutes, you have either met someone with whom you will make lifelong friends, or you are afraid to meet someone else. Move on.
Keep your glass a quarter full. This gives you the opportunity to move on if you've met a bore or even an excuse to leave the conversation. The glass should come with a napkin which can help for sweaty palms if appropriate, too.
Keep a positive attitude. Don't be a Negative Nancy regardless of the reason for the gathering. Negativity is very unattractive, and I don't want to spend time meeting someone who complains about things immediately!
Standing and waiting for others to speak to you is reminiscent of grade-school dances. I don't want to be 12 again, so recognize that this feeling is very common, and do something about it.
It is far better to deal with the situation instead of waiting for someone to rescue you. You may never love entering a room and not knowing a soul, but at least you are willing to do something about it!
And remember: a gossip is one who talks about others. A bore is one who talks about themselves, but a brilliant conversationalist is one who talks to you about yourself!
Don't be shy -- it's easy to pretend you can do this (and before you know it -- you can!).
Follow HuffPost Canada Blogs on Facebook
Also on HuffPost:
9 Things Only Shy People Understand
Let's face it: When you're shy, an overwhelming crowd of people you need to be social with is probably the last kind of setting you want to be in. But according to Lynne Henderson, director of The Shyness Institute in Berkeley, Calif., this type of scene can be a huge opportunity for reserved individuals to face their social aversion head on. To overcome this hesitation, Henderson suggests relating to someone else and concentrating on what you want out of the situation. "Think about athletes who are nervous -- they just focus on what they want to do," she says. "Ask yourself, 'What do I really want out of this interaction?' and try to make an effort to meet just one new person. Have specific goals in mind if you know you're going to feel shy in a situation. Oftentimes, shy people just forget their strengths [in overwhelming settings]."

When you're quiet, you're observant. This habit often makes shy people great listeners, and as a result, more considerate friends, co-workers and partners. "Just because you're shy doesn't mean you're not attuned to social situations," C. Barr Taylor, a professor of psychology at Stanford University, previously told HuffPost Healthy Living. "It can actually become a source of strength as you are the observer in the room."

It's not that shy people are always silent, they're just taking time to acknowledge their thoughts, Henderson says. Shy people recognize what they're thinking (even if it's self-destructive) right away and they stop to reflect on it. This habit can be good or bad, but by practicing mindfulness, Henderson says it's easy to turn these thoughts into something constructive. "It used to be commonly thought that only people who had negative thoughts about themselves are people with clinical conditions, but with so much research now on mindfulness, we know we're all having automatic thoughts," she says. These immediate thoughts, Henderson explains, are why shy people think before they speak, which can sometimes come across in a negative way. "People who feel shy can find it annoying that other people don't acknowledge these automatic thoughts we all have about ourselves and our surroundings," she explains.

While the two traits are often used synonymously, shy people aren't always introverts -- and those who don't fall into both camps understand the frustration that comes with being classified as such. Henderson points out that there are shy extroverts, or those who perform well socially but may experience self-conscious thoughts and feelings internally. As shyness expert Philip Zimbardo points out in a Psychology Today post, many Hollywood icons can be shy extroverts -- and their tendency to be self-reflective or self-critical doesn't always show in a public setting. Henderson suggests focusing on being compassionate with yourself if you feel your confidence slipping. "[We've] all got things we struggle with, and remembering that we all have that in common, you can start to show yourself a little more humanity," she says. She also recommends trying practices like loving-kindness meditation: "Nobody's perfect; anything [kind] you can say toward yourself or toward others will remind that you we're all in this together."

You've lived through this scene what feels like a thousand times: You're giving a presentation in class when some commenter from the back of the room pipes up, "Can you talk a little louder?" It's a shy person's worst nightmare -- no matter how many times it happens. "Extroversion and self-presentation is overvalued in our culture," Henderson explains. "If you're not talking all the time, asking, 'Why don't you speak up or talk more?' can be irritating to shy individuals because they think before they talk." Despite this embarrassing exchange, Henderson explains that there's merit in a quiet person's soft-spoken nature. She says that the urge to be silent at first can actually be useful, whether you're trying to command a room or just talking to a few people. "Social ambiance and silence can be a real strength, particularly when you need to be in a leadership role," Henderson said. "It allows you to pick up a sense of the room's mood and learn to use it."

Telling a shy person to "just do it," or "be more outgoing" isn't going to help -- in fact, it may do just the opposite. "Not everybody is an extrovert and to expect everyone to be [outgoing] can also be irritating to people who are shy," Henderson warned. Shy people who are also introverts may not even want to be outgoing or overly active in a highly social setting. As HuffPost blogger Kate Bartolotta explains in her 2013 blog post, sometimes those reserved individuals just need a little time to themselves: I spent years feeling guilty if I wanted to spend time alone instead of doing things with friends. I learned to make the best of it, and often pushed myself to be social -- even when it felt exhausting. Many people do this, as extroversion tends to be prized in our society, while introversion is seen as a "second-class personality trait, somewhere between a disappointment and a pathology." It is none of those things. For those of us who are wired that way, it can be our greatest asset. As I mentioned, being introverted isn't the same thing as being shy (though there's nothing wrong with being shy either). Many shy people are also introverted, but one doesn't really have much to do with the other. The best explanation I was ever given (and maybe one of the biggest "aha!" moments of my adult life) was that while extroverts are energized by connecting and spending time with others, introverts need inward-focused alone time to recharge.

Quiet individuals often have to make twice the effort in order to stand out, particularly in the workplace. But, as Henderson points out, shy people have the tendency to make the most exceptional leaders. "They really empower their people," she explains. In fact, some of the world's most powerful people were also considered shy. Revered politicians like Abraham Lincoln and Hollywood icons like Audrey Hepburn and Johnny Carson all had a more reserved personality.

While a wallflower attitude can often be frowned upon, there are some benefits to it -- especially in the workplace. Henderson says that shy individuals who are able to take control of their personality trait are often able to use it in ways to make them more mindful leaders. That natural tendency to step away from center stage can help many companies achieve their goals. "Shy people lead from behind," Henderson said. "They lead because they care, not because they want the spotlight."

Shyness, just like any other personality trait, has its pluses and minuses. The key is to harness what makes you more reserved and use it to your advantage. "[A major] irritant is everyone assuming shyness is a problem," Henderson says. "Shy individuals really have a sensitivity to other people. They know what it feels like to feel nervous, so they can be quite good at helping other people feel comfortable when they aren't on the spot." In a blog post on Psychology Today, Bernardo Carducci, the director of the Indiana University Southeast's Shyness Research Institute, argues that there are indeed some benefits of shyness. The trait, he said, isn't something to overcome but rather something to be embraced. "The successfully shy don't change who they are. They change the way they think and the actions they make," he writes. "There is nothing wrong with being shy. In fact, I have come to believe that what our society needs is not less shyness but a little more."
Follow Rhonda Scharf on Twitter: www.twitter.com/RhondaScharf