Honouring Star Trek's Canadian Connections, 50 Years Later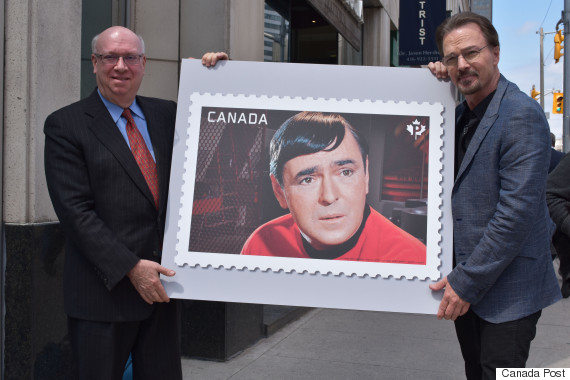 Imagine having the set of the original Star Trek series as your own private playground as an eight- or nine-year-old.
Chris Doohan, son of the late James Doohan -- better known as Montgomery "Scotty" Scott, chief engineer on the Starship Enterprise -- doesn't have to imagine it. He lived it back in the 1960s.w
Chris was in Toronto for the introduction of a new series of Canada Post stamps marking the 50th anniversary of the pioneering sci-fi series -- and honouring crew members with Canadian connections, including his dad.
Vancouver-born James Doohan is joined by Quebec-born William Shatner as part of the stamp series.
"My father would often bring my brother and I along with him to the set when the show was shooting," Chris recalled, between bites of a margherita pizza at Toronto's trendy Capocaccia Café. "He would park us in the shuttle craft and tell us to stay put."
Of course "staying put" is a difficult assignment for seven year-old twin boys...and one day they couldn't resist leaving the confines of the shuttle...and going where no child had gone before. As it happened, the day they chose coincided with the shooting of "The Trouble With Tribbles", one of the series' stranger -- and enduringly popular -- episodes.
Tribbles, for those unfamiliar with the species, were small, spherical and cute -- and could reproduce at a prodigious rate. Not an ideal species to have on board a spacecraft with a limited supply of food and oxygen.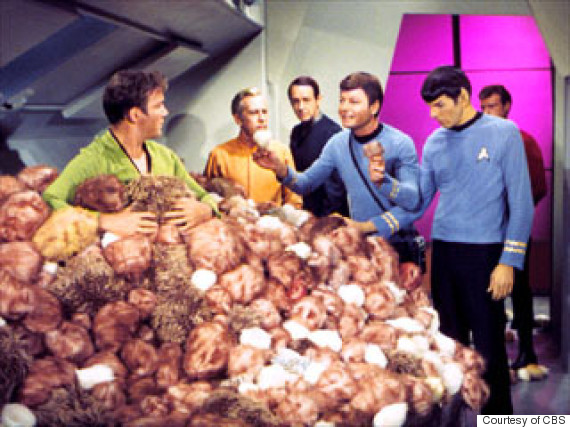 Chris and his brother, Montgomery, crept around the set, keeping away from the active shooting, until they came to three tall cabinets with doors just out of reach.
"We were curious to know what was INSIDE," Chris recalls. "So my brother got on my shoulders and slid the cabinet open. Instantly, more than 200 tribbles came tumbling out, nearly burying us. Not only did it scare us, but we knew we would be in big trouble if Dad -- or anyone else -- found out. So we rushed back to the shuttle. Five minutes later Dad appeared... and praised us for being so well-behaved!"
Thirty years later Chris mustered up the courage to tell his dad the real story.
"And he got mad at me," Chris said with a bemused shake of the head. "It was like it had just happened yesterday!"
Vancouver-born James Doohan is joined by Quebec-born William Shatner
as part of the stamp series.

I asked Chris Doohan if he ever saw any evidence of Shatner's self-proclaimed prowess as a lady's man.
"Funny you should mention that. My dad loved to tell the story of how Shatner was incessantly flirting with a member of the production crew. After days and weeks of this, she finally turned to him and said, 'Bill, give it up. If I was to pick anyone, it would be Jim,' pointing to my dad."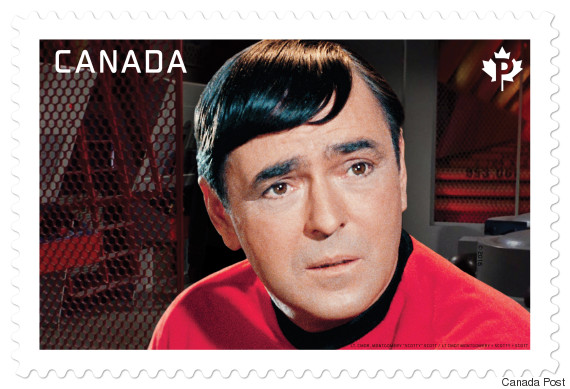 James Doohan was more than just an actor and a Star Trek crew member -- he was a real-life war hero and was also central to shaping elements of the series itself. In the Second World War he was a pilot and took part in the D-Day invasion of Normandy (and was hit by six rounds). In the early stages of Star Trek's development, it was Doohan who suggested that the engineer character be Scottish (in part because he reasoned that Scots were good engineers; in part because he knew he could carry off a good Scottish brogue). He also is credited with helping to develop fictional Klingon and Vulcan phrases.
I asked Chris if I could conduct the rest of the interview in Klingon -- for our Klingon readers. He responded with three Klingon words that he assured me were not fit for a family publication.
While tens of thousands of individuals (including my own spouse) say they were inspired by his father to go into engineering, Chris admits his teen dream was to be a rock star. After achieving modest success with a band called "Mudflaps" (and acting in several films and follow-on projects as part of the Star Trek franchise), he has happily settled into a career as a registered vascular technician.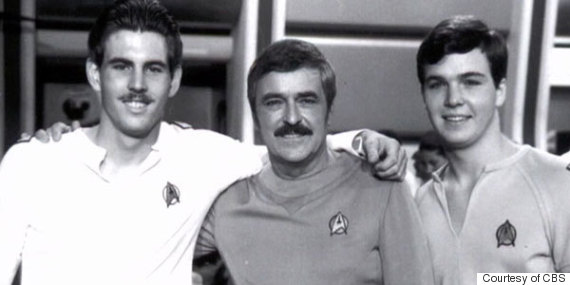 He says he felt no particular pressure to follow in his father's footsteps, nor any of the angst exhibited by some children of celebrities. He says he benefitted from his stardom in terms of meeting people like Leonard Nimoy -- his favourite character, also featured as part of the stamp series.
"And I also get to do things like visit Toronto, a city I haven't set foot in since I was two, more than 50 years ago," he says. And how does he like the Toronto of today?
"I love it. Beautiful architecture -- and I really enjoyed walking around at night, the city was so alive." And not a tribble to be seen.
(Robert Waite is Chair of Canada Post's Stamp Advisory Committee, an unpaid, voluntary position)

Follow HuffPost Canada Blogs on Facebook
MORE ON HUFFPOST:
Ranking Every 'Star Trek' Movie Villain
Most "Trek" fans cite the William Shatner-directed "Star Trek V" as the lamest entry in the franchise, and Sybok (Lawrence Luckinbill) is a big reason why. A Vulcan who's on a most illogical quest -- to find God -- he manages to hijack the Enterprise. One advantage he has is that Spock is his half-brother and therefore can't bring himself to kill him. Sybok puts the ship at risk, both from Klingon attack and from damage from the Great Barrier at the edge of the galaxy. All this, just to find a powerful being who turns out to be a projection of his own id. D'oh!

As in the initial "Trek" movie, the probe isn't really a villain, just a blundering machine that doesn't realize it will destroy all life on Earth if it doesn't get the response it wants from its outgoing message. Turns out that the only creatures who can respond are humpback whales, long extinct. Kirk and company are forced to travel back in time, to our own era, to rescue some whales and bring them back to the future. So, despite being a lame villain and occasioning a preachy environmental message, the alien probe does inspire one of the best "Trek" adventures, one that wittily and poignantly outlines the contrast between the optimistic "Trek" future and our own troubled age.

The villain of the first "Star Trek" movie isn't that much of a villain. In what's essentially a big-screen redo of the episode "The Changeling" from the original series, world-destroying menace V'Ger turns out to be one of NASA's old Voyager probes, having gained new powers and misguided reprogramming during an encounter with a mechanical alien intelligence decades before. After some cosmic bluffing by Kirk, some tinkering by the techies, and the self-sacrifice of new character Capt. Decker (Stephen Collins), all is made right with the universe, and a sense of optimistic awe among the Enterprise crew is restored.

Malcolm McDowell can play sneering villains in his sleep, which is what he seemed to be doing here. He's a mad scientist who's desperate to return to a floating ribbon of time-space distortion called the Nexus, where dreams are made real. Never mind that his manipulations of the Nexus threaten to destroy star systems and kill hundreds of millions. Soran's a dream junkie who won't be denied his fix. He gets some threat-level points for causing (yet again) the destruction of the Enterprise and for being responsible for the sloppy, ignoble death of Captain Kirk, who really deserved better. But otherwise, he's little more than the device by which Kirk passes the "Trek" torch to Jean-Luc Picard and the "Next Generation" crew.

In what unspools like one of the little morality plays that often made up the TV episodes of the various "Star Trek" series, the Enterprise crew get caught up in a civil war on a bucolic planet of seemingly eternal youth, between the well-preserved locals and an exiled faction who've aged grotesquely and hope to strip the planet of its healing radiation for their own exclusive use. Leading the latter faction is Ahdar Ru'afo (F. Murray Abraham), whose mummified appearance is the scariest thing about him. (Well, that and his ability to trick Starfleet officers into attacking each other's ships in the name of science.) Picard handily dispatches him with a trick of his own, and the two groups reconcile and live happily ever after. Abraham admitted in an interview that getting to wear a mask "had me chewing at the scenery." A little of that hamminess is expected of "Star Trek villains, but it goes a long way.

In a plot that's preposterous even by "Star Trek" suspension-of-disbelief standards, Shinzon (Tom Hardy) is a Picard clone who plots to conquer both the Romulan empire and the Federation. Oh, and because he's a rapidly aging clone, he needs to obtain Picard's blood to extend his life. Not that that stops him from nearly destroying the Enterprise out of sheer petulance. (As a Tom Hardy villain, Shinzon's no Bane.) Picard's ultimate confrontation with his young doppelganger ought to carry more weight, but (in a move that rips off the end of "Star Trek II: The Wrath of Khan"), Data upstages the pair by saving the Enterprise via his own self-sacrifice. Just think, if he'd caused Wesley Crusher's death instead, Shinzon could have been a fan favorite.

Eric Bana doesn't Hulk out as a rebellious Romulan named Nero. Like the similar Shinzon of "Star Trek: Nemesis," he just whines a lot. He does manage to turn a personal vendetta against Spock into an all-consuming blood feud, one that claims the lives of Kirk's father, Spock's mother, and (oh, yeah) the entire planet Vulcan. Altering the canonical history of the whole "Star Trek" franchise is, admittedly, pretty badass. And dying by being sucked into a black hole of his own making is some neat poetic justice.

The Klingon General Chang (Christopher Plummer) would have been a scarier villain if he hadn't been so obvious -- first, because of his clearly menacing appearance (he has an eye-patch bolted onto his face) and second, because Plummer plays him with the hammy flourish of the old-school Shakespearean stage actor that he is. Framing Kirk and McCoy for sabotaging Federation-Klingon peace talks, then prosecuting them in a Klingon court and sentencing them to a hard-labor prison planet, Plummer's Chang is all barks and sneers. Still, it takes the Starfleet crew a ridiculously long time to figure out that Chang is one of several co-conspirators trying to sabotage the peace accord themselves. Chang pilots a stealth warship that, unlike most Klingon vessels, doesn't have to shut off its invisibility cloak in order to fire, but Spock figures out the ship's weakness, allowing the Enterprise to destroy it. Tough break, Patchy.

Back in the olden days, when Klingons were still belligerent enemies and not uneasy allies of the Federation, Commander Kruge (played by an unrecognizable Christopher Lloyd) proved to be one of the more badass Klingon warriors. Hoping to snatch the life-generating Genesis device as a Klingon weapon, Kluge comes into conflict with the Enterprise. Not only does his bird-of-prey warship attack Kirk's vessel, but he's also responsible for the capture and execution of Kirk's son, David, and indirectly responsible for the destruction of the Enterprise. A grief-stricken Kirk and Kluge finally go mano-a-mano on a precipice overlooking a lava pit, even while the Genesis planet is moments away from blowing itself up. Kirk wins and makes his usual hair's-breadth escape. It's all pretty silly and old-fashioned, but the Kluge subplot does make for a nice distraction from the cheesy resurrection-of-Spock main plot.

As in "Star Trek II: The Wrath of Khan," one of the best of the "Star Trek" TV villains also makes for one of the best of the movie villains. In this case, it's the Borg, the hive-mind race of cyborgs, who briefly assimilated Capt. Picard during the "Star Trek: The Next Generation" episode "The Best of Both Worlds." In the second and best of the "Next Generation" movies, a haunted Picard must confront the Borg again when they travel back in time to prevent Earthlings from building their first interstellar spaceship, meeting aliens for the first time, and founding the Federation. The movie Borg are even scarier than the TV Borg, thanks in no small part to the Borg Queen (Alice Krige), alluring, arrogant, and treacherous. Her near-assimilation of Enterprise android Data evokes the great theme of "Star Trek," the question of what it means to be human. In the case of the Borg, their vestigial humanity proves to be their greatest vulnerability, while for Picard and even Data, it's their greatest strength.

Khan Noonien Singh (Ricardo Montalban) had been one of the more charismatic villains on the original series. A genetically engineered superman who had once tried to conquer Earth, and then the galaxy, he'd been left by the Enterprise to colonize and rule a distant world. But as we discover in "Star Trek II," that planet had been all but destroyed in a cosmic accident, killing Mrs. Khan and leaving the weatherbeaten ubermensch howling at the universe for Kirk's blood. Finally, the Capt. Ahab-quoting Khan gets his chance for revenge when the unlucky Chekov lands on his blasted planet. (Khan takes over his mind by letting a nasty-looking scorpion-like creature crawl into Chekov's ear.) After a space battle that kills poor Scotty's cadet nephew, Khan appears to succeed in his plan to take all that Kirk loves and abandon him to the same desolation he endured. (Hence Kirk's galaxy-filling cry of anguish and rage: "KHAAANNN!!!!") Then again, maybe Khan hasn't read "Moby-Dick" that closely, or he'd have remembered that the whale kills Ahab. Kirk escapes from captivity and mortally wounds Khan in another space battle. The dying villain quotes Ahab one more time before striking a potentially lethal blow at the Enterprise. Kirk ultimately saves his ship but loses his best friend, Spock, in an act of pragmatic self-sacrifice. Khan is the best villain, then, because he is the one who acts not out of power-lust or misguided good intentions, but out of sheer personal spite, and he's also the one who's grand quest for vengeance forces the Enterprise to make contact with high tragedy worthy of the Melville, Dickens, and Milton works its officers love to quote.
Follow Robert Waite on Twitter: www.twitter.com/RobertWaite8