There's An End In Sight In The Fight Against Mass Incarceration
My colleague and I recently attended a conference at New York's Columbia University entitled Beyond the Bars: Transcending the Punishment Paradigm. The premise of the weekend's talks exposed the structural workings of the American prison system and initiatives in play that are dedicated to ending mass incarceration.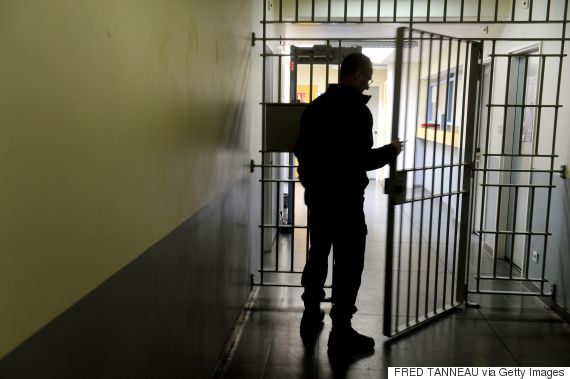 (Photo: Fred Tanneau/AFP/Getty Images)
Panels were composed of individuals from various walks of life, most of whom had been directly or indirectly affected by violence and incarceration. At the end of the three days of discussions, workshops and presentations, we categorized our findings into two very distinct areas: what's working and what's not working. I'll start with the latter in order to lay the foundation for the existence of some incredible projects that are peering through the cracks of a particularly backwards and senseless justice system.
What's not working
As many already know from documentaries like The 13th or Michael Moore's Where to Invade Next, there are over 2.3 million incarcerated individuals living within the walls of both federally and privately run facilities in the U.S. If the country were to reduce its prison population by 50 per cent, it would still be a world leader in mass incarceration. There are various factors in motion that perpetuate this negative cycle and fuel the American prison-industrial complex.
In the United States, the "prison pipeline" is a term used to describe the continuous flow of individuals who will eventually come into contact with the system. The pipeline begins with eight- and nine-year-olds, as the reading and math scores from black and brown children in Grade 3 are used to estimate the future number of beds required in a particular correctional facility. Instead of targeting the educational weaknesses of this demographic, the country has decided to use these learning deficits as a capitalist advantage and means to sustain mass incarceration.
While the pipeline feeds the prisons, the facilities themselves effectively keep the negative cycle in motion.
The concept of a prison pipeline is a fundamental stain on the country's structural make-up, and the mentality that accompanies its existence has major implications upon the inner workings of the facilities. All the skills that are required of an individual to survive within an American prison are all of the things that are counterproductive to surviving in society on the outside. Incarcerated individuals experience shame, isolation, an inability to meet their economic needs and violence (Sered, D. 2017.) These four elements also happen to be the root causes of social deviance and acts of violence. So, while the pipeline feeds the prisons, the facilities themselves effectively keep the negative cycle in motion.
With the election of U.S. President Donald Trump, the pipeline has rapidly furthered its reach. The fastest-growing prison population in the United States are those who do not have documentation. With Trump's pledge to incarcerate 2 to 3 million illegal immigrants, it's no wonder the stock prices of private prisons soared after he took the oval office.
The root causes of crime and violence have been identified in the U.S., yet instead of trying to remediate the issues with preventative strategies, the system uses the causes to pump people into the cycle. Phrases like "structural racism" and "capitalist agenda" were commonly heard over the course of the conference, and from where we were sitting, it wasn't difficult to see why this was the activist language being used to describe the circumstances.
What's working
Despite the foundational flaws in the American justice system, the initiatives dedicated to education, reform, and rehabilitation are both organized and effective. The "what's working" section of our analysis comes in the form of activist movements, support groups and community-based projects.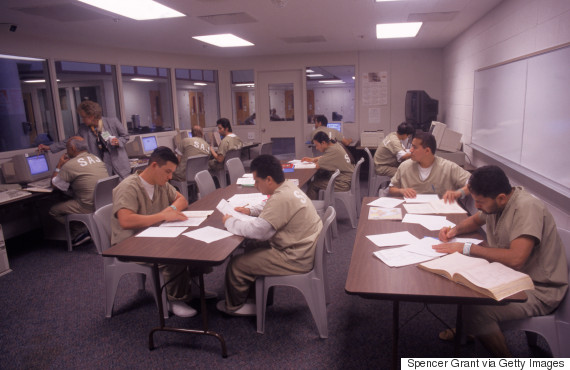 Inmate study program in Santa Ana, Cali. (Photo: Spencer Grant via Getty Images)
New York's Hudson Link for Higher Education in Prison offers incarcerated men and women the chance to earn a college degree and provides support programming during post-release. The organization was founded in 1998 and is run by formerly incarcerated individuals, making it the only 501(c)3 non-profit of its kind. The recidivist rate among Hudson Link's graduates is four per cent, a mere fraction of the national recidivist rate of 67 per cent.
During Sunday's workshops, we were introduced to a student club out of East Los Angeles College called Homeboy Scholars. The club was started by Adrian Caceres, a formerly incarcerated college student who wanted to provide non-traditional and part-time learners with a campus community. Going back to school after being incarcerated is a daunting task that can be incredibly overwhelming. Homeboy Scholars is helping these learners connect with their academic journey and is motivating them to continue on the right track.
While in the city, we took the opportunity to meet with Shaun Leonardo. Shaun is an influential artist who collaborates with Brooklyn Justice Initiatives to offer a diversion program for minors convicted of misdemeanour offences. Despite their young age, these individuals are treated as adults in New York's criminal court. Shaun and the SoHo non-profit art space, Recess, have teamed up to educate at-risk youth in the performing arts and to help them discover their inner talents as a means to express their personal narratives. The unique element to this program is that prosecutors are able to close the young person's case and wipe their records after their full participation in the program. These young people are offered rehabilitation, reintegration and a second chance.
The existence of these organizations play a crucial role in helping those affected by incarceration.
Finally, we spoke with Aaron Charlop-Powers from the Centre for Court Innovation. This is a public/private partnership between the New York State Unified Court System and the Fund for the City of New York. They focus on creating and operating programs, conducting direct research and helping with the reintegration process. This organization has been up and running since 1993, and it has proven successful in reducing crime and incarceration. They now function as a permanent pathway to achieving justice reform.
The existence of these organizations play a crucial role in helping those affected by incarceration. The passion behind these projects and the positive impact they're making in the United States has inspired my colleague and I to push for more organized initiatives here in Canada.
While we may not have the same incarceration numbers, private prisons or overt existence of a prison pipeline, Canada has seen an increase in incarceration over the last decade, and this population continues to be over-represented by black, brown and Latino youth. To us, this highlights a need for open discussion among educational leaders, the justice system and public representatives. With more public awareness and organization among community-based projects that specifically target this demographic, we can offer these young members of our society a more optimistic future.
For more information about Literal Change or to donate to our cause, visit our website at literalchange.com
Follow HuffPost Canada Blogs on Facebook
Also on HuffPost:
5 Countries Proving Prisons Can Work For The Benefit Of Everyone
Norway has one of the lowest re-conviction rates in Europe, at 20%, and 71 prisoners for each 100,000 population, roughly half the UK total. Dubbed the "world's most human prison system" it operates on the principle that custodial sentences restrict the freedom of movement only - and not prisoners' other rights. And there's an intense focus on rehabilitation. "Progression through a sentence should be aimed as much as possible at returning to the community," the government says. One prison, Halgen in the north of the country, has attracted international media attention due to its design - likened to university halls by some media - as well as its ability to serve the prison system's priorities. At Halgen Prison, prisoners: are able to cook meals for themselves have access to ensuite facilities can work in retail stores and other jobs earn points to spend on site have access to scenic running routes within landscaped, secure grounds have large windows with plenty of natural light However, Norway's system became so overcrowded last year it sent 300 prisoners to the Netherlands.

The Netherlands has just 69 prisoners per 100,000 population and has enough capacity in its prisons to accommodate criminals from other countries. Routines exist to rehabilitate "persistent offenders", and those who are motivated can develop skills related to: self care and hygiene; labour; education; spending of leisure time; financial administration; unsupervised settling; and social attitude However, while it pursues many policies aimed at rehabilitation of inmates, some of these have been severely curtailed in recent years. Single-use cells are no longer mandatory, while the amount of hours devoted to activities each week reduced still further. Nonetheless in 2013, it was reported that declining crime rates in the Netherlands meant that although the country has the capacity for 14,000 prisoners, there were only 12,000 detainees.

Denmark has a reconviction rate of 29% -- as opposed to England & Wales' 49% -- and it has 61 prisoners per 100,000 citizens - far fewer than the UK. The number of women guards in Danish prisons has been noted as having a calming effect on majority male inmates. Women are more likely to reduce tensions, and prisoners are more likely to make an effort to talk to them - more so than with their male counterparts. Annette Esdorf, deputy director general of the prison and probation service in Denmark, explained the philosophy to the BBC: "We make an effort to keep crime down by treating the prisoners in the best way. We have a rather humane regime, not because of the prisoners, but because we think it works better this way. "Our prison regime is based on normalisation, a principle of openness and responsibility, because we think it's the best way of avoiding reconviction."

Sweden has a remarkably low prison population rate at just 55 per 100,000 citizens. "Sweden's remarkable prison system has done what the U.S. won't even consider," Mic.com reported last year, stating, "prisons in Nordic countries are designed to treat (prisoners) as people with psychosocial needs that are to be carefully attended to." It is this philosophy which guides Sweden's correctional system. Director-general Nils Öberg told the Guardian: "It has to do with whether you decide to use prison as your first option or as a last resort, and what you want your probation system to achieve. "Some people have to be incarcerated, but it has to be a goal to get them back out into society in better shape than they were when they came in." Rather than "static security" roles, guards in Swedish prisons adopt "dynamic security" - fostering interrelationships between staff and inmates for the benefit of rehabilitation and safety.

Unlike many prisons across the world, Germany has placed an emphasis on pleasing decoration and home comforts - even those as simple as ceramic toilets and wash basins, opposed to the expected stainless steel. It has roughly half the prison population of the UK, at 76 inmates per 100,000 citizens. On a visit to a German prison alongside US justice officials, Vice News found: "Most prisoners have knives and forks in their cells. Though the prisoners cannot access the internet, they have telephones in their rooms, and they can call anyone—even the media." While reconviction rates are around 48%, special efforts are made to reintroduce offenders into society - aided by German culture.
Follow Robyn Keystone on Twitter: www.twitter.com/literalchange