Rush Hour Meals For Back To School And Work
September signifies the end of out-of-office emails for adults and 24/7 playtime for kids. It can be hard to get back to a routine, especially if summer has meant a lot of BBQing, late dinners and ice cream cones for dessert.
Between work deadlines and kid's schedules piling up with activities and homework, getting a fulfilling homemade dinner on the table (that everyone actually wants to eat) can seem near impossible.
The importance of a healthy family meal can't be overstated -- obesity rates are climbing, and so are chronic diseases, many which are tied to poor diet and lifestyle. It's not only affecting adults, but our young children as well, and at an alarming rate. Preventing these illnesses and poor eating habits in our kid's lives starts now. A solid foundation of healthy eating is so important and parents are the key to instilling that in the next generation.
Don't let a busy schedule overwhelm you -- it is possible to make homemade meals during the week!
Watching my daughter and her husband balance busy, demanding careers and twin two-year-old daughters inspired me to develop new recipes for my latest book, Rush Hour Meals, which were both modern in taste, healthy and doable after work -- not to mention satisfying for the whole family.
It can be so tempting to reach for takeout or processed instant meals during the week, sacrificing nutrition due to a busy schedule -- not to mention having to fight your dinner table critics, with kids lamenting the same rotation of food.
Don't let a busy schedule overwhelm you -- it is possible to make homemade meals during the week! Try these recipes from Rush Hour Meals below, for fast, delicious meals that can be easily adapted to anyone's palate! Each recipe has a section to guide you to make the recipe even more kid-friendly.
Gnocchi with Squash, Kale and Parmesan
For Kids: Try making this with either baby kale or spinach, which tend to be sweeter and slightly more tender than large kale leaves.
Makes 6 servings.
1 tsp vegetable oil
1 cup diced onion
1 1/2 tsp minced garlic
Salt and pepper
1 1/2 cup diced peeled butternut squash
1 cup diced red bell pepper
1 lb gnocchi (about 1 3/4 cups)
8 cups lightly packed chopped trimmed kale leaves
3/4 cup freshly grated Parmesan cheese
⅓ cup shredded light mozzarella cheese
1. Preheat the oven to 425°F. Spray a 9- × 13-inch casserole dish with vegetable oil.
2. In a large skillet over medium heat, heat the oil. Add the onion and cook for about 3 minutes, until softened. Add the garlic, salt, pepper, squash and red pepper and cook for 5 minutes, stirring often, until the squash is tender. Transfer to a large bowl.
3. Meanwhile, bring a pot of water to a boil. Add the gnocchi and return the water to a boil. Boil for 4 or 5 minutes, just until the gnocchi rise to the surface and are tender. Stir in the kale during last 2 minutes of cooking. Drain well.
4. Add the cooked gnocchi and kale to the squash mixture and gently toss to combine. Sprinkle with the Parmesan, and gently toss to combine.
5. Transfer the gnocchi mixture to the prepared baking dish. Top with the mozzarella. Bake for 5 minutes or just until the cheese has melted.
Prep Time: 10 minutes
Cook Time: 18 minutes
Nutritional Information per Serving
Calories 234
Carbohydrates 41 g
Fibre 4.1 g
Protein 10.2 g
Fat 4.5 g
Saturated Fat 2.1 g
Cholesterol 12 mg
Sodium 625 mg
Asian Turkey Burgers and Slaw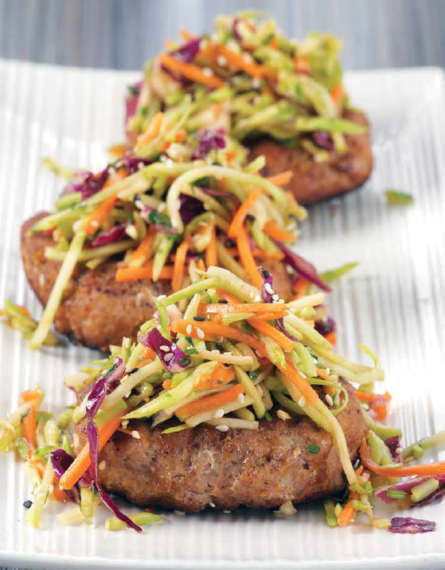 For Kids: Turn this burger into mini sliders for kids. Turkey contains vitamin B12, important for a child's brain function. If they don't like a store-bought slaw, simply serve this with some grated carrots. Omit the Sriracha.
Makes 4 servings
1. Make the burgers: In a bowl, combine the turkey, panko, 3 Tbsp hoisin, 1 1/2 tsp ginger, garlic, onion, soy sauce, 1 tsp Sriracha and 1 tsp oil. Divide the mixture into 4 equal portions and, using your hands, form into 4 patties.
2. Preheat a grill or heat a skillet to medium-high. (If using a skillet, lightly spray with vegetable oil.) Cook burgers for about 5 minutes per side or until cooked through and temperature reaches 165°F on a cooking thermometer.
3. Make the slaw: In a large bowl, toss together the coleslaw, cilantro, hoisin, oil, ginger, Sriracha, and sesame seeds.
4. To serve, divide the burgers the serving plates. Top each serving with slaw.
Prep Time: 15 minutes
Cook Time: 10 minutes
Nutritional Information per Serving
Calories 262
Carbohydrates 15.6 g
Fibre 2 g
Protein 24.1 g
Fat 11.7 g
Saturated Fat 2.6 g
Cholesterol 75 mg
Sodium 467 mg
Greek Salad with Roasted Potatoes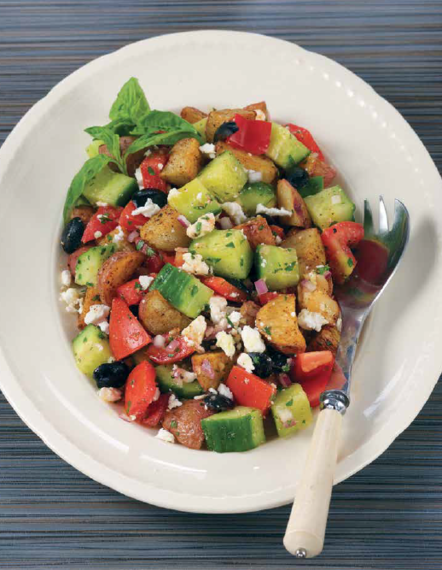 For Kids: To appeal to a child's tastes, dice all the vegetables, since kids often prefer to eat small pieces of food. You can substitute the feta cheese with diced mozzarella, mild cheddar or Havarti cheese. Omit the red onion or replace it with chopped green onion.
Makes 8 servings.
1 1/4 lb baby red potatoes, quartered
1/4 tsp chili powder
1/4 tsp garlic powder
1 1/2 cups cubed (1 inch) plum tomatoes, with juice
1 1/2 cups cubed (1 inch) English cucumber (unpeeled)
1 cup cubed (1 inch) red bell pepper
1/2 cup diced red onion
1/4 cup diced pitted black olives (optional)
3 oz crumbled light feta cheese
3 Tbsp extra virgin olive oil
3 Tbsp fresh lemon juice
1 tsp minced garlic
Salt and pepper
1/4 cup chopped fresh oregano or basil leaves
1. Preheat the oven to 450°F. Line a baking sheet with foil and lightly spray with vegetable oil.
2. Arrange the potatoes in a single layer on the prepared baking sheet. Sprinkle with chili and garlic powders. Lightly spray with vegetable oil. Bake in the preheated oven for 15 minutes or just until tender.
3. Meanwhile, in a large bowl, combine the tomatoes, cucumber, red pepper, onion, olives (if using), cheese, oil, lemon juice, garlic, salt and pepper and oregano. Add the baked potatoes and toss to combine. Serve.
Prep Time: 5 minutes
Cook Time: 20 minutes
Nutritional Information per Serving
Calories 153
Carbohydrates 18.8 g
Fibre 2.6 g
Protein 4.6 g
Fat 6.9 g
Saturated Fat 1.7 g
Cholesterol 3.1 mg
Sodium 196 mg
Fresh Tomato Soup with Grilled Cheese Croutons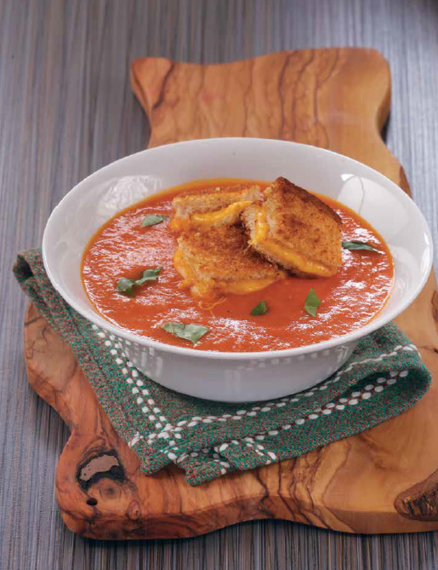 For Kids: No tweaking necessary! Kids love this combo. Plum tomatoes make for a better pick than canned with this recipe.
Makes 4 servings.
Soup
2 tsp vegetable oil
3/4 cup chopped sweet onions (such as Vidalia)
1 1/2 tsp minced garlic
4 cups chopped plum tomatoes (about 8), with juices
1 cup reduced-sodium vegetable or chicken stock
1 1/2 Tbsp tomato paste
2 tsp granulated sugar
1/4 tsp salt
1/4 tsp black pepper
1/4 cup chopped fresh basil leaves, for garnish
1 batch Grilled Cheese Croutons (recipe follows)
1. In a non-stick saucepan lightly sprayed with cooking spray, heat the oil over medium heat. Add the onions and garlic and cook for 3 minutes, until the onions are softened. Stir in the tomatoes, stock, tomato paste, sugar, salt and pepper. Bring to a boil. Cover, reduce the heat to low and simmer for 15 minutes.
2. Working in batches, purée soup in a blender or food processor until smooth (hold the lid down with a towel to prevent hot liquid from leaking).
3. Ladle the soup into serving bowls and garnish with the basil. Top each bowl with 2 grilled cheese croutons. Serve immediately.
Grilled Cheese Croutons
Makes about 2 cups
2 oz shredded light cheddar cheese
2 slices whole-wheat bread
1. While soup is cooking, sprinkle 1 slice of bread evenly with the cheese. Sandwich with the remaining slice of bread.
2. Heat a skillet over medium-high heat. Lightly spray both sides of bread with vegetable oil and cook in hot skillet for 2 minutes per side, just until the cheese melts and the bread is lightly browned.
3. Cut the sandwich into 8 squares. Serve.
Prep Time: 10 minutes
Cook Time: 20 minutes
Nutritional Information per Serving
Calories 228
Carbohydrates 26.7 g
Fibre 3.3 g
Protein 9.5 g
Fat 9.5 g
Saturated Fat 4.4 g
Cholesterol 18.8 mg
Sodium 521 mg
Follow HuffPost Canada Blogs on Facebook
ALSO ON HUFFPOST:
How To Eat Healthy At Work
Buy your vegetables in advance, chop them how you like, and store them in containers in the fridge for the week, says registered dietitian Kiran Bains of edovivo. "You're more likely to use the healthy food in your fridge when it is convenient and ready to use."

One you get meal prepping down, eating healthy during the day is easy. "When grocery shopping, I choose two proteins that I will enjoy for the week and about five to six different veggies," Bains says. Try making your batches on Sundays and Wednesdays (to keep your menu fresh) and for starches try variations of rice, sweet potatoes, wraps, quinoa and pastas high in fibre.

For some of us this may be a wrap or a stir-fry or a rice bowl. Whatever your favourite meal is, stick to it during the week. "My go-to meals are stir-fries, wraps, soups, and salads when it comes to lunch items and of course, I love using left-overs from my dinner meals whenever possible," she says. If you're having chicken dinner, use leftover pieces for a wrap or salad the next day.

"One of my favourite things to do and easiest ways to get all of your food groups into a meal is to make a soup from leftovers," Bains says. If you're cooking chicken or beef, use the bones to create a broth. To keep things healthy, make sure you add as many vegetables as you can to your pot of soup.

"If you decided to splurge on that sugary baked good that's been calling your name in the cafeteria, try to find an option that is higher in fibre like a bran cookie or bran muffin," she adds. Not only this, but combine your snack with peanut or almond butter for the added protein.

Keep snacks that are high in healthy fats, fibre and protein at your desk. Try nuts and seeds, fruit and low-sugar granola. And just like snacks, hydration is always important, Bains says. Make sure you keep a water bottle handy.

"Set Outlook reminders to snack throughout the day if you're one of those people that forgets to eat during the day. Snacking throughout the day and keeping yourself hydrated is a great way to ensure your portions aren't blown out of the waters when it comes to your main meals," she says. You can also use apps on your phone and set reminders to drink water and eat a healthy snack!

We don't need to tell you which office snacks to avoid. But if you aren't ready to give up your mini doughnuts and chocolate bars just yet, think about portion control. "When I do splurge on sugary items, I like to keep the portion size to just half the size of the palm of my hand in mind," Bains says. "If I'm still hungry, I'll increase the amount of protein that I'm having with it, to make up for that loss."
Follow Rose Reisman on Twitter: www.twitter.com/rosereisman