What if Whole Communities Were Willing to Live Off-Grid?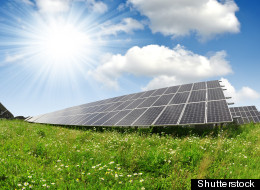 The ferocity of the storms were hard to ignore in the five years we lived in Washington, D.C.
Summer or winter, big storms would seem to arise out of nowhere, causing a lot of destruction, human and otherwise, throughout the U.S. Northeast.
Scores would lose power during these weather events. Days turned to weeks before electricity would return to the cold and dark, or stifling and dark, homes.
In the process people got mighty fed up with the power utilities. Many felt the profit-making behemoths were stingy about getting work crews out to put things right. On top of this, sometimes gas stations would be knocked out, further stranding residents in a 21st century apocalyptic scenario.
Yet you could argue that utilities were really just the middlemen in all this. They were just trying to make a profit and keep the lights on at the same time. And heck, are they to blame for nature's wild path of late?
But here's a solution. What if we got rid of the middleman? That broker who stands between you and the power source. After all, this is a trend revolutionizing society over the last few years -- from the travel agent to the bricks and mortar bank. A host of intermediaries have been replaced by the computer on your desktop or in your hand.
To get rid of utilities you need to have your own power sources, such as solar and wind. Motley Fool and Bloomberg, among others are raising the idea in recent articles, examining whether the big U.S. utilities are vulnerable in the rapidly changing marketplace where consumers can increasingly develop their own energy sources and opt out of the grid. NRG, a massive U.S. power company, was singled out as a company going straight to the consumer and making an end-run around the traditional utilities.
From the Bloomberg article:
"Bypassing its utility clients, NRG is installing solar panels on rooftops of homes and businesses and in the future will offer natural gas-fired generators to customers to kick in when the sun goes down, Chief Executive Officer David Crane said in an interview.

"Consumers are realizing "they don't need the power industry at all," Crane, 54, said in an interview at this year's MIT Energy Conference in Cambridge, Massachusetts. "That is ultimately where big parts of the country go."

Where are we heading with all this? Let's think of some of the possibilities.

It's great if a house can have its own solar panels and even micro wind turbines to generate power. And a household can always sell power back into the grid. But that's kind of boring: you are still working with the man (or the grid as it may be).

What if a group of home owners in a neighborhood got together to build their own power sources. And instead of selling excess goodies back into the system, what about storing the power in batteries. Batteries, however, are expensive. But what if the power was stored in cars owned by the homeowners? What if the power was used to keep the lights going at a community center or an old age home?

What if this concept was used at an office park and excess power was stored in a fleet of commercial vehicles? Power could also be stored in battery stations where a car running low on juice could swap out for a new battery.

Such communities and office complexes would offer clean energy, sure. But because it would be disconnected from the grid, it might be quicker to get up and running after a big storm -- while not so well endowed homes and businesses would still be awaiting for the big truck to arrive from the power utility.

It's good to dream. But perhaps it's the model we should be implementing because those weather events look to be getting worse and unlikely to get better, ever.
5 Things Canada Should Do To Be A Green Energy Power
Renewable energy projects require time and money to get off the ground. So if Canada intends to expand its green economy, says Robert Hornung, president of the Canadian Wind Energy Association, industry needs to have a sense of the size of the market for renewable for energy that governments want to create. In jurisdictions such as Ontario and Quebec, for instance, he says governments have done a good job of setting targets for the share of renewable energy to incorporate into the mix by 2015. But beyond that point, "the direction [...] is less clear." "It takes time to develop wind energy projects. If you're hoping that a wind energy project is going to be up and running in 2016 or 2017, you need to start working on that project in 2013," he said. "If there's no signal that there's actually going to be a market for these projects nobody is going to start doing that work."

With role models like Denmark and Germany, which have undertaken ambitious renewable energy policies with gusto, Canada needn't reinvent the wheel to become a leader in the green economy. But before looking overseas, environmentalists point to expanding what's already working within our own borders in provinces like Ontario, where the government has pledged to phase out coal energy by 2014 and create 50,000 green economy jobs by 2015. "We need more policies like in Ontario," said Tim Weis, director of renewable energy and efficiency policy at the Pembina Institute, a non-profit think tank based in Calgary. In Ontario, the sector is supported up by a feed-in tariff program that pays guaranteed prices for renewable energy, as well as subsidies for firms that manufacture renewable energy technologies in the province. But Weis says there is a need to develop a "broader and more consistent market" for green technologies. "Ontario is a big market and it's going to do well in terms of developing manufacturing capacity for wind and solar, but what we need is to expand that market to other parts of Canada so we have a bigger domestic market," he said.

What's one of the quickest ways to support the growth of Canada's green economy? Stop subsidizing the production of oil and gas, says Adam Scott, green energy project coordinator at Toronto-based Environmental Defence. At present, he says, subsidies for fossil fuel-producing sources of energy, particularly at the federal level, dwarf support for renewable energy -- which he sees as a major roadblock to advancement. "Everybody complains about why we are subsidizing green energy, but it's because we're trying to level the playing field with all these other subsidized forms of energy," he said. "Subsidizing fossil fuels really has a huge drag on the development of renewable energy." Putting a price on carbon that's consistent and country-wide would also help, says Tim Weis, director of renewable energy and efficiency policy at the Pembina Institute. "We need a market signal that levels the playing field and lets everyone know where we're going on this," he said. "It's pretty important that that happens at a national level so it's well coordinated across the country, and everyone is looking at the same picture."

Improving the energy efficiency of buildings and construction projects tends to be "the poor child" of efforts to grow the green economy, says Tim Weis, director of renewable energy and efficiency policy at the Pembina Institute. But if Canada wants to up game in the green economy arena, he says that must change. "[Improving energy efficiency] pays for itself, it has usually the fastest and the strongest bang for your buck in terms of actually reducing emissions and reducing energy, so it really needs to be at the top of the list," he said. That means developing more initiatives like the federal government's former ecoENERGY Retrofit program, which granted homeowners up to $5,000 to improve the energy efficiency of their homes by installing everything from better insulation to high-efficiency windows. The program expired at the end of last month. Though Weis says that particular program was "fairly successful," he estimates that 90 per cent of the homes in Canada could still benefit from an upgrade. "That's still a big area that we need to be working on nationally," he said.

"[The Conservative government] is always saying that Canada is an energy superpower, but they're very selective in what energy fits that bill," says Adam Scott, green energy project coordinator at Toronto-based Environmental Defence. As he sees it, getting serious about growing Canada's green economy will require federal support for renewable energy, and a national strategy for incorporating wind and solar into the overall energy mix. "Ontario is doing very well, Nova Scotia is developing renewable energy and some of the other provinces are looking at it, but without a national approach, Canadian companies are limited to [what] these local jurisdictions are doing," he said. This concern is shared by Ontario Energy Minister Chris Bentley, who says, "The world is going green." "I would have thought that every government that wants to support jobs and prosperity would want to participate in the green energy economy," he said. "I anxiously await their decision to be part of that in the future."
Follow Russ Blinch on Twitter: www.twitter.com/@RBlinch