How Menstrual Cups Are Changing Lives in East Africa
Women around the world consistently face unique, gender-specific barriers when it comes to staying safe and healthy. Women are at higher risk for contracting HIV/AIDS, malaria, pneumonia, as well as sexual assault and related complications. Many of these issues are beyond our control, and linked to deep-rooted cultural practices that would take decades to alter.
However, there are some issues that can be addressed, and have surprisingly simple solutions with remarkably impactful outcomes. Menstruation is a huge barrier faced by women around the world, and improper management and hygiene practices often lead to serious health concerns, as well as harmful social practices.
In Kenya, the average cost of a package of sanitary pads is 75KSH -- approximately $1 CAD. While this may seem like a minimal amount of money, the average daily income for unskilled labourers is around $1.50 CAD, meaning that purchasing sanitary supplies each month is not financially possible for thousands of women.
Without access to proper sanitary supplies, women and girls will resort to using alternative methods of menstrual management -- such as leaves, newspaper, rags, cotton, bits of mattress stuffing, even mud. Not only do these methods not work, but they can lead to serious infections and discomfort. Not to mention how uncomfortable they are to wear during the day.
Providing access to healthy and sustainable menstrual management materials allows women to stay safe, and healthy, and does not sacrifice her ability to participate in work, school or daily activities.
Menstrual cups are made out of surgical grade silicone and are inserted into the vagina to collect, rather than absorb menstrual fluid, and are overall a much healthier option for a woman's body. Unlike tampons and pads that contain harmful bleaches and chemicals, menstrual cups have no negative side effects on a woman's body and there is no threat of Toxic Shock Syndrome.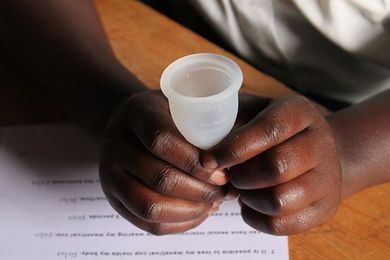 When inserted correctly, the cup sits about half an inch inside the vagina, and creates a vacuum seal to prevent leakage. The cups provide 12 hours of comfortable, leak-free protection, and can be reused for up to 10 years -- making it an economically wise and sustainable solution. For women in North America, it makes your period simple and hassle-free. For women in developing countries, it can be a life-changing solution.
Menstrual cups create economic freedom and relieve the financial burden of menstruation. Without having to budget for sanitary pads each month, women are better able to provide for themselves and their families.
Having 12 hours of protection allows women to go about her life without having to worry about locating latrines -- a major challenge in many communities. It also allows her to control her body -- emptying the cup when she has the time for a shower.
For schoolgirls, having a menstrual cup allows them to attend school -- every day of the month. Girls in Kenya will miss an average of 4.9 days of school each month because of her periods, adding up to around 20 per cent of the school year. Giving a schoolgirl a menstrual cup means she no longer needs to leave school to find a latrine during the day. She is no longer afraid of leaking, and being mocked by her classmates. She can sit comfortably in class and participate in school activities. She no longer needs to skip breakfast to buy pads.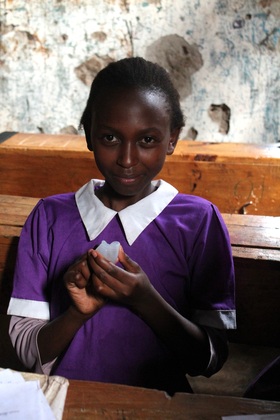 Keeping girls in the classroom allows them to excel academically, and increases their odds of continuing on to post-secondary school, and becoming influential and respected members of society.
Femme International's Feminine Health Management Program distributes menstrual cups, along with the essential education and hygiene materials to schoolgirls in East Africa, helping them stay safe, health and in school -- every day of the month. To donate a menstrual cup, or a Femme Kit, to a girl in need, please visit Femme's Holiday Giving Campaign.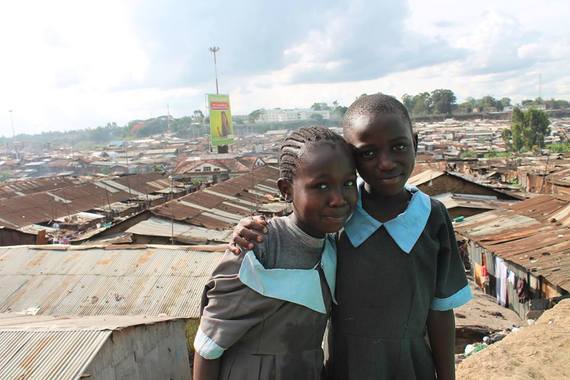 ALSO ON HUFFPOST:
What it sounds like: A really bad horror film about a group of teens who drive their car out into the woods and get haunted by a ghost. But what you're actually referencing: There are cramps, and yes, blood to deal with, but getting your period isn't a curse of any sort — it's part of being a woman of a certain age. Periods involve our ovaries releasing eggs, while hormonal changes prepare our uteruses for pregnancy. See ... not so scary.

What it sounds like: A really cool and urban aunt who likes to listen to hip hop and buy vinyl records But what you're actually referencing: Aunt Flo only visits once a month (a 28-day cycle to be exact). She is kind of uncomfortable, annoying and her conversations never stops flowing...

What it sounds like: Your really really really old aunt who has a kind soul. But what you're actually referencing: Similar to her sister Aunt Flo, Aunt Rose seems to be the nicer of the two: Because we all know things like rose petals and rose bushes resemble menstruation.

What it sounds like: Like you have a giant wound and you can't stop bleeding. Ever. But what you're actually referencing: You're being pretty literal here, but yes, a period means you're bleeding from your vagina.

What it sounds like: A really trendy urban cafe. But what you're actually referencing: The dot/dots that appear on your liner, pad and sometimes on your bed sheets and underwear. Also, dot = period.

What it sounds like: Not just any friend, but a really annoying friend you don't like. But what you're actually referencing: Sometimes we try to make the best of what life throws at us by staying positive and remembering our periods can be our friends.

What it sounds like: When the plumbing went wrong ... for a week. But what you're actually referencing: Again, the leak refers the constant flow of blood coming out of your body. We also assume people are referring to leaks they get on their pants or bedsheets. The worst.

What it sounds like: Time of the month sounds like a hush-hush thing that happens to your body that only you and members of a secret club understand. But what you're actually referencing: TOTM refers to time of the month when your period is taking place — just so we're all on the same page.

What it sounds like: A newsletter or a magazine that comes out once a month But what you're actually referencing: To add emphasis that everything is cool with your flow and your period only happens once a month.

What it sounds like: Teenage slang But what you're actually referencing: PMS actually stands for premenstrual syndrome, and isn't a synonym for your period at all.

What it sounds like: A dirty old cloth you use to wash your dishes and floor But what you're actually referencing: The rag is closely related to the pad or tampon we wear during periods... and how uncomfortable it is. It's also an unfortunate visual.

What it sounds like: This river in China! But what you're actually referencing: We're not sure with the obsession of words like "river," "water" or "flow" when it comes to describing your period. Our best guess? The assumption that when a woman is on her period, she is forever bleeding.

What it sounds like: It sounds like what it is, the bleeding elevator from the 'The Shining.' But what you're actually referencing: Periods are scary and women bleed and if you see/talk about this blood, something terrible will happen. Get a grip, people — the only thing frightening about periods is using phrases like "the shining" to describe it.
Follow Sabrina Rubli on Twitter: www.twitter.com/sabrinarubli