Not All Periods Are Created Equal
Women of the world, listen up! If you have ever considered making the switch to a menstrual cup, this is the time to do it.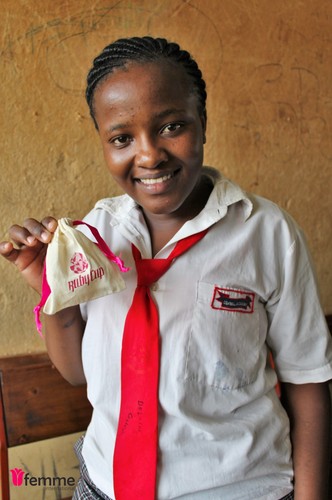 Since 2013, Femme International has been working with Ruby Cup to provide women and girls in East Africa with menstrual cups to help them manage their periods in a safe, healthy and sustainable way.
Menstrual cups can be reused for up to 10 years and provide 12 hours of comfortable, leak-free protection. Not only do they remove the financial burden of menstruation while being eco-friendly, but they allow girls to attend school all day without having to worry about her period. Without having to find a safe and private latrine to wash herself. Without having to resort to rags or tissues because she wasn't able to purchase pads this month.
Menstrual cups may be life-changing for women in Kenya, but all women can benefit from switching to a cup. Cups are made from high-quality surgical grade silicone and can keep tens of thousands of tampons out of landfills. They are comfortable and easy to use, and through initiatives like the Buy One, Give Two campaign, you can create a real and lasting impact on a woman's life.
On May 28, the world will celebrate Menstrual Hygiene Day -- a day dedicated to talking about menstruation as a global issue. As a woman's rights issue, a health issue, an empowerment issue.
Not all women have access to the tools they need to manage their menstrual cycles.
We all know exactly what it's like to get our period at the worst possible time. To run to the nearest pharmacy to buy emergency tampons, and then to feel like our uterus is getting stomped on, over and over again.
It may not be our favourite week of the month, but it is something that we've learned to live with. It is a topic that every woman must contend with during her lifetime, one that every woman is intimately familiar with, and yet it is also something that we rarely think about and discuss in a public venue.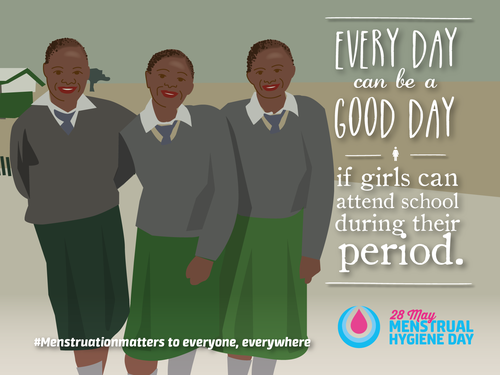 That is why Menstrual Hygiene Day exists -- to bring the issue of menstruation into the spotlight because not all women have access to the tools they need to manage their menstrual cycles.
Millions of girls around the world will miss school each month because of their periods. Because they don't have sanitary supplies, because they don't understand what is happening to them, or because they are taught that it means they are unclean and dirty. Menstruation is all too often a source of shame and embarrassment for women and girls, stemming from age-old cultural taboos and customs.
It doesn't have to be this way. Young girls have enough challenges to deal with without having to worry about her own body.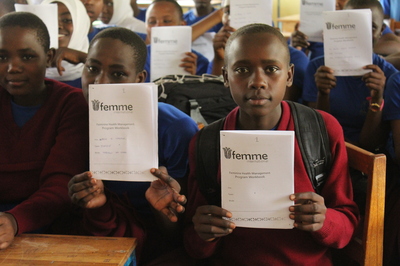 Femme International uses health education to empower girls to feel confident, every day of the month. Through specially designed educational workshops, Femme offers essential reproductive and menstrual health and hygiene information, and distributes menstrual management supplies.
A girl in Kenya will miss an average of four days of school each month because of her period. Femme and Ruby Cup are working hard to change this, and now you can get involved, too.
Femme International has been distributing Ruby Cups since 2013, and the results speak for themselves. Girls have reported improved school attendance and performance. They feel confident and are able to participate in fun activities with their friends.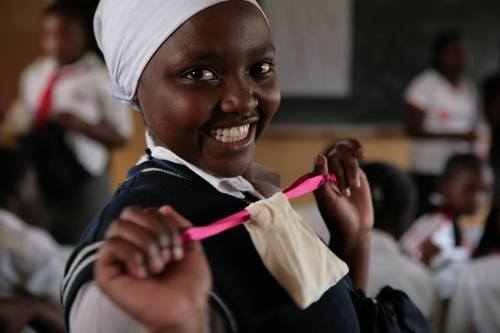 "I do more things during my period because I am using a Ruby Cup. All the time I feel comfortable, and I can play without any obstacles."
This year, celebrate Menstrual Hygiene Day by making your period more sustainable, and empowering a woman in East Africa to do the same. Because menstruation matters, and all women deserve to manage their periods with dignity.
Donate to Femme International's educational programs here.
Follow HuffPost Canada Blogs on Facebook
MORE ON HUFFPOST:
How to prep your daughter for her first period
Less of an option for dads, moms can be open and transparent about their own bodily experience from the time their daughters are young girls. By openly discussing your own period, the supplies you use, and your memories about early menses, you will help your daughter normalize the experience of monthly bleeding. By being the one to start this honest conversation, your daughter will feel comfortable coming to you when she has questions about her period.

Be open and honest with your daughters (and your sons) about what a first period looks like and feels like. Spend some time reacquainting yourself with the facts about a first period. A woman's first period is often spotty, brownish in colour and might last only a couple of days. First periods are often absent of any PMS-like symptoms, and a girl might think that she is just getting a flu. Don't hesitate to show her pictures of a woman's reproductive system and explain the role that menstruation plays in a woman's life. The most effective way to help our daughters feel relaxed about their first period is by demystifying it -- and no better way than through education.

For many girls their biggest fear is getting their first period when they aren't expecting it or are away from home. There are some stellar girl-focused companies that make 'first period' kits for tweens and teen girls -- complete with some portable supplies. If you are crafty and inclined, consider making your daughter her own personalized kit. Just grab an array of supplies, a clean pair of underwear, a carrying case that reflects her personality and maybe a diary to record her thoughts on all things puberty! Let her tuck the kit into her school bag or an overnight bag so that she never has to worry about getting her first period while away from home.

Accepting that the supplies you use for your period might not be the supplies that are right for her is a great way to help your daughter see how personal and unique everyone's period is. Grab a couple of different menstrual products, such as reusable pads, tampons and menstruation cups, and show her how they work. Creating a special spot for these products in your home, will help highlight for her how special and important her period can be.

Harness the internet to help enhance your daughter's (and son's) perspective on menstruation. Although Disney seems to have taken a back seat in menstruation education after creating this 1946 video, there are some stellar videos and websites out there to help your daughter understand the changes that are happening in her body. Kotex has a well-monitored website where girls share their own first period story, an incredible on-line resource for any parent.

Is your daughter a reader? Filling your home with some book-based resources can be a great way to help her get into the groove of what is happening with her body. Some great fiction options include: 'Are You There God, It's Me Margaret' by Judy Blume. For a slightly older group of girls you can check out 'My Little Red Book' by Rachel Kauder Nalebuff. In the non-fiction department, 'Cycle Savvy' and 'Period: A Girl's Guide' are both amazing resources.

In the "don't do" department: avoid framing menstruation as an "illness" or as something that she should keep secret. Our tweens and teens shouldn't see menstruation as a dirty or inhibiting bodily function, but rather as a powerful step in her journey towards becoming a woman. Embrace this change as a time to be more open about other body experiences and, if developmentally appropriate, see it as a time to discuss sex, sexuality and sexual health.
Follow Sabrina Rubli on Twitter: www.twitter.com/sabrinarubli