New Dining Trends And Innovations To Look Out For This Year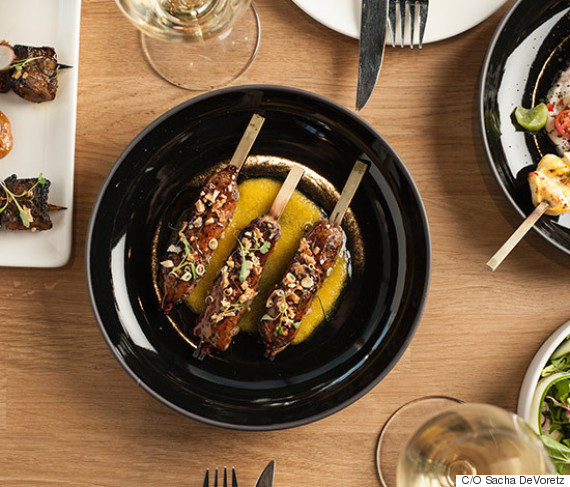 I love innovation in all forms. Technology, design and new dining experiences.
Recently, I was fortunate enough to speak with Mo Jessa, President of Earls Restaurants. Mo just opened the new restaurant, Earls 67 in Calgary, Alberta. An innovative restaurant which is looking at new ways to dine out. Mo shared with me the latest in dining trends.
What are the new dining and food trends this year?
"Restaurants that don't force you into an experience they want you to have, rather anticipating your different needs and designing the restaurant around those needs," says Mo.
He continues, "Multi-purpose spaces for multi-purpose uses is the direction for dining."
Mo thinks that the overall future of going out, will be people entertaining less at home, meeting friends at engaging places that suit their mood. They want to experience many different things in a restaurant.
What are micro and macro food trends?
Mo shares, "Consumers are desperate to trust that the food that they eat is sustainable, and responsibly sourced and produced. They want to order freely, knowing they can trust the restaurant they are dining in to have done that due diligence for them."
He continues, "Restraint and consumption -- guests want the option to order with restraint; clean food, raw foods, low or no gluten, healthy ingredients that are addictive because of the flavours, yet (sort of) guilt free. They want to reward themselves for that restraint with consumption of "more" later in the week; a great glass of wine, less healthy choices, a shot of great tequila, an amazing, goopy, cheese burger."
Good junk food. Taking a junk food inspiration, reimagining it with real or fresh ingredients. Nostalgia. These are all the latest trends in eating out.
Mo stated that "keep it simple spirits" is a new trend to look out for. "Understanding that not everyone wants a complicated craft cocktail, sometimes they just want a simple spirit and mix," he says.
He also thinks that refined sugar is the new gluten. Like low glycemic starches, less refined sugar makes the sweet, perhaps not healthy, but less unhealthy -- or the fix, a plain soda flavoured with a kola tincture, for example.
How is the restaurant and dining experience evolving?
Mo's vision is that dining will become a tailored experience -- consumers want to be in control of everything. What they put in their bodies... they want to have the ability to use the restaurant/menu in a way that fits the reason that they are there, providing something for everybody.
It will become an option to engage or not. Think private booths and long tables, tailored for whatever experience you are seeking.
Why is this occurring (the evolution in dining experiences)?
Mo states, "Increased urbanization, smaller living spaces, and busy lives. People are using restaurants in different ways (e.g. hosting dinner parties). The pressure of spending all day cooking or rushing home to cook a meal for visitors is too much for many working people, instead, buy some great local beers and order takeout for everyone, or host them for dinner in their favourite local restaurant, the Parisian way."
What are the new flavours and tastes that are coming out now?
After travelling the world, Mo has developed a keen sense for the new food trends. These tastes include adding different flavours from middle Eastern ingredients like annatto seed, nigella seeds - bold flavours, spices and heat.
Another trend that Mo has become familiar with is Central South American - Peruvian flavours (the city of Lima, the top new restaurant in London and South American chefs alike are being recognized on the world stage).
Mo shared, "Not food 'inspired' from the culture, but authentic food from the culture."
Mo thinks it is all about keeping it simple, back to the basics and at the same time elevating the dining experience. Food should be fun and enjoyed.
Another new twist are surprises like preserved lemon. A food profile from another culture, tossed into a dish you would not expect to see it in.
A strong dining trend is addictive food. You just ordered one, and you have to order another. Even if it's a veggie dip.
Looking forward, Mo says he will be enjoying "creamy textures without cream. Even the sweet has acid so your palate is kept fresh."
Another trend Mo sees in restaurants are for beverages. This will include tinctures and bitters that provide a familiar taste without the "bad" stuff. Think a kola tincture with soda, root beer bitters, flavours that add layers and familiar flavours without calories, weight or guilt.
Any other food or dining trends coming in the near future?
Mo thinks that more people will enjoy time spent with friends and casual sipping.
"Attitudes to alcohol drinking are undergoing a major shift as increasingly convivial consumers move away from drinking to get drunk, to sipping to stay social. It's not about getting drunk, it's actually about spending time with friends and using it as a social enabler," says Mo.
Mo adds, "Nostalgia and comfort in a fresh, current reimaging are going to be a part of the dining experience. Also, look for Raw foods incorporated into mainstream recipes."
I will be thinking about all of these great dining tips and trends this summer!
Your suggestions are always welcome, as I continue on my journey to live life to the fullest. Let's have the very best summer ever!
Disclosure: This video was partially sponsored by the businesses featured in this video. This video and post also appear in SachaD.com, and all opinions in the post and video are completely my own.
Visit Sacha daily at SachaD.com
Facebook
Youtube
Twitter
Instagram
Follow HuffPost Canada Blogs on Facebook
MORE ON HUFFPOST:
22 Restaurants To Check Out For Summerlicious 2016
Colette Grand Café This French cafe is offering up an entirely vegetarian menu for this year's summerlicious menu. Check it out here.

Kasa MotoThis Japanese restaurant is perfect for intimate dinner dates. For the full experience be sure to order one of their delicious cocktails or some sake to go with your meal. View the menu here.

Montecito Located right behind the TIFF Bell Lightbox, this swanky lounge offers up Italian fusion with an impressive California wine list. Check out the menu here.

Azure Enjoy modern Canadian cuisine under a stunning setting. View the menu here.

Annona Located in Yorkville's Park Hyatt hotel, this Mediterranean restaurant is perfect for an intimate dinner. View the menu here.

BannockLocated across from Old City Hall, Bannock offers an innovative contemporary Canadian menu. View the menu here.

Bar Buca This Toronto hotspot can get quite pricey on its own, so take advantage of the reduced price and delicious eats during summerlicious. View the menu here.

Bent Famed chef Susur Lee cooks up delicious Asian-fusion fare at this Dundas West restaurant. View the menu here.

Bestellen Top Chef Canada alum Rob Rossi serves up mouthwatering steaks and European fusion at this Little Italy favourite. View the menu here.

Cafe Boulud Celebrity chef Daniel Boulud cooks up exquisite French cuisine at this fancy Four Seasons restaurant in Yorkville. View the menu here.

Fabbrica This authentic Italian eatery, part of The McEwan Group, is offering up mouthwatering mains for both lunch and dinner. View the menu here.

Harlem If you're craving Southern comfort foods, look no further than this Richmond East restaurant which will be serving up classics like Jambalaya, Blackened Catfish, and Chicken and Waffles. View the menu here.

Lamesa Filipino Kitchen For only $28 you can enjoy Filipino fusion dishes like duck lumpia (spring rolls), Zucchini Ginataang (steamed veggies in coconut milk) and ube leche flan (purple yam custard cake). View the menu here.

Lisa Marie This Queen St. staple brings street food indoors with offerings like carne asada, flautas and Seoul fried chicken. See the full menu here.

Ufficio Seafood lovers rejoice! This entirely pescatarian restaurant is offering up some incredible Italian seafood dishes for only $28. View the menu here.

R&D Enjoy delicious Asian fusion in the heart of downtown's Chinatown. Stand-out dishes include torched salmon belly and mango panna cotta. View the menu here.

Prohibition Gastrohouse At this pub you'll enjoy stacked burgers, duck confit poutine and one the best mac and cheese dishes in the city. View the menu here.

Nota Bene Topping off Air Canada's EnRoute magazine as "Canada's best new restaurant," this modern eatery offers a wide variety of local eats like Nova Scotia lobster bisque and Ontario pork rib chop. Check out the full menu here.

Momofuku Daishō If you haven't experienced this Asian-Canadian fusion restaurant yet, you're really missing out. For $28 you can enjoy a filling lunch featuring BBQ pork buns, grilled trout and cheesecake or head over for dinner and enjoy pork shoulder or fried rock fish for $48. View the full menu here.

Los Colibris Enjoy authentic Mexican dishes like mariscos soup, enchiladas rojas and churros. View the menu here.

Canoe Thanks to Summerlicious, you won't have to wait for a special occasion to check out this swanky Toronto staple located at the top of the Toronto Dominion Bank Tower. View the menu here.

Luckee Susur Lee's latest venture offers up Chinese dishes with a twist. Try the Asian "Coq Au Vin" or Char Sui Beef Short Ribs followed by a sweet chocolate sponge roll. View the full menu here.
Follow Sacha DeVoretz on Twitter: www.twitter.com/SDeVoretz