Top Travel Style Trends For 2017
I have been travelling a lot lately, and I realized that just because I am in a new place, does not mean that my style has to go out the door. In fact, it is possible to look and feel great when you're travelling with a few easy tips.
Recently, I was lucky enough to speak with Bradley O'Brien, Executive Vice President of Design and Product Development for Tommy Bahama. Bradley shared her insights on the top travel style trends for both women and men.
Here are Bradley's style tips on how you can look and feel great on your next trip: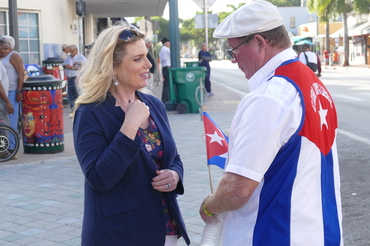 Author (Sacha) in Little Havana - Miami
What are the top travel style trends for this season?
When it comes to travel, comfort is king, and the on-going "athleisure" trend is making everyone feel much more comfortable in transit. "Athleisure" is all about taking technological fibers and materials from the active world and marrying them with sportswear styling so that you don't have to look like you've just come straight from the gym.
These garments have technical properties which function, perhaps to keep you cool or wick moisture, as well as features and benefits, such as stretch which also have comfort attributes. Stretch also allows for more movement, and creates less wrinkles.
On flights now, I see a lot of travelers in athletic inspired knit tops, stretch woven bottoms and even stretch denim, who can arrive in style, while staying extremely comfortable.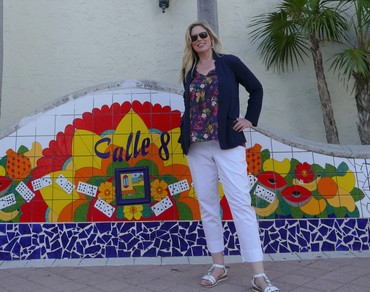 Author (Sacha) in comfy style in Miami
Which colours and styles are popular this season?
Look for colours that tend to be bright and fun. Early in holiday we have vivid jewel tones: cherry red, sapphire and purple which play off of core neutrals, black, navy, oatmeal and grey. These are festive and fun and set the tone for the holidays. In the later part of the season there are bright citrus tropical colours balanced with salt washed mid-tone pastels, which are more appropriate for resort wear.
If you were going to start with one new look this season what would it be?
Dresses. I am really excited about the broad range of dress options: from knits sundresses, spa dresses and simple shifts, to magnificent printed and embellished woven, they are versatile in their wearing occasions, pack and travel well, and are incredibly comfortable.
You can slip on a dress and feel pulled together in an instant. Just add accessories and the right shoe and you are ready for whatever comes your way.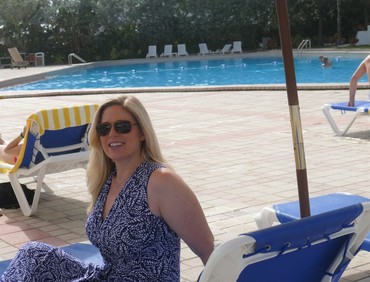 Author (Sacha) by the pool in Miami
How are people wearing these new trends now?
They are wearing the athleisure trend head to toe or mixing key pieces off of sportswear. It all depends where you are going and the reason for your travel. I think it's more sophisticated and interesting to be able to mix the pieces back to traditional sportswear.
What are the trends for men this season?
We are seeing some great new hybrid outerwear/sweater combinations, elastic waist and drawstring pants, five pocketing styling on non-denim fabrications, with global warming we are seeing more season-less sweaters (I call them pan-seasonal) for longer wear-ability and sumptuous knits.
Any other style tips?
Layer! It's always better to be able to add or remove a layer as needed, and it helps you look more polished.
Do you have any packing tips so you look great when you arrive?
I typically try to pack a specific colour palette. In the spring it may be navy and white, in the fall neutrals. This makes it easier to mix and match items, and get more wear out of each piece, which leads to (hopefully) a smaller bag! I try to wear each item 2x, and refresh as much as possible with footwear and accessories.

When travelling I consider my departure city and my destination and try to pull a look together which looks appropriate for each. For example, from Seattle to Hawaii, I would wear white jeans (yes, it is ok to wear white denim 365 day a year!) a tropical silk camisole and a lightweight knit blazer.
Shoes no socks. I always carry a wrap too, since the temperature on airplanes can be so unpredictable, which also doubles as a blanket, and I always bring my travel pillow, so I arrive looking rested. When I land the blazer is quickly stashed in my carry-on bag, not to be seen for the remainder of the trip, and the white jeans may get rolled a bit at the cuff.
No socks keep me cool and comfy, and the printed camisole looks just right in the tropical locale. Versatility is so important, and making sure the items you select can take you from the beach to the bar to the bonfire! Aloha!
Keep an eye out for my blog, where I will continue to share the top travel style tips for feeling your best self. If you have any questions about travel style or fashion for 2017, please leave your comments below and I will do my best to find the answers for you!
Visit Sacha daily at SachaD.com
Facebook
Youtube
Twitter
Instagram
Follow HuffPost Canada Blogs on Facebook
Also on HuffPost:
Travel Lessons From Our Favorite Movies
"It's dangerous business going out your front door," Bilbo Baggins famously advises his nephew Frodo before he sets off on his heroic adventure. As much as we try to avoid the headaches of travel, there's no denying that to a certain extent, travel is about discomfort. However, our hardest moments are where we find our best stories and if you decide to venture out of your comfort zone, you'll find the adventure you've been dreaming of. RELATED: Lord of the Rings and Hobbit Filming Locations in New Zealand (Photo: Hobbit Village via Shutterstock)

Before Sunrise is the story of two strangers who meet on a train and decide to get off together and spend a night roaming around the streets of Vienna. The whole movie is a conversation between Celine, a French woman, and Jessie, an American, getting to know each other and falling in love. They take a chance on each other and it pays off. Traveling is an excellent opportunity to meet new people, but sometimes you have to be the one to work up the courage to start a conversation. You never know what could happen. RELATED: Romantic Europe: Places in the Heart (Photo: Eye Ubiquitous/Getty Images)

No story in recent history has inspired as many travelers as Elizabeth Gilbert's quest to find herself after her divorce. As she travels through Italy, India, and Bali in the course of a year, the audience stays with her for every revelation along the way. Eat, Pray, Love is a story about using experiences gained from travel to heal old wounds and find new meaning in life that will help you along on your journey. (Photo: Meditation in Bali, Indonesia via Shutterstock)

Whether you're planning to steal an ancient artifact from an army of Nazis or just trying to visit as many museums as you can by the end of the day, you can't expect everything to go perfectly. Between delayed flights, bad weather, and straight-up bad luck, travel is full of variables and as hard as you might try, you can't be prepared for all of them. In cases like these, it's time to channel your inner Indiana Jones and start thinking on your feet. (Photo: Machu Picchu via Shutterstock)

As we learned from Titanic, even "unsinkable" ships can sink. Your dream vacation might be planned out down to the last restaurant reservation, but that doesn't mean much when Mother Nature decides to crash the party. Always be prepared for the worst. RELATED: Travel Insurance 101: Everything You Need to Know Before You Buy (Photo: Thinkstock/iStock)

On her mission to hike the Pacific Crest Trail, Cheryl Strayed suffers throughout and is never truly safe. But despite her overweight pack and blackened toes, she pushes on and braves the elements. She finds support in a friendly community of fellow thru-hikers, but for the most part she is on her own. Her story of solo travel and willpower teaches us that all it takes is a little bit of bravery to go out on your own and accomplish your goals. RELATED: Seven Epic Walking Trails Around the World (Photo: Thinkstock/iStock)

Sometimes we get so caught up in taking in the sights and sounds of a new city, we find ourselves suddenly and totally lost. It's easy to feel scared, especially if you don't have Google Maps, but it's important to remember that little girl from Kansas who also once found herself in a strange new place. Dorothy was unafraid to ask for help and directions and she did it in the kindest, sweetest, most Judy Garland way possible, which is probably why she was able to befriend so many locals and find her way back home. What movies have inspired you to travel? (Photo: Andy Kropa/Getty Images) Read the original story: Travel Lessons From Our Favorite Movies by Jamie Ditaranto, who is a contributor to SmarterTravel.
Follow Sacha DeVoretz on Twitter: www.twitter.com/SDeVoretz