Elephant Death Toll Rises As World Awaits Supreme Court Verdict
When will it stop? That's the question many of us in the animal rights movement are trying to grapple with, as the death toll of elephants in Kerala continues to rise. In just over eight months, 16 captive and five wild elephants have died due to human interference -- that is more than two elephants a month.
The most recent casualty was a bull elephant named Manissery Devidathan, only 52 years of age. According to the Heritage Animal Task Force (HATF) Secretary, Mr. Venkitachalam, this elephant was forced to stand beneath the scorching sun in the same spot for more than a week, his hind legs paralyzed due to immobility, part of his right ear missing after ruthless torture, and his body swollen. For almost his entire life, this elephant was forced to participate in festivals, and transported between districts, with no rest during the festival seasons, a fate that all captive elephants of Kerala endure.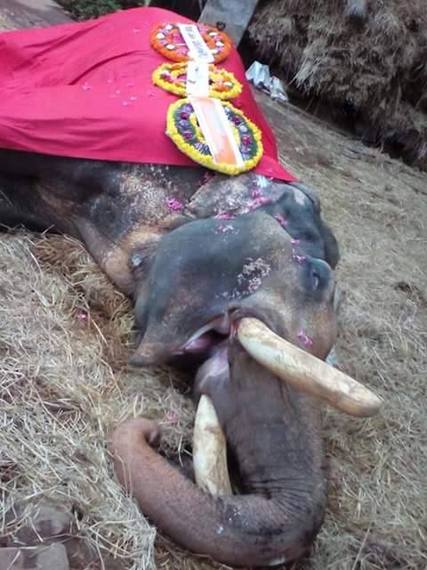 They lay wreath on his body after torturing him to death. Photo by Rajeev N Kurup
The same evening a 32-year-old cow elephant Jayasree, also died at an awfully young age! She was used illegally for elephant rides at a privately owned Valara Elephant Center in Idukki District. The HATF Secretary claims the center isn't authorized to ride elephants as it doesn't have the registration certificate required by the Performing Animals (Registration) Rule 2001, and this is a punishable offence.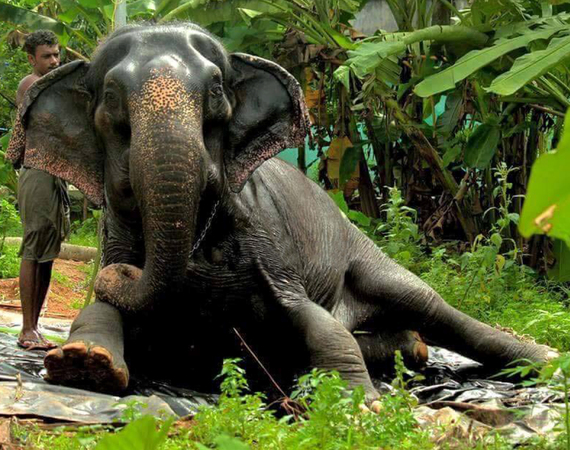 This image was taken a month ago inside the unauthorized elephant ride center. Photo by HATF
On September the fourth, even as people in Mumbai were ushering in Lord Ganesh (the most popular Hindu God with an elephant face) for his birthday celebrations, a young elephant died a miserable death. The 22-year-old bull named Lakshmanan was tethered 24/7 and unable to move. His puss filled legs in this image below reveal sad tales of torture and neglect. He was owned by a man named Shaji, whose family is said to possess 18 elephants.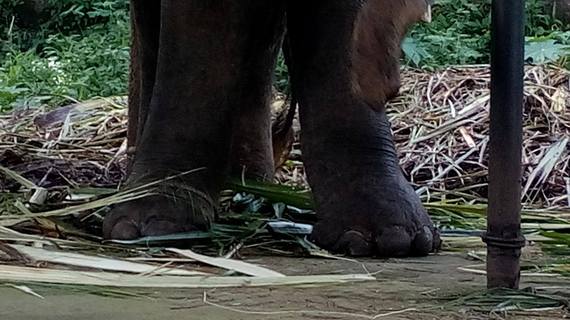 Sad plight of 22-year-old Lakshmanan. Photo by Rajeev N Kurup
Wild Asian elephants are also in peril. The forests are shrinking as people are encroaching into the wilderness, pushing elephants into smaller areas and sparse vegetation. So naturally, these elephants return to the agricultural land that once belonged to them. Sadly, poisonous pesticides and electrical barb wires have killed at least five elephants this year alone. They are doomed if they live in the forests and doomed if they come out, as human activities are decimating them.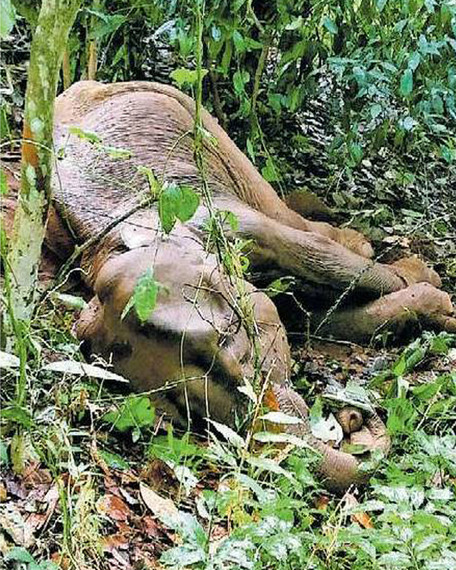 A young calf dead near a tea plantation in Wyanad District. Photo by Venkitachalam
On September 8th a young calf, just six years of age was found dead inside a Tea Estate near the Wayanad forests, poisonous pesticides seem to have caused the tragic death. On August 25th a cow elephant was electrocuted in the same area. But no arrests have been made in connection to even the previous deaths of four wild elephants spanning over the last four months.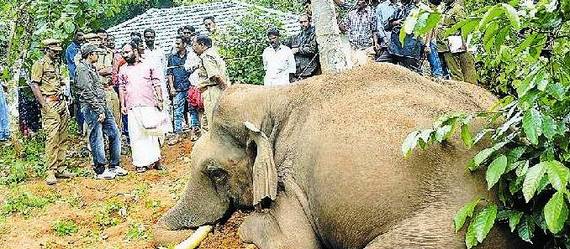 A female elephant was electrocuted near Wyanad forests. Photo by Venkitachalam
Human-elephant conflict isn't new to India. With 1.3 billion people living in a 3.3 million square kilometer area, the less than 26,000 Asian elephants stand no match against the humans that continue to multiply by the second. According to Dr. Raman Sukumar, a world renowned ecologist and professor at the Indian Institute of Science interviewed for Gods in Shackles documentary, out of the approximately 40,000 Asian elephants around the world, more than 60 per cent of them thrive in India, with 4,000 to 4,500 elephants in captivity. The International Union for Conservation of Nature has declared Asian elephants an endangered species. They were elevated to India's heritage animal status in 2010, and are considered to be the embodiment of Lord Ganesh.
But regardless, the reverence that was once bestowed upon these gentle giants has deteriorated drastically in the past few decades. These sentient, social animals are being used as cash machines and exploited for profit in circuses, zoos, tourism and worst of all in cultural festivals under the guise of religion. Not a single species on the planet is as deceptive and destructive as human species.
So, when will this suffering end? In April 2015, the Wildlife Rescue and Rehabilitation Center launched a petition against the states that use captive elephants for entertainment and tourism. Several hearings and 16 months later the Supreme Court of India is expected to deliver a verdict in the next two weeks. And the world anxiously awaits a judgement that will seal the fate of an iconic animal.
Follow HuffPost Canada Blogs on Facebook
ALSO ON HUFFPOST:
Wild Asian Elephants, Elephas maximus in Khao Yai national park This photo is published under the Creative Commons Attribution-Share-Alike Licence. You are free to use this image, but only with attribution under the same licence together with the following credits: Owner: Tontantravel.com Link: http://www.tontantravel.com/tours/en/khao-yai-tours.html

The Bull..... The magic of the photographing a large bull elephant in dark and overcast conditions. Gracefully feeding and watch over his herd. This is my first genuine photographic post for 2014 . I hope to share more from this collection of images in the next few weeks as I get them finalised . Looking forward to publishing my new website this quarter and also loads of fresh new work.

It's quite a sight :)

This is a libre photo. Feel free to copy it, to modify it, to use it as you want, as long as you say my name and give the same freedom to your public (whenever it is a modified version of my photo or not). For more details about what you can and cannot do, please read the Free Art License: http://artlibre.org/licence/lal/en/

Picture taken in the Selous Game Reserve, in Tanzania

Picture taken in the Selous Game Reserve, in Tanzania

Elephants in up north are different from the elephants in south india. They are aggressive. one needs to be careful when you are around them.

Remember if you would like to sign up for my monthly newsletter which will roll out at the end of the month please sign up here http://eepurl.com/NFOQf as well as on my blog. Facebook - https://www.facebook.com/TimothyGrieselPhotography Website -http://timgphotography.wix.com/timothygrieselphotography 500px - http://500px.com/TimothyGriesel You may share this image as presented here under the Creative Commons Attribution-NonCommercial-NoDerivs 3.0 licence (CC BY-NC-ND 3.0). This means you can share as long as you give me the credit for the photo and link back to my website or this Facebook page. Using the "share" button on Facebook is idea. Please don't use my image for your own personal use without my knowledge, stealing isn't a very nice thing to do.

Okavango Beautiful Social Networks to Follow me on: |   Zimanga Photographic Safari   |   Photographic Newsletter   |   Facebook    |   Website    |   Google+   | |   Timothy Griesel Photography Google+ page   |   500px   |   Photographic Safaris   |   Instagram   |   Youtube   | Copyright Owner: Timothy Griesel Photography, please do not use this image without my consent

Calf is well protected by the mother and other female members.

Facebook - https://www.facebook.com/TimothyGrieselPhotography Website - http://timothygriesel.co.za/ 500px - http://500px.com/TimothyGriesel Photographic Safaris - http://www.pangolinphoto.com/#_a_tg Copyright Owner: Timothy Griesel Photography, please do not use this image without my consent

Follow me also on Instagram: AMPMOX

Elephant in Samburu National Park, Kenya

Not the greatest picture but I thought this was an illustration of one aspect of Kaziranga's natural history. Elephant grass is perhaps the most aptly named grass. Growing with gay abandon in the flood plains of the Bramhaputra, this grass dwarfs even elephants with its towering size.

Crit and comments welcome :) Facebook - https://www.facebook.com/TimothyGrieselPhotography Website -http://timgphotography.wix.com/timothygrieselphotography 500px - http://500px.com/TimothyGriesel

One nice evening deep inside the forest, I found this young elephant enjoying fresh grass….

Elephant in Zoorasia, Yokohama

He lifted his trunk to check if I am going to make any harm to him.
Follow Sangita Iyer on Twitter: www.twitter.com/Sangita4eles