Genetic Discrimination Puts Women At Risk. Let's Put An End To It
March 8 is International Women's Day, a time to reflect on milestones in women's rights and equality. It is also an opportunity to address continuing equity gaps and other challenges facing women today. This year, International Women's Day happens to be the day on which Parliament has an opportunity to pass Bill S-201 and, in so doing, enhance the health and well-being of countless women across Canada.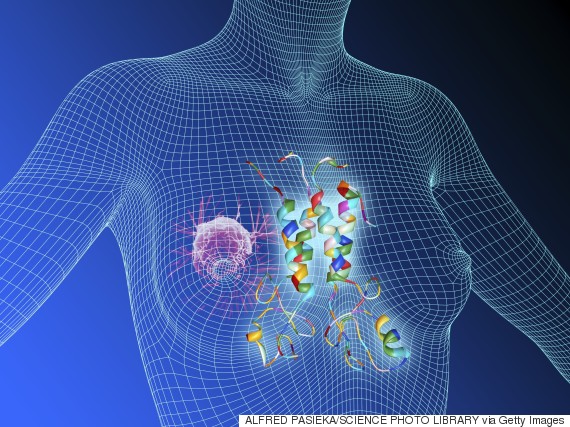 A molecular model of breast cancer type 1 susceptibility (BRCA1) protein. (Photo: Alfred Pasieka/Science Photo Library via Getty Images)
S-201 would institute a federal ban on genetic discrimination. Today, there is no law preventing anyone in Canada, including employers or insurance providers, from demanding genetic test results or discriminating based on genetic information. Canada lags behind in this regard as the only G7 country without specific protections against genetic discrimination. Consequently, fearing punitive abuse of the results, countless Canadians refuse testing.

This is tragic and unacceptable, particularly for a country that places so much value on our universal health-care system. Thanks to advances in genetic research, testing now holds the key to preventing many major illnesses -- and these benefits are likely to grow exponentially in the coming years. This issue is a clear example of the law failing to keep pace with scientific progress.
Canadian women have a major stake in these developments and in the fight against genetic discrimination. Take, for example, the BRCA genetic markers linked to a heightened risk of breast and ovarian cancers. Women with these markers have as much as an 85 per cent chance of developing breast cancer and as much as a 60 per cent chance of developing ovarian cancer. Among the general population, these numbers are 11.7 per cent and 1.4 per cent, respectively. Early detection of the BRCA marker through genetic testing enables patients to monitor and manage their health, taking preventative action that can significantly diminish -- or virtually eliminate -- their cancer risk.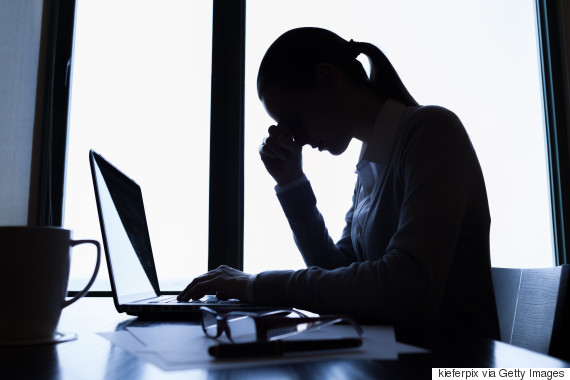 (Photo: Kieferpix via Getty Images)
For a young woman taking her first steps in building a professional career, the "wrong" genetic test results can impose a new glass ceiling -- enabling employers to deny her advancement in the workplace because she is at risk of developing breast or ovarian cancer in the future. Compounding the issue, discovery of a genetic mutation might lead to exorbitant insurance premiums. And yet, should she avoid genetic testing, she will forgo the benefits of early detection, monitoring and intervention that could save her life. How can this be allowed to persist in 2017?
Specific segments of society are particularly at risk. Jewish women of European descent are 10 times more likely than others to have the BRCA marker, which explains why the Jewish community has proactively engaged all parties on the Hill to urge passage of S-201. Other ethnic groups -- including some First Nations, French Canadian, African, South Asian and Scandinavian communities -- are also disproportionately likely to inherit genetic markers associated with serious illnesses.
In 2017, no Canadian would accept discrimination based on such genetically determined factors as sex or skin colour. As a matter of principle and common sense, MPs from all parties should unite to pass Bill S-201, which will make it illegal to discriminate on the basis of one's genes.
MPs would be wise to pass S-201 in its entirety to support women's health on International Women's Day.
This is not a partisan issue, as demonstrated by the unanimous support S-201 received in the Senate, the House at Second Reading and the House Justice Committee. In fact, during the last election, the Liberals, Conservatives and New Democrats all pledged to support legislation banning genetic discrimination. This consensus is laudable and all too rare in politics, but it is ultimately fruitless if MPs vote to defeat S-201 or amend it beyond recognition.
Alarmingly, several amendments have been put forward at the eleventh hour that seek to gut the bill. If adopted, these changes would result in a tiny minority of Canadians being protected from genetic discrimination, creating confusion and leaving most Canadians vulnerable. This is highly problematic, and undermines the fundamental purpose of S-201.
MPs would be wise to reject these amendments and pass S-201 in its entirety, to prevent genetic discrimination for all Canadians, and to support women's health on International Women's Day.
Elisabeth Baugh is CEO of Ovarian Cancer Canada.
Sara Saber-Freedman is Executive Vice President of the Centre for Israel and Jewish Affairs (CIJA).
Follow HuffPost Canada Blogs on Facebook
Also on HuffPost:
Tips To Fight Racism And Discrimination
Even teens with the same identity -- be it racial or gender -- can be guilty of bullying and discrimination. Ontario's Ministry of Education defines bullying as "a form of repeated, persistent, and aggressive behaviour directed at an individual or individuals that is intended to cause (or should be known to cause) fear and distress and/or harm to another person's body, feelings, self-esteem, or reputation."

Social media can be a platform for bullying to continue even after school is out. Cyber bullying occurs when young people take malicious actions online. through chat rooms, email, social sites and instant messaging.

"You don't need to go into full confessional mode, but have fun with it, if that helps. Or be perfectly honest," Author Jonathan R. Miller said. Miller pens e-books with multi-ethnic characters and themes. You don't have to talk about all the nuances of your family tree every time you're asked about your background, He said. That can be exhausting. Find something that works for you personally.

"I like the word 'mixed' because it's a messy word, and in my experience growing-up mixed is exactly that," Miller said. He suggests that it's important to allow yourself to truly wrestle with questions of identity in environments you consider safe.

If you are struggling with your identity, you don't have to tell the whole world, but confide in a friend that you trust. Having someone to confide in is important. "If you can, find someone who you can talk to about your most honest, ever-evolving, often-messy answer to the question, "What am I?" Miller said.

"Maybe you don't have anyone trustworthy to talk to honestly about your experiences. Write about them. It helped me, sometimes, to get those out," Miller said. It may not make a lot of sense initially and it might feel uncomfortably personal, but write. Keep a journal, write short stories and rename the characters, try your hand at poetry -- whatever feels best.

"You are likely being told at different times, more or less, to hurry up and get off the fence, pick a side and get on with it," Miller said. It's not necessarily a bad thing to be unsure of who you are, even if your peers seem to have their acts together, he said. Teenage years are discovery years. Miller also quoted author Rainer Maria Rilke: " 'Have patience with everything that remains unsolved in your heart. ...live in the question.' That's good advice. Difficult to follow, but good."

When it comes to mixed heritage, "you don't have to be 'both' or 'other' or 'all of the above' all of the time. Sometimes the only way to figure out what you are is to choose one thing and be it for a while," Miller said. Explore how it feels to fully embrace a single aspect of your identity, for short period of time. See "what stick and what slides off." It's simply learning, Miller said.

"I can't tell you how many multi-racial people I've met who have chosen a single race or ignored race entirely and been perfectly content with the decision. A biracial friend of mine used to tell me, 'I'm black and white, yes, but I'm black. Period,' " Miller said. He said he knows many people have chosen to identify with only one aspect of their multi-background, while others have embraced the blend.

Find creative ways to occupy your time, Miller said. Join a group or do an activity (with others) where you are empowered to be who you are, instead of having to act how others think you need to be in order to fit in.

Take pride in your ethnic (culture, colour or religion) heritage. You have no control over your heritage, and you can't change that fact that this is who you are. So embrace it and learn as much as you can. "You may feel like it would be an insult to your heritage to embrace one aspect of yourself above the others, but trust me, it wouldn't be. This is important: it is not your job to uphold, with perfect equity and grace, all of the elements that went into your making," Miller said.

"Often they're the 'gatekeepers' that decide whether you're 'in' or 'out.' But what you can do is have a ready answer for the 'charges' they level against you. Whether you use humour, earnestness, or self-righteous anger, it helps to have your defense lined up and ready," Miller said. Sometimes people think all the "members" of their cultural or ethnic community must behave, dress and think a certain way. But as an individual, you can do whatever you want and find your own identity.
Follow Sara Saber-Freedman on Twitter: www.twitter.com/FreedmanSara