Top 5 Must-Haves For Easy Holiday Hosting
With a constant revolving door of guests, especially over the holidays, I know firsthand how stressful it can be to pull together a last minute get-together or stay on top of unexpected guests and drop-ins. The truth is that you don't have to be an expert host to leave a lasting impression on your guests, which is why I'm sharing my must-have entertaining essentials and pro tips to ensure you'll be ready to tackle anything the holidays might throw your way!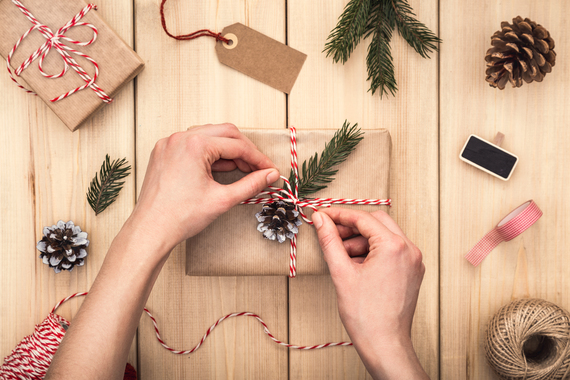 Top Quality Bathroom Products
Your guests' experience should begin as soon as they enter your home and shouldn't end until they leave -- the bathroom is no exception! To make a lasting impression on your guests this holiday season, make sure you have a high quality hand soap and lotion in the bathroom for your visiting guests to use. Try incorporating a festive scent like Winter Mint or Orange & Spice for an added special touch.
Quick and Easy Appetizer Recipes
For that last-minute holiday dinner party, make sure you have some easy appetizer recipes on hand that you can quickly prepare while entertaining guests. Prepping items like cured meats, cheeses and fruit in advance and packaging them in airtight containers in the refrigerator will help save even more time. Try integrating an ingredient from the recipe such as an artisan jam or spread into your guests parting gift so they can take part of the experience home with them and recreate the recipe at home.
Holiday Stain Survival Kit
Forget about using plastic table cloths or paper napkins this season due to fear of messes. It is possible to use your best linens without ruining them while entertaining. To help keep your favourite table linens, napkins and clothes vibrant, stain-free and entertaining-ready, prepare a stain removal kit in advance of any party.
For light stains, try dabbing the soiled item with a little white vinegar and water until it clears. When tougher spills and stains happen, try a reliable stain remover like OxiClean, which is great for removing grease, red wine, brown gravy, meat drippings and butter from tablecloths, linens and clothes left behind after entertaining.
Simple Yet Elegant Table Accessories
It's important to remember that the dinner table is the focal point of any holiday gathering -- no matter how big or small! To help make it more memorable for both you and your guests, it's important to have the right holiday table accessories. If you're a minimalist or happen to be on a tight budget this season, not to worry -- a seasonal linen napkin on sparkling white dishware is a simple yet elegant statement that is sure to impress!
Last Minute Gifting Items
For that unexpected guest who drops by, not-so-holiday-specific items like stationary, pens and notebooks are a nice last-minute gifting idea that will work for anyone. Plus, by taking a non-holiday themed approach means the items can be purchased well in advance of the holiday shopping rush, leaving you with one last thing to worry about!
Follow HuffPost Canada Blogs on Facebook
Also on HuffPost:
Skillet Honey & Pomegranate Chicken Thighs Get the recipe at No Spoon Necessary.

Winter Citrus Salad Get the recipe at An Edible Mosaic.

Festive Fruit Crescent Rolls Get the recipe at Everyday Healthy Recipes.

Fudgey Peppermint Cookie Bites Get the recipe at Kiwi & Purpose.

Apple, Brie & Honey Crostini Get the recipe at See Brooke Cook.

Cookie Butter Fudge Get the recipe at The Pretty Life Girls.

Poinsettia Spritz Punch Get the recipe at Half Baked Harvest.

Smoked Prosciutto Wrapped Apple Bites Get the recipe at Culinary Ginger.

Brussels Sprouts Au Gratin Get the recipe at Apples For CJ.

Chocolate Pumpkin Seed Biscotti Get the recipe at Isabel Eats.

Veggie-Packed Turkey Meatloaf Get the recipe at Delightful Mom Food.

Cauliflower Mashed Potatoes Get the recipe at Serving Realness.

10-Minute Caramel Apple Baked Brie Get the recipe at Gimme Some Oven.

Holiday Roasted Beets With Mandarin Oranges Get the recipe at Exploring Healthy Foods.

Slow Cooker Cranberry BBQ Pulled Pork Get the recipe at Wholesomelicious.

Glazed Cranberry Orange Scones Get the recipe at Vegan Yack Attack.

Holiday Wreath Taco Ring Get the recipe at B. Britnell.

Layered Chocolate Tart Get the recipe at Kendall-Jackson.

Espresso Cashew Clusters Get the recipe at Joyful Healthy Eats.

Goat Cheese Stuffed Dates Get the recipe at The Pastiche.

Pear And Cranberry Crisp Get the recipe at Choosing Chia.

Cinnamon Rolls Get the recipe at Sweet Somethings.

Easy Chicken Parmesan Baked Pasta Get the recipe at Snappy Gourmet.

Winter Kale And Quinoa Salad Get the recipe at Eat Yourself Skinny.

Garlic And Parmesan Roasted Potatoes Get the recipe at Coffee & Crayons.

Strawberry Jalapeño Brie Puffs Get the recipe at Kim's Cravings.

Turkey Meatballs With Cranberry Sauce Get the recipe at Urban Bakes.

Savory Cranberry And Cheese Tart Get the recipe at Caroline's Cooking.

Whisky Glazed Baby Carrots With Thyme Get the recipe at Ally's Cooking.
Follow Sarah Baeumler on Twitter: www.twitter.com/SarahBaeumler