Food Rescue: Solution For Canada's Hunger Is So Simple It Can't Be Ignored
It's the early 1980s. Ethiopia is facing the worst famine to hit the country in over a century. Awareness of global hunger is on the rise. The media is flooded with news and charity efforts like BandAid and U.S. for Africa.
In Toronto, two local women, Ina Andre and Joan Clayton, are raising funds for international famine relief when they're asked a question that will ultimately change the scope of Toronto's hunger relief efforts -- what are you doing to help hungry people in your own city?
The question triggered an idea for Joan and Ina, who were increasingly bothered by seeing good food being thrown away while people went hungry. The contradiction never sat well with them, and so, in 1985, with two volunteers, a hatchback, seven food donors and seven community agencies, Second Harvest was born.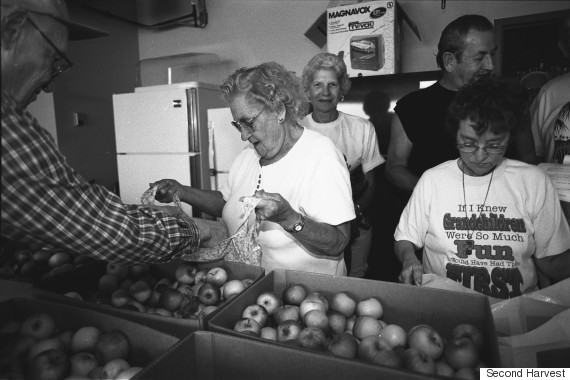 Today, Second Harvest is the largest food rescue charity in Canada, and rescues and delivers over 8 million pounds of fresh surplus food to 220 agencies. Unlike food banks, Second Harvest focuses on rescuing and delivering fresh, healthy, perishable foods -- protein, dairy and produce -- and doesn't bank any food, aiming to pick up food from donors and get it to agencies within 48 hours.
Soon after being established, Second Harvest found the list of agencies requesting food was growing and donations from restaurants were getting smaller as chefs began to better manage food inventory. So by the early '90s, Second Harvest began requesting donations from retailers with unsold or unsellable stock.
In 1994, Ontario passed the Food Donation Act, protecting food donors from civil and criminal liability, paving the way for larger retail chains to donate to charities. The United States would follow suit two years later, with the Emerson Good Samaritan Food Donation Act.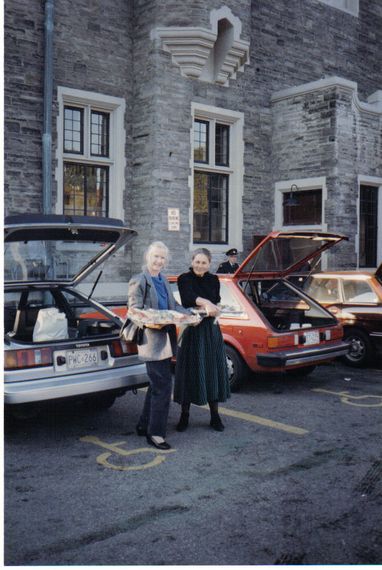 By 2000, Second Harvest was rescuing and delivering more than 3 million pounds of food to over 110 agencies. To support this volume, Second Harvest began to solicit donation directly from food processors or distributors. This was food that wasn't even being sent to stores -- misshapen or overripe produce, mislabeled jars or yogurt with looming best-before dates. Skids of perfectly edible perishable food were being picked up and delivered to people experiencing hunger.
Public awareness of food waste is currently at an all-time high. In early August, Italy passed new laws making food donation easier as part of a commitment to reducing waste by 80 per cent. In 2015, France became the first country to ban retailers from throwing away or destroying unsold food, forcing them to donate it to charities.
Apps like Ubifood (Montreal) and FlashFood (Toronto) connect consumers with restaurants offering discounted surplus food. Every day seems to bring news of entrepreneurs, researchers and experts who are talking about wasted food and food rescue.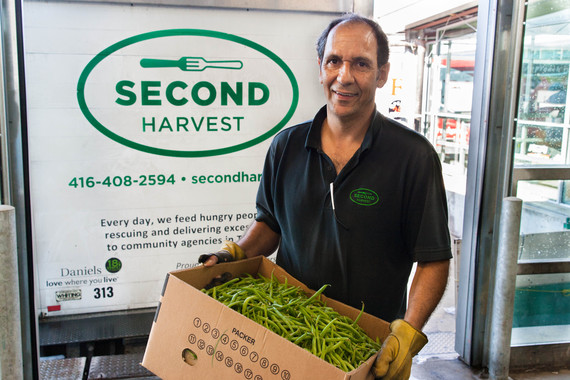 All of this attention makes Second Harvest's Executive Director Debra Lawson hopeful that awareness will translate to action. She notes, "We as individuals and as a community still need to answer the question 'what are you doing to help hungry people in your own city?' with the same urgency Joan and Ina did 31 years ago."
Follow HuffPost Canada Blogs on Facebook
MORE ON HUFFPOST:
Reducing Food Waste Through Technology (REGULAR FORMAT)
Nanotechnology Jay Subramanian, a plant agriculture professor at the University of Guelph, and his team of biotech scientists have devised a food spray that the CBC reports "uses a nanotechnology-based application of hexanal, a natural plant extract that prevents fruit spoilage." This enzyme-inhibiting hexanal slows ripening by preserving a fruit's cellular walls, extending shelf life by as much as 50 per cent. Mangoes keep fresh up to 23 days, bananas up to 40 days and peaches and nectarines last another 10 days beyond their current single week. It also increases farmer revenues 15 per cent. Fruit is one of food waste's biggest culprits -- 30 percent of fruits and veggies don't even get on store shelves -- making this invention a potentially huge player in addressing the issue.

Apps: Flashfood Launching in Toronto later this summer but already garnering a ton of attention, the Flashfood app aims to save people money and save tons of food from landing in landfills. "Flashfood is essentially the discount food rack on your cellphone and it's a means for grocery stores, restaurants, food vendors, being able to resell their surplus food before they're going to throw it out," founder and CEO Josh Domingues told City TV. The app allows users to purchase "flashsale" food via their phones and pick it up later that day, though specific logistics reportedly remain in the works. The tech startup's ambitious plan is to eventually expand throughout Canada and then go global.

Hyperspectral Chemical Imaging About 18 per cent of food waste happens at the manufacturing level, according to a report by Ontario's Provision Coalition, "the food and beverage manufacturers' one-stop source for sustainability." One solution to reducing that waste may be "hyperspectral chemical imaging technology for production line grading and sorting of leafy greens, carrots and potatoes," reports Food in Canada, a food and beverage processing industry publication. The initiative is a collaboration between Ippolito Fruit & Produce, Riga Farms, EarthFresh Foods and Amazing Grains working with Ontario chemical imaging company P&P Optica and industrial equipment company Axiom Millwrighting & Fabrication. The University of Guelph and Conestoga College will be in charge of testing the technology's effectiveness. "Currently, many produce manufacturers in Canada are using aging technology for sorting and grading. At Ippolito, we connected with our industry peers to explore and then implement new technology – technology that has broader food industry application and will be shared with companies across the country," CEO Joel Ippolito told Food in Canada.

Apps: Ubifood Inspired by a friend's sushi shop tossing out unsold food at day's end, despite being sold at a discount, Ubifood founder Caroline Pellegrini decided that an app would be the best way to connect consumers and retailers. Currently exclusive to Montreal, Ubifood gives geolocation-based real-time push notifications to inform users of discounted food in their area. The sales pitch is that it makes money for cafes, bakeries and restaurants while saving money for customers and, most importantly, reducing food waste. "Everybody benefits. The consumers, retailers, and the planet – all at once," Pellegrini told CBC.

GMOs Despite continuing if unfounded public skepticism over GMOs, B.C.-based Okanagan Specialty Fruits has received approval by Canadian and American authorities to sell their signature non-browning Arctic Apple. Developed in Granny Smith and Golden Delicious varieties, this first approved biotech apple resists browning when sliced or bruised because the genes that trigger the oxidization process have been replaced with non-browning ones. According to CP, the Canadian Food Inspection Agency said Arctic Apples "are as safe and nutritious as traditional apple varieties" while Health Canada concluded the GMO apple "is safe for consumption, still has all its nutritional value and therefore does not differ from other apples available on the market." They're scheduled to start arriving in the U.S. later this year and will be available for sale in Canada by fall 2017.

BioconversionWhile on a fishing trip, biotech entrepreneur Brad Marchant and environmentalist David Suzuki came up with a concept for an environmentally-friendly feed source for aquaculture and livestock. That idea would become the Langley, B.C.-based Enterra Feed Corporation's Renewable Food for Animals and Plants. Using a proprietary bioconversion technology under development since 2007, Enterra turns pre-consumer food waste -- i.e. the 25 per cent of food that doesn't make it to retail, largely fruits and vegetables -- into animal feed and fertilizer. Rescued from landfills, the food waste is fed to millions of indigenous black soldier flies and the subsequent insect larvae are then turned into nutrient-rich protein meals and feed oil, a sustainable process that creates a natural fertilizer as a byproduct. But while the feed is currently being sold in the U.S., Global News reports that Enterra is still awaiting approval from the Canadian Food Inspection Agency for sales here at home. Their fertilizer has been approved.

Irradiation While not invented here, this summer Health Canada is launching a public consultation on a plan to irradiate ground beef to kill bacterial microorganisms like E. coli and salmonella in the wake of outbreaks like Alberta's XL Foods in 2012. CBC reports that a recent government review has "determined that ground beef treated with irradiation is safe to eat and retains its nutritional value, taste, texture and appearance." Irradiation, which involves exposing food to ionizing radiation like gamma rays or X-rays, is already used in Canada for potatoes, onions, wheat, flour and spices. As well as increasing food safety, irradiation also prevents premature spoilage to increase shelf life and reduce food waste. Tim Sly, a professor in the School of Public Health at Toronto's Ryerson University, told CBC that by preventing massive recalls, irradiation could avoid the wastage of millions of pounds of food.

Hilary Benn, the former environment minister, said people should ignore "best before" labels and decide for themselves if food is still good. Benn said in 2009 that "best before" dates served little useful purpose and could be cheerfully ignored - they just mean when the food is at its freshest. He said: "There's 'use by' and that's very important because that's food safety; but when it comes to 'sell by' or 'best before', I think we as consumers [need to] understand better what those labels mean.|

The Mail commissioned the West Yorkshire-based FoodTest Laboratories to compare batches of Lion eggs, bought at Tesco. The company kept two batches of eggs for a fortnight, one at room temperature, the other at a typical fridge temperature of 6c. Samples from both batches were regularly tested eg. for E.coli, salmonella, listeria. There was no difference whatsoever between the two batches. Both remained bacteria-free and good to eat.

The US Department of Agriculture says as long as you scrub the mould off, then it's totally fine. "It is normal for products like this to acquire surface mould," the Safe Food Handling fact sheet says. Don't eat any mouldy cooked meat though, for god's sake.

For cheeses where mould isn't part of the processing, mold generally can't get deep into the product. For hard cheeses, such as Asiago, Pecorino, Parmesan and Cheddar, lop off at least 1 inch around and below the mold spot (to avoid cross-contamination, be careful not to touch the mold with the knife). Source: USDA

So think, cabbage, peppers, carrots. Like the cheeses, dense fruits and vegetables are not easily penetrated by mould. The same rule of thumb applies to firm produce: cut off at least an inch around and below the mould spot (again, not touching the mold with your knife) before using. Source USDA

As long as it smells OK and looks OK when you open it. There have been cases where canned food survived almost 100 years with no microbial growth whatsoever.

According to the experts at Still Tasty, butter lasts about 2 weeks after its expiration date. Frozen butter lasts up to 9 months longer.

Open jars of pickles stay good for a whole year in the refrigerator. The same goes for olives and capers, according to Still Tasty.

There's absolutely no need to throw them out before then, according to EatByDate.com

Why buy bag salads? OK, they are way more convenient, but more expensive and they spoil much quicker.Tesco found that two-thirds of produce grown for bagged salad is thrown out.

NEXT: Don't Waste Wine, Cook With It

Get the Coq au Vin recipe from Simply Recipes Wine needed: two cups red (pinot noir, burgundy, or zinfandel).

Get the Baked Onion Soup with a Gruyère Cheese Bread Crust recipe Wine needed: 2/3 glass of dry red.

Get the Grilled Flank Steak with Sichuan Peppercorns recipe Wine needed: a couple of sips of a dry white. If you have just a tiny bit left in that bottle of white, save it and use it to enhance your flank steak. The flank steaks are seasoned with a simple but potent blend of peppercorns and black bean garlic paste (which you can find at any Chinese grocer).

Get the Southwest Seafood Chowder recipe Wine needed: One glass of a dry white. Do you love clam chowder, but refrain from making it knowing that it has a serious affect on your waistline? This southwest version of the New England classic is lighter and healthier, and still just as comforting as the original.

Get the Lentils with Red Wine and Herbs recipe Wine needed: quarter glass of a dry red. With herbs and a scattering of mâche (a sweet and tender green), this stewy lentil dish becomes a perfect combination of a soup and salad. French green lentils work best here because they hold their shape when cooked. If you can't get your hands on mache, arugula or spinach make fine substitutes.

Get the Braised Chicken all'Arrabbiata recipe Wine needed: a glass of a dry white. In chef Robert Holt's recipe, he braises the chicken with five kinds of peppers in a wood-fired oven. If you want to opt for an easier option, you can spice your chicken with poblano and chile flakes, then braise it. For extra kick, toss in some hot pickled cherry peppers.

Get the Chorizo Poached in Red Wine recipe Wine needed: two bottles of dry red.

Get the Chopped Lamb Steak with Garlicky Spinach recipe Wine needed: couple of sips of dry red wine. A chopped steak is really just a glorified hamburger. But substituting ground lamb for the traditional beef takes this diner out of the realm of just another burger and makes it a gourmet meal.

Get the Mahimahi with Herbed White-Wine Sauce recipe Wine needed: quarter glass of a dry white. This is an easy, yet elegant dish. Perfect for a weekend dinner when you would rather spend more time at the table with others than in the kitchen preparing your meal. The natural flavors of the fresh thyme and marjoram herbs really shine through when paired with this meaty fish.

Get the Orecchiette with Veal, Capers and White Wine recipe Wine Needed: half a glass of a dry white. The tender veal ragu is perfectly paired with the shape of the orecchiette -- the sauce just hangs onto the pasta. With each bite, you will be thankful that you had that half a glass of wine left over to help make this dish.

Get the Wild Mushroom-and-Red Wine Risotto recipe Wine needed: half a glass of a dry red. Risotto is the perfect comforting dish for a cold winter night. And regardless of what you may have heard, it is an easy dish to put together. Yes, there might be quite a bit of stirring, but that is as hard as it gets. This risotto dish stands out from others in that it uses red wine rather than white to give it that extra kick.

Get the White Wine Braised Clams recipe Wine needed: two glasses of white.

Get the Chicken Breasts with Potatoes and Mashed Peas recipe Wine needed: a little more than half a glass of a dry white. The classic chicken breast with a side of greens and potatoes gets a slight makeover with a few new tricks. While we all like the healthiness of chicken breast, let's be honest, sometimes it is lacking in flavor. A nice remedy for that is to quickly brown the breast in a bit of butter, and then finishing off in the oven.

Get the Penne Rigate with Spicy Braised Swordfish recipe Wine needed: half a glass of a dry white. Swordfish is a meatier white fish and holds up nicely in pasta dishes. Paired alongside tomato sauce makes this a warming, hearty dish; and the addition of jalapeño gives it a nice, fiery kick. Feel free to adjust the amount of jalapeño according to your spicy-food tolerance.

Get the Chicken Cutlets with Bacon, Onions and Red Wine recipe Wine needed: 2/3 glass dry red (preferably burgundy or pinot noir).

Get the Carrot Osso Buco recipe Wine needed: a glass of a dry red. Looking for a light winter meal? Carrot osso buco might just be it. A vegan take on the beloved veal shanks recipe, braised carrots take the place of the meat in this dish. Ground dried porcini mushrooms give the dish a rich, meaty flavor.

Get the Butcher's Ragù with Fusilli recipe Wine needed: a glass of a dry white. This ever-so-slightly creamy ragù made with ground beef, pancetta and ham, is flavored with tomato paste instead of canned tomatoes. A nice variation from you traditional tomato-based pasta sauce.

Get the Velvet Corn Soup with Crab and Ham recipe Wine needed: quarter of a glass of a dry white. A rich and hearty soup, this unusual recipe will warm your soul. Crab and ham make an unlikely pair, but their flavors complement each other harmoniously.

Get the Chicken with Red Wine and Prunes recipe Wine needed: 1 1/4 glasses red.

Get the Baked Potatoes with Wild Mushroom Ragù recipe Wine needed: a glass of a dry white. A simple dish of baked potatoes can easily become a vegetarian dinner with the topping of wild mushroom ragu. The recipe calls for a mix of wild mushrooms, so chose your favorites here, or whichever look the best at the store.

Get the Salmon with Shiitake and Red Wine Sauce recipe Wine needed: two glasses of a dry red. Did you open a new bottle of red wine that you just didn't love? Well, whatever you do, don't dump it down the drain. Get your money's worth and turn that not-so-great bottle of red into a luxurious sauce for this salmon dish.

Get the White Wine Poached Pears recipe Wine needed: one bottle of white.

Get the Chocolate Red Wine Cake recipe Wine needed: 1 1/4 glasses dry red.

Get the Wine Souffle recipe Wine needed: 1/2 glass of white.

NEXT: Shocking Food Facts

Ever open a fresh bag of cereal and notice something a little... off about it? That is likely not just your imagination. According to the FDA's Defect Levels Handbook, a number of foods can legally contain up to "maximum levels of natural or unavoidable defects in foods for human use," including "insect filth," "rot" and "Mammalian excreta."

According to the Organic Consumers Association, the United States is the only developed country that does not require testing for safety of GE foods.

Ammonia, a main ingredient in fertilizer and household cleaners, is apparently an appropriate way to kill bacteria in meat. Sure, it may be corrosive and can cause severe injury, but according to a USDA official, "it eliminates E. coli to the same degree as if you cooked the product."

Michael R. Taylor, pictured, has had quite the colorful career path. Bouncing between the FDA and Monsanto, Taylor is the poster boy for the government's controversial "revolving door" issue. The FDA's current Deputy Commissioner of Food is responsible for the substantial equivalence policy, which is used as a weapon against the "right to know" argument for GMO labeling.

This past September, the FDA ordered a number of arsenic-based drugs to be withdrawn from farm animal feed, an ingredient that had been used since the 1940s. While it might seem like a step in the right direction, consider this: The FDA only passed down the decision after food groups threatened to sue the agency. Before the ban, about 70 percent of U.S. poultry were being fed arsenic-based drugs, and even with the new legislation, one of the 4 banned drugs can still be fed to turkeys.

Red #40, the most widely-used food dye, and Yellow #6, the third most widely-used food dye, are linked to hyperactivity, migraines and possibly cancer. Although some of these colorings have already been banned in Europe, the FDA is still refusing to take them off the U.S. market.

You might think that "whole grain" foods are exactly that -- completely untouched, full-fledged grains. However, the FDA says that as long as the naturally occurring nutrients and parts are added BACK into the food at the end, you can take them out along the way and add in a number of other additives and flavorings. So a processed breakfast cereal with tons of sugar can bear the "whole grain" mark as long as the same nutrients have (artificially) ended up back in the product.

Think those chips are free of harmful trans fats? Think again. If a food contains less than 0.5 grams of trans fats per serving, the label can claim it has "0 grams of trans fats." Although the FDA recently began a campaign to claim that partially hydrogenated oils are no longer GRAS (generally recognized as safe), legislation has yet to be made against them. If you consume a number of these foods per day, you could be racking up dangerous fats without even knowing.

In 2010, the FDA agreed to crack down on misdemeanor crimes after a governmental report found the agency to be too soft on corporations that break the rules. Congress found that the FDA's Office of Criminal Investigations fell short in comparison to similar agencies, in response to which the FDA admitted they were working on "developing meaningful performance measures."

rBGH is a hormone that has been banned in a number of countries, including Australia, New Zealand, Canada, Japan, and the European Union. Although the FDA has found that rBGH (also known as rBST) is both safe and effective, a 2009 USDA study found that less than 17 percent of cows were being injected with the hormone. Even WITHOUT an FDA ban, people know synthetic hormones are best kept out of the food system.
Follow Second Harvest on Twitter: www.twitter.com/2ndharvestto