How to Be One of the 12% Who Keep Their Resolutions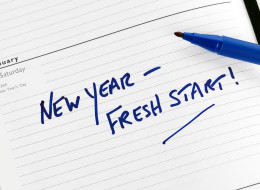 Happy New Year!
2013 is off to a great start and many (about half) of us have made a New Year's resolution. Unfortunately, according to researcher and psychologist Richard Wiseman, 88 per cent of us will fail. We all start with the best intentions, so why is it that so many of us end up disappointed and disillusioned? Let's take a look at the science behind resolutions and find out what it will take to be one of the 12 per cent who keep them!
Willpower and Your Brain:
There is one thing you will absolutely require to keep your resolution: WILLPOWER! Your brain processes willpower in your pre-frontal cortex (right behind your forehead). This area is also responsible for allowing you to stay focused, handling short-term memory and solving abstract tasks. An experiment out of Stanford University was performed to study how this area of the brain responds to temptation when having to do a challenging or a non-challenging task:
A group of undergraduate students were divided into two groups. One group was given a two-digit number to remember. The other was given a seven-digit number to remember. Then, after a short walk through the hall, they were offered the choice between two snacks: a slice of chocolate cake or a bowl of fruit. What's most surprising: The students with seven-digit numbers to remember were twice as likely to pick the slice of chocolate compared to the students with the two-digits.
Why does this happen? Professor Shiv, one of the lead researchers on this experiment says that "those extra numbers took up valuable space in the brain -- they were a 'cognitive load' -- making it that much harder to resist a decadent dessert." Therefore, the more focussed your pre-frontal cortex on a single task, the easier it is to train your willpower.
Did you see that word I used? TRAIN! Willpower and your brain are like any other muscles and they need to be trained. Do not expect to have this ability pop up overnight!
BLOG CONTINUES AFTER SLIDESHOW
Commonly Broken New Year's Resolutions
Why it's tricky: Despite good intentions, our nation (and everyone in it) just keeps getting heavier, found a recent report from Trust for America's Health and the Robert Wood Johnson Foundation, which also projected that obesity rates in every state are on course to top 44 percent by 2030. What's more, 13 states -- mostly in the South -- could have obesity rates above 60 percent! Make it stick: People tend to think about "losing weight" and "exercising" as two separate resolutions, says Norcross (click to the third slide). While he says science used to advise putting energy into tackling one behavioral change at a time, newer research from the University of Rhode Island has shown that combining two related resolutions (exercise more + lose weight, stop smoking + manage stress, save money + stick to a budget) makes it more likely you'll stick to both.

Why it's tricky: Personal savings rates are up (slightly), and (slightly) more Americans are feeling financially better off than worse off. Yay, right? Well, keep in mind that companies plan to offer raises of just 2.9 percent in 2013, according to the U.S. Compensation Planning Survey and research by the compensation consulting firm Mercer, -- a percentage which barely keeps up with inflation. And many Americans are still making up for losses sustained over the past few years. Make it stick: Never say "can't." A study in the August 2012 Journal of Consumer Research looked at the power of language when we're trying to talk ourselves out of something. When participants framed a refusal as "I don't" (for example, "I don't waste my money on expensive lunches") instead of "I can't," they were more successful at resisting temptation.

Why it's tricky: While health club attendance surges 30 to 50 percent at the start of the year , it's usually back to normal by March, according to data from the International Health, Racquet & Sportsclub Association. It's also hard to incorporate exercise into a busy life: Norcross himself admits that his resolution to exercise five times a week -- usually not a problem -- will be a major challenge when he's traveling. Make it stick: Research has shown that "self-monitoring" (a clinical term for charting or recording your progress) increases the probability of you keeping your resolution. This is due to the Hawthorne effect, which causes us to try harder when we think someone is keeping an eye on us. Try MyFitnessPal, a tracking app that's a streamlined upgrade of the paper fitness diary.

Why it's tricky: By the end of 2010, it took unemployed people on average 10 weeks to land a new job, or 20 weeks to give up looking (that's twice the amount of time it took job seekers to find something or give up in 2007). Make it stick: One of the major revelations in Changeology is that confidence is a big predictor of success: In this case, you need to not only believe that there are appealing jobs out there for you but also that you can realistically continue your search even when things aren't looking up.

Why it's tricky: Only 33 percent of adults eat the recommended daily amount of fruit, and only 27 get enough vegetables , found surveys from the U.S. Centers for Disease Control and Prevention. Make it stick: Start by satisfying your afternoon munchies with an apple instead of a cookie. If you do this 10 times in a row, you'll actually start to crave the fruit at that time of day, says Susan B. Roberts, PhD, , a Tufts University professor of nutrition and a professor of psychiatry. This strategy has worked for many of the out-of-control snackers in the weight-loss groups she's led.

Why it's tricky: It takes the average smoker five to seven attempts to kick this habit for good, says Norcross. Make it stick: Smokers, take heart: Norcross has studied change for more than 30 years, and despite cigarettes' addictive power, his data shows that this resolution is not harder (or easier) to stick to than any other. The thing to remember, he says, is that every smoker relapses. He adds that one study showed that 71 percent of successful resolvers claimed that their first slip actually strengthened their efforts to quit.

Why it's tricky: We don't know how to give ourselves a break, even when we deserve it. In 2010, Americans neglected to take 424 million paid vacation days that were due to them. Make it stick: This resolution is so vague, it basically sets you up for failure, says Norcross. In fact, it's pretty close to wishful thinking, which, as Norcross mentioned, has only a 4 percent chance of success. Find a strategy that helps you achieve your overall goal (for example, meditating more, drinking less, using your vacation days) and then figure out a way to measure it. One of Norcross' colleagues has taken this to heart: He's resolving to "sit less" this year, so he's tracking the percentage of computer time he spends sitting versus standing or using his laptop on the treadmill.

Why it's tricky: You can't force the other person in the relationship to make the same resolution. Make it stick: Find specific ways by which you can strengthen your connection, says Norcross. Instead of resolving to, say, talk to your young son more, do what one of his successful study participants did: Resolve to spend 10 minutes a day with your son before bed.
The Top 3 New Year's Resolutions:
1. Lose Weight
2. Quit Smoking
3. Eat Healthier
Pretty abstract ideas, right?
If you want your resolution to stick, you need to think less in terms of ideals and more in terms of HABITS. For example, if you want to lose weight, change your resolution to "I will take the stairs up to my ninth floor apartment every day after work." If you want to eat healthier, try "I will swap out my daily morning bagel for a bowl of fruit and yogourt" instead. You get the idea -- these habits are manageable and defined, it is this strategy that those 12 per cent of resolution-keepers employ to keep them on track.
The 3 Steps to Success:
1. Pick only ONE resolution
Just like the Stanford University study explained, trying to focus on more than one New Year's resolution can lead to a cognitive overload, which can be very difficult for your brain to handle. Pick the one that is most important to you, otherwise you may default to the "chocolate cake" whenever you have a choice!
2. Tell others and put it in writing
In 2007, Evans performed a study that found a very strong correlation between increased social support and lowing blood pressure, heart rate and cortisol hormone levels. I can hear you know: "What does this have to do with my resolution!?"
It has been shown that the people around you can have a significant impact on your behaviour. If you tell your close friends, family, coworkers about a new habit you are creating for yourself, you will be much more likely to stick to it.
Putting things in writing also increase your likelihood of success. Write down your goals and read them often. Not only will it help with sticking to your habits, but research has also shown that writing down your goals increases overall happiness. Give it a try!
3. Believe in yourself
In a study out of Scranton University in 2002, a remarkable discovery was made: people who really want to succeed are no more likely to stick to a New Year's resolution than anyone else! Even an overwhelming desire to change just wasn't enough to enforce a meaningful and long-lasting habit. However, it was shown that those who kept their resolutions shared certain habits. They:
Believed that they were able to change
Believed it was possible to keep the change for a long period of time
Tried to stay as positive as possible
Avoided temptations and distractions
Encouraged themselves when they made progress in the right direction
Compare these behaviours to those who gave up on their resolution in the first month. These resolution-quitters:
Blamed themselves any time they fell off-course
Spent time wishing things were different
Kept asking themselves how they were feeling
A little bit of willpower and positivity can make you one of the successful 12 per cent!
Do you have a New Year's resolution? What habits will you change in 2013?
Follow Shaila Callaghan on Twitter: www.twitter.com/DrSCallaghan