Sophie Grégoire Trudeau: Why My Family Talks Openly About Mental Health

My dear friends,
Being a teenager is hard. You face so many challenges as a teenager, especially if you struggle with a mental illness. Many mental illnesses and disorders start during adolescence.
I myself battled bulimia as a teenager and young adult. I speak openly about this experience, because it is not a secret. Mental illness should never be a secret, and the difficulties in facing them, as well as the power it takes to overcome and get back on your feet, should never be a secret.
Some still don't even recognize eating disorders as mental illness -- they absolutely are, and this confusion proves that we need to do more to create a shared understanding of mental health.
In my family, we do our best to be open about it. We share with each other and talk openly about the challenges and struggles surrounding mental health -- challenges that have touched our family directly, and the families of countless Canadians. The conversation can sometimes be uncomfortable or difficult, but it is too important to let that stop us.
We work hard every day to try to reduce and eliminate the stigma surrounding mental health. In order to recover, we must be willing to find and accept help. We can have conversations with our family and friends, even when it is difficult to do so.
Some of you may not have families who are available or open to conversations about mental health, but that does not mean you are alone. You have friends, school counselors, community resources. Support is available, and with it, so is your strength.
You are all so strong, and so resilient.
I walk on this path with you, and offer you my unconditional support. Let us always be courageous together.
With love,
Sophie Grégoire Trudeau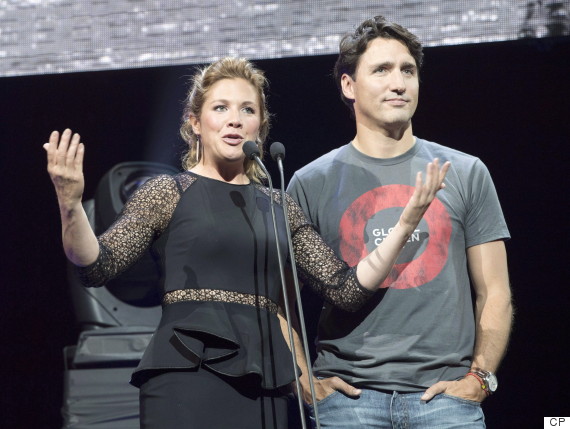 Sophie Gregoire Trudeau and her husband Prime Minister Justin Trudeau speak at the Global One benefit concert. (Photo: CP/Ryan Remiorz)
Frame Of Mind is a blog series inspired by The Maddie Project that focuses on teens and mental health. The series hopes to raise awareness and spark a conversation by speaking directly to teens who are going through a tough time, as well as their families, teachers and community leaders. We want to ensure that teens who are struggling with mental illness get the help, support and compassion they need. If you would like to contribute a blog to this series, please email cablogteam@huffingtonpost.com
ALSO ON HUFFPOST:
Frame of Mind: Youth Mental Health Issues And Suicide In Canada
One in five Canadians will experience mental illness in their lifetime Source: Canadian Mental Health Association

Nearly half of those who feel they have suffered from depression or anxiety have never gone to see a doctor about this problem. Source: CMHA

Latest studies showed more than 1.3 million young Canadians have a mood disorder or addiction. Two-thirds had symptoms before the age of 15. Source: Statistics Canada, Government of Canada

Suicide is among the leading causes of death in 15- to 24-year-old Canadians, second only to accidents. In 2012, 261 Canadian kids and teens took their own lives. Source: CMHA, Statistics Canada

LGBTQ youth face about 14 times the risk of suicide and substance abuse than their heterosexual peers Source: CMHA Ontario

First Nations youth are at a higher risk. The suicide rate among First Nations youth is roughly five to seven times higher than that of the general population. Source: Parliament of Canada study, 2014

People with mental illness and addictions are more likely to die prematurely than those without. Mental illness can cut 10 to 20 years from a person's life expectancy. Source: Centre for Addiction and Mental Health

Contending with her bipolar disorder brought Yashi Brown to poetry, and with it, she's trying to end the stigma of mental illness.

If you need help, visit ementalhealth.ca to search for services in your area. Or call the Kids' Help Phone at 1-800-668-6868, it's Canada's only free phone counselling service for youth under 20.
More From Frame Of Mind:

Follow HuffPost Canada Blogs on Facebook