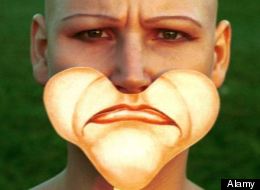 Since my cancer diagnosis, I have noticed that society puts a strange amount of pressure on cancer patients to be positive and stay upbeat at all times. Keep your chin up. Think positively. It's all about your attitude. These are the messages that seem to be almost instinctual when addressing someone who is facing cancer. And it's understandable. Being doom and gloom all the time isn't all that attractive to a bystander, looking in. It reminds people of the dark and depressing side of life. The part we all try to spend most of our days ignoring, so we can enjoy the beauty of living, while times are good. It makes sense.
However, as someone dealing with a pretty major crisis in her life, the pressure to remain positive at all times can be quite taxing. For the most part, I believe I have been handling things pretty well, for someone dealing with a life-threatening illness in her 20s. I make jokes. I laugh. I go out and do "normal people" things, when I am physically capable.
But there are times when it all catches up with me. When it suddenly hits me, everything I have been through, like a punch in the stomach. The tumor. The surgeries. The body parts I have lost. The hair I have lost. The exhausting days spent in the hospital. The debilitating, endless side effects from my chemotherapy. All the treatments I still need to have. The potential long term consequences. And the whole I could die thing. It's a lot. And it's hard. It's really, really hard. And in those moments where it all comes rushing over me, the absolute ridiculousness of my situation, I don't feel so chipper. I don't feel like shouting "cancer can't break my spirit!" I feel angry, and small, and scared. And sometimes, I cry. And I don't think this makes me weak. I think it makes me human.
I have read various interviews with cancer survivors online, where they have said things like "I never once let cancer get me down" and "I went on with my life completely as normal all throughout my treatment." As someone who has had a particularly rough go with treatment and all that comes with it, statements like this are hard for me to relate to. The whole cancer thing most definitely has me a bit down. I mean, it's not exactly a trip to Disney World. And my life, I can assure you, has not gone on as normal. A new normal, for now, sure. But not the one I was used to, and not the one I had hoped for at this stage in my life. I have my good moments, and I have my bad moments. I have times where I want to hug people, and times where I want to throw things at people. This is my reality, and I believe it is the reality for many cancer patients, particularly for other young adult patients, whose lives have been flipped upside down in a way they never saw coming.
Unfortunately, no amount of positive thinking will spontaneously cure my cancer, or make all the pain go away. But on my good days, I will keep my head up. I will smile and I will remember all that is good in this world and all of the reasons I am trying my best to stay in it. I will do this not because someone tells me to, but because it gets me through. And on my bad days, I will be grumpy, and curse cancer and maybe even feel a little sorry for myself.
Sometimes, you just have to cry.
7 Breast Cancer Breakthroughs Of 2012
In a landmark series of studies that honed in on four major classes of breast cancer last month, researchers have been able to provide clues as to why the disease differs between races. At North Shore-LIJ Health System's Monter Cancer Center, researchers found that Caucasian women may carry microRNAs that protect against breast cancer, genes that African American women don't carry. The finding not only explains why cancer outcomes are often different between black and white women, it also supports the importance of personalized treatment for cancer that focuses on the genetic make-up of tumors, rather than a one-treatment-fits-all approach.

A study published in the journal Breast Cancer Research in April revealed African-American women with the highest levels of vitamin D also had a specific variation in the vitamin D receptor that cut their breast cancer risk in half, compared to women without it. About a third of African Americans are vitamin D deficient, however, and melanin in the skin make it harder for many to get enough. Along with a healthy does of sunshine, experts recommend a vitamin D supplement of 600 IU per day.

In June, researchers at University of North Carolina in Chapel Hill found that women who exercise between 10 and 19 hours each week had a 30 percent lower risk of breast cancer. And there isn't a need to break a serious sweat either. All levels of exercise intensity were linked with a decreased risk, the study authors said.

According to a study published in Breast Cancer Research in August, mammograms may be the key to closing the breast cancer gap between black and white women. When study participants received regular breast screening, "there was no difference in the rate of how many of them presented in the disease's later stages," researchers found. "This study reinforces the fact that racial gaps in breast cancer outcomes can be improved," said lead author Dr. Paula Grabler, an assistant professor of radiology at Northwestern University Feinberg School of Medicine and a radiologist at Northwestern Memorial Hospital.

In a commemoration of Breast Cancer Awareness month Monday, President Obama and Health and Human Services Secretary Kathleen Sebelius credited the Affordable Care Act with bringing on "a new day for women's health and the fight against breast cancer." According to Sebelius, the healthcare law "means that women can get the potentially life-saving services they need to detect breast cancer before it spreads, without worrying how a copay would affect their family budget."

A September study by Washington University researchers suggests basal-like breast tumors, one of the deadliest forms of the disease that has been shown to disproportionately affect younger women and those who are African-American, have a similar genetic makeup to ovarian tumors and could potentially be treated with the same drugs. This means some women may be able to forgo less effective treatments that are typically used for basal-like tumors and have been know to cause heart problems and lead to the development of other cancers, including leukemia.

The notoriously fatal triple-negative breast cancer (TNBC) may have met its match, according to researchers from Memorial Sloan-Kettering Cancer Center in New York who found that a form of the small pox virus can be used against TBNC. In the study released this week, researchers found that a certain form of smallpox vaccine was able to kill 90 percent of TBNC cells in four days of treatment. It also inhibited blood flow to the cancer stopping its spread. TNBC is found in about 15 out of every 100 cases and is more likely to occur in Hispanics and African Americans.
Follow Stephanie Gilman on Twitter: www.twitter.com/steph_rebecca