Everyone With Cancer Suffers From Scanxiety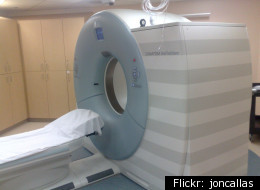 Back in November, before starting my chemo for breast cancer, I had some scans to get a better idea of what was going on in other parts of my body. The hope being, of course, that nothing was going on. Just regular healthy human stuff.
Everything appeared to be okay, except a few small spots lit up on my lungs. Many strange things can take place in the average human body, but when you have cancer, everything gets extra attention and is slightly more suspicious. We weren't sure what these "nodules" were and it is not such a simple task to simply remove them, when you're dealing with an area like the lungs. So the plan was to leave them, do chemo, wait a few months until the chemo had left my body, and do a re-scan to see if there had been any change in size or quantity.
I was not happy that these spots showed up. But I quickly fell into my chemo/cancer routine and was so overwhelmed with everything and feeling so terrible, that my lungs moved to the back of my mind (not literally... obviously that is impossible. I think.). Then chemo came and went, radiation began, and I saw that my dreaded follow-up scan appeared in my hospital schedule.
There is something cancer patients refer to as scanxiety, which, I'm sure you can guess, is having anxiety about upcoming scans and results. Over the past several weeks, I have been suffering from a major case of scanxiety. I have gone through all the scenarios in my head. I have imagined getting the results, hearing my cancer has spread, hearing I have 1-2 years left to live if I'm lucky. I've imagined being thrown back into chemo and never feeling good again for the remainder of whatever time I have left. I thought about how I would tell everyone, and how I would be destroying the happiness of so many loved ones in my life.
Because of this scanxiety, I've felt like my life has been on hold, mentally. I have tried to stop myself from getting excited about any future plans on the horizon. I have been unwilling to let anyone plan any kind of party or celebration for me, as I feared that soon enough, I would be mourning and not celebrating. I have tried to take an interest in everything going on around me and everyone's daily lives and problems, when inside, I have constantly been panicked that I am getting closer and closer to the date when I'm going to be told my life, as I know it, is over.
Thursday, at long last, the day arrived and I had my dreaded CT scan, in the early hours of the morning. Afterwards, I wondered if this would be the last "good" day I'd have. The last day of my former cancer life. I thought maybe I should do something special, in case it was. But I didn't. I just carried on with my normal life and normal day. I got groceries. I watched some TV. I went to bed. I said a prayer to whoever might be listening. Please don't let me die. Not just yet. Thanks.
Today after completing my Herceptin infusion and radiation treatment, I went home. A couple hours later, I received a phone call from my oncologist, who knew I was anxious about my CT scan.
"The areas on your lungs look exactly the same as the first scan. Nothing has changed. If they were cancer, I believe the chemo would have made them disappear. They are exactly the same. Most likely something that has been there since your childhood."
So there you have it. No cancer in my lungs. At least not right now. I am not going to die. At least not today.
After I hung up the phone, I started dancing and jumping around. Then I fell into my chair and burst into tears, everything that I had been trying to bury deep down inside suddenly pouring out of me.
It is hard to describe how I'm feeling right now. You really can't understand until you've walked the walk of cancer and scans and all that jazz. Living life every day, thinking you're about to be told your illness has become incurable... that is some pretty crazy stuff for a young woman to have to think about. For anyone, I suppose. I feel like the heaviest weight imagineable has been lifted off my shoulders. I feel as though I could just float away, in a sea of relief.
For the first time since I was diagnosed, I am choosing to believe that my life could be good again. That I could have years ahead of me. I don't believe this is a definite. I'm not at that point yet, and don't know if I ever will be. But I believe it is a possiblity, and that is enough for me right now. The possibility of life. How exciting.
In one month, I will be on a beach in Jamaica with my husband. We booked the trip last year, and then had to cancel after my diagnosis, a couple months before we were scheduled to go. We re-booked it as a post-radiation/post-chemo trip, in hopes that I would be okay at that point.
That we could celebrate and take a much-needed and much-deserved break from the daily realities we have been facing for almost a year. And now it looks as though it is actually going to happen this time. In one month, I will be okay, and I will be alive. I am going to go to Jamaica and I am going to swim in the Carribean sea and I am going to be grateful for every single second that I am there.
I truly believe that no one on Earth is happier than I am right now at this moment. No one.
And all it took was a bit of cancer. Fancy that.
This post originally appeared on Stephanie's blog at www.passmeanothercupcake.com
Top 10 Canadian Cancer Society Research of 2012
Triple negative breast cancer is a difficult form of cancer to treat, but for the first time ever, an international team of scientists have decoded its genetic makeup. Knowing more about these genes could change the way the disease is diagnosed and change treatments for the next generation, creating more personalized care.

Dr. Michael Taylor, based in Toronto, was part of the international MAGIC (Medulloblastoma Advanced Genomics International Consortium) team of experts that identified abnormalities that lead to the development of the malignant brain tumour medulloblastama. This discovery has identified more effective treatments and may spare children the side effects of unnecessary radiation.

Though there are typically poor survival rates for those living with pancreatic cancer, new findings may improve these rates of survival. An NCIC Clinical Trials Group study found that patients with a rare form of pancreatic cancer – periampullary adenocarcinoma – live longer if they are treated with surgery as well as chemotherapy.

A trial led by the NCIC Clinical Trials Group found that patients with limited-stage Hodgkin lymphoma live longer when treated with standard chemotherapy, compared with those who are also receiving radiation. This will allow patients to avoid long-term side effects of radiation.

A study led by Dr. Camilla Zimmermann in Toronto found that Canadian oncologists refer terminally ill cancer patients to palliative care too late — sometimes not until the final few days. The availability and comprehensiveness of palliative care services were identified as key barriers. It was found that referring patients earlier allows care teams to relieve symptoms and distress, provide appropriate social services, and give advanced care advice to improve the quality of life for cancer patients.

Muscle wasting, also referred to as Cachexia, is the loss of weight or muscle often induced by cancer. Approximately 30 per cent of people with cancer die due to muscle wasting. Dr. Imed Gallouzi and his research team in Montreal found that a natural product from sea sponges prevents muscle wasting in mice. This study is the first to show a potential treatment option for those affected by muscle wasting.

Dr. Mick Bhatia, an international leader in cancer stem cell research, discovered that the drug thioridazine can successfully kill cancer stem cells responsible for initiating leukemias without causing any harm to normal stem cells. This is an important discovery, as cancer stem cells can sustain the growth of cancer and are also a common factor in cancer recurrence.

Dr.Torsten Nielsen and his Vancouver-based research team have unravelled how the genetic mutation which leads to the growth of a rare and often fatal form of cancer (synovial sarcoma) interacts with proteins to cause cancer. The researchers found that there are certain drugs used to suppress these proteins that can kill tumour cells.

Dr. John White and his research group in Montreal studied a protein called the cMYC protein, which is elevated in at least 50 per cent of cancers. Researchers found that vitamin D can block cMYC. This evidence will spark future studies to understand the role Vitamin D plays in stopping cancer development and growth.

Acute myeloid leukemia (AML) is a cancer of the blood and bone marrow that can become severe if not treated quickly. Dr. Aaron Schimmer and colleagues in Toronto tested several drugs to determine whether any of them could target AML cells. The researchers found that mefloquine, a medication generally used to treat malaria, specifically causes AML cancer cells to burst.
Follow Stephanie Gilman on Twitter: www.twitter.com/steph_rebecca