The Response To Syria's Refugee Crisis Gives Us Hope For 2016
A child sits in the Khoder Hawash makeshift settlement in Lebanon's Bekaa Valley, where hundreds of thousands of Syrian refugees have taken shelter.
From my vantage point as executive director of Doctors Without Borders/Médecins Sans Frontières (MSF) Canada, the year is ending in much the same fashion as it began -- that is to say with a complex and seemingly unsolvable transnational humanitarian crisis demanding our attention, testing our collective resolve and begging for a worldwide response.
Then, as now, emotional debates pitted domestic interests and concerns about security against the moral imperative to intervene. Then, as now, in the absence of apparent solutions or political will, many voices called for closed borders and a policy of containment rather than for collective responsibility and a comprehensive compassionate response. Ultimately, however, fear and misinformation subsided and hope, empathy and humanitarian action rose to the fore -- and it is my hope that these will again persevere in the year to come.
The world's biggest emergency in 2016?

The conflict in Syria and the refugee crisis it has spawned is one of the biggest humanitarian emergencies facing the world at the start of 2016. With hundreds of thousands killed and millions displaced from their homes, the human impact of the war in Syria is already devastating, and it can often seem difficult to find reasons for hope.
But Syria also bears notable resemblance to a completely different crisis that we faced just 12 months ago -- one that, over the past year, we have managed to change from a story of fear and tragedy to one of hope for the future.
When 2015 began, the Ebola outbreak in West Africa was an overwhelming humanitarian catastrophe: thousands of people had died, and fear of the disease spreading to Western shores had placed unacceptable limits on the international response to the crisis.
For most of the previous nine months, MSF and local health care workers had found themselves virtually alone on the front lines of the outbreak in Guinea, Liberia and Sierra Leone, and epidemic control efforts were hampered by false rumours, closed borders and an unprecedented, rapidly evolving situation on the ground.
Twelve months later, the epidemic has been declared over across West Africa and, at the time of this writing, only a few residual cases remain. While there continue to be incredible challenges -- rebuilding local health systems destroyed by the outbreak will be difficult, and there are very real concerns around ongoing surveillance and future response capacities -- one of the most significant crises we faced at the start of 2015 has been in many ways overcome. How was this possible?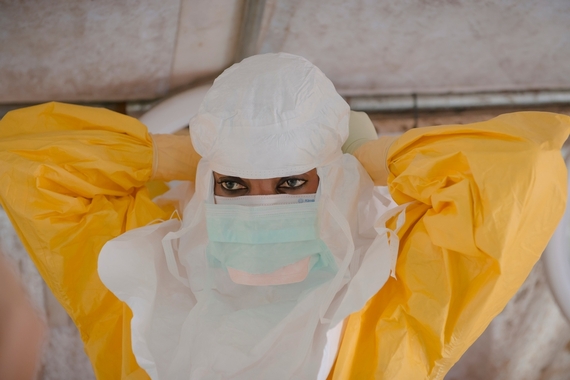 At the start of 2015, the Ebola outbreak in West Africa seemed like an unsolvable humanitarian emergency. (Photo credit: Yann Libessart/MSF)
Every human life is worth defending
There is no simple answer to that question. The fight against Ebola was carried out by the efforts of countless different actors. But the essential factor -- and, beyond Ebola, the crucial element underscoring our collective ability to overcome any crisis that threatens human dignity, health and well-being -- was a fundamental belief in, and commitment to, our shared humanitarian principles, which dictate that every human life is worth defending, protecting and treating with dignity.
That is why, despite there being no shortage of reasons for despair, we must start this new year with hope. There is no doubt that the situation in Syria is dire: In addition to the shocking number of people killed, health facilities have been bombed, and the millions who have fled from their homes have been left to seek shelter in overcrowded refugee camps and displacement shelters -- or with predatory human smugglers offering the faint hope of safety and protection in Europe.
But just as with Ebola, we can mitigate the dreadful human toll created by the conflict in Syria if we retain our instincts for empathy, and remain steadfast in our defence of fundamental humanitarian principles.
We already see this in action: from the search-and-rescue ships launched by MSF and others to save migrants from drowning on the Mediterranean Sea, to the work done delivering healthcare in displacement camps, to the ongoing struggles we face simply trying to maintain functioning hospitals in the middle of a conflict zone. Sometimes these efforts seem incredibly small in the face of such large and overwhelming needs, but even a single hospital with one flickering light on is a defiant reminder that we value the human lives affected by any conflict.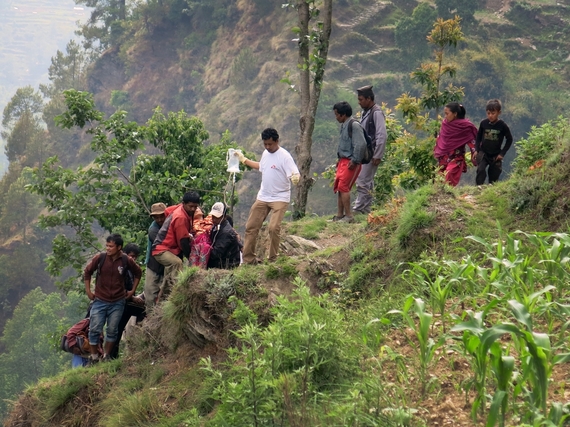 Doctors Without Borders (MSF) teams were joined by emergency responders from around the world following the earthquakes in Nepal last spring. (Photo credit: Emma Pedley/MSF)
Refusing to accept that some people should be allowed to suffer
This is the power of humanitarian action: by refusing to accept that some people should be abandoned to their suffering, it becomes possible to find a way to bring that suffering to an end. This is as true for situations of conflict such as Syria as it is for outbreaks of disease like Ebola.
In some cases, acting on these principles can be easier than for others: When two earthquakes struck Nepal last spring, the world sprang into action. MSF was on the scene to deliver medical care within 24 hours of the quake, but we were also part of a much larger and immediate global response. Around the world, millions of people reacted immediately and selflessly to the plight of Nepal's victims, offering urgent help to people they had never met.
If we truly want to alleviate suffering, that same fundamental humanitarian instinct must be applied to complex, human-made emergencies like Syria as much as for natural disasters like the Nepal earthquake. Together we can enter 2016 as committed and principled humanitarians -- and in so doing, face up to our shared responsibility in front of crises to come.
In a world awash in suffering and inequity, our shared ideals and impartial lifesaving action can be a balm for the wounds of those who suffer needlessly while political solutions are slow to be found. We don't pretend that delivering assistance and defending humanitarian principles in the face of such adversity will ever be easy, but nor do we accept that there are any crises that for lack of apparent solutions should be written off as hopeless.
MORE ON HUFFPOST:
Great Things Canadians Have Done So Far For Syrian Refugees
Joe Woodsworth, a senior manager with Surrey, B.C.-based Options Community Services picks up dozens of backpacks, each filled with school supplies for Syrian children. Operation Backpack is the idea of former 24Hours columnist Laila Yuile.

Malak arrived with her family in July after living in a Jordanian refugee camp for two years. Her teeth were so decayed the 5-year-old girl was kept up at night because of the pain until a local dentist stepped forward to help the family for free.

"Hopefully, together, we can prove that Canada in general and the Maritimes in particular are as generous and welcoming as the rest of the world thinks we are," P.E.I. artist Amy Seymour told HuffPost Canada.

In November, the Edmonton Oilers captain gave $10,000 to Edmonton's Mennonite Centre for Newcomers to support their work in helping to resettle incoming Syrian refugees. The donation helped the group meet its two-month goal in a single day.

The Guelph businessman made headlines last month after stepping forward to say he intended to spend $1.5 million to privately sponsor 50 Syrian refugee families to come to Canada. Estill explained he was tired of seeing refugee applications get snarled in long, bureaucratic processes. "I'm a businessperson, I'm very impatient, and we should just do it now," he said.

"It's really good to know that we're so compassionate and that we want to help," said Darrell McLeod of St. Clare's refugee family sponsorship group. "Everybody's very excited about it. Everyone's been really excited to make things happen."

Westbank Developments founder Ian Gillespie is behind many of downtown Vancouver's glitziest skyscrapers.A descendant of Irish immigrants, he made a pledge in November to furnish a 12-unit West End apartment complex and open it to incoming refugees. He also said he's exploring ways to help Syrians get jobs after they arrive in the city.

A small group of from the Keewatin Otchitchak traditional women's drum group gathered by baggage carousels to greet 17 Syrians to Treaty 1 with a song of welcome.

"I need to point out that the people who are desperate refugees are fleeing from the exact same people who perpetrated the kind of violence we saw in Paris and Beirut last week," the Calgary mayor told reporters a week after deadly attacks in France and Lebanon. "They're running away from the bad guys and, as such, we need to be able to open our arms to make sure that we can provide safety to these folks."

Christine Youssef (pictured) greets newly arrived Syrian relatives on a bus near Pearson International Airport in Mississauga on Dec. 11. Youssef and her mother are sponsoring 43 of their Syrian relatives to come to Canada. Thirteen have arrived and are staying at the family's small Scarborough, Ont. bungalow. Soon, nine of the relatives will move out, making room for more relatives to come in.

When CBC News reporter Eman Bare interviewed Mohamed Al-Noury, 21, and Athar Farroukh, 23, she realized the Syrian refugee couple had no wedding pictures. So Bare put a callout on soical media to surprise the high sweethearts with a wedding. Her request spread and within 24 hours people came forward donating a venue, suit, dress, and cake. "Grateful for a community that makes beautiful things happen," wrote Bare on Instagram below a photo taken at the couple's Saskatoon ceremony.
Follow Stephen Cornish on Twitter: www.twitter.com/Stephen_Cornish