As Vaccine Prices Soar, Big Pharma Profits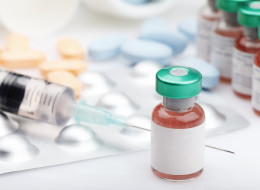 Last week in Berlin more than 15 countries, along with the European Commission, the Gates Foundation and others, pledged over US$7.5 billion to buy vaccines for the children of the world's poorest countries for the next five years. Canada alone pledged $500 million to Gavi, the Vaccine Alliance. While this is great news for the millions of children living in the 73 countries supported by Gavi, there were other big winners: the pharmaceutical companies that benefit from the soaring vaccine prices they charge for vaccines worldwide.
The price to vaccinate a child is now a colossal 68 times more expensive than it was in 2001.
One of the new vaccines Gavi is tasked with introducing is the pneumonia vaccine (PCV), which aims to combat a major childhood killer in developing countries. A dramatic 37 per cent (or US$2.8 billion) of the total amount raised for Gavi last week from taxpayers and private foundations will go to pay for just this one high-priced vaccine, which today is produced by only two pharmaceutical giants: GlaxoSmithKline and Pfizer. The two companies have made more than US$19 billion in sales off of the vaccine since its launch, yet still charge developing countries unaffordable and unsustainable prices. It's important to point out that this vaccine was initially developed for children in wealthy countries, and its research and development costs have long been recovered.
Canada should push pharmaceutical companies to further reduce the price of lifesaving vaccines.
On January 20, Médecins Sans Frontières/Doctors Without Borders (MSF) released the second edition of its vaccine pricing report, The Right Shot, which showed that in the poorest countries, the price to vaccinate a child is now a colossal 68 times more expensive than it was in 2001, with many parts of the world unable to afford new high-priced vaccines such as the one for pneumococcal disease. The pneumonia vaccine alone accounts for approximately 45 per cent of the full vaccination package price tag.
MSF supports the roll-out of new vaccines in developing countries, and is encouraged to see robust support to buy vaccines for these countries. But Canada should make sure that its taxpayer money is spent effectively, and is able to buy as many vaccines as possible. Canada should push pharmaceutical companies to further reduce the price of lifesaving vaccines, and a good place to start is by urging companies to make their research and production costs public.
Last month, MSF urged GSK and Pfizer to cut the price of the pneumonia vaccine in half, to $5 per child (inclusive of all three doses). This is only slightly less than the $6 price ($2/dose) announced by the Indian manufacturer Serum Institute for a version it plans to introduce in the next few years. The stark difference in prices between developed countries, some of whom pay up to $336 per child, and the prices paid in developing countries only illustrates how highly inflated vaccine prices are in wealthy and even middle-income countries, compared to what it could cost to make the vaccine.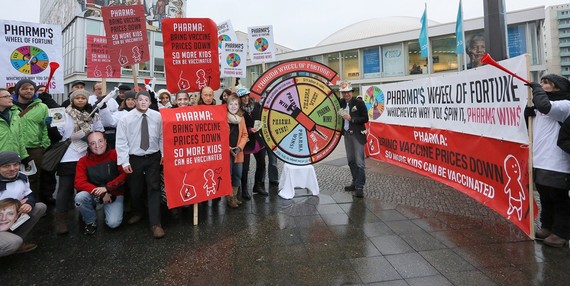 Demonstrators at the Gavi conference in Berlin demanded GSK and Pfizer to reduce the price of the pneumonia vaccine. Photo: Stephanie Pilick/MSF
Ahead of the Berlin conference, GSK and Pfizer could have significantly reduced the price of the pneumonia vaccine for developing countries. Instead, both companies decided to continue charging donor countries and developing countries prices they won't be able to afford long term. GSK offered a 10-year price freeze for countries that eventually lose donor support (but at the high price), and Pfizer offered a slim six per cent price reduction (from US$9.90 to US$9.30 for three doses). These prices are still far too high for developing countries, and may force governments to make hard choices about which diseases they can and can't afford to protect their children against.
It's not too late to put public health over profit and make use of the collective power of all the countries that gathered and gave so generously in Berlin. We now need a strong call for more affordable and sustainable vaccines prices for developing countries, donor countries and Gavi.
ALSO ON HUFFPOST:
Where Politicians Stand On Vaccinations
"Mary Pat and I have had our children vaccinated and we think that it's an important part of being sure we protect their health and the public health," Gov. Chris Christie (R-N.J.) said during a visit to the United Kingdom on on Feb. 2. "I also understand that parents need to have some measure of choice in things as well, so that's the balance that the government has to decide."

"The science is, you know, pretty indisputable," President Barack Obama said in an interview with NBC on Feb. 1. "We've looked at this again and again. There is every reason to get vaccinated, but there aren't reasons to not."

"I think there are times in which there can be some rules, but for the most part it ought to be voluntary," Sen. Rand Paul (R-Ky.) said on the Laura Ingram show on Feb. 2.

"The science is clear: The earth is round, the sky is blue, and #vaccineswork. Let's protect all our kids. #GrandmothersKnowBest," former Secretary of State Hillary Clinton tweeted on Feb. 2.

"It is a public health issue. And the fact is is that children should be vaccinated," House Minority Leader Nancy Pelosi (D-Calif.) said at the Brookings Institute on Feb. 3.

"The answer is obvious and there's widespread agreement – of course they should," Sen. Ted Cruz (R-Texas.) said on Feb. 3.

"I worked in health care for a long time. I have no reservations about whether or not it is a good idea and desirable for all children to be vaccinated," said Louisiana Gov. Bobby Jindal in a Feb. 3 press release. "Vaccinations are important. I urge every parent to get them."

"Unless they are immune suppressed for medical exceptions, but I believe all children should be vaccinated," Sen. Marco Rubio (R-Fla.) said on Feb 3. "Absolutely all children in America should be vaccinated."

"I don't know that we need another law, but I do believe that all children ought to be vaccinated," House Speaker John Boehner (R-Ohio) told reporters at an RNC press conference on Feb. 3.

"Vaccines help keep children healthy, prevent costly stays in hospitals, and fight diseases that can lead to serious illness or death" Vice President Joe Biden said in a 2009 press release announcing funding to help vaccinate underserved Americans.

"It's indisputable that (autism) is on the rise among children, the question is what's causing it. And we go back and forth and there's strong evidence that indicates it's got to do with a preservative in vaccines," Sen. John McCain (R-Ariz.) said during the 2008 presidential campaign.

According to a spokesperson for Ohio Gov. John Kasich (R), the governor "supports vaccinations."

"As a victim of polio myself, I'm a big fan of vaccinations," Senate Majority Leader Mitch McConnell (R-Ky.) told reporters on Feb. 3.

"Vaccinations are important to keeping our kids safe, keeping our schools safe," Sen. Thom Tillis (R.-N.C.) said on Feb. 3.

"As a child, I was vaccinated. Jane and I had our children vaccinated, and I encourage others to do the same to avoid dangerous outbreaks like we are witnessing today," Sen. Rob Portman (R-Ohio) said.

"I know my kids best, I know what morals and values are right for my children. I think we should not have an oppressive state telling us what to do," Rep. Sean Duffy (R-Wis.) said on MSNBC on Feb. 3.

"Too many people seem to forget the risk of not vaccinating children," Gov. Dennis Daugaard (R-S.D.) wrote in January. "Medical professionals, repeated scientific studies and organizations such as the American Academy of Pediatrics agree that vaccination is vital and safe."
Follow Stephen Cornish on Twitter: www.twitter.com/Stephen_Cornish