We All Deserve Dental Care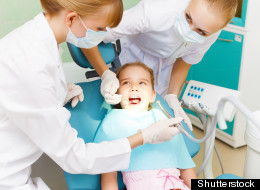 Across Ontario, going to the dentist is financially out of reach for many people. This dilemma is well-known to physicians -- many of us regularly care for patients who have terrible dental problems that we are powerless to address. We see people who have delayed seeking care that they can't afford until they are in terrible pain or their health is at risk. For example, poor dental health is a risk factor for poor nutrition because of its impact on eating habits, and may also be a risk factor for cardiovascular disease. We see people who have trouble finding employment, miss school, or avoid social situations because of the condition of their teeth. We see people who avoid eating because their mouths constantly hurt.
For people who are homeless, the situation is particularly acute. Recently, researchers from the Centre for Research on Inner City Health and the Faculty of Dentistry at the University of Toronto worked together to assess the oral health of about 200 people staying at 18 homeless shelters in Toronto. We found that 97% of the people we examined needed some kind of dental care, and 40% needed emergency treatment. Thirty-five per cent of the people we surveyed had avoided eating due to mouth pain. Many had experienced pain over the last month, and most of them didn't seek treatment.
There's a good chance they would have had a hard time finding dental care if they had tried -- our own search turned up less than a handful of potential services. There are currently no coordinated, city-wide dental care programs for women and men experiencing homelessness in Toronto. Children, youth, and elders are covered by a patchwork of public programs that leave many falling through the cracks. Adults earning wages that add up to low and middle incomes have no access to public oral health care programs at all. The recent discontinuation of very basic dental care for people who are refugees has made the situation even worse.
Across the province, dentists, health care providers, and public health experts are calling for a unified oral health care program for Ontario. As a physician, I can tell you how much it's needed. The overall health of the people I work with is deeply impacted by their lack of access to dental care. The current situation in which we provide health insurance to cover the treatment of every part of a person except his or her teeth makes little sense, and leaves thousands of people to suffer from chronic pain and tooth loss. Would we tolerate a system in which we didn't cover the treatment of eye diseases, and allowed people who didn't have the means to pay for their own care to go blind?
A program that reaches people who are homeless should be community-based and simple to access. People should be able to receive easy referrals to free dental programs from homeless shelters, meal programs, health providers, community agencies, grassroots groups, peers, or by calling 311. The same should be true for everyone. Right now, there is no single route to accessing the few public dental care programs that are available.
It's time to address the very real pain, distress, and long-term health consequences caused by the fact that many in Ontario are simply not able to go to the dentist. The data on the oral health of people living in homeless shelters in Toronto simply adds to the already compelling body of evidence suggesting that oral health care for all should be part of Ontario's Poverty Reduction Strategy, and a permanent component of our universal health care system.
What Your Mouth Says About Your Health
Did you know that adopting mouth-healthy habits may ultimately keep your heart healthy, too? Research has found a surprising number of links between the state of your dental health and your heart."Inflamed gums and loose teeth can be warnings of heart disease," says Alyson Hope Koslow, DDS, a clinical assistant professor of restorative dentistry at the University of Illinois Chicago. That's because if you have a gum disease like periodontitis, the bacteria in your gums could travel to your heart and contribute to coronary artery disease. Bacteria may also increase your risk for heart disease by contributing to the formation of clots or further plaque build-up in your arteries that can interfere with blood flow to the heart. One Swedish study found that people with more pockets of infection of the gum around the base of the tooth had a 53 per cent increased risk of heart attack compared to those with the fewest pockets.And as the recent AHA study found, regular dental cleanings will safeguard your smile and protect your ticker.

The most common dental health condition for diabetics? Gum disease."Gum disease, bleeding gums, and loose teeth are all warning signs of diabetes," Dr. Koslow says. "Diabetics also tend to have a slower healing time."Infections at your gum line can worsen the state of your diabetes and can contribute to the risk for heart disease and stroke, so it's important to take steps to keep your mouth healthy (and your diabetes under control).

Osteoporosis is characterized by the weakening of bones, and it's most common in post-menopausal women. But could your dentist be clued in to your thinning bones before you are?"Osteoporosis does not cause changes in the teeth, but it doescause changes in the bone that supports the teeth," Koslow explains. "This may show up as a receding gum line and loose teeth."If your dentist sees any oral signs of osteoporosis, let your medical doctor know right away.

This gradual loss of cognitive function is often signaled by confusion, loss of memory, disorganization -- and an unhealthy mouth. "People with early dementia may show all the signs of poor oral hygiene," warns Koslow.If you notice that a loved one is neglecting her oral health, skipping dental appointments, and having problems managing daily routines, talk to her doctor.

By nature, people with anorexia or bulimia usually try to hide their condition -- but a dentist may be the first one to spot it.That's because eating disorders can cause poor nutrition, which can lead to oral conditions like bleeding gums and dry mouth. In addition, "erosion on the insides of the front teeth may be a sign of forced vomiting in a young person with bulimia -- stomach acid wears away at enamel and also makes teeth more sensitive," says Koslow.

"Erosion of enamel from the insides of teeth, especially the upper back molars, is a clue to gastroesophageal reflux disease (GERD)," Koslow says. Reflux of stomach juices can happen at night -- but you may not be aware of it until your dentist sees its effects on your dental health.Reflux disease can cause erosion of the esophagus and may even lead to esophageal cancer, so let your doctor know if your dentist sees possible signs of reflux. Treatment can include elevating the head of your bed, not eating in the hours before bed, and taking acid blocking medications.

What's the big deal about dry mouth? "Saliva helps to wash away bacteria and debris that lead to cavities and gum disease," Koslow says.And if you're producing too little saliva, your dentist will know. Dry mouth may be caused by medications or it may be a sign of a disease such as diabetes or Parkinson's disease. The solution? Up your fluid intake, and your dentist may even suggest a saliva substitute.
Follow Stephen Hwang on Twitter: www.twitter.com/StephenHwang