The Sci-Fi Visions Of Canadian Artist John Scott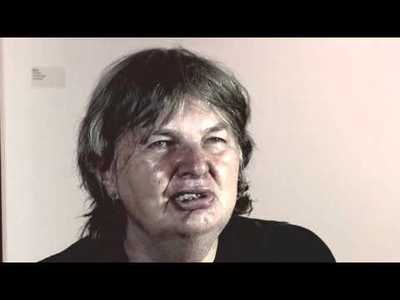 John Scott - from George Socka video
I met artist John Scott back in Windsor in the late 60s, long before he started painting bunny ears on boxer Mike Tyson and a sci-fi wheelchair for a long-forgotten pope! It was my first year being on-air at the Windsor U radio station and it was an era of profound change in Canada's Motor City.

Back then Scott was a young street artist. He was also a factory worker (he had dropped out of school before he finished Grade 10) and a union activist.
It was a good time and a good place for him to be. Anyone young and living in Windsor in that decade, John Scott included, was politically aware and ready to take to the streets to support the cause of the week.
He had a ringside seat for the burning of an American city during the Detroit Riots. There were the anti-nuke protests that brought us all out to shut down the Ambassador Bridge -- industry's causeway into the U.S. The anti-war movement was in overdrive, fuelled by an army of American draft dodgers who sought asylum. It was interesting times that had a strong impact on all of us -- none more so than John Scott.
His art was born out of the anti-war movement. Scott was one of this country's first anti-establishment painters who was impacted by the Cold War and the raging war in Vietnam. He wasn't supported in his art by government grants and largess from deep gallery pockets; instead, he got by working in a chemical factory by day and painting his black and white cartoonish canvasses at night.
In the 70s Scott was in Toronto attending what is now the Ontario College of Art (where he currently works). By the 80s his art had been elevated from the street level to the rarefied world of public galleries and high-end galleries. He earned a Governor General's Award in 2000, and many of his large, science-fiction driven paintings were being sold before the paint even dried on the canvas.
"Scott's bold and rough graphic drawings are characteristically crude, often made with the cheapest materials at hand. One of his working methods was to repeatedly soak paper in solvent and develop an image by grinding-in dark pigments, thick black paint, graphite and charcoal," says the Federal National Gallery.
Scott's work is part of the National Gallery's permanent collection. "Scott has depicted dark warplanes hovering over destroyed landscapes devoid of human presence. He has also drawn rabbit-like figures to stand in for the anxiety-ridden human being, the harassed victim of the technological threat and militaristic oppression. Heavy dark lines record an impending sense of tragedy and terror."
Health issues and substance abuse problems kept him out of the public eye early in the century. Scott has overcome those issues and is now seeing his work exhibited at public galleries across across North America.
I met up with John Scott last fall at a downtown Toronto gallery as he prepared for a comeback exhibition. It was a triumph success where some of the city's top rock 'n' rollers snapped up his $40,000 paintings.
Forty years almost to the day I first interviewed him, Scott talked on camera to me about the influence Windsor has had on his art. He also explained to me how his vision of Pope Innocent X is deeply entwined with Doctor X of the X-Men comics and Irish painter Francis Bacon's paintings of the pope.
Scott talked to me about his paintings of Mike Tyson, complete with bunny ears and the pope in his X-Men wheelchair on YouTube. Filmed and produced by Canada Art Channel's George Socka, the two Toronto interviews can be found here and here.
John Scott's art is currently on display in a touring exhibition that has crossed Canada and the United States. The first half of the show just closed at the McMaster University Gallery in Hamilton. Part Two opened earlier this week across town at the Art Gallery of Hamilton.
The exhibition, curated by Faulconer Gallery at Grinnell College, Iowa, has its official launch on February 20 in downtown Hamilton, it runs until May 15, 2016.
Fearful Symmetry includes 28 works on paper in a vast installation in the AGH's largest rooms reserved for contemporary art exhibitions.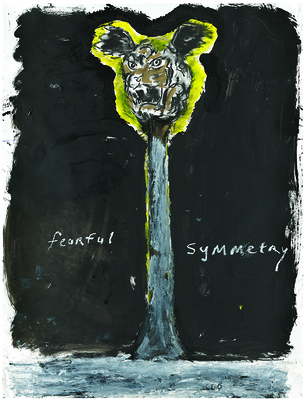 The AGH describe the work of Scott as being driven by his "imagination (that) has been fed by science fiction, the Space Age and Motor City (Windsor) manufacturing might and blight. Sympathy for the worker as a human tool in the global industrial complex pervades what some have called his apocalyptic vision.
Follow HuffPost Canada Blogs on Facebook
MORE ON HUFFPOST:
Off-beat Science Fiction Books
Written in 2002, it smartly anticipates just how badly the evil marriage of hyper-connectivity and consumerism would mess us up. Supposedly a YA novel, but I read it this summer and loved it and I am decidedly NYA (Not-Young Adult).

A real burka-burner of a read. Atwood is a badass who saw the writing on the wall for women in ultra-conservative society—or rather, saw the arm poised to write on the wall and hacked it off at the elbow with this book. Too bad that arm keeps growing back.

My family went to Mexico when I was in third grade and we brought along a box of paperbacks. My parents had picked it up at a thrift shop for twenty-five cents. The entire box. The Martian Chronicles was in that box. We may have gone to Mexico, but I went to Mars and never came back

This book marked my adolescent transition from science fantasy and elf operas to literary sci-fi. The notion of using empathy detection as a means of identifying humans from androids is something I think about every day. Especially when my CAPTCHA entries are rejected. Why can't I just show that I care instead of typing fake words to prove I ain't no bot?

I loved this story that is part Hemingway (Big Two-Hearted River), part Cormac McCarthy (The Road), part Walt Disney (Old Yeller). It's a moving and psychologically rich portrait of post-apocalyptic living, filled with great survival tips. Example: Don't actually sleep in your house. Sleep on a small rise overlooking your house and, from there, shoot dead anyone who comes knocking.

Like Do Androids Dream, the question here is distinguishing humans from fake humans--in this case, clones. The special ingredient in humans is a soul and evidence of its presence in a body is that body's ability to produce art. If this is true, then Ishiguro is definitely not a clone.

This collection was light years ahead of its time (1994), with its mash-up weave and pop subversions. Sukenick's zombies are brain-dead American consumerists who, while traveling abroad, are forced to re-consume U.S. culture as regurgitated by a culturally bankrupt Europe. Anyone up for a trip to Disney Paris? On acid?

This slender book opened my eyes to the notion of "near-future." In Moore's world, the Catholic Church has become a secular humanitarian organization by decree of the Fourth Vatican Council and faith is an anachronism. Yet some rebel sect refuses to retire the Latin Mass. A Graham Greene-style wrestling match with the relevancy of belief ensues. Did I mention this is in the near-future?

Here is that post-apocalyptic re-telling of the Pocahontas story you ordered. It foresees a war between the city-states of Manhattan and Brooklyn and a need to exploit thriving native tribes all over again. One of my favorite books of the last ten years, Jamestown is all the evidence I need to understand that history keeps repeating because human nature never changes.

I didn't know this book existed until about two months ago. My daughter told me about a Russian novel written in 1921 that had inspired Orwell's 1984 and probably Huxley's Brave New World. It's a wonderfully imagined and courageous attack on state-controlled society. The future, it seems, started a long time ago.
Follow Stephen Weir on Twitter: www.twitter.com/sweirsweir