The Heptones' Leroy Sibbles Talks His Return To Toronto
Reggae pioneer bass player and singer Leroy Sibbles knows what it means to take that boomerang ride. Born and raised in Jamaica, he moved to Toronto in 1973, married and became a citizen. That was then, now he is back living in Jamaica and visits The Big Smoke whenever he can.
Sibbles was the lead singer and bass player for The Heptones in the 60s and 70s and continues to this day performing in and around the U.S. and the Caribbean. In combination with his work with The Heptones, Sibbles was a session bassist and arranger at Clement "Coxsone" Dodd's Jamaica Recording and Publishing Studio. Kevin O'Brien Chang describes him as "the greatest all-round talent in reggae history" in his 1998 book Reggae Routes.

The Heptones were among the most prolific and influential groups of the rock steady era -- they evolved Jamaican ska music into the world phenomenon of reggae. Signature Heptones songs included "Get In The Groove," "Ting A Ling," "Fattie Fattie," "Got To Fight On To The Top" and "Sweeting Talking."
Sibbles left Jamaica in 1972 but continued to tour with the group for another four years. After moving to Canada Sibbles established a successful solo career winning a number of record awards, including a Juno.

He is currently in Toronto visiting friends and family and playing a very rare gig at the Boomer Palace -- the Dundas Street West Lula Lounge. I caught up with the founding member of the Heptones just before he took to the stage.
"I used to live in Toronto," said the 67-year-old singer and bass player. "I spent over 20 years here in Toronto, in Canada, so this is where (my headspace) really is. I settled in here for more than 20 years and I went back to Jamaica for 20 years, so we are talking about a 40-year span (in my life). Right now I am living in Kingston, Jamaica and I am here for a Toronto gig."
The "gig" that he talks about was a reunion of old-school Canadian reggae performers -- Jay Douglas (founding member of The Cougars), Ossie D, Chester Miller (Jamaican/Canadian reggae/dancehall performer) and Elaine 'Lil'Bit Shepherd (2011 Reggae Recording Juno winner). The audience was aging reggae fans who knew the songs and still had the moves on the dance floor.
Sibbles says he is blown away by the fact that Toronto is the second largest hub for Jamaican music in the world. He also is quietly pleased that the city has recognized the importance of the music.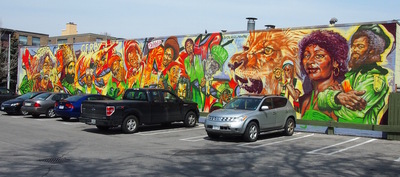 Sibbles' Mural Photograph by Weir
" I was here late last year for (the unveiling of Reggae Alley), a huge mural by Caribbean-Canadian artist Adrian Hayles," he said. "It was not just about me. It was for all the Canadian reggae heroes who were involved in the physical creation of Jamaican music here in Canada."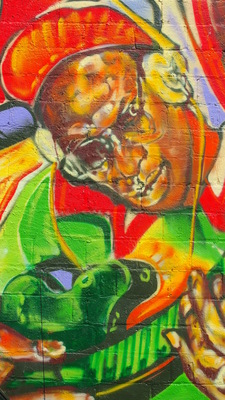 Photograph by Weir
"I passed it up (the mural) yesterday on Eglinton, and I know it was a tribute to all these guys! We are grateful for this because it is nice to be recognized for things that you have done that are positive."
Sibbles is getting set to head out on the road again. He has no plans to play in Toronto for the rest of the year because he has his sights set on Africa. But, with his roots here in Toronto, that boomerang effect is always at play, and he knows he will be coming home again soon.
"Toronto is major for me because I have spent so much time building (my career) here," he explains. But, "the next place I want to be is Africa. I never been there, I am thinking I would like to go. We are in discussions with some people so I could be there in November for the month."
See a video of my interview with Leroy Sibbles by videographer George Socka here.
Follow HuffPost Canada Blogs on Facebook
MORE ON HUFFPOST:
Likely stemming from Spanish, this phrase means "oh boy" or "oh wow" — it's all in the intonation.

The term bacchanal, which means a wild party and is basically a description for the whole Caribbean festival, can be traced back to the Roman saturnalia, according to Carnaval.com. It probably gained popularity thanks to Kerwin Du Bois' "Bacchanalist."

This word often means hot (as in, a descriptor of someone's attractiveness) or just plain awesome.

Calypso - This Afro-Caribbean music often involves a moral tale or a political commentary, set to can't-help-but-dance-to-it beats. There are hundreds of musicians, but probably the best known in North America would be Harry Belafonte.

A celebration of the abolition of slavery with costumes and drumming, this traditionally takes place on August 1, but in recent years, has become part of the Carnaval celebrations in the spring.

Literally, dirty, but it can be meant in either a positive (as in, admiring) or negative way.

We know this one! French for party, many of the events surrounding the festival are known as fêtes.

Dance like crazy, have a good time (like everyone you'll see at the parade).

J'ouvert is the opening of the Trini Carnaval, with people dressed as "Jab Jabs," painted devils that are part of the local lore. Jab Jab J'ouvert also happens to be the name of the massive opening party for Caribana, so people may just be referring to that.

It means what it says! Get up and dance with the people in the mas band (see #12).

Hanging out. Spots in the Caribbean have "no liming" signs, instead of "no loitering," according to Matador Network.

Each theme group is a band, explained the CBC, which includes music, a float, costumes and people jumping up.

Soca is like calypso's younger, party-hardy cousin. It's infused with a bit of soul, and made to be danced to, especially at carnival time.

Rihanna Teaches Alan Carr How To Dutty Wine! "OWWWWWW"
Follow Stephen Weir on Twitter: www.twitter.com/sweirsweir